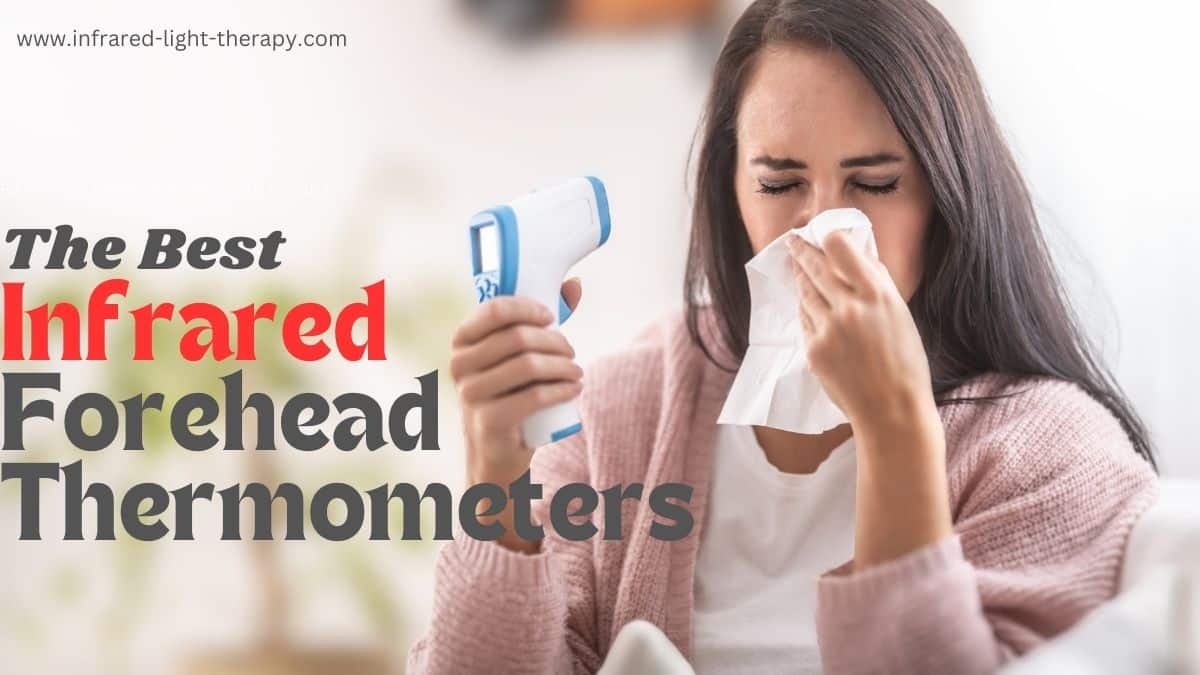 A high-quality infrared (no touch) forehead thermometer can check for fever in less than 3 seconds and is the quickest and most convenient device for checking for fever in any baby, child, or adult.
But:
Are forehead thermometers accurate? Which one is best for your needs?
We set out to find the most accurate, consistent, fast, and easy-to-read forehead (temporal artery) thermometers of 2023.
Below you'll find our top picks and our detailed forehead thermometer reviews.
Here's a short comparison, followed by our reviews:
This post may contain affiliate links, at no extra cost to you.
Forehead Thermometer Accuracy
Temporal artery thermometers, known as forehead thermometers, use an infrared scanner to measure the temperature of the temporal artery in the forehead.
The latest research suggests that forehead infrared thermometers are the most accurate alternative to rectal digital thermometers for taking a child's temperature.
However, the environment around you may influence your skin temperature. The tested child/adult needs to be in the same room for 30 minutes if you want an accurate read, and you need to make sure the forehead area is clean and dry. 
Infrared thermometers can read a person's temperature very quickly, are easy to use, safe, and easily tolerated by children and babies.
With some thermometers, you don't even have to touch the skin to read the temperature, which makes them best for testing sleeping children – without waking them up and disturbing them.
They are the best fit for infants older than 3 months and older children, and according to the Mayo clinic, new research suggests that they may also be used for newborns.
Do You Need to Add a Degree with a Forehead Thermometer?
User manuals report an accuracy of about 0.4 Fahrenheit degrees, which is not ideal, but all the accuracy in the world won't help if you can't use it on a temperamental child.
A forehead (temporal) scanner is usually 0.5°F (0.3°C) to 1°F (0.6°C) lower than an oral temperature.
What is Considered a Fever When Using a Forehead Thermometer?
According to the Seattle Children's Hospital, a forehead temperature of 100.4° F (38.0° C) or higher is considered a fever in both children and adults.
Checking for fever can be done in different parts of your body, including the armpit, mouth, ears, rectum, and forehead.
An ear temp. is 0.5°F (0.3°C) to 1°F (0.6°C) higher than an oral temperature.
An armpit (axillary) temperature is usually 0.5°F (0.3°C) to 1°F (0.6°C) lower than an oral temperature.
A forehead (temporal) scanner is usually 0.5°F (0.3°C) to 1°F (0.6°C) lower than an oral temperature.
The 6 Best Infrared (No Touch) Forehead Thermometers 
Our requirements for a forehead thermometer were simple: something fast, accurate, consistent, silent, and easy to read.
Here are the most accurate forehead thermometers of 2023:
1. Braun No Touch Forehead Thermometer

Most Silent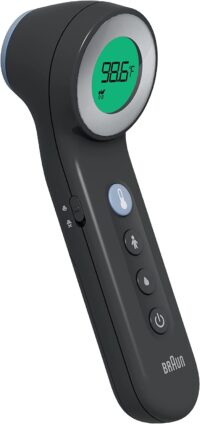 Time to reading – 2 seconds
Accuracy range – ±0.5°F
Colored display – yes
✅ $16 on Amazon
The Braun No Touch thermometer offers a completely silent reading (best for sleeping children/babies) and speedy and reliable readings, thanks to the age and fever guidance built-in feature.
You simply turn it on, select the age range, position it up to 2 inches away from the point between the eyebrows, and when the 3 dashed lines appear, you press the temperature button.
(The gentle guidance light directs you to accurate aiming)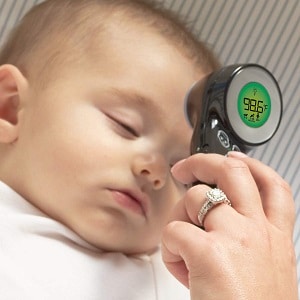 When the infrared scanner is done (in 2 seconds!), you'll see the appropriate fever light glow (green/yellow/red) to help you understand the temperature reading.
Braun No Touch Thermometer Pros
Silent
No-touch option – measures temp. at a distance of 2.5 cm
Easy to use with a large, color-coded display
Speedy – takes two seconds to check for fever
Can also be used to test bath water and food temperature
Cons
The tested individual should be in the same ambient temperature for at least 10 minutes – to get accurate readings
Needs to be placed in a very specific place to get consistent readings (use the guidance light and follow instructions to avoid mistakes)
Some users report different readings when done one after the other
✅ Available on Amazon ($16) and at Walmart ($47)
Attention
Did you know?
Regular infrared sauna treatments are proven to boost your immune system
and can help you prevent viral and bacterial infections. See our post about how to
boost your immunity with an Infrared Sauna
.
2. iProven Thermometer

Best Forehead & Ear Thermometer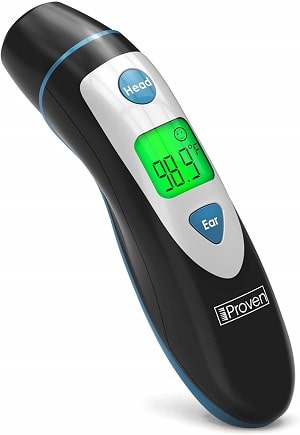 Time to reading – 2-3 seconds
Accuracy range – ±0.5°F
Colored display – yes
✅ $10 at Walmart
The iProven new 2020 model doubles as both a forehead and an ear fever checker and offers fast and reliable readings for kids and adults.
It easily switches from ear to forehead functionality and comes with a convenient color-coded display (no guessing what's considered as fever).
It takes just a second to get a reading in the ear, and less than 3 seconds to get it on the forehead.
Remember, ear temperature and temporal temperature are different, that's why the iProven is specially calibrated for both forehead and ear measurements.
Pros
No guesswork – the color-coded display will let you know
Accurate and consistent – built with the newest infrared lens technology
Comes with a storage bag
You can choose either Fahrenheit or Celsius temp. reading
100-day money-back guarantee
Cons
The thermometer needs at least 30 minutes to acclimate to room temperature
You cannot silence the beep at the end, may disturb sleeping children
✅ Available on Amazon ($30) and at Walmart ($10)
3. Withings Thermo Smart Infrared Thermometer 

Best with App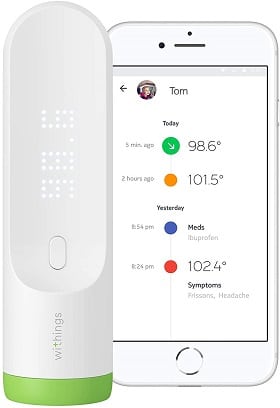 Time to reading – 1 second
Accuracy range – ±0.4°F
Colored display – yes (and app to track data)
✅ $100 on Amazon
The popular Withings Thermo temporal thermometer has 16 infrared sensors that take more than 4,000 measurements for a highly accurate result (clinical accuracy: ±0.4°F) – without any contact.
The ultra-fast reading is displayed with a color-coded fever indicator, and it comes with an app that helps you track the data from every measurement, along with health advice (from Boston's Children's Hospital) – that appears in the app automatically.
Readings appear illuminated on the device and the LED indicator tells you if the temperature is normal, elevated, or high – based on the age of the user.
Up to 8 people can use the Withings Thermo app and access their personal temperature history – which can be quickly shared with a health professional.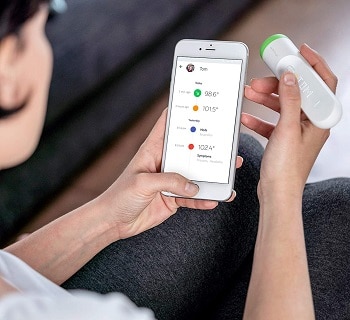 And, the included batteries last for 2 years!
Pros
No need to calculate fever by age – the color-coded LED display indicates if there is a fever – according to the age of the user
Temperature tracking – comes with an app that can track up to 8 users' data, with health advice from the Boston Children's Hospital
Batteries last for years
FSA-eligible
Accurate thermometer and reliable, with consistent readings
Fever reduction medication dosage appears automatically on the app, according to the user's age and temperature
Cons
You'll have to set up all the personal account information to get it to work
✅ Available at Withings ($105), and on Amazon ($100)
4. iHealth No-Touch Forehead Thermometer

Best Seller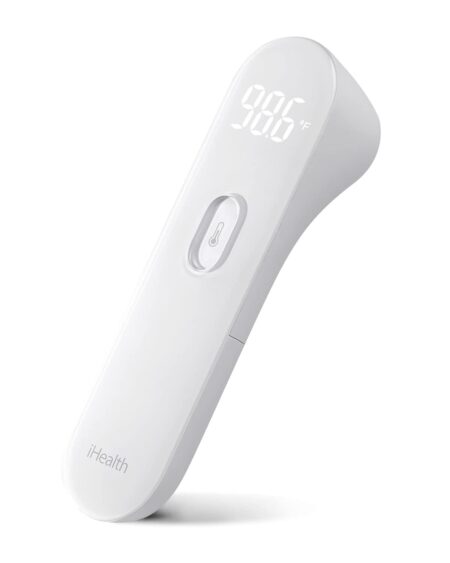 Time to reading – 1 second
Accuracy range – ±0.28°C
Colored display – no
✅ $17 on Amazon 
The iHealth infrared digital forehead thermometer is quick and easy to use, and you only need to point it to the forehead and one push of a button to get an accurate reading – in 1 second.
It's the lowest-cost forehead thermometer on this list and the #1 best seller on Amazon.
When the reading is done, the iHealth Thermometer gently vibrates, instead of an annoying beep sound.
The highly sensitive temporal thermometer takes about 100 readings per second while the additional environmental and distance sensors make the adjustments to give you an accurate reading.
iHealth Pros
Lab tested for accuracy
Reads temperature in 1 second
Vibrates when reading is done
Accurate and consistent readings
Large LCD display and lights up in the dark
Recommended by nurses and Consumer Reports
Great value for the money
Cons
You'll need to point it to the center of the forehead to get the most accurate result
When used incorrectly, accuracy falls to ±0.5°C
✅ Available on Amazon ($17)
5. ThermoWorks Wand No Touch Thermometer

Trending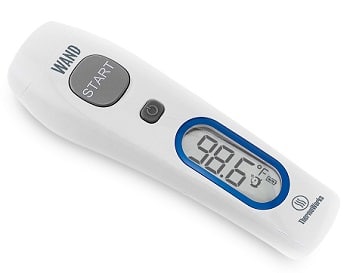 Time to reading – 1 second
Accuracy range – ±0.4°F
Colored display – no
✅ $35 at ThermoWorks 
The ThermoWorks Wand (FDA-cleared) is a non-contact, easy-to-use (only one button that does everything), and reliable infrared scanner thermometer – that gives you a reading in 1 second.
The Wand is accurate to ±0.4°F across the range of human temperatures, it has a high-temperature alert and mute setting, a bright LED backlight and it will store your last 25 readings.
However, you have to make sure you are pointing the wand as close to the middle of the forehead, to get the most accurate and consistent readings (demonstrated below).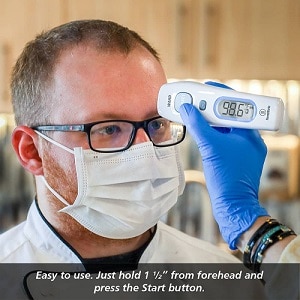 Pros
Takes temperature readings with the touch of a button. No setup required
Big bold backlit display
Soft "Ready" Beep: confirms your reading
Can be used to take the temperature of a sleeping child without disturbance, or mute the "ready" beep altogether
Can switch from Fahrenheit to Celsius, and you can use it with the volume turned on or off
Stores your last 25 readings
Cons
✅ Available at ThermoWorks ($35) 
6. Femometer Touchless Thermometer – Fast & Accurate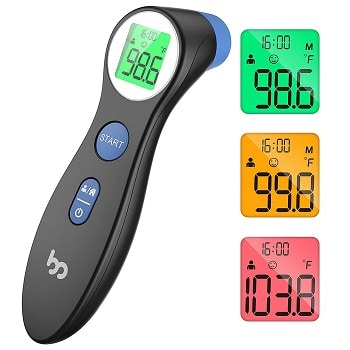 Time to reading – 1 second
Accuracy range – ±0.1°F
Colored display – yes
✅ $13 on Amazon
The Femometer forehead thermometer is very simple to use and gives measurement results in just one second.
It has a large LCD display, with 3 backlight indicators. A high temperature will be accompanied by a warning beep.
You can easily switch between Faranheight and Celsius, it shuts off automatically when not used, and you can get an accurate read even at a 1.2-inch distance.
According to consumer testimonials, the result is very similar to the result from the ear temperature reader with an error within 0.1 degrees Celsius.
However, the Femometer also has a setting for object temperature checks (such as milk or other products), so you have to make sure you are using the correct setting (human) to avoid getting the wrong read.
Also, you have to wait 5-6 seconds between different readings.
Pros
Most accurate thermometer on this list
Easy to interpret the results – has 3 backlight indicators that display different temperature levels
Accurate reading up to 1.2 inches away from the forehead
Object temperature checker as well
Cons
A beep goes up in case of high fever – may wake up a sleeping person
You need to wait 5-6 minutes before taking another reading
✅ Available on Amazon ($13) and at Femometer ($22)
How to Use a Forehead Thermometer
If you have a no-touch forehead thermometer, you simply turn it on, position the device in the center area between the eyebrows, at a 2.5 cm (1 inch) distance, and press the button to take a reading.
Hold the thermometer in place until it beeps or otherwise indicates that the reading is done.
Read the temperature on the display, then turn it off and clean it according to the instructions.
With a contact forehead thermometer, you'll need to slowly slide the thermometer across the forehead toward the top of the ear, until the device indicates the reading is done.
Are Infrared Forehead Thermometers Safe?
Infrared forehead thermometers do not emit any kind of electromagnetic radiation, they only measure infrared heat to determine your temperature.
The red beam coming out of the thermometer is visible and harmless and is made to guide the person taking your temperature to the right spot – for an accurate read.
There is no evidence of any side effects or risk of using a forehead thermometer, which allows for a quick, non-contact, and easy way to read your body temperature. For more information see this post.
 Ear Thermometer vs. Forehead Thermometer – Which is Better?
Ear thermometers, also known as tympanic thermometers, measure the body's temperature through the eardrum and surrounding tissue.
Some studies have found them more accurate than forehead thermometers, but they can be more difficult to use, especially with babies, toddlers, and people with small ear canals.
I would use an ear thermometer only for children over 6 years old who may not resist feeling the probe in their ears and definitely would not use them for children and adults who are sleeping.
To your health and happiness,
Meital
P.S
If you are a nurse or any caregiver, you may be interested in the best infrared vein finder as well!
Studies
https://www.mayoclinic.org/diseases-conditions/fever/in-depth/thermometers/art-20046737
https://www.seattlechildrens.org/conditions/a-z/fever-how-to-take-the-temperature/
Allegaert K, Casteels K, van Gorp I, Bogaert G. Tympanic, infrared skin, and temporal artery scan thermometers compared with rectal measurement in children: a real-life assessment. Curr Ther Res Clin Exp. 2014;76:34–38. Published 2014 May 8. doi:10.1016/j.curtheres.2013.11.005
Panagiotis Kiekkas PhD, RN, et al., Agreement of infrared temporal artery thermometry with other thermometry methods in adults: systematic review, https://doi.org/10.1111/jocn.13117
Meital James
Founder and CEO of 4 healthy living blogs, has a background in Naturopathic medicine, research, journalism, and nutrition. Her blogs are the culmination of her thousands of hours of research and experience and all the posts are verified by scientific findings.