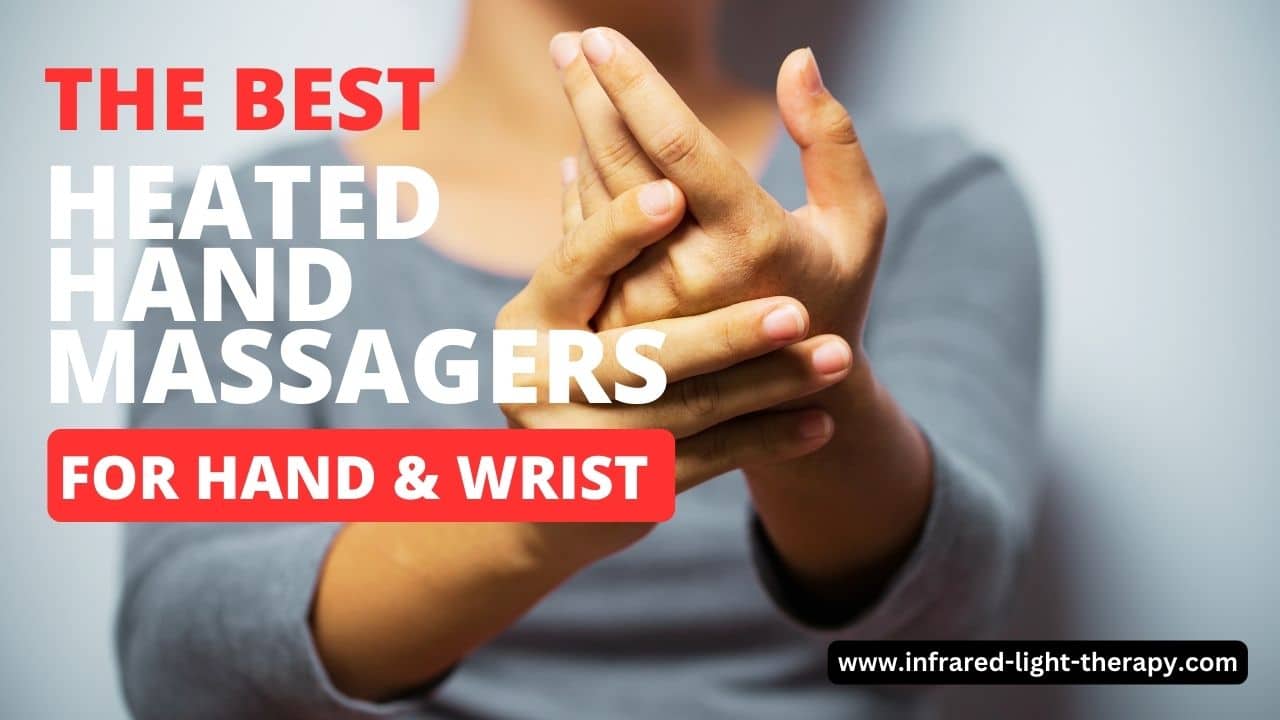 Whether you work with your hands a lot, suffer from hand arthritis, cold hands, carpal tunnel, or an injury – using a heated hand massager can bring you the soothing and warm relief you need to go about your day pain-free.
A hand massager with heat is a portable device that can quickly boost blood circulation in your palm, fingers, and wrist with a warm and pleasurable massage that melts the pain away – in just a few minutes.
However, you'll need to choose the right device for your needs and to make sure it has various heat settings to choose from, massage levels that won't be too harsh or too weak, and no complex controls.
We've researched, tested, and found the 5 best heated hand massagers for any type of hand pain or injury – to relieve hand and finger pain, wrist pain, cold hands, hand numbness, trigger fingers, carpal tunnel, neuropathy, and hand fatigue from work or gaming.
👉 In a Hurry?
See our short comparison table below, or jump to the hand massager reviews below:
Hand Massager
Best for
Special Features
Price
Life Pro Legra

Best for arthritis
1-3 hours battery life
5 massage modes
5 intensity levels
✅ $90 at Life Pro
iReliev Hand Massager

Best for Carpal Tunnel
Covers wrist and arm
4-hour battery life
6 massage modes
6 intensity levels
✅ $80 with code meital20 at iReliev
Lunix LX7

Longest Treatment Time
(Up to 30 min.)
15/20/30 min. timer
2-4 hours battery life
4 massage modes
6 intensity levels
✅ $150 on Amazon
Comfier Hand Massager

Best for Trigger Fingers
Dedicated finger massage
1.5 hours battery life
3 pressure modes
3 intensity levels
✅ $50 on Amazon
Snailax Hand Massager

Best for Large Hands
Fits both hands
1.5 hours battery life
3 massage modes
3 intensity levels
✅ $53 with code hallo30 at Snailax
This post may contain affiliate links, at no extra cost to you.
Are Hand Massager Machines Proven to Work?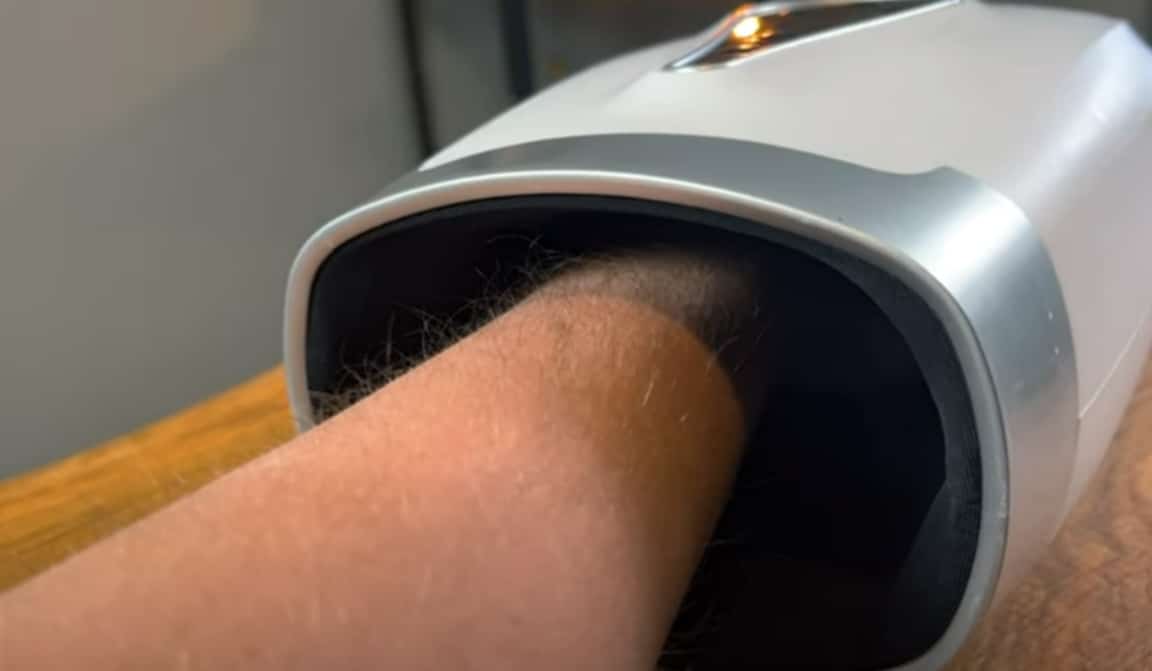 While direct benefits of electrically heated hand massagers were not proven (or researched), both massage therapy and infrared therapy are heavily researched and proven to relieve muscle tension, reduce pain intensity, improve joint mobility, relieve trigger fingers from Carpal Tunnel, restore function after hand injuries, and even relieve anxiety.
The heat and massage boost blood circulation in the hands and wrists, which promotes tissue healing, oxygen delivery, cell energy, and pain relief. They can even prevent night awakening from arthritis hand pain or tingling and numbness.
(See the best infrared heated gloves for arthritis)
The use of low-level light therapy (heat therapy) for reducing pain, inflammation, and swelling, promoting healing of wounds, deeper tissues, and nerves, and preventing tissue damage – has been known and used for almost 40 years.
The warmth causes the blood vessels of the muscles to dilate, which increases the flow of oxygen and nutrients to the muscles, tissues, joints, nerves, and bones.
👉 See all the proven benefits of infrared light therapy.
How to Choose a Heated Hand Massager
Here are the key factors we used to pick the best hand massagers:
1. Versatile Massage Techniques – look for a hand massager that offers various massage techniques such as kneading, rolling, and compression.
These techniques can target different areas of the hand and provide diverse pain relief benefits. For example,
2. Adjustable Settings – go for a heated hand massager that allows you to customize the intensity, speed, and temperature of the massage.
This ensures that you can adapt the treatment to your preferences and specific pain relief needs. For example,
3. Size and Design – make sure the hand massager fits your hand size and that it is ergonomic, fits comfortably on your hand, and is easy to use.
Compact and lightweight devices are ideal for portability and convenience.
4. Heating Function – ensure that the hand massager has a reliable and constant heating function.
Heat is energy and it helps your body get the energy it needs for healing and recovering.
5. Power Source – some models operate with batteries, while others need to be plugged into an electrical outlet.
Choose the one that suits your preferences and daily habits.
6. Safety Features – ensure that the hand massager has safety features such as automatic shut-off timers or overheating protection.
These features prevent any potential accidents or injuries if you overuse the device.
7. Price and Warranty – Consider your budget when choosing a heated hand massager, but also prioritize quality.
Check for any warranty or customer support offered by the manufacturer.
How Much Do Hand Massagers Cost?
Most electric hand massagers cost between $70 to $150, depending on features such as the variety of intensity levels, massage types, and padding.
Corded hand massagers with basic customization usually cost the least, while mid-range are corded and have more customization.
High-end ones are cordless and have the most intensity and massage types to choose from.
The 5 Best Heated Hand Massagers (Tested & Reviewed)
The best hand massagers for arthritis are heated, hit acupressure points, vibrate, and feel simply luxurious.
1. Best for Arthritis – Life Pro Hand Massager (Legra)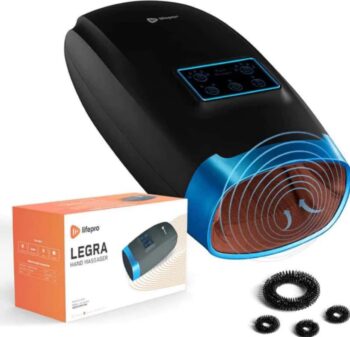 Size – 13″ x 8″ x 6″
Weight – 3.3 pounds
Battery charge time – 3-4 hours
Battery life – 1-3 hours per charge
✅ $90 at Life Pro (free shipping)
Having RA means you have a fair amount of pain and arthritis in your hands, wrists, and other small joints.
These small joints are being used for almost all we do with our hands (and feet).
Having a hand massager like this to provide heat, percussive massage, and vibration is one of the best finds ever for your hands.
The Life Pro Legra cordless hand massager offers a highly customizable hand and wrist massage (compression, vibration, and heat) with 5 massage modes, 2 vibration levels, and 5 intensity levels to choose from – from an easy-to-use LED display.
The variety of levels and modes to choose from, and the wrist coverage, make this device optimal for people with hand arthritis because they can carefully choose the massage's strength level (to avoid pain) and the specific target areas (through the different modes) to increase blood flow, reduce inflammation, and relieve pain.
When you place your hand forward until the tip of your fingers shows at the end of the massager, your wrist can definitely feel the massage and heat that the unit provides.
The heat goes up to about 107 degrees.
You can see the temporary dots it creates, that mark the reach of the unit: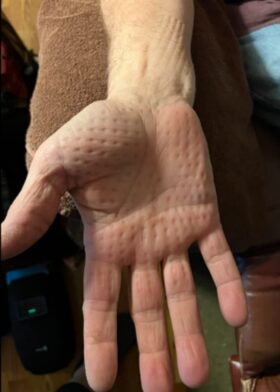 When I tried it with the full 15-minute treatment, I felt that the heated air compression massage feels like someone is squeezing MY palms and fingers with warm hands. It sent a wave of relaxation in my entire body. The vibration was gentle but noticeable.
The device is powerful, and we couldn't go all the way to level 5 because it would have been too painful.
The heat feature is warm enough, but for people who like it hotter, a thin glove can increase the heat level and also serve as a barrier in case the massage is too aggressive.
I also love the bonus acupressure rings you get with this unit.
They allow you to work on your fingers and stimulate them and feel good to use.
Pros
Well made, well designed, and easy to use
Relieves hand pain, reduces swelling, relaxing
Fits large hands as well
Highly customizable
Lifetime warranty and good customer service
No soreness after the treatment (if you choose the right level and mode for you)
Cons
The heat feels warm and no more (for heat treatment we use an infrared glove)
Sometimes the unit leaves some compression marks, but they fade away quickly
Some users claim that the battery lasts for less than an hour (when using all features)
✅ Available at Life Pro ($90 with free shipping)
2. Best for Carpal Tunnel – iReliev Hand Massager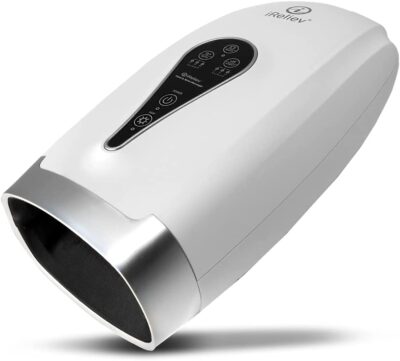 Size – 12″ x 6″ x 5″
Weight – 3.09 Pounds
Battery Charge time – up to 6 hours
Battery Life – up to 4.5 hours, depending on usage of features
✅ $80 with code meital20 at iReliev
The iReliev cordless Hand and wrist Compression Massager is a game-changer for people suffering from Carpal Tunnel, especially after a long day at the computer.
And, the price is low for all the variety of features.
What sets the iReliev device apart is its longer length, which ensures that your wrists receive the same therapeutic treatment as your hands.
This comprehensive coverage is a significant advantage over shorter alternatives that may leave your wrists untreated.
Just look at the amazing wrist, hand, and even arm coverage you get: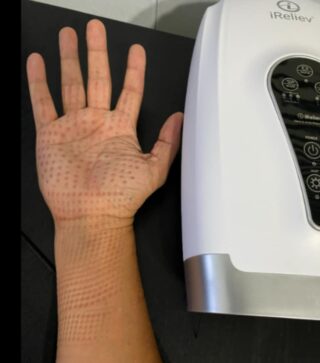 The padded, spikey ball that sits at the palm of your hand on the inside is super soft and feels almost gel-like, and the massage won't be too aggressive for most people.
With 6 automatic massage programs, 6 adjustable intensities, and optional heat, you can tailor the massage to meet your specific needs. However, the battery charges through a USB cable, which makes charging time longer.
It is lightweight and portable, and I found it easy to carry around and use whenever I need a quick hand and wrist massage to relieve tension and pain.
However, I must mention a minor drawback – the control panel.
The numbering system used to represent each mode can be a bit confusing initially.
It lacks symbols on the buttons, so I found myself referring to the manual frequently to understand the functions of each mode.
Despite this small inconvenience, the iReliev Hand Massager remains an excellent choice, especially for carpal tunnel symptoms.
Its powerful acupressure massage, comprehensive coverage, customizable settings, and portability make it a fantastic investment in your hand and wrist health.
Pros
Highly customizable
Covers the entire wrist and some of the arm, along with the palm and fingers – perfect for carpal tunnel
The most gentle massager on this list – fits people with high pain levels as well
2-year warranty
Cons
The control panel is a bit confusing
Can take up to 6 hours for a full charge (but works for 4 hours)
✅ Available at iReliev ($80 with coupon code meital20) and on Amazon ($100)
3. Longest Treatment Time – Lunix LX7 Hand Massager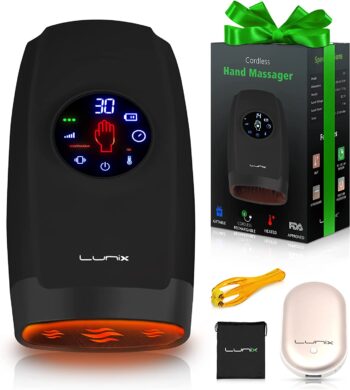 Size – 12″ x 4″ x 2.5″
Weight – 2.2 pounds (lightweight)
Battery charge time – 2-4 hours
Battery life – up to 1 hour (using full features)
✅ $150 on Amazon
Similar to the Life Pro hand massager, the cordless Lunix LX7 offers heated compression and vibration massage, with 4 massage modes, 6 intensity levels, 2 vibration levels, and one heat level to choose from.
The unique features of the Lunix LX7 are the touchscreen interface, a battery level indicator, and a 15/20/30 minute timer that allows you to use it for more than the standard 15-minute treatment that all the other massagers offer.  
The massage feels like continuous pressure and release, along with gentle vibration and heat, and is very relaxing and pain-relieving.  It will leave some dots on your hands but they fade away in a few minutes.
The battery charges through a USB cable which makes charging time longer (up to 4 hours) but with its low weight, it's a highly portable device you can slip in your bag and use anywhere after charging it through your computer or phone.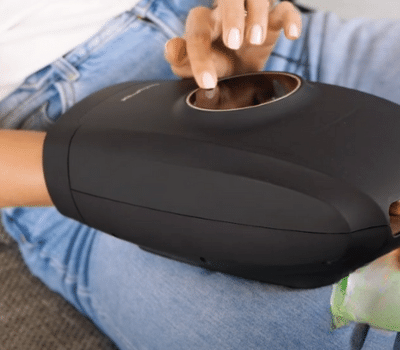 Most users claim that it's well worth the charting time wait and is a great device to relieve aches, pain, and stiffness in the hands and wrists.
Lunix LX7 Pros
Powerful massage and many intensity levels
Multiple treatment durations
Touchscreen interface with battery indicator
Free hand warmer and finger massager
Cons
More expensive than average
Does not fit large hands
The black model is a fingerprint magnet – we recommend the white model
Vibration is not very noticeable
Leaves marks on the hands, that fade away after a while (the more dehydrated you are – the more marks)
Only 1-year warranty
✅Available on Amazon ($150)
4. Best for Trigger Fingers – Comfier Hand Massager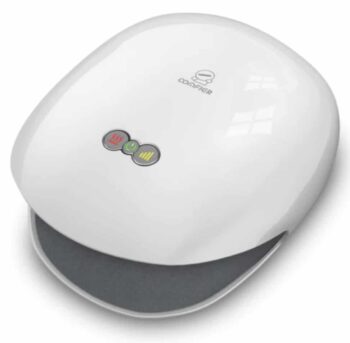 Size – 8 x 5 x 8 inches
Weight – 2.5 pounds
Battery charge time – 3 hours
Battery life – 1-1.5 hours with full features
✅ $50 on Amazon 
The unique feature you get with the Comfier hand massager is the dedicated compression massage it offers to each one of your fingers separately.
This makes it a good choice for people suffering from trigger fingers.
When you put your hand in, you'll feel there is a hole for each of your fingers, including your thumb. The machine massages all your fingers, the top, and bottom of your hands, including the top of the wrist.
You can choose from 3 pressure modes and 3 intensity levels, and the device is very easy to use.
However, the Comfier is a bit smaller than average, may not fit men's hands, and may not provide relief for Carpal Tunnel.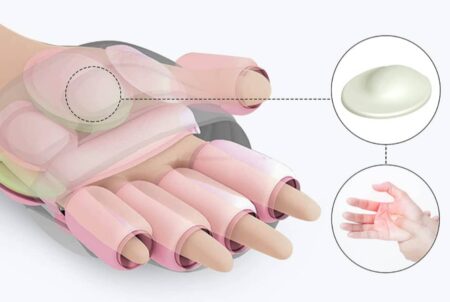 Like the Lunix massager, this one also charges its lithium battery through a USB cable, but it only takes about 80-90 minutes to get a full charge.
Comfier is a well-established brand that has made a huge variety of massage devices for over 20 years, and you get a 30-day money-back guarantee for any reason, and 2 years of warranty for quality-related issues.
Massages each finger separately
Relieves trigger fingers
Only 3 simple buttons and easy to use
Warranty can be extended to 3 years free of charge
High-quality build and soft and silky inner fabric
Cons
The heat doesn't reach the fingers, only the palm
Does not fit large hands
No vibration massage
✅Available at Comfier ($53 with coupon code TREAT30) and on Amazon ($50)
5. Fits All Hand Sizes – Snailax Hand Massager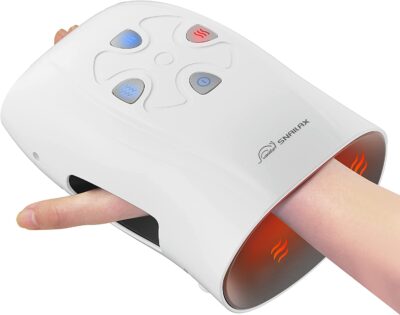 Size – 11 x 8 x 6 inches
Weight – 3.13 Pounds
Battery charge time – 1.5 hours
Battery life – 1.5 hours
✅ $58 with code hallo30 at Snailax
I have a few Snailax massage machines, including their infrared foot massager and body massager, and I knew none of their devices would disappoint me.
The Snailax hand massager massages 4 fingers (individually), the palm, and the wrist, and once you charge it fully, the acupressure (compression) massage, vibration, and heat all work at the same time.
However, you can use each feature separately for the full 10-minute treatment.
The design of the Snailax makes it fit all hand sizes and both hands.

The sleek design and solid build of the device are impressive.
The massager's battery charges through an AC wall adapter that comes with the device – in only 90 minutes.
However, while I like this one, it only comes with 3 massage programs and intensities, and when I used it for the first time, I thought the compression may be too intense for people with advanced arthritis or tender/swollen joints.
Snailax Pros
Fits both hands and all hand sizes
Massages each finger separately, the palm, and wrist
3-year warranty
Solid and good brand, with great customer service
Relatively low price
Lightweight and portable
Established company
Cons
Heat doesn't reach the fingers and is only warm (I suggest wearing thin gloves to keep the heat)
Powerful acupressure massage, may not fit people with advanced hand conditions
✅Available at Snailax ($58 with coupon code hallo30) and on Amazon ($56 with code under the price)
Which Intensity Level Should You Choose?
When using an electric hand massager, the intensity level depends on your comfort and preferences, as well as any specific recommendations provided by the manufacturer.
It is generally recommended to start with a lower intensity level and gradually increase it to a level that feels comfortable – without allowing your fingers to turn purple.
If you have sensitive hands, you may want to begin with a low or medium-intensity setting. This allows you to check how your hands respond to the vibrations and pressure of the massager.
As you become more accustomed to the sensation and if you want a deeper massage, you can gradually increase the intensity level to a higher setting.
It's important to listen to your body and avoid using an intensity level that causes discomfort, pain, or any adverse effects.
Is Heat or Cold Better for Arthritis Inflammation?
For an acute injury, such as a pulled muscle or injured tendon, the usual recommendation is to start by applying ice to reduce inflammation and dull pain.
Once the inflammation is down, heat is used to ease the stiffness and pain, especially in chronic conditions, such as osteoarthritis.
However:
According to Chinese Medicine, practiced for thousands of years, cold therapy reduces blood circulation which harms the healing process. It only masks the pain and interferes with the body's process of healing.
👉 See the best infrared (heated) gloves for arthritis
How Do You Massage Arthritic Hands?
When we massage arthritic hands, we never want to cause more pain, only a massage that simply feels good. The goal is to boost blood circulation in the hand, bring blood flow, and decrease pain and stiffness.
The best massage technique for hand arthritis involves compressions, linear Swedish friction, circular motions on knuckle joints, and rocking finger joints.
We recommend a gentle shaking and trigger point release in the hand and forearm as well. Always start with some lotion oil.
With an electric hand massager, you can have a quick self-massage without needing a professional – to get rid of the stiffness and tightness caused by arthritis and even improve grip strength.
For example, this study found that massages can lessen pain and increase grip strength in those living with arthritis in the hands and wrists.
Breaking Free From Hand Pain
Imagine this: you slip your hands into these relaxation chambers, and suddenly the invigorating squeezing and buzzing starts, along with the warmth that spreads like a cozy blanket, melting away all that pain and tension.
With these hand massagers, you'll be back to holding a pen, creating masterpieces, working in your garden, and giving epic high-fives in no time.
In this handy post (I couldn't help it), you've found the best heated hand massagers, designed to relieve your pain and bring back the joy of using your hands.
However, there are more ways to help your hands that we've covered before, including infrared gloves (to keep your hands toasty warm in the winter), an infrared lamp (to shine pure energy into your hands), and the best heated wrist wraps.
To your health and happiness,
Meital