Eye heating pads, used the correct way, are scientifically proven to improve oil gland function, stabilize the tear film, and hydrate and lubricate your eyes, which allows them to eliminate bacteria and debris.
That's why the best eye heating pads and masks can quickly relieve dry eyes, blepharitis, styes, pinkeye, and eye fatigue – with long-lasting results.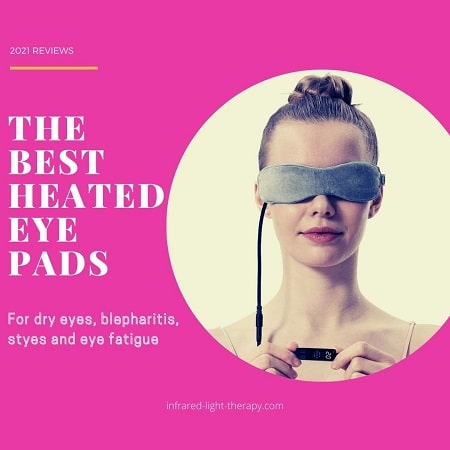 In this post, you'll find the best heated eye pads of 2022, including moist heat pads, electric eye masks, and disposable eye pads.
Are Eye Heating Pads Good for You?
Warm eye compresses are an ancient remedy for eye pain, eye infections, discomfort, and dryness. Heated eye pads take this remedy to the next level by keeping the heat longer (which is critical for heat treatment to work) and avoiding the mess that comes with them.
They are more comfortable to use than traditional warm compresses, and the best ones reach the necessary temperature to affect the oil glands (110 F).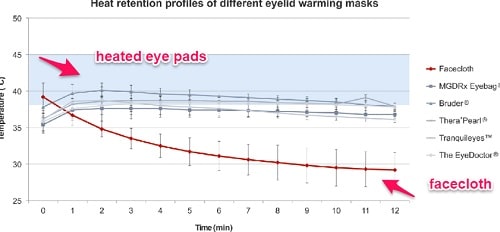 Used correctly, the best heated eye pads can warm and hydrate your eyes, which results in reduced pain, quicker healing, and an immediate stress relief bonus, and many people use them to relieve headaches and migraines as well.
Top Pick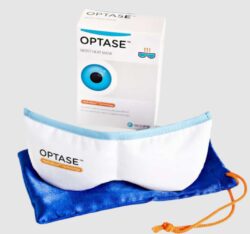 Our top pick for 2022 is the Optase Moist Heat Eye Mask, a self-heating eye compress, made by an award-winning company. Here's why:
Clinically tested and proven to treat Meibomian gland dysfunction
Silica beads absorb moisture from the air
Keeps the heat for 10 minutes, the required time needed according to studies
The runner-up is the popular Bruder moist eye pad, which works the same way and was clinically proven to help dry eyes from contact lens.
How Do You Choose Heated Eye Masks?
While you'll find all sorts of warm eye pads on this list, the most effective heated eye masks for dry eyes are the ones that can maintain a consistent 110°F for at least 10 minutes – in order for the therapeutic heat to reach the oil glands.
110˚F is safe against the external eyelid and won't cause any burns or injuries, and was found in studies as the ideal temperature for treating dry eyes.
Why?
Because the oil clogged in the ducts coming from the Meibomian glands melts at a specific temperature of 110 degrees.
The 6 Best Heated Eye Pads/Masks (Electric/Microwave)
Here is our research, and here are the 6 best heated eye pads, plus the best heated eye massager with heat:
(See our full heated eye pads below the table)
Comparing the best heated eye pads according to uses, features, temperatures, and price.
1. OPTASE Eye Mask – Best for Dry Eyes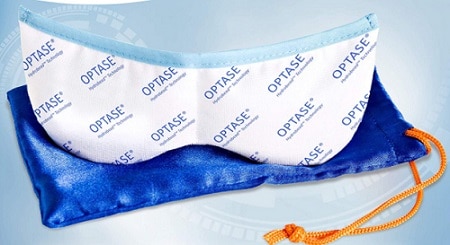 Filling – silica beads
Heat retention – 8-10 minutes
The Optase is an award-winning European company that has created a microwaveable moist heat eye mask that was clinically proven to treat symptoms of Meibomian gland dysfunction and is a clinically-tested and doctor-recommended self-hydrating heated eye mask.
The pads contain advanced silica beads technology, that absorbs moisture from the air and keeps the heat for the necessary 10-minute treatment.
They are very soft and comfortable on the eyes (covered with unwoven cotton) and are washable and reusable.
The Optase eye pads come in a blue satin pouch to help you store them and keep them clean. All you have to do is pop them in your microwave, heat them for 20-30 seconds, and enjoy a spa-like treatment for your eyes.
If you wash them, you'll have to dry them for at least 24 hours, so if you use heated eye masks every day, it would be a good idea to have another eye pad to alternate with.
Optase Pros & Cons (according to Consumer Reviews)
Most users like this moist heat eye pad, and reported good results with dry eye and Blepharitis.
Some reviewers pointed out that it doesn't stay hot for 10 minutes and requires reheating in the microwave. This may have happened due to not following the specific instructions in the manual.
✅ Price – best price on Amazon
Tip from Personal Experience
When I used to suffer from dry eye, I applied 1 drop of pure,
hexane-free castor oil
inside
my eye and then used a heated eye pad – before going to sleep. In the morning, after a few minutes of blurry vision, the dryness disappeared. See more about
using castor oil for dry eyes
. These days I do not suffer from dry eye anymore.
2. Aroma Season Heated Eye Mask – Best for Blepharitis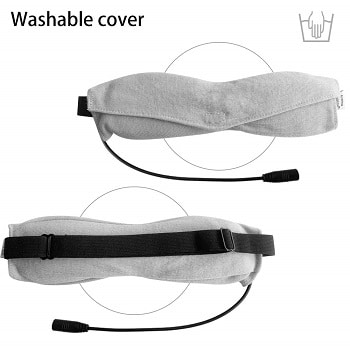 Filling – natural flax seeds
Heat Retention – up to 60 minutes
The Aroma Season electric heated eye mask takes home eye treatments up a notch by providing consistent heat to your eyes for as long as you want and by offering 3 different temperature settings (from 104℉ to 140℉) and a timer – via the digital controller.
This ability is very important when you want to treat any eye condition, including contact-lens irritation, dry eyes, Blepharitis, styes, and Chalazion because all of these require consistent heat of 110 F for immediate relief and faster healing.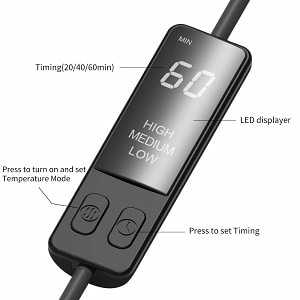 (However, we recommend not to use any heated eye pad for more than 10 minutes, overusing can be counter-effective and dry your eyes)
The USB cable allows you to power this one via your phone, your PC, or a power bank – and stops automatically once the time you set is up. You can use the box that it comes in and take it anywhere with you.
The timer allows you to control your treatment and you can safely drift off to sleep – without worrying you'll wake up in the middle of the night for blinking.
The Aroma Season is filled with natural flax seeds and made with cotton, and feels very comfortable and relaxing on the eyelids. However, you'll need to be near a power outlet to use it.
Here's Dr. Cremers reviewing the Aroma Season dry eye mask:
Aroma Season Pros & Cons (according to Consumer Reviews)
Most consumers stated that it helped them manage dry eye symptoms, Blepharitis, and meibomian gland dysfunction (MGD) and that the mask is comfortable, stays in place, and keeps the temperatures.
Some complained about the inability to wash the mask, and a few said that the mask stopped working (on one side) after 4-5 months.
✅ Price – best price on Amazon
3. Bruder Eye Compress – Best for Styes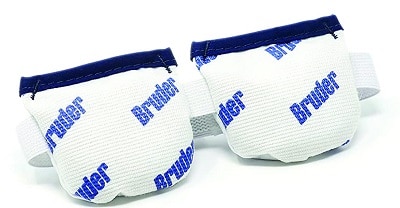 Filling – self-hydrating beads
Heat retention – 10 minutes
The Bruder microwave-activated eye compress maintains even moist heat for about 10 minutes, after short 20-second heating in the microwave.
The MEDIBEADS filling absorbs moisture from the air when heated and releases this moisture immediately. It is a washable and reusable eye pad, safe for daily use – if necessary.
Many people like to use it just before they go to bed, and it's a nice way to fall asleep without eye irritation.
And this way you will avoid the few minutes of blurry vision you get as a result of the "melting" of your oil glands – releasing all kinds of dirt out of your eyes.
The Bruder was clinically
proven
to significantly improve comfortable contact lens wear time in people with CL-related dry eyes.
Bruder Pros & Cons (according to Consumer Reviews)
Most consumers are satisfied with the Bruder eye compress, saying that their eye doctor recommended it for dry eyes, and they were right to do so.
However, some have complained about the time it takes for it to dry after washing, and that the compress does not heat as well after washing.
✅ Price – best price on Amazon 
4. ProCIV Eye Mask – Best Self Heating Eye Compress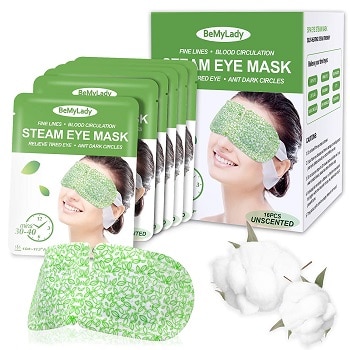 Filling – medical non-woven fabric
Heat retention – 30 – 40 minutes
The ProCIV self-heating and disposable eye masks (16 packs) do not require a microwave or electricity to work since they are self-heating eye masks.
You just open a pack, place it on your eyes and they instantly heat up automatically to a temperature between 104℉-113℉ – for 30 minutes!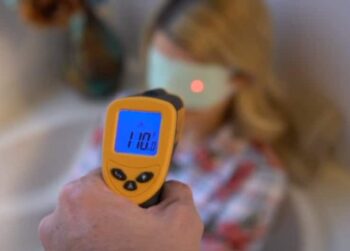 Also, they are disposable, so there's no worrying about bacteria and fungi build-up, and they are the most portable and easy to take with you. The soft material (cotton) is highly elastic and fits all face shapes and sizes
Since they are disposable, these will not be a very cost-effective choice for people who need this treatment on daily or frequent use. They are better for people suffering from on-and-off eye fatigue, or other non-chronic eye conditions.
The only cons are that you can't wear them overnight because you may wake up with puffy eyes due to the high moisture, and the fact that ear loops may be a bit too short for some people, and pull the ears.
ProCIV Pros & Cons (according to Consumer Reviews)
Most consumer testimonials for the ProCIV steam eye masks are positive (average 4.5 score out of 5), and many have stated that this mask has helped with eye fatigue, eye pain, dry eyes, eye infections, and insomnia.
Many have praised the fast heating that happens within a minute simply by removing the packaging.
Some have complained that the straps may pull on the ears for some people and that the pads cover unnecessary lower parts of the face.
✅ Price – best price on Amazon
5. Renpho Electric Eye Massager – Best for Headaches & Migraines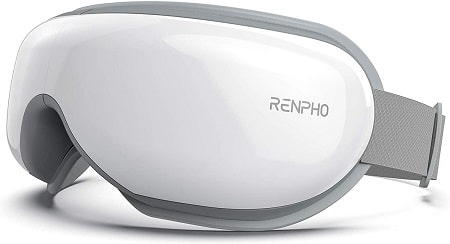 Massage modes – 5 (air pressure/heat/vibration massage)
Temperature – 104 – 107 F
The Renpho eye massager offers a combination of dry heat and eye massage, that is highly relaxing, and works best for people with eye-related headaches, and people suffering from migraines.
With a click of a button, you can choose from 5 massage modes that combine air pressure massage, heat, and vibration.
This USB rechargeable eye massager also has Bluetooth that you can use to listen to your own music and relax while you do the eye treatment.
Eye massage is also known to help with dark circles and eye wrinkle reduction – great bonuses.
The only con is that this heated eye massager may not be the best tool for dry eyes (due to the dry heat and the fact that it doesn't reach 110 F), and is more recommended for headaches and migraines (many times caused by eye problems).
 Renpho Eye Massager Consumer Reviews
While most consumers love the relaxing effect of the Renpho eye massager, a few have warned to properly adjust the device around pressure points to avoid too much pressure on the eyes and possible eye damage.
✅ Price – $72 at Renpho, or check the price on Amazon
6. Thermalon Dry Eye Compress – Budget Pick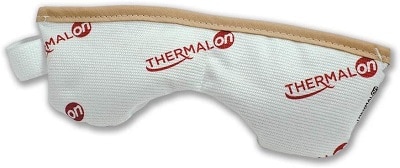 The Thermalon dry eye compress is a simple and low-cost microwaveable heated eye pad, with the heat lasting 3-5 minutes after microwaving for 20 seconds.
This eye pad can help dry eyes by releasing moist heat and is made with a soft, non-toxic material that is reusable and can be hand washed.
It is filled with Hydro Pearls that continually absorb and store water molecules from the air. When microwaved the water is released as clean, moist heat.
Thermalon vs. Bruder 
The Thermalon costs less than $10, about half the price of the Bruder. However, it can not sustain the proper temperature necessary for affecting the oil glands. Most users on Amazon seem to be happy with it, but one user has warned that it releases a chemical that can hurt the eyes (according to her doctor). This user may have overused this eye pad.
✅ Price – $11 at Bed Bath & Beyond, lower price on Amazon
How Often Should You Use a Heated Eye Mask?
According to the eye specialist, Dr. Malcolm McKellar, a hot compress should be applied for about 10 minutes, four to six times a day to begin with. After a few days, just one treatment is usually enough. Expect the skin around the area to look pink or reddened after treatment – do not confuse it with the progression of inflammation.
Benefits of Using Warming Eye Pads
1. Improving oil-gland function – heated eye pads loosen clogged oil glands (Meibomian gland dysfunction – MGD), which is the leading cause of dry eyes. This helps to create tears and keep the eyes moisturized.
Once the oils are released, the tear production will start automatically, decreasing dry eyes irritation, gritty sensation, and pain (study)
2. Hydrating the eyelids – painful eyelids, caused by blepharitis, dry eyes, etc. will benefit from the moisture provided by moist heated eye pads – instantly.
3. Boosting blood circulation – the wonderful warm heat will not only relax and relieve eye strain but also boost blood circulation to your eye, which brings all the nutrients your eyes need to heal – faster.
4. Reduced need for OTC eye drops, which are rarely helpful, and contain chemicals you don't want to put inside your eyes in the long term.
5. Reduction of dark under-eye circles and puffiness – the rejuvenating effect on the eye area has been found to reduce the appearance of dark circles and puffiness.
Warm Compress vs. Eye Heating Pads – Which is Better?
Traditional warm compresses such as a warm washcloth held over your eyes for a few minutes or an at-home rice bag are usually ineffective. Without a doubt, heated eye pads are much better than a DIY warm compress, because they allow you to reach the right temperature for eye pain relief, and keep the heat longer and optimally distributed.
And, they are designed to do it without slipping thanks to their adjustable construction.
Why Are My Eyes Blurry After Using a Hot Eye Mask?
It is quite normal to experience blurry vision after using a heated eye pad. The blurriness occurs due to the "melting" of the oil glands – which releases dirt out of your eyes, and as a result of the temporary slight pressure on the eyes. Blurry vision usually disappears after a few minutes up to an hour.
To your health and happiness,
Meital
Studies
Orla Murphy, Veronica O' Dwyer & Aoife Lloyd-Mckernan (2020) The Efficacy of Warm Compresses in the Treatment of Meibomian Gland Dysfunction and Demodex Folliculorum Blepharitis, Current Eye Research, 45:5, 563-575, DOI: 10.1080/02713683.2019.1686153
Bitton, Etty & Lacroix, Zoé & Léger, Stéphanie. (2016). In-vivo heat retention comparison of eyelid warming masks. Contact Lens and Anterior Eye. 39. 10.1016/j.clae.2016.04.002.
Borchman D. The optimum temperature for the heat therapy for meibomian gland dysfunction. Ocul Surf. 2019;17(2):360-364. doi:10.1016/j.jtos.2019.02.005
Bilkhu, Paramdeep S.*; Naroo, Shehzad A.†; Wolffsohn, James S.‡ Effect of a Commercially Available Warm Compress on Eyelid Temperature and Tear Film in Healthy Eyes, Optometry and Vision Science: February 2014 – Volume 91 – Issue 2 – p 163-170 doi: 10.1097/OPX.0000000000000134
Tichenor AA, Cox SM, Ziemanski JF, Ngo W, Karpecki PM, Nichols KK, Nichols JJ. Effect of the Bruder moist heat eye compress on contact lens discomfort in contact lens wearers: An open-label randomized clinical trial. Cont Lens Anterior Eye. 2019 Dec;42(6):625-632. doi: 10.1016/j.clae.2019.09.005. Epub 2019 Oct 3. PMID: 31587960.