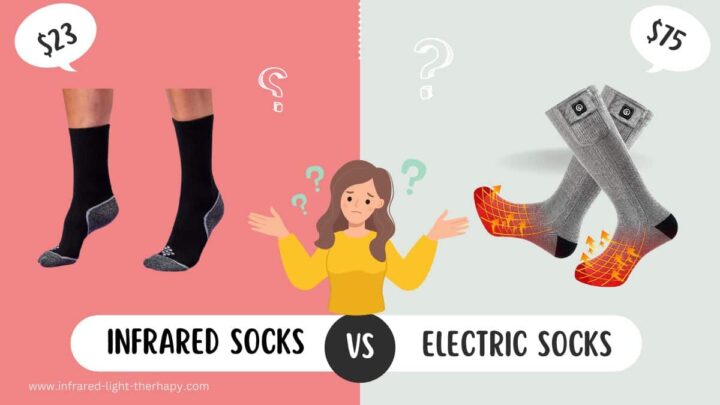 Heated socks can do much more than just warm your feet.
They can help you recover from injuries, boost blood circulation, and relieve symptoms of Neuropathy, heel pain, diabetes, poor circulation, arthritis, and more.
However:
There are a few important differences between infrared socks and battery-powered (electric) socks.
Choosing the correct type of heated socks can turn your next pair of socks into a therapeutic tool that can help you relieve foot pain, improve blood circulation and promote injury recovery – while keeping your feet toasty warm.
In this post, you'll find which heated socks type is better for you, whether you need to work outside in the cold,  suffer from cold feet, or need to relieve Neuropathy, varicose veins, or foot injury symptoms.
(This post may contain affiliate links, at no extra cost to you)
Infrared Socks vs. Battery-Heated Socks – Which is Better for You? 
While both infrared socks and battery-powered socks are designed to keep your feet warm, they work in different ways, feel different, and differ in price.
Infrared socks are made from heat-reflecting fabric (ceramic), which uses your body heat to reflect infrared rays back to your feet, while battery-heated socks use electricity (through a small battery connected to tiny wires) to generate heat (up to 130 degrees Fahrenheit).
(Think of it as warming a slice of bread between your palms, compared with putting it in a toaster).
The main differences between these two types of socks are the heat source, power source, heating time, temperature control, mobility, safety, maintenance, and cost.
Infrared socks are slightly better than regular thick warming socks and are perfect for ski trips or working outside in the cold weather. They can be used just like regular socks all day long.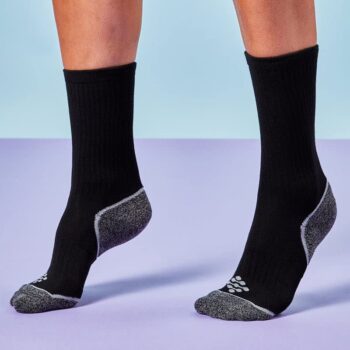 However:
They cannot raise your feet' temperature enough to significantly boost blood circulation, reduce inflammation, and promote oxygen delivery and pain relieving components to your feet.
The best electric socks can reach up to 150 degrees Fahrenheit and are timer-controlled, so you can decide how long you want your thermal foot therapy treatment to last (but you'll have to remember to charge them 😉)
This makes them a better choice for people suffering from neuropathy feet, heel pain, and poor blood circulation (Raynaud's disease, Diabetes, etc.)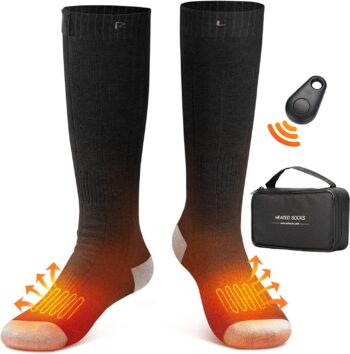 For example, the Velazzio Heated Socks offer 3 heat settings, reach up to 150 F, come with a separate Bluetooth controller, and the batteries are ergonomically curved to fit your leg so they don't bother you.
On the other hand, electric socks need to be handled with more care – you can't just toss them in the washing machine when you're done.
Plus, you always need to have a way to charge them (if you spend a lot of time outside).
How Do Infrared Socks Work?
Infrared socks are socks that are infused with over 20 types of ceramics and minerals, that activate when in contact with heat, such as the natural infrared energy your body emits.
To manufacture these socks, these ceramics and minerals are transformed into a liquid state and fused into Polypropylene fibers, which are woven into bio-ceramic fabric.
This fabric is used to make thermal clothing such as infrared gloves, heated vests, wrist warmers, jackets, pillowcases, and anything you can imagine. It is also used inside some compression socks.
However, since it is nearly impossible to get this fabric to reflect the correct therapeutic infrared range (810 nm, according to many studies), the result is just better-warming socks – good for cold feet, working outside in the winter, etc.
Infrared socks come in different sizes, coverage (some cover the calf as well), and compression levels.
Pros 
Comfortable and can be worn like regular socks
No electric wires and batteries that can malfunction
Machine washable
No side effects or dangers
Do not cost more than regular warming socks, and much less than electric socks
Cons
Limited ability to raise foot temperature compared with rechargeable ones
What Are the Best Infrared Socks?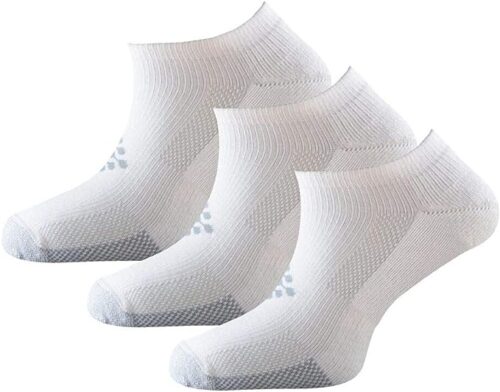 Through my research, I've found the best infrared socks to be the True Energy infrared socks, which are made of a blend of yarn that contains infrared nano-particles.
The nano-particles capture the body's heat and expand the capillaries in the feet, which improves circulation and stimulates cellular recovery.
The socks provide gentle compression and warmth, and they are comfortable to wear all day.
They also have arch compression and support, and they are anti-odor and antibacterial.
The socks are thick, which makes for comfy cushioning during hikes, and there is more compression around the toes than at the heel.
What is the Cost of Infrared Socks?
Infrared socks cost between $15 to $55 for a pair, depending on their size, leg coverage, and whether they are compression socks as well.
How Do Battery-Powered Socks Work?
Most rechargeable heated socks are powered by slim lithium-ion batteries that tuck into a pocket on the upper calf and are charged with a USB cable. They are attached to thin electric wires embedded inside the heat-safe materials.
When you turn them on, a low electric current will pass through the wires and warm your feet and toes.
Most pairs keep the heat for 3-8 hours on a full charge, and some claim up to 12 hours of constant heat. Obviously, the lower the heat setting you choose, the longer they last. The medium setting seems to work best for most people.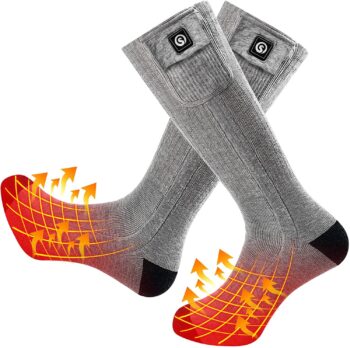 For example, the Snow Deer Heated Socks (image above) use lithium-ion rechargeable 7.4V 2200mAh batteries, that will last for 6.5 hours on the lowest setting, and 3.5 hours on the medium setting.
👉 Using a simple infrared forehead thermometer, you can check your feet' temperature before and after using battery-heated socks. My results were 76.1 degrees with achy toes before, and 105.6 degrees and pain-free toes after.
Pros
Can help treat cold feet from Neuropathy, Raynaud's disease, poor blood circulation, and more
Boost blood circulation and can relieve foot pain and speed up injury recovery
You can choose the most comfortable yet therapeutic heat level
Made from warming material even when turned off
Cons
You'll need to remember to charge them
Some models require hand washing only, and batteries need to be removed
More expensive than regular warming socks
Can not be used while sleeping
What Are the Best Battery-Operated Socks?
Before you purchase rechargeable heated socks, make sure the heating elements are thin and lightweight, the battery lasts for at least 3 hours of continuous heat, and the size fits your feet and shoe/boot size.
Also, it's important to check how long they take to heat up.
For example, one of our favorites – the Day Wolf Heated Socks – has a slim battery that lasts for 7 hours, reaches up to 131 degrees Fahrenheit, and takes 8 minutes to heat up.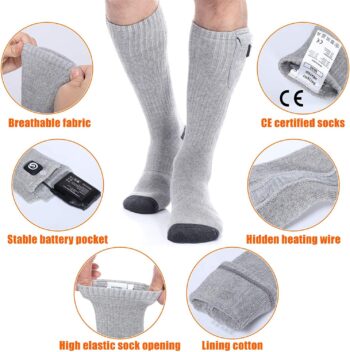 Day Wolf has been making outdoor apparel for many years, and their experience is evident.
With a press of a button, you turn them on and choose the temperature.
They heat up in 8 minutes and reach the temperature in 15 minutes, and the result is toasty warm arches, soles, ankles, and toes.
Note that they are not machine washable, but you can hand wash them once you remove the batteries.
How Much Do Battery-Heated Socks Cost?
Rechargeable heated socks cost between $25 to $90 or more for a pair, depending on the brand's reputation, the material used, the type of battery, the size of the socks, whether they come with a separate hand controller, and more.
Are Heated Socks Good for Diabetes?
People with Diabetes tend to suffer from poor blood circulation in their feet.
A study published in the journal Diabetes Care found that heat therapy applied to the feet was effective in improving blood flow, which is important for preventing wounds and ulcers.
However, we recommend choosing infrared socks over electric socks, to avoid the danger of skin burns, and to make sure they are not too tight (non-binding loose) to avoid interfering with blood flow to the feet.
For example, the Circufiber (USA-made) Diabetic socks, contain 47% of infrared fabric for that extra warmth and have a non-binding and non-chafing cuff design to prevent them from slipping down to your ankles.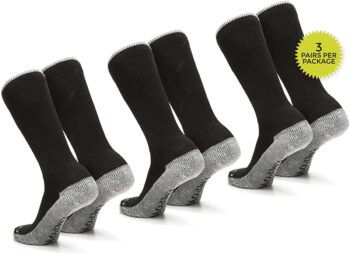 Are Heated Socks Good for Neuropathy?
Thermal therapy can help Neuropathy symptoms such as foot pain, burning sensation, and numbness by boosting blood circulation to your feet. But it must be used with caution and after assessing your condition with a physician.
Many people find it helpful to use infrared massage boots instead of heated socks because they offer a soothing massage and gentle heat settings to keep the legs warm during the massage.
Combining massage with thermal therapy boosts blood circulation more than just using heat. We've covered all the best infrared devices for Neuropathy to help you choose the best choice for your needs,.
Heated Socks Side Effects
Heated socks are generally considered safe, but a few side effects can be avoided by proper use, care, and following the manufacturer's instructions.
Since infrared socks are non-electric, the only side effects can be some discomfort from sweating, and some drying of the skin, especially if you already have dry feet.
If your feet tend to sweat, choose heated socks made with a special cooling fabric, such as the Snow Deer Heated Socks.
They contain 55% CoolMax Polyester fabric, which dries 5 times faster than cotton and reduces the chances of Athlete's Foot.
Battery-powered socks can cause burns if worn too long at the highest temperature, and the battery can cause a mild electrical shock if it is damaged.
People suffering from conditions that cause foot numbness should use them very carefully and not reach the highest setting, because they may not sense when their feet get too hot.
Are Heated Socks Worth It?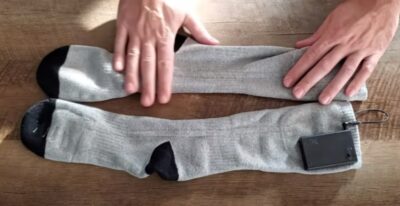 For people suffering from cold feet (due to blood circulation problems) or wanting to keep their feet energized while doing winter sports or working outside – heated socks are definitely worth the investment.
Choosing the right type of heated socks is important to make this purchase worth it.
Before You Go…
Infrared light therapy and thermal therapy are known and proven to be very helpful for all blood circulation problems, foot pain, swelling, and low energy.
See the best infrared therapy home devices to treat your aches and pains naturally – without any side effects.
To your health and happiness,
Meital