Heating pads for the wrist are gaining a lot of interest in the last few years because they make a natural and effective tool for treating Carpal Tunnel Syndrome, arthritis, tendonitis, and other wrist injuries – for a very low cost.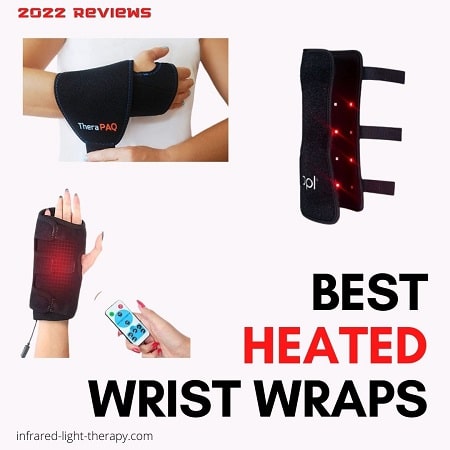 This post contains affiliate links, at no extra cost to you.
Compared with the regular wrist wraps used by powerlifters and bodybuilders, heated wrist wraps' main purpose is a thermal treatment, which boosts blood circulation, relieves pain, and promotes natural healing.
In this post, you'll find the ones for the money, how we chose them, and how to use them for quick relief and long-term healing.
How Does a Heated Wrist Wrap Work?
Thermal therapy (heat therapy) is actually radiating a certain light wavelength in the infrared range, which is the same as the energy you get from the sun.
The energy delivered from a heated wrist brace boosts blood circulation in the targeted area, which brings more healing nutrients, oxygen, and pain-relieving components, and restores damaged tissues.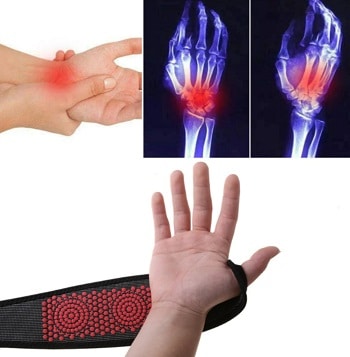 Heated wrist support was proven beneficial for any wrist injury, including Carpal Tunnel, arthritis, traumatic injuries, or chronic injuries.
Here's a direct conclusion from the study linked above:
Traumatic or chronic injuries often happen to athletes who engage in high-contact sports such as hockey, wrestling, football, etc., but also to bodybuilders and people who overuse the wrist area at work.
Thermal therapy is a natural treatment, with no side effects, and with proper use can reduce symptoms, relieve pain and contribute to long-term healing.
Top Pick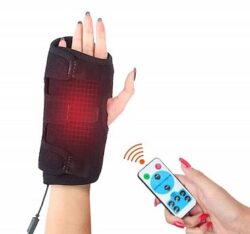 Our top pick for 2022 is the Cheroo Electrical Wrist Wrap, which keeps the heat for the longest time and is fully customizable. Here are more reasons:
Full customization – you can choose treatment time and heat level via the controller
Perfect fit – choose from 3 hand and wrist sizes
Deep-penetrating infrared heat, heats up instantly, and EMF free
For people who want a cordless and non-electric wrist wrap, the runner-up is the ActiveWrap, a microwaveable hot/cold gel pack that wraps around your wrist and palm, and is reasonably priced.
The 3 Types of Heating Pads for the Wrist
There are 3 Types of heated wrist Wraps you can choose from, all have their advantages and disadvantages:
1. Microwaveable gel packs – microwaveable and reusable gel packs, inserted in a Neoprene wrap and strapped around the wrist with Velcro straps. They are less expensive than electric wrist pads, and you can move around with them, but the heat doesn't last for more than 15 minutes, and they are heavier and bulkier.
2. Electric wrist warmers – deliver infrared heat via heated carbon fiber, and allow for temperature and treatment time control, but most ones require you to stay near a plug, and they are more expensive than gel packs.
3. LED light therapy wrist wraps – deliver near-infrared and red light therapy wavelengths via LED bulbs, do not heat as much as electric ones (no danger of burns), and some are battery powered – which means 100% portable.
We will show you the best option in the market for each type, and the pros and cons to help you decide.
👉 In a Hurry?
see our short comparison table below, or jump to our heated wrist wrap reviews below.
Comparing the best heating pads for the wrist according to heating method, device type, treatment area, and price.
Is Heat Good for Carpal Tunnel/Arthritis/Tendonitis?
Thermal therapy is proven for decades to promote cell regeneration, induce biological stimulation, improve blood circulation, reduce inflammation, relieve pain, and regulate immune functions.
This makes heat therapy possibly very helpful for CTS, which is a common entrapment neuropathy involving the median nerve of the wrist, arthritis, tendonitis, wrist strains, or any type of inflammation.
Note: According to studies, the 810 nm wavelength is the most efficient for treating Carpal tunnel.
Generally, continuous low-level laser therapy (infrared light therapy) was found effective for any condition causing wrist pain and injury.
Most doctors agree that using heat is better than using ice to treat carpal tunnel, and is much better at promoting healing – which brings about pain relief.
Is Heat Good for a Sprained/Injured wrist?
If you have an acute wrist injury, we recommend waiting a couple of days until the inflammation is slightly reduced – before using heat therapy. We do not recommend cold packs at all since it interferes with the natural inflammatory first response of the body – which is a good thing.
The 4 Best Heated Wrist Bands (2022 Reviews)
Through our research and after analyzing hundreds of consumer testimonials, here are top picks:
1. CHEROO Hand and Wrist Heated Wrap – Best Electric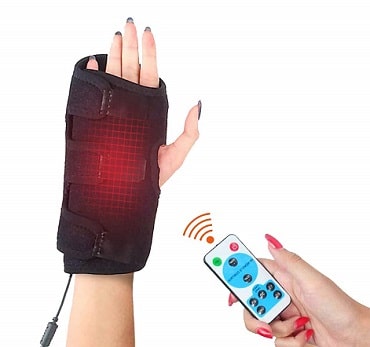 Type – electric, carbon fiber
Treatment time – 15-20 minutes, twice a day
Warranty – standard Amazon return policy
The CHEROO wrist wrap emits infrared heat therapy via carbon fiber to the entire wrist and almost the entire hand – except for the thumb. It fits both hands and is made from a Neoprene exterior and comfy fleece interior.
This makes it helpful for arthritis, carpal tunnel, tendonitis, and any hand/wrist injury.
It's simple to operate with its remote control, which allows you to choose from 6 heat settings and 4 time settings.
It is essentially a plug-in heating pad for the hand and wrist, so you can't really move around with it and do house chores while you are using it, but It heats up almost instantly.
It is EMF-free and has an overheat safety feature.
According to consumer reviews, you can treat your thumb even though it is not covered by the wrap – by turning the wrap around to get heat on the thumb as well. Also, you need to be careful not to misplace the small remote control, because there is no other way to operate the wrap.
✅ Price – usually less than $40, check today's price on Amazon.
If you want a wrist wrap that is 100% cordless and portable, check out the next one:
2. Dpl Wrist Wrap – Best LED Wrap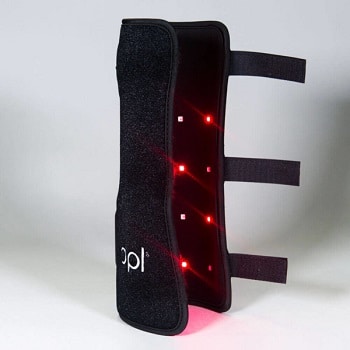 Type – LED light therapy wrap (we've also reviewed the

best LED light therapy wraps

for larger body parts!)
Treatment time – 15-20 minutes, up to 3 times a day
Warranty – 1 year
The dpl wrist wrap delivers near-infrared rays (at 880 nm) and red light wavelengths (660 nm) through professional-grade LEDs and is battery operated, which means you can use it on the go, without needing to be tethered to a plug.
LED therapy does not produce as much heat as carbon fiber technology, but the infrared wavelength penetrates deeper under the skin to relieve pain and treat any injury, while you will only feel an enjoyable, low-level heat.
However, it takes 2-4 hours to fully charge before you can use it.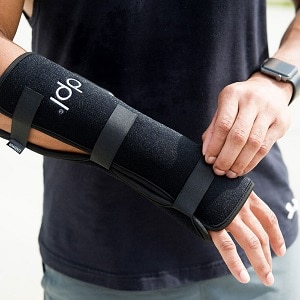 It is a well-designed flexible hand and wrist wrap that you can use up to 3 times a day, for no more than 15-20 minutes each time.
The FDA-cleared dpl wrist wrap covers the entire wrist and all of the palm, and almost the entire forearm as well – and fits both hands.
✅ Price – $99 with free shipping at Revive Light Therapy 
3. TheraPAQ Wrist Wrap – Best Microwaveable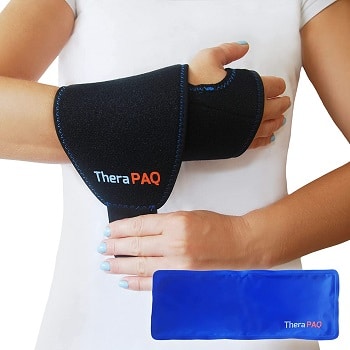 Type – microwaveable gel pack
Treatment time – 15-20 minutes, twice a day
Warranty – standard Amazon return policy
For a lower price, you can find microwaveable gel packs such as the TheraPAQ, which holds a 10″x3.5″ gel pack (made from leakproof plastic) and can be adjusted via Velcro straps. The straps also allow for some compression therapy.
All you have to do is heat the gel pack for 20 seconds in the microwave, place it inside the wrap, and enjoy the pain-relieving heat on the go.
According to consumers, the heat lasts for about 15 minutes, which is also the recommended treatment time.
However, some buyers said that it gets quite bulky if you are trying to work with it, and the heat only reaches the area directly covered by the gel pack, compared with the full hand and wrist coverage you get with an electric wrist wrap.
✅ Price – less than $20 – check the price on Amazon
4. ActiveWrap Wrist Pack – Best for Sleep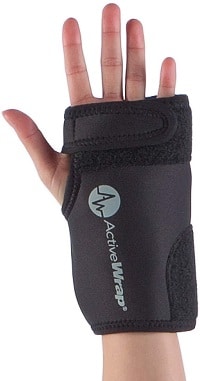 Type – microwaveable gel packs (2 packs)
Treatment time – 15 minutes, twice a day
Warranty – 1-year, free returns
The ActiveWrap is another microwaveable gel pack heated wrist brace, but this one comes with 2 gel packs instead of one, which means the treatment area is doubled and includes both sides of the wrist and palm.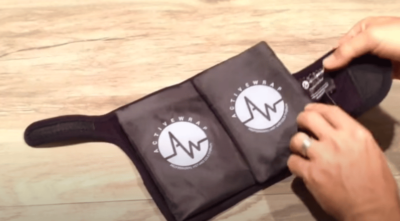 While this is more efficient, it does make the wrap bulkier and heavier, which is why many consumers say they prefer to use it when sleeping, or resting.
Again, the Velcro straps allow you to do some compression therapy as well, to boost your treatment.
According to consumer reviews, this double gel pack may not fit people with a wrist size over 8 inches, so make sure to measure your wrist.
✅ Price – usually less than $30 – check the price on Amazon
Is a Heated Wrist Wrap Safe?
The safety of heated wrist braces depends solely on the manufacturer's quality, and the user, who has to resist the urge to overuse the wrap. High-quality electric wrist warmers have safety features inside (such as auto shut-off and thermostat), and the best gel packs will be leakproof and flexible.
To avoid skin burns and blisters, make sure to only use it for the recommended time, and make sure the auto shut off works well, in case you fall asleep with it. LED light therapy wraps do not get as hot as regular ones and have a zero risk of skin burns.
👉 For full hand and finger treatment check out the best heated gloves of 2022!
To your health and happiness,
Meital