When Jessica Alba, Kourtney Kardashian, and Kate Hudson all posted an Instagram photo of themselves during an LED face mask session, I was intrigued, to say the least.
I already have (and love) my handheld LED light therapy home device, and I already know it works great for wrinkles, sagging skin, and acne.
But:
The idea of treating my entire face at the same time seemed like a major upgrade.
(Even if I look like Star Wars stormtrooper while I'm at it)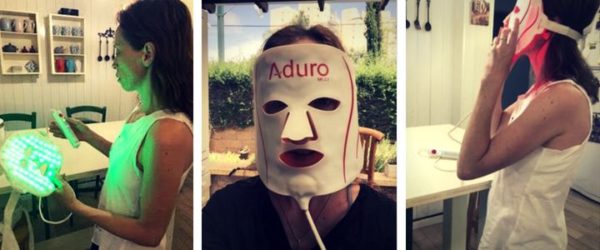 This post contains affiliate links. Click here to read my affiliate policy.
So I went ahead and did my own extensive research, to find everything about LED facial masks.
If you are looking for the highest quality and most effective LED light therapy treatment masks, you've come to the right place.
In this post you'll find:
👉 In a Hurry?
See our LED light therapy masks comparison table:
Jump to the full LED face masks reviews – below!
What is an LED Face Mask?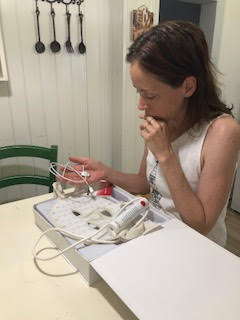 LED facial masks (photo face masks) use color light therapy (UV-free) in specific wavelengths via tiny LED bulbs to increase facial blood circulation and promote collagen production, skin healing, and acne reduction.
The best LED masks include at least 2 important wavelengths: red and blue.
The red rays are scientifically proven to stimulate collagen and elastin production by increasing local blood circulation. The results:
1. Plumped, glowing skin immediately after treatment
2. Fewer wrinkles, fine lines, and sagging skin after about 2 weeks
3. Faster healing of acne, reduced inflammation
👉 See the 4 proven red light therapy skin benefits
The blue rays are proven to kill acne-causing bacteria (up to 80% of them to be exact), which results with:
1. Speedy elimination of acne breakouts
2. Prevention of new acne breakouts
The strength of the light is the key to success.
The weaker (and less expensive) LED facial masks still work, but they require more time and patience before you see the results.
The 7 Best LED Face Masks (2020 Reviews)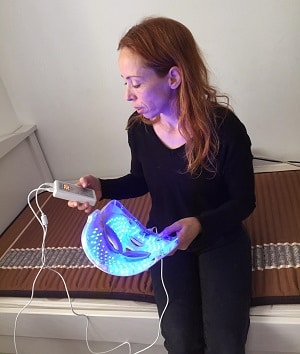 What's the best LED light therapy facial mask – in 2020?
According to some certified aestheticians, the best LED facial mask is the Korean Deesse Premium pro LED Mask (also recommended by celebrity esthetician Shani Darden), which rings in at $1,900.
But, is it worth the crazy high price?
Since most of us can't afford this price, I've found the 6 best alternatives, for a much lower price.
These LED mask kits are just as "pro" but may require a bit more "work" before you see the results.
1. Project E Beauty 7-Color Treatment Facial Mask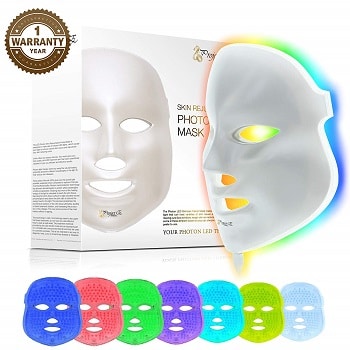 The Project E Beauty 3-color LED face mask (red, blue & green) can heal your acne, brighten your skin and reduce wrinkles and fine lines – according to your choice of color.
The red light rays (630 nm) boost blood circulation and promote collagen production to reduce and prevent wrinkles, tone your skin, and make it radiant and glowing.
The blue rays (415 nm) destroy acne-causing bacteria, minimize pores, and heal acne.
The green light (525 nm) lightens and calms the skin.
Plus it has more colors – cyan, purple, yellow, and white.
It is not limited to 30 treatments and can be used for years.
Number of LEDs: 149 total
Weight: 1.1 kg
Voltage: 110V-220V, 60 Hz/50 Hz (fit for use around the world)
Warranty: 1 year, 30-day money-back guarantee from day of purchase.
How to use: 2-3 treatments a week for 10 minutes each color.
And then reduce to 1-2 treatments a week once the results are shown.
Start slow, with low settings and work your way up.
Note: at a higher power setting, the lights are brighter and hotter.
✅ We tried the Project E LED Face Mask for 30 days
Project E light therapy mask Pros
Very easy to assemble and use
Pleasant relaxing warmth
It has eye slots with protection already built around them so you don't have to close your eyes during treatment.
Makes skin radiant, toned and smooth, pores reduced, prevents acne altogether if used regularly.
👉 Check today's price on the official site (and don't forget our coupon code – MEITAL05!)
Cons
It may feel heavy, especially on the nose
Using the head bandage can make it feel too tight
2. Dr. Dennis Gross Skincare DRx FaceWare Pro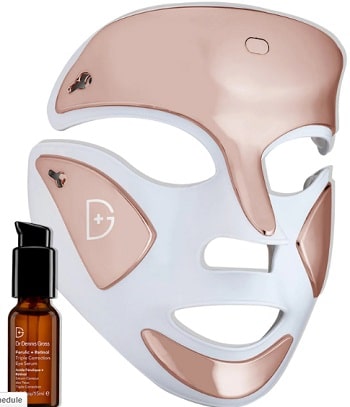 The futuristic design is the first thing that pops with this LED mask, but this medical-grade and hands-free mask only needs 3 minutes of daily treatment to give your skin a rejuvenating reboot.
The mask lies directly on the skin and conforms to all the contours of your face for a comfortable treatment.
It has 100 red LEDs and 62 blue LEDs and you can choose from 3 treatment modes:
Red light therapy – stimulates collagen production, plumps and smoothes the skin, and reduces fine lines.
Blue light therapy – destroyed acne-causing bacteria
Red & blue light – removes blemishes quickly and fighting acne and skin anti-aging
Dr. Dennis Gross LED Mask pros
Rechargeable and hands-free mask
Short treatment time – perfect for busy people
Beautiful and comfortable design
3 treatment modes
Auto shut off after 3 minutes
✅ Check today's price on Dermstore
Cons
What's the best serum to use with LED light therapy?
3. 🥇Aduro LED Mask (with Infrared!)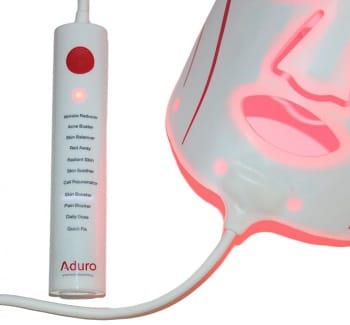 The Aduro 7+1 LED facial mask kit has 4 unique qualities which make it one of the best LED light therapy face masks on the market.
It is flexible and lightweight – it is made with medical silicone and not hard plastic (like most masks) that can be heavy on your face, uncomfortable, and damage your skin.
11 different treatments in one device – It has a pre-programming feature for specific skin problems – you can choose from 11 different treatments on the mask's controller (for example – wrinkle reducer/acne-buster/red away/pain blocker/skin balancer/quick fix and more!).  This saves a lot of time and confusion about the right color treatment time you need.
It's the only mask that includes infrared (invisible) wavelength – which penetrates deeper into the skin for boosted healing, inflammation reduction, and pain relief.
100% portable – It has a rechargeable battery, which lasts for 4 X 20 minutes treatment sessions. You can move around and do whatever you like during treatment. The head straps will keep it on in place.
The 11 wavelengths are red, blue, green, light green, light orange, light blue, purple, light red, purple-blue, Turquoise-blue, and infrared.
Here's me with my mask: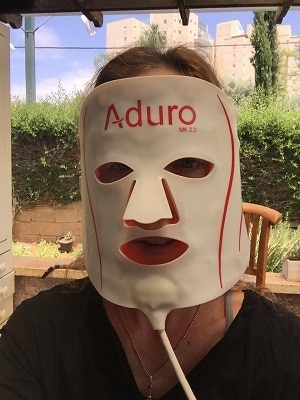 Aduro LED mask Price
This one is more expensive than the other masks on this list, but we think it's well worth the price.
Get $20 OFF when you purchase with our coupon code!
📢 Attention – Aduro LED Mask Before & After
I tried the Aduro LED Mask for 30 days – click the link to see before and after pictures and my review.
4. New Project E Beauty 7 Colors LED Mask – Face & Neck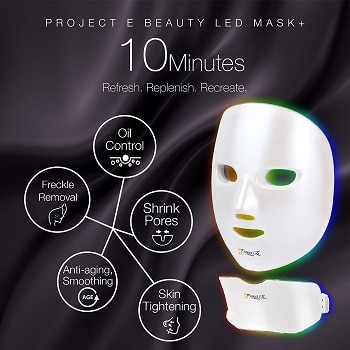 The New Project E Beauty LED mask covers both your face and your neck in one treatment, is wireless (completely portable), and weighs 50% less than the first one.
The weight is only 0.3 kg, and the neck mask is only 0.1 kg.
The 7 colors are:
Red – 630nm
Blue – 415nm
Green – 525nm
Cyan – 490nm
Yellow – 590nm
Purple – 390nm
White
👉 Number of LEDs: 102 LEDs (Facial Mask), 40 LEDs (Neck Mask)
👉 Treatment time (for each color) – 10-15 minutes
If you want to treat your neck – this is the best one (through our research).
5. ECO FACE Near-infrared LED Photon Mask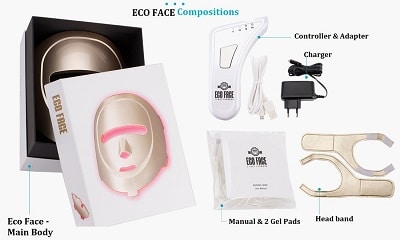 We love the Eco Face LED Photon mask because it has BOTH the red wavelength (630nm) and the near-infrared wavelength (830nm) – in a total of 120 LEDs – optimal for skin anti-aging treatments.
Near-infrared light penetrates deeper than the red light into the skin layers.
(On the other hand, it doesn't have any other colors).
This one is a rechargeable and portable device, made with eco-friendly plastic (no PBA) and with high reviews on Amazon.
This laser face mask is can mainly help with reducing melanin and red spots, wrinkle reduction, tightening sagging eyes, improving skin vitality and glow, and increase skin moisture.
👉 Treatment time – 15 – 20 minutes – 4-5 times a week
Pros
Once the mask is charged, it's completely portable and you can walk around freely during treatment
Fit for all skin types and skin tones
Battery life is about 2 years, depending on how much you use the mask (can be replaced for $25). And the LED lights last 20,000 hours.
1-year warranty
Good customer service
Made in South Korea
✅ Check today's price on Amazon
Cons
Doesn't fit for acne treatments, only acne-scars (no blue light).
Price is higher than average.
6. Newkey LED Light Therapy Mask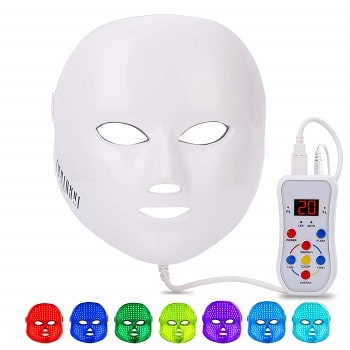 The Amazon-popular Newkey LED face mask has 150 LEDs and 7 different colors to choose from. The important ones are:
Red – 650 nm
Blue – 463 nm
Purple – 600 nm (great choice for Rosacea treatment)
Green – 527 nm
White – 470 nm
The mask requires 3-4 treatments (per week) for 20 minutes each session and claims to improve skin elasticity, reduce pigmentation (do not use the red light if you have hyperpigmentation, only the green), reduce wrinkles, kill acne-causing bacteria and improve skin smoothness and tone.
Number of LEDs: 150
Weight: 1.3 kg
Voltage: 110V-240V
Warranty: 60-day money-back guarantee, 1-year warranty
Newkey Pros
60-day money-back guarantee – enough time to see if it works for you
It helps greatly for acne, acne scars, and Rosacea, but anti-aging as well.
Easy to use
✅ Price – The best price is found on Amazon.
Cons
May feel a bit heavy on your face but comes with a plastic holder attachment to help support the weight.
Translated instructions not very easy to understand
7. Angel Kiss LED Therapy Beauty Mask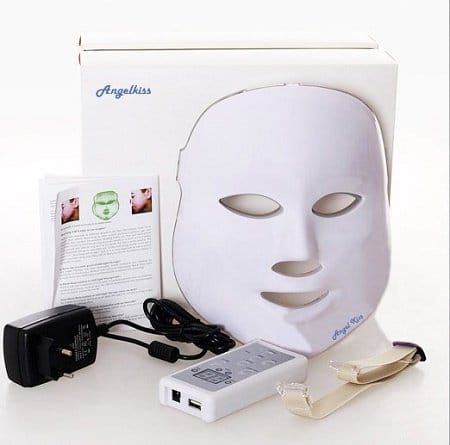 The Angel Kiss anti-aging LED mask is the least expensive one of these, yet made to last at least 3 years.
It includes red (650nm), blue (463nm) and green (527 nm) light rays, and promotes wrinkle reduction, reduced pores, toned and smooth skin, skin brightening, and acne healing.
👉 2020 update: The Angel Kiss Mask is now offering 7 colors!
After treatment, your skin looks vibrant and radiant.
Number of LEDs: 150
Weight: 1.3 kg
Voltage: 110V-240V adapter
Warranty: 1 year
Angel Kiss Pros:
Easy to use
Unlimited use
The timer is set to 5-minute increments
The price
👉 Check today's price on Amazon
Cons
Recommended to use with eyes closed
Do LED Light Masks Work?
Both red LED light therapy and blue light therapy are scientifically proven to work.
Red light rays are proven to boost collagen production – responsible for the elasticity and firmness of your skin while promoting faster skin healing.
Blue light rays are proven to destroy acne-causing bacteria and treat inflammation, which results in a significant reduction in acne lesions, blackheads, and whiteheads (without antibiotics).
Blue light rays are proven to destroy acne-causing bacteria and treat inflammation, which results in a significant reduction in acne breakouts, blackheads, and whiteheads (without antibiotics).
Through my personal experience, I can tell you that YES, LED facial masks WORK.
But not in a flash.
When Can I Expect Results?
You'll see some results (such as radiant, glowing skin) immediately after the first treatment.
For wrinkle reduction, toned skin, brightened skin, and acne prevention you'll have to be consistent with your home treatment and you'll see noticeable results in 4-6 weeks.
Worth it, isn't it?
Celebrity expert esthetician Shani Darden promises immediate results after a 20 minute home treatment and recommends repeating treatment 3 times a week for long-lasting results.
👉 See 3 more proven skin benefits of red light therapy – including CELLULITE
LED Face Masks Side Effects
First, you should know that color therapy LED face masks are not painful at all. The treatment feels like a nice peaceful nap for your face. They feel warm and relaxing, and there will no side effects if you don't overdo it.
However:
The lights are very bright. I wouldn't turn it over when it's on and look directly at the lights, without safety goggles.
Make sure to use them with your eyes closed and consider covering your eyes first with a dark piece of cloth.
LED Face Mask FAQ
What is an LED face mask?
LED (Light Emitting Diode) facial masks emit different wavelengths of light (colors) that treat different skin concerns, including wrinkles, sagging skin, acne, acne scars and more.  
What colors do LED masks have?
Some masks include the basic colors – red, blue and green. Others include more colors such as amber, orange, purple, yellow and infrared (felt as heat).
How often should you use a LED mask?
A LED mask should be used 4-5 times a week, for about 10-20 minutes for each color. Once you see visible results, the frequency can be reduced to 1-2 a week.
Now that I've researched for you (and me…), you can safely join Emma Stone, Kate Hudson, and Kelly Rowland and enjoy the amazing benefits of LED facials – at home.
(If you don't mind looking like a space alien and being laughed at by your family, that is)
📢Our top pick for 2020 is Aduro LED Mask. (Don't forget our coupon code – MEITAL20)
The second runner-ups are the Project E Beauty 7 color mask and Dr. Dennis Gross Spectralite. (don't forget our coupon code – MEITAL20)
👉 Also, you can check out my full comparison between for top 10 red LED light therapy at home devices.
What about you? Have you tried LED light masks? Do you have any other questions or comments?
To your health and happiness,
Meital