Infrared lamp therapy (through an infrared lamp) is a simple, cheap, and effective alternative to infrared saunas and the expensive red LED light therapy home devices and is a natural and proven healing tool every home should have.
Infrared lamps/bulbs set-up requirements and costs are minimal, yet the benefits and medical uses – are fantastic.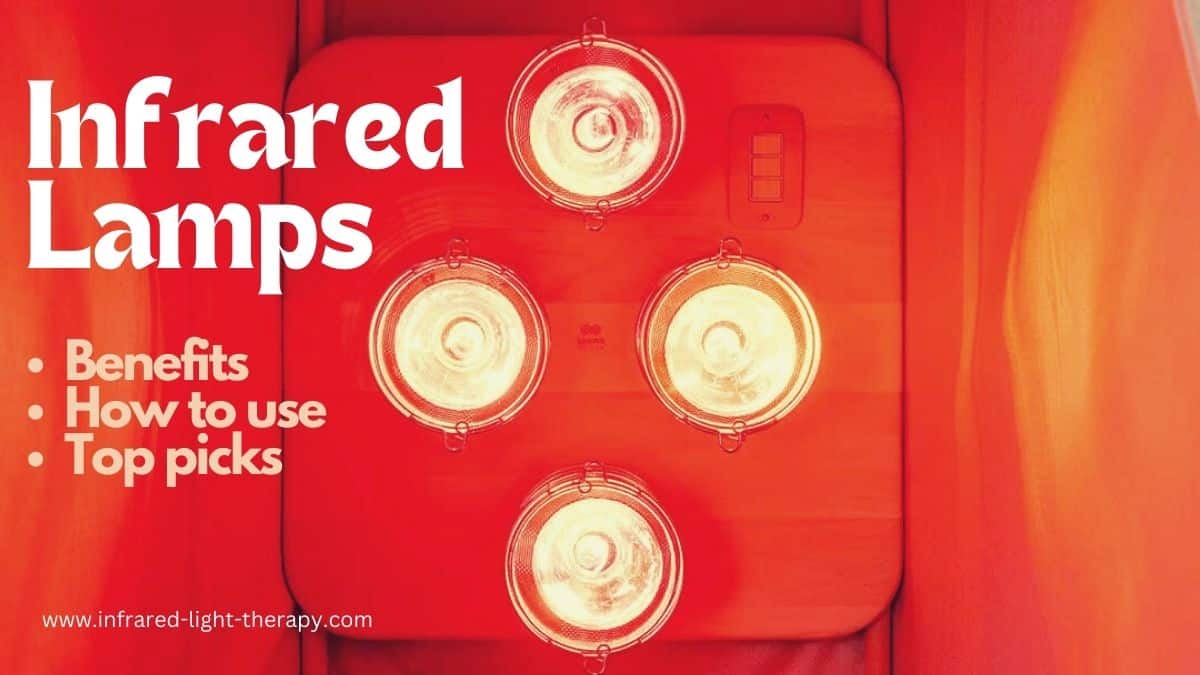 In this post, you'll find how exactly to use an infrared lamp at home for muscle pain relief, healing, and even skin rejuvenation (treatment time, distance from the heat, etc.).
This little magic light bulb has helped me with everything from acne and pimples to back pain, to facial rejuvenation, and more!
5 Infrared Lamp Uses & Benefits
Here are the best uses of infrared heating lamp therapy:
1. Pain relief (sports injuries, muscle pain, joint pain, nerve pain, arthritis) – by increasing blood flow and relaxing muscles.
2. Wound healing (diabetic wounds, ulcers) – by causing blood vessels to dilate, which can help to deliver more oxygen and nutrients to the tissues.
3. Skin anti-aging and health (wrinkle and sagging reduction, skin brightening, skin tone) – by boosting blood circulation and promoting collagen production.
4. Skin Infections, acne, rashes, burns, boils – by increasing collagen production and reducing inflammation.
5. Blood circulation (varicose veins, spider veins, edema).
6. Sinusitis & chronic ear infections
👉 See all the benefits of infrared light therapy.
No ads, reader-supported: This post may contain affiliate links, at no extra cost to you.
What is an Infrared Heat Lamp?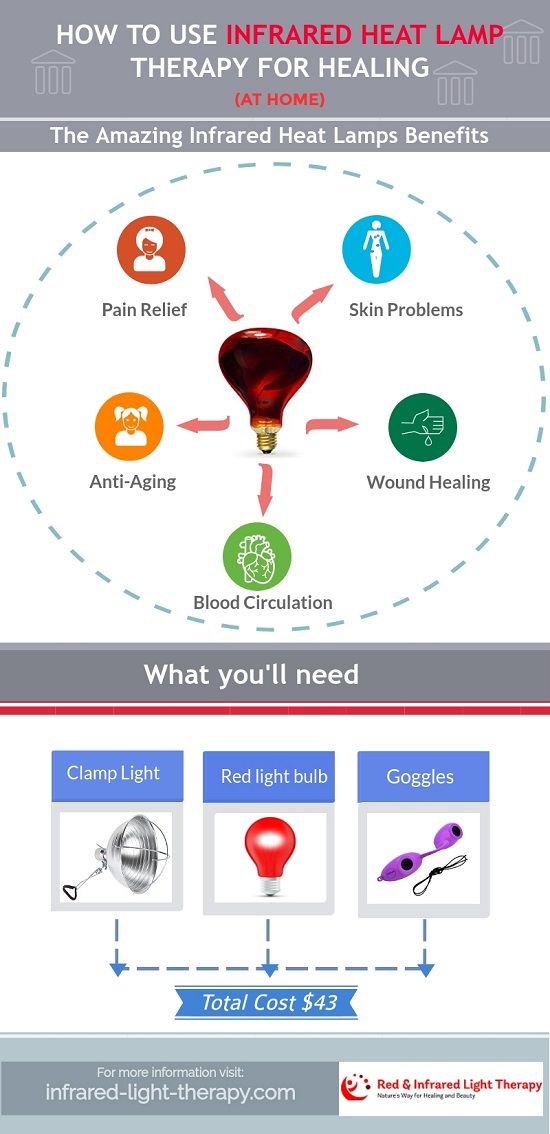 Infrared lamps (also known as "IR lamps) are large, 250-watt/150-watt, reddish incandescent bulbs. Most of them emit not only infrared rays, but red, orange, and yellow light too.
Infrared heat lamps transmit invisible infrared rays (light waves) deep into your body, all the way to your muscles, nerves, and bones.
The infrared wavelength is felt as gentle heat, yet proven to penetrate deep into your tissues and improve blood circulation by 400% within a few minutes!
This supercharged blood flow brings pain-relieving and healing components and speeds up recovery from any injury in your tissues or skin.
It's as simple as that, and it works.
DIY Infrared Lamp Instructions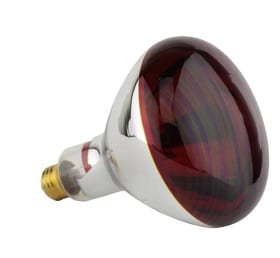 The near-infrared bulb you need is a 250-watt heat lamp.
(Avoid clear or halogen bulbs)
The IR heat lamp bulb doesn't have to be pure red – the color varies from a yellowish to a deeper red color.
You will also need a clamp-on socket and fixture rated for at least a 250-watt light bulb.
The best ones usually have a guard to prevent touching the bulb, which can get very hot.
(Just make sure your base can support the wattage of the bulb)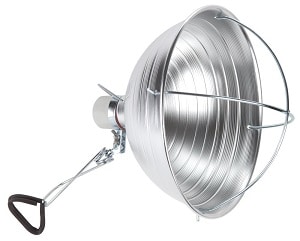 The 2 Best Ready-Made Infrared Lamps 
If you want to use infrared lamps during physiotherapy (which is a great idea), you'll need ready-made IR lamps with a stand, on wheels, so you can shine the lights on your body while you are being treated (or treating others).
These infrared lights generate intense heat and can easily shatter, so use them with care.
Finger marks and scratches from handling can weaken the bulb and leads to more frequent shattering.
Avoid banging the lamp around and splashing water on it, because it may break.
This is why a ready-made infrared lamp may be a good idea.
Here are the best choices for 2023:
1. Skin Act IR Lamp with 5 Infrared Bulbs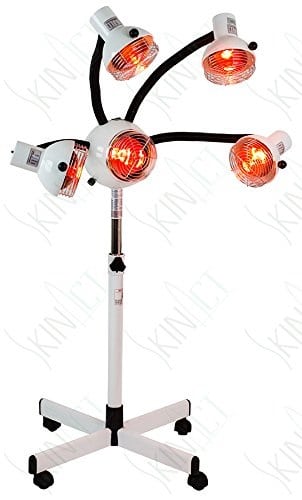 We simply love this unique near-infrared lamp, which includes 5 X 150W near-infrared bulbs on a stand with wheels, and flexible arms.
The lamps are built with protective wire guards and are placed on adjustable arms that allow for specific placement of the heat – on any part of your body.
The intensity of the light is also adjustable, through the knob at the base of the lamp!
The company is very helpful and offers great customer service, and it's very high quality.
👉 Note: The light is very bright so you'll have to use safety goggles before you use it.
2. Serfory Near-Infrared Light Therapy Heat Lamp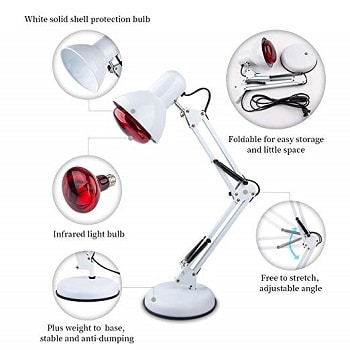 A lower-cost alternative is the high-quality Serfory near-infrared light bulb lamp (700-1200 nm), which comes ready-made with a 150W bulb and a stand that reaches a max length of 25.6 inches.
The lamp heats up quickly, and the arm extends so you can use it on the right spot (keep a safe distance of 15 inches at least), and all you have to do is plug it in and use it (use eye protection goggles).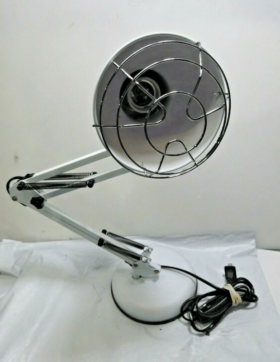 👉 User reviews on Amazon are good and it is an affordable pain relief tool that we highly recommend.
How to Use an Infrared Therapy Lamp (for Skin/Pain/Anti-Aging)
Once you have your heat lamp, you can safely use it on any part of your body, to treat countless health conditions (and skin problems/aging).
Here's exactly how to use your infrared heat lamp for various conditions:
1. Infrared Lamp For Pain (Muscle Pain/Neuropathy/Joint Pain)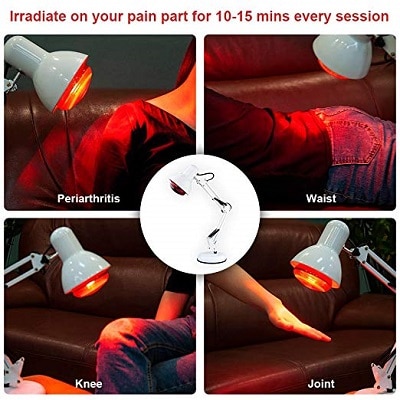 Clamp the socket to a chair, shelf, headboard of a bed, or any location where you can move your body close to the infrared bulb.
Sit at least 18-24 inches away from the lamp (or 10-15 inches away for a 150W lamp).
Use the heat light bulb on the side, not above you.
Use eye protection goggles or glasses for blocking infrared light.
Allow the area to become as hot as you can comfortably tolerate.
Move your body slightly every few minutes.
Use the bulb for 15 to 20 minutes per session, for up to 3 sessions per day. Overuse will provide no additional benefit.
If you use it on your head (sinuses, headache, hair growth, congestion, etc.) – do not use it for more than 10 minutes per session.
Always use a timer, because the heat relaxes you so much that you may fall asleep.
👉 Want to know how to place the infrared lamp for back pain relief? See this short video:
If it's a 250W bulb I recommend a 24 inches distance, instead of the 9-12 inches suggested in the video.
If you need a full-body infrared treatment – we suggest this near-infrared 4-light panel from Sauna Space.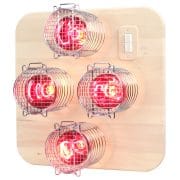 2. Skin Rejuvenation (Anti-Aging)
Again, clamp the socket to a location where you can move your body close to the lamp.
Sit about 12 to 22 inches away from the lamp.
Set a timer for 5 minutes.
Each skin area can be treated for no more than 5-6 minutes.
Use safety infrared-blocking goggles to protect your eyes.
Repeat treatment every 2-3 days.
Do not be tempted to use red light therapy 7 days a week – your skin needs time to rebuild itself and heal after each treatment (this is when new collagen is produced – yay!). Use it 4-5 times a week.
Did You Know?
Infrared lamps are being embraced by beauty enthusiasts for many years.
By emitting gentle infrared light, these lamps can promote collagen production, improve blood circulation, and enhance the skin's overall appearance.
Users have reported reduced signs of aging, minimized acne breakouts, and a healthier, more radiant complexion.
3. Skin Problems (Acne, Wounds, Burns, Boils, Rashes, Infections)
Did you know?
The infrared lamp can kill infections that are resistant to antibiotics and can speed up wound healing.
👉 See my post with the full instructions on how to use red light therapy for wounds – including surgical wounds, pressure ulcers, diabetic wounds, burns, and more)
To treat skin problems with infrared light therapy, follow the instructions above for skin anti-aging.
4. Infrared Lamp for Sinusitis
The single infrared lamp can be very helpful for infections and chronic inflammation. The sinuses are dark, damp areas that make a nice breeding ground for bacteria.
Infrared radiation can help destroy the pathogens in the sinuses, ears, throat, and mouth.
If you have a recurring sinus infection or congestion that you just can't beat, shine an infrared lamp on the sinuses (while wearing protective glasses and keeping a safe distance of 24 inches) for 10 minutes at a time, up to 6 times a day.
In my experience, relief can occur in as little as two days!
👉 You can also use nasal red light therapy devices, which use the shorter red light therapy wavelength, do not heat up, and require only 5 minutes of treatment a few times a day.
How Quick Will You Feel/See Results?
When it comes to pain relief, many people feel almost immediate relief, which gets even better with regular home treatment.
The effect you see visually on your skin (wrinkle reduction, less sagging, improved skin tone, skin brightening, etc.) takes more time to show up.
In about 1-2 weeks you'll notice your face has more "substance" and looks more toned. You'll look healthier and rested.
After about 2-6 weeks fine lines will start to disappear. Your skin will be brightened and be smoother and softer.
After 4 months a huge difference in wrinkles and fine lines can be seen.
Do Infrared Lamps Work Through Clothing?
Near and far infrared radiation can penetrate through clothing, bandages, and dressings to some degree. It is unclear whether they would be effective through thicker clothing.
To maximize the therapeutic benefits of infrared therapy, it is recommended to wear minimal clothing made of cotton, or no clothing at all.
Infrared Lamp Side Effects & Warnings
Generally, infrared light therapy is proven to be completely safe and side-effect-free.
However, the heat may cause a slight temporary redness on your skin (it's not a burn!) that will go away in a few hours.
The potential danger of infrared heat bulbs is mainly to your skin and eyes – but only if you overuse them or ignore instructions.
However, this is all true only if you keep a safe distance from the IR bulbs, which definitely get hot and can burn your skin!
The safe distance depends on the strength of the lamp. For example, keep at least 24 inches away if you use a 250W bulb, or at least 15 inches if you use a 150W.
When used around your head and face, use

safety goggles

with infrared-absorbing glass. And, never more than 10 minutes. To prevent skin burns, always sit at a distance where the heat feels comfortable. (Don't worry, you will not get a tan from this light)
Avoid using the lamp on an injury for the first 24 hours.  The lamp might increase inflammation. Following that, the lamp is excellent for most injuries.
Do not apply essential oils, lotion, or cream to your skin before using the heat lamp. Oils can heat up and cause a burn.
Do not touch an infrared lamp when hot.
Infrared lamp therapy is contraindicated for some skin cancers, which may become aggravated by light.
Infrared Lamp Unconventional Uses
Believe it or not, infrared lamps have found their way into the world of gardening.
By providing specific wavelengths of light, infrared lamps can stimulate plant growth and help with photosynthesis.
Some gardeners use infrared lamps to supplement sunlight during winter months or to promote the growth of specific plants that require extra warmth.
Infrared lamps are also being used in various industries for quick and efficient paint drying and curing processes.
The focused heat generated by these lamps accelerates the evaporation of solvents and enhances the cross-linking of paint molecules, resulting in a durable and smooth finish.
Even pets care and reptiles enjoy the benefits of infrared lamps: Infrared lamps offer a reliable heat source for reptile enclosures, mimicking the warmth provided by the sun.
But if you don't have a reptile at home, your cats and dogs can benefit as well:
infrared lamps can provide comforting warmth for pets suffering from joint pain or discomfort, helping them with relaxation and promoting faster healing.
Lastly, Infrared lamps have found a place in the culinary world, where they are used for cooking, grilling, and food warming.
Infrared heat efficiently penetrates food, promoting even cooking and sealing in flavors.
Infrared lamps are being used in buffet settings or commercial food establishments to keep prepared dishes warm.
These unconventional uses of infrared lamps prove their versatility and practicality beyond traditional pain relief.
From skincare and gardening to paint drying and pet care, these lamps continue to find innovative applications in various aspects of our lives.
Summary 
👉See the best infrared light therapy devices – Compared
A single infrared heat lamp for healing (chosen correctly) can aid with endless health conditions and makes a simple and inexpensive alternative for an infrared sauna or large home devices.
👉 And, you can use them to build your own infrared sauna at home for less than $100.
The same bulbs often used in chicken coops or in restaurants to keep the food warm, can help you relieve your pain and take years off your skin.
All you need is a high-quality heat bulb, a clamp lamp socket, and safety goggles, and you're ready to go.
If your budget is not that tight, you can get a ready-to-use high-power infrared heat lamp, like this one.
What about you? What's your experience with infrared radiation therapy? I'd love to see it in the comments below.
To your health and happiness,
Meital
Studies
Tsai SR, Hamblin MR. Biological effects and medical applications of infrared radiation. J Photochem Photobiol B. 2017;170:197-207.
Whelan HT, Smits RL Jr, Buchman EV, Whelan NT, Turner SG, Margolis DA, Cevenini V, Stinson H, Ignatius R, Martin T, Cwiklinski J, Philippi AF, Graf WR, Hodgson B, Gould L, Kane M, Chen G, Caviness J. Effect of NASA light-emitting diode irradiation on wound healing. J Clin Laser Med Surg. 2001 Dec;19(6):305-14.
Qinyu Han, Jun Wei Lau, Thang Cong Do, Zhijun Zhang, and Bengang Xing. Near-Infrared Light Brightens Bacterial Disinfection.ACS Appl. Bio Mater. 2021, 4, 5, 3937–3961