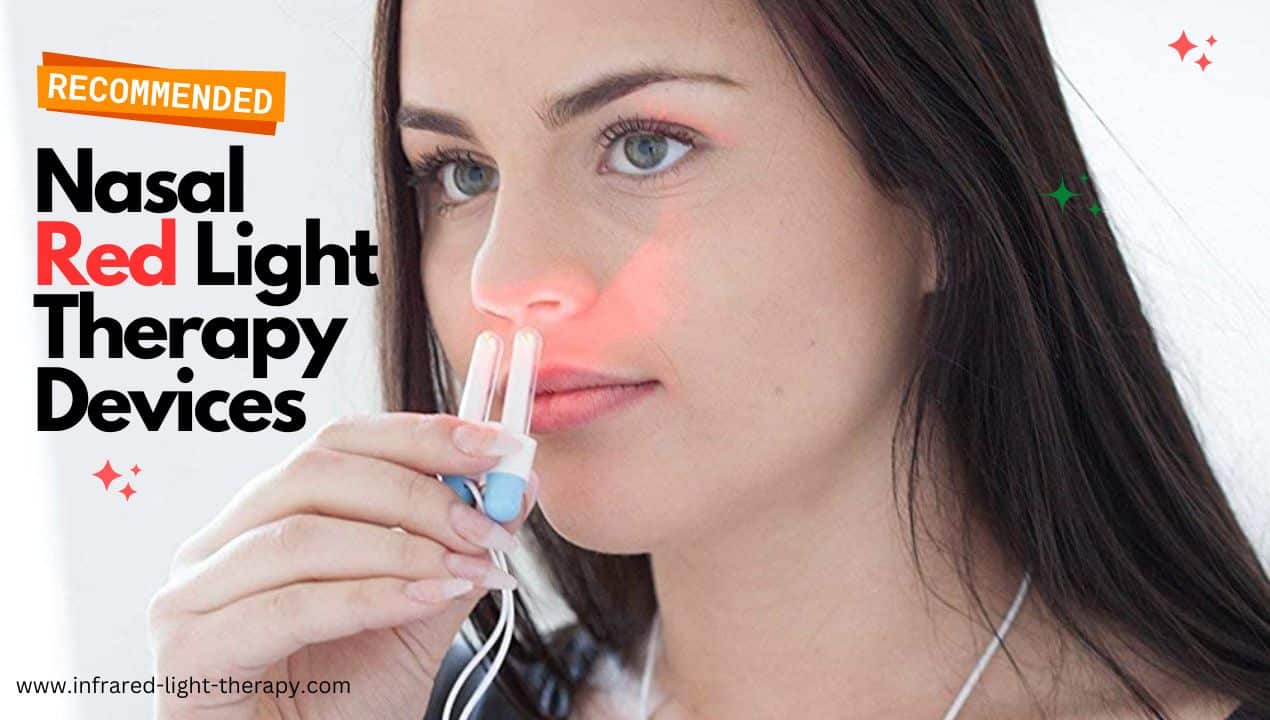 Sneezing, runny nose, watery and itchy eyes, and coughing – are all the common symptoms of allergic rhinitis, colds, flu, and sinusitis (caused by allergy).
Can intranasal red light therapy be your almost instant, drug-free solution for these disturbing symptoms?
Science and my personal experience say YES.
A small, easy-to-use nasal LED Light therapy device can open your congested nose, and stop the sneezing and itchy eyes – without any side effects.
(Though there is one side effect: your family staring at you while your nose glows red😉)
In this post, you'll find the scientific evidence behind photobiomodulation for allergy relief, nasal red light therapy devices reviews, and how to use them at home.
(Hint: All you have to do is turn the light on)
👉 In a Hurry? See our comparison table below, or jump to the intranasal allergy relievers reviews.
This post may contain affiliate links, that earn us a small commission, at no extra cost to you.
How Does Nasal Red Light Therapy Work?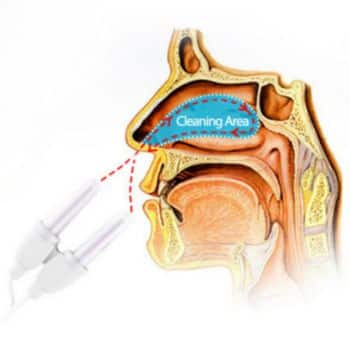 Red light therapy for sinuses involves the simple process of clipping a small red light therapy diode (660nm – 810nm) to the nose – to illuminate the nasal cavity – for a specific amount of time.
Most devices include one or two small LED light-emitting probes, which quickly stimulate the blood capillaries in your nasal cavity.
The result?
Increased blood circulation in the nasal tissues
Enhanced local blood oxygen saturation
Eliminated/reduced nasal obstruction (congestion) caused by nasal swelling
Improved nasal anti-virus/germs ability
Repaired local blood capillaries
Strengthened detoxification ability of the nasal mucosa
The 4 BEST Nasal Red Light Therapy Devices 
Through my research and personal experience, I found the 4 devices below to be the best ones in 2023.
You'll discover why and where to find them in my intranasal light therapy reviews below:
1. RubyLux BioNase LED Nasal Therapy Device – Best Value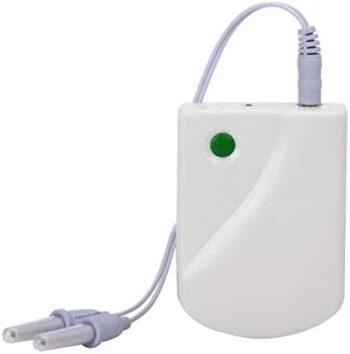 Treatment time – 5 minutes twice a day
Wavelength – 630 nm
✅ $20 on Amazon
For less than $20, the Bionase nasal therapy device is super simple to use, with 2 nasal probes emitting red light therapy through small LED bulbs, and comes with a free set of replacement LED lights, in case they stop working (in my experience, they don't).
All you have to do is insert a 9V battery, turn the device on, insert the probes into your nostrils (after removing the small plastic covers), and lay down for 5 minutes.
The auto shut-off will turn the device off after about 15 minutes, but 5 minutes twice a day is enough.
I was amazed by the phenomenal results I got for clearing my sinuses and stopping nose bleeds from allergies. Worked much better than I expected.
Rubilux Bionase Pros
Low price
Strong enough to clear sinus congestion when used regularly
Short treatment time – 5 minutes is enough
Cons
The spacing of the diodes is a bit too wide for some people, I wish they were adjustable
Some people complained that the device does not shut off automatically. However, you can easily disconnect the probes from the device and it will shut off
✅ Available on Amazon ($20)
2. Bionette Nasal Light Therapy – Most Adjustable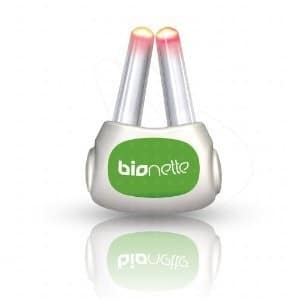 Treatment time: 5 minutes (with auto shut-off), 2-3 times a day
Wavelength: 630 nm, output – 4-8 mW
✅ $99 on Amazon
The Bionette is a small and simple-to-use nasal red light therapy device, the nasal probes are adjustable and it is easy to fit them inside your nostrils comfortably.
It may be small, but it's powerful:
Some users say they are thrilled to find they can relieve sinus-related headaches, after years of trying just about everything else.
To use the Bionette, you simply squeeze the buttons on both sides of the device. Then you insert a probe into each nostril and relax.
The buttons spread the nasal probes and activate the dual light sensors.
When you feel improvement, you can reduce the frequency of use gradually.
Bionette

Pros
It can be safely used with other treatments/medications.
Does not heat up your nostrils
The battery lasts up to 80 treatments
Comfortable and easy to use
Safe for children
Cons
Batteries are not included.
✅ Available on Amazon 
3. Kinetik Red Light Allergy Reliever – Shortest Treatment Time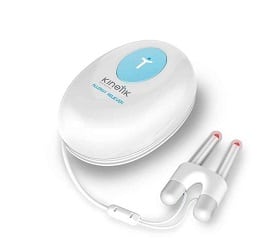 Wavelength – 630nm
Treatment time-  3 minutes up to 4 times a day
✅ Available on Amazon
The Kinetik Wellbeing company is an established UK company and is partnered with the largest first-aid charity in the UK.
The Kinetik wearable photobiomodulation technology is a simple-to-use, battery-operated home device.
You simply insert the red light therapy probes, press a button and you're ready to go. It even comes with a string to hang around your neck to make it 100% portable.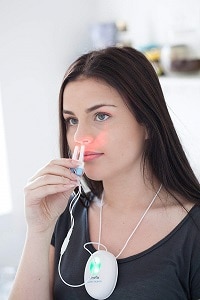 Kinetik Pros
Simple, portable, and easy to use
The LED red light probes are adjustable and fit every nose size
2 x AAA Batteries included in the package
30-day money-back guarantee
Cons
Not recommended for children under the age of 12
The probes stay in as long as you don't tip your head forward
✅ Available on Amazon
4. HailiCare (Pronic) Allergy Reliever – With a Pulse Mode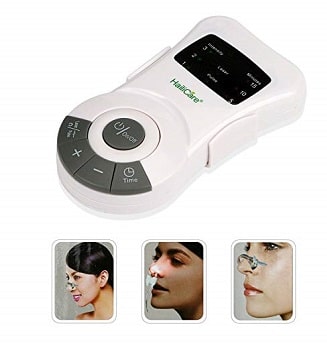 Wavelength – 650nm
Treatment time – 1-3 treatments a day, 5 minutes each
✅ $20 at Aliexpress
The HailiCare rhino phototherapy device (also known as Pronic Allergy Reliever) was designed to naturally relieve allergy symptoms (and even snoring)
The unique feature of the HailiCare is its 2 modes:
A Pulse Mode –is used outside your nose via a nose clamp – to increase blood circulation through a gentle vibrating massage, which also stimulates acupressure points.
A Laser Mode – is used inside your nose via the 2 low-level laser diodes, to increase oxygenation and reduce inflammation.
To use the HailiCare, you simply attach either the massage node outside your nose, or insert the laser diodes inside your nose, and lay down.
You'll have to lay or hold the diode in place otherwise it will fall out.
Then you press the on/off button for 5 seconds until it turns on.
Start gradually by setting the massage clip to "low". You can increase intensity after a couple of days.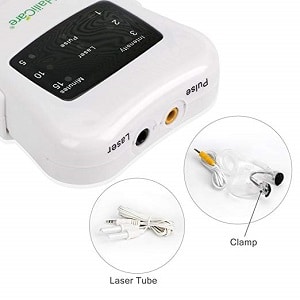 Use the device for at least 5 minutes each time.
Hailicare Allergy Reliever Pros
Comes with a clip to attach the device to your belt
Massage intensity is adjustable.
Treatment time can be set from 5 minutes to 15 minutes.
Portable and easy to carry around
From what I've found here, it has helped some people significantly reduce the use of allergy medication, such as Nasacort and Rhinocort.
Affordable price
Cons
Requires 3 x AAA batteries (not included in the package)
You have to keep the laser diode inside your nostrils by lying down, otherwise, it will fall out. However, it's a great excuse to relax and rest for 5 minutes.
Benefits of Intranasal Light Therapy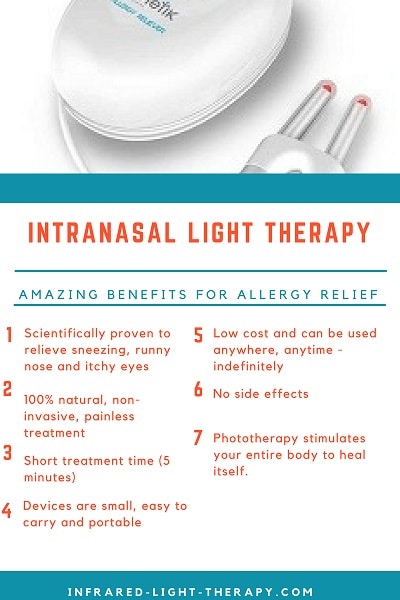 Intranasal red LED light therapy (also known as Rhino Phototherapy) is a 100% natural, non-invasive, painless, and low-cost way to quickly relieve Allergic Rhinitis, Hay Fever, Sinusitis symptoms, and even the cold or the flu.
Why should you use it?
Well, here are more great benefits of using IAT devices for allergy relief at home:
Treatment is

scientifically proven

to work and is side-effect-free

Treatment time is short

– 4-5 minutes, 2-3 times a day until symptoms are dramatically reduced
Intranasal illumination devices are

small, easy to carry, compact, and portable

The best devices are

easy to use

and have an LCD display screen with easy-operation buttons
Home devices are

not expensive

and can be used anytime, anywhere you are – indefinitely.
You may be able to

cut down or even eliminate the use of medication

Phototherapy stimulates your entire body to heal itself. When you use it you'll reap other health benefits such as improved cognitive function, neuroprotection effect, reduced blood pressure, and cholesterol, fewer triglycerides, better breathing, insomnia relief, and keeping you in generally good health.
Does Nasal Light Therapy Work for Allergies and Sinus Infections?
Exposing your inner nose to light has many scientifically proven benefits. Researchers have found that it has a systemic effect on your brain and entire body. As for allergies, research has found that yes – it works.
Red light therapy suppresses cells that release histamine, which is responsible for causing allergy symptoms and may help to reduce inflammation and swelling in the nasal passages, which can help to improve nasal airflow and reduce congestion.
For example, this clinical trial (double-blind randomized) has reported significant improvement in symptoms by 72% of Allergic Rhinitis patients, and objective improvement was endoscopically seen in 70% of them, as compared with 24% and 3% respectively, in the placebo group.
It's also proven to help with Alzheimer's, Parkinson's, high blood pressure, high cholesterol, cognitive performance, and more.
Intranasal Light Therapy Side Effects
Photobiomodulation is proven to be without any major side effects and has been supported by a large body of scientific evidence for over 30 years.
Low-Level light therapy is categorized by the FDA as a "non-significant risk" product.
However, as with any other treatment, excessive use is not recommended and may create free radicals. It's important to follow instructions and not overuse the device.
Conclusion
An intranasal light therapy device is a 100% natural and safe treatment for allergy symptoms, is proven to work, and is low-cost and effective.
It's a pleasant and easy way to reduce your need for allergy medication as well and promote healing in your entire body, by stimulating the body to heal itself.
You can also use an infrared heat lamp for allergy relief.
It is proven to be effective and can be used for many other health conditions involving pain and inflammation.
To your health and happiness,
Meital
Studies
Narrow-Band Red Light Phototherapy in Perennial Allergic Rhinitis and Nasal Polyposis, Neuman, Ittai et al. Annals of Allergy, Asthma & Immunology, Volume 78, Issue 4, 399 – 406
Meital James
Founder and CEO of 4 healthy living blogs, has a background in Naturopathic medicine, research, journalism, and nutrition. Her blogs are the culmination of her thousands of hours of research and experience and all the posts are verified by scientific findings.