In this long-researched post, you'll find my new and updated LED light therapy home devices (for the skin) comparison and reviews.
The popularity of red light therapy home devices is still on the rise, especially due to their being so cost-effective.
If you're confused about which red LED light therapy device is the best one for you – you've come to the right place.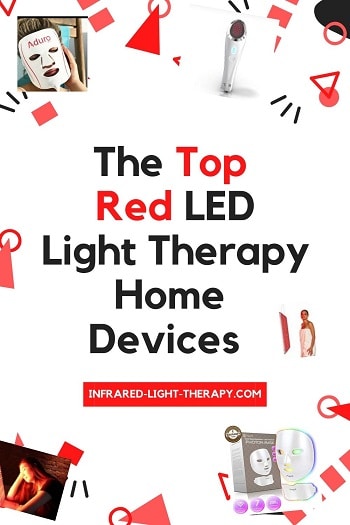 This post contains affiliate links, at no extra cost to you.
(👉 See the proven benefits of red light therapy for wrinkles and other skin conditions.)
Ready to start your at-home red LED facials?
Let's go:
What Does Red LED Light Therapy Do to Your Skin?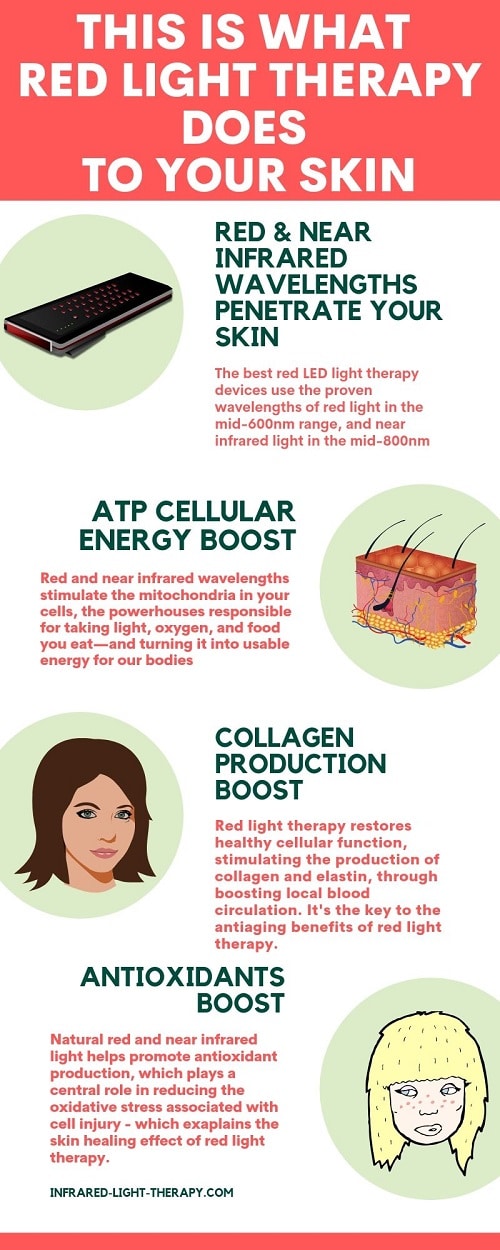 Red light therapy is proven to regenerate skin cells, improve micro blood circulation, increase oxygen content in the blood, improve skin healing from wounds, boost collagen and elastin production (and thus reduce fine lines and wrinkles), and improve skin tone and plumpness, and more.
👉 So, what can you use red light therapy devices for?
Wrinkles, fine lines, sagging skin, dull skin, skin redness
Hyperpigmentation
Acne blemishes, acne scars (skin repair),

Rosacea

Eczema, Psoriasis
Broken capillaries
The Best Red Led Light Therapy Home Devices (for the Skin) 
If you're in a hurry, here's a 2022 updated LED light therapy products comparison. Below you'll find my full reviews for each device and some awesome coupon codes! 😍
And now, see my reviews and pros & cons for each at-home LED light therapy device:
1. Aduro Australia – Best Value LED Mask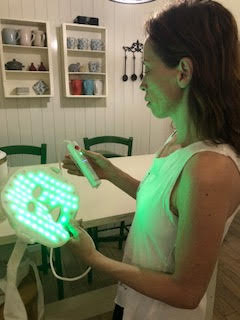 Wavelengths – 800-825nm/630-633nm/415nm/505-555nm/590 nm/590nm/600nm/470nm
Intensity – 18WM/cm2
The Aduro LED light therapy mask has 8 colors, 11 pre-programmed treatments[ (no need to overthink the colors you need), has infrared light, and is made with comfortable silicone instead of the heavy plastic most LED masks are made with.
If an LED mask is what you want, we highly recommend the Aduro LED mask (full review at the link) I tried it (and still use it!), see my results below: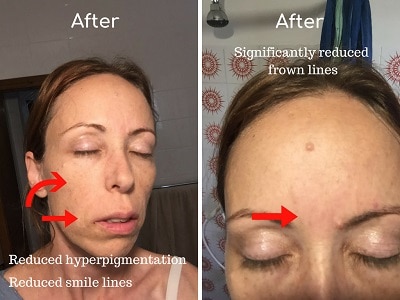 2. Platinum LED Therapy Lights – Highest Strength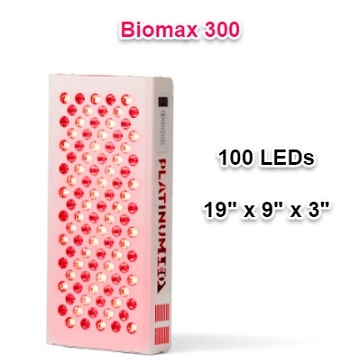 Wavelengths – 660 nm/630 nm/810 nm/830 nm/850 nm
Intensity – 129 mw/cm2
The Platinum LED Therapy Lights body panel is a larger device, with 200 LEDs, made to cover more than just your face and neck – with 5 wavelengths (red & near-infrared) – and the highest irradiance on the market.
EMF radiation is close to zero, there's no flicker or noise, and you get a 60-day money-back guarantee to try it at home.
These LED panels are the latest trend in the bio-hacking world and are being used for anti-aging, pain, inflammation, eczema & psoriasis, injury recovery, muscle performance, immunity, and more.
✅ Price – $569 at Platinum LED Therapy Lights – save 5% with code MEITAL)
👉 We've compared 2 leading brands of LED light therapy devices – Platinum LED Light Therapy vs. Red Light Rising!
Lower-Cost Alternative – Hooga Red Light Therapy Device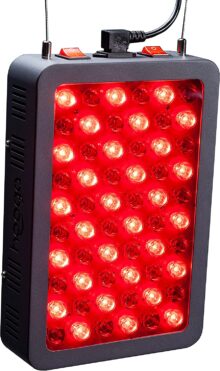 Hooga LED panel is a smaller, portable red light therapy panel (12×8 inches) that has 60 5W LEDs that emit both red and near-infrared wavelengths. You can easily place it anywhere while you drink your coffee in the morning, or hang it with its included hook. Amazon buyers seem to love it and rate it highly, and it is the lowest-cost LED panel on this list.
✅ Price – $169 on Hooga – get a 12% discount with coupon code MEITAL12
And here's another alternative, a small red light therapy panel from the trusted LifePro brand, that offers a choice of 4 light modes – red/infrared/combined/pulsating – so you can use the best choice for your needs.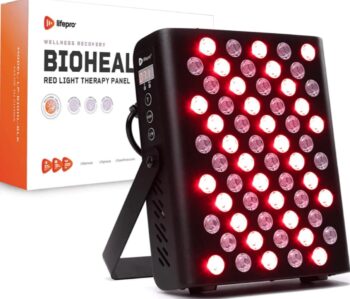 The red light mode is best for skin rejuvenation, the infrared mode is best for pain relief and muscle recovery, the combined mode treats everything, and the pulsating mode is for cell regeneration and wound healing.
Plus, it comes with a stand that can also be used as a wall-hanger, anti-slip pads on the bottom, and it has a tilt angle.
3. Project E Beauty-  Best Budget LED Mask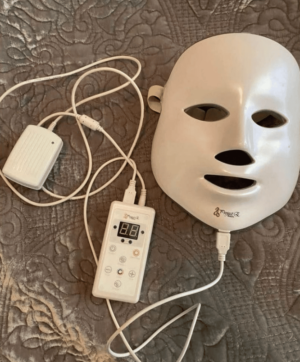 Use coupon code EXTRA20 to get 20% off – on the official site!
Wavelengths – 415nm/630nm/525nm/490nm/590nm/390nm/white (mix)
Intensity – 29.8mW/cmw
The Project E Beauty LED Face mask was the first LED mask I purchased, and I use it to this day (though less than my favorite one – listed above).
With 7 colors to choose from, a wireless model, and a model with a neck attachment, its price just can't be beaten. It's the best starter LED mask, to help you figure out if the red LED light therapy works on your skin.
Project E Beauty LED Face Mask Pros:
7 color therapy lights
Reasonable price
Large treatment area, covers the entire face
Hands-free treatment
Lights are timed automatically, so once the 15-minute session is over, the lights will turn off and you can remove the mask.
Cons
✅ Price – $139 at Project E Beauty (save 5% with code MEITAL05), or check the price on Amazon
Attention
Check out my reviews for the
TOP 7
LED Face Masks
for LED facials – for 2022
Here are our results with the Project E Beauty LED mask: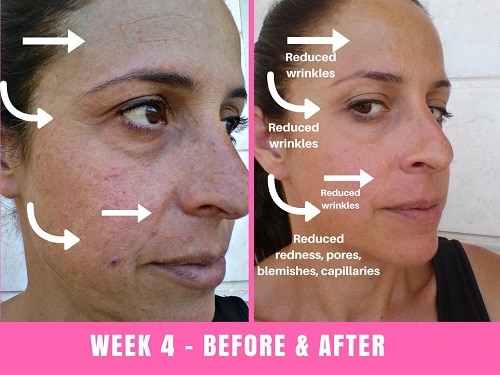 4. Clerel Skin Advanced – Best Handheld with Massage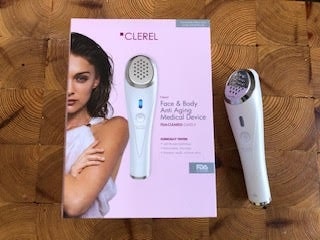 Wavelengths – 633nm/830nm
👉 See my full review for the best handheld LED light therapy device!
The new Clerel red & infrared light therapy & micro-vibration LED light therapy machine is our top pick for handheld red LED devices because it combines:
Red LED light therapy
Infrared light therapy (soothing, deep penetrating heat)
Micro vibration massage
All of them maximize the blood circulation-boosting effect – to the max.
Micro vibration massage, along with the red light wavelength and the infrared heat wavelength – double the anti-aging benefits of a regular red LED light therapy device.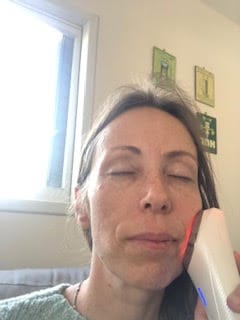 You can use it not only for wrinkle reduction, skin smoothness, and pore reduction – but as a cellulite massager as well.
Plus, is super pleasant to use, and I've used it even to relieve a tension headache – without pills.
The price is relatively high, but the device is well built, simple to use, and very effective.
✅Price – $480 at Beauty Devices – save $80 with my code CLE80. If you won't like it, the company offers a 30-day return period and a 3-year warranty.
Skintific vs. Clerel Led Light Therapy
The Skintific is a similar-looking handheld LED light therapy device that is getting a lot of hype lately, so we wanted to find out why. Looking at the features of the Skintific, we found no reason for the hype.
Similar to the Clerel, the Skintific uses LED light therapy bulbs hiding behind a sterling silver plate, delivering to deliver light therapy wavelengths.  You can choose from 2 types of devices – a "regular strength"' or the "max strength". The max model offers 5 more wavelengths (including infrared at 850 nm), while the regular strength offers only red light (660 nm).
The number of LEDs and their output is not mentioned anywhere on the site, and the device lacks the unique feature of the Clerel – the micro-vibration massage. Also, it is not FDA-cleared.
While the regular strength Skintific costs less than the Clerel, and comes with the brand's serum, it only delivers red light therapy and no massage. The Max model is much pricier than the Clerel, and may only be worth it for treating acne as well as anti-aging.
5. dpl IIa Professional Panel System – Best Table Top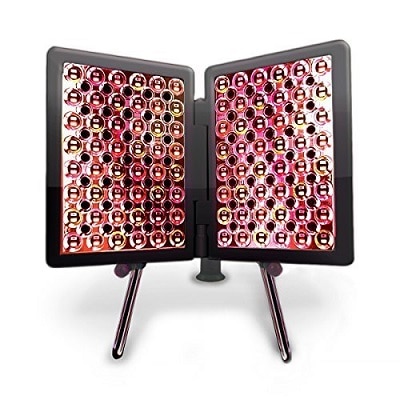 Wavelengths – 660nm/880nm
The DPL IIa Professional light therapy system covers your entire face and neck in one treatment and combines red and infrared rays for skin rejuvenation and healing.
It is comfortable to use as a tabletop device, but the panels are detachable and can be pointed anywhere in your body (for example, to treat stretch marks and cellulite).
Revive Light Therapy is a well-known and trusted brand for many years, and all its devices are FDA-cleared.
DPL II Light Therapy pros
Large treatment area – covers the entire face
Hands-free treatment
Removable panels
Short treatment time (9-15 minutes)
Auto shut-off, no need to watch the time
Red & infrared – can be used for pain relief too
Cons
Not fit for travel
No multitasking during treatment
✅ Price – $399 at Revive Light Therapy, and a 30% discount with code SAVE30, or higher price on Amazon
6. RejuvaliteMD by TrophySkin – with Flexible Arm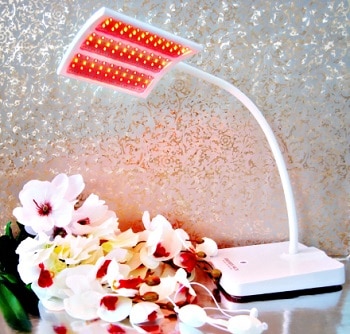 Wavelengths – 660nm/590nm/630nm/880nm
The Rejuvalite LED panel (with a flexible arm and a sturdy base) includes 120 LEDs and requires only 5 minutes of daily treatment to improve the elasticity and firmness of your skin, brighten it, and reduce fine lines, reverse sun damage and heal inflammation in your skin.
The FDA-cleared Rejuvalite comes with 4 wavelengths: Red, yellow, amber, and infrared – a great combination for both skin anti-aging and skin healing.
The panel is detachable, and when you purchase from the official site, you'll get protective goggles as well!

Rejuvalite Pros
FDA cleared
90 degrees tilt
It covers a large treatment area, with many LEDs (powerful)
Detachable panel
60-day money-back guarantee
Cons
Goggles are too small for some people
✅ Price – $124  at Trophy Skin or check the price on Amazon
7. Amazing2015 Red Light Therapy Dome (with Infrared)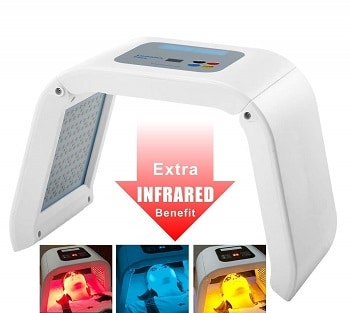 The Amazong2015 professional red LED light therapy dome comes with 4 different wavelengths and 1032 LEDs!
Here are the wavelengths:
Red Light – 640nm – wrinkles reduction, anti-aging, scar healing, psoriasis, and eczema relief
Blue light – 423nm – acne-causing bacteria destruction, cystic acne, skin inflammation prevention, skin purifying
Yellow – 583nm – pigmentation reduction, improving skin softness
Infrared – 880nm – pain relief, heat treatment
The dome structure of this device makes it very easy and comfortable to use (but adds to the price…) and you can choose to use only one color or combine two colors in one (30-minute) treatment.
Amazing2015 Dome Pros
Automatic shut off (beeps when treatment time ends)
A professional device with 1032 LEDs
Easy to set up and use
High ratings

on Amazon

It can be used for hair growth as well!
Comes with safety goggles
Cons
No money-back-guarantee trial (but can be returned if you buy through Amazon)
Pulse mode is not recommended, users state that this hurts the eyes, even with the goggles on.
✅ Price – check today's price on Amazon
8. TrueLight Energy Square – Best Budget LED Therapy Panel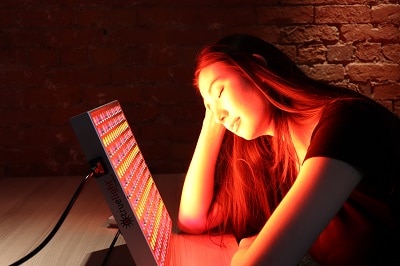 Wavelengths – 630nm/660nm/580nm/850nm
Intensity -10mw/cm2 at 4" to 6"
The TrueLight Energy Square by True Dark is the one of best small-size LED light therapy panels (for the money), and is especially helpful for collagen production, wrinkle reduction, scar elimination, muscle and tissue recovery, and reducing rosacea and skin irritation.
In one session you can cover your entire face, neck, and chest area!
The True Light has 4 different types of LED therapy lights (wavelengths):
Two different wavelengths of Red for Rejuvenation (660nm & 630nm)
Near-Infrared for Strengthening and pain relief (850 nm)
Yellow for Skin Preparation (580 nm)
You can choose to use red only/red+yellow or yellow only.
It's lightweight and portable, covers many skin areas due to its large size, and emits no EMF!
Plus, you can choose from two lightning modes – steady or pulsating.
👉 Treatment time: 20 minutes, 3-4 times a week. For best results, use on bare skin, no more than 6-8 inches away from the treatment area. I recommend using it with your eyes closed, or with safety goggles.
The company offers excellent customer service and a 1-year warranty.
✅ Price – $349 at True Dark 
How Often Can You Use Red LED Light Therapy?
Each device comes with its own clear instructions to get the best results. Generally, we would recommend using red light therapy 4-5 times a week, starting with 15 minutes treatments (for LED masks and tabletop devices) or 3 minutes per facial area for handheld red light machines.
While everyone reacts differently, You'll probably see results after 8-12 weeks.
After you see skin rejuvenation improvement, you can reduce weekly treatment to 1-2 per week.
How Long Does it Take for Red Light Therapy to Work?
The time it takes red light therapy home treatments to work depends on your skin condition and severity. Red light therapy is not an immediate miracle maker. Changes won't occur overnight, but it will promote ongoing anti-aging benefits anywhere from 24 hours to 3 months, depending on your condition and how often the light is used.
To see a noticeable change in wrinkles and fine lines, you may need at least a 2-month home treatment, at least 2 times a week (though some people report results faster, even after one month).
To maintain the improvement, you should continue doing red light therapy home treatments once a week.
You'll see fast improvements in your skin tone, smoothness, and brightening. Some people report this after only 2 weeks (that "healthy glow" we all want).
How Do You Prepare Your Skin for Red Light Therapy?
Always use red light therapy (phototherapy) home devices on clean skin (preferably after a gentle exfoliation) – remove any makeup, serums, or moisturizes completely. This is because they can interfere with light penetration into your skin. Make sure to not use any skincare that may cause skin sensitivity to light (like retinol) before treatment.
You can use your regular skincare after treatment as normal.
What's the best serum to use with LED light therapy?
I hope my research has helped you choose the best and the right red LED light home device for you, and please let me know if there are any more questions you have – in the comments below.
To your health and happiness,
Meital
References
Avci P, Gupta A, Sadasivam M, et al. Low-level laser (light) therapy (LLLT) in skin: stimulating, healing, restoring. Semin Cutan Med Surg. 2013;32(1):41-52.
Wunsch A, Matuschka K. A controlled trial to determine the efficacy of red and near-infrared light treatment in patient satisfaction, reduction of fine lines, wrinkles, skin roughness, and intradermal collagen density increase. Photomed Laser Surg. 2014;32(2):93-100. doi:10.1089/pho.2013.3616
Barolet D. Light-emitting diodes (LEDs) in dermatology. Semin Cutan Med Surg. 2008;27(4):227-238. doi:10.1016/j.sder.2008.08.003
Meital James
Founder and CEO of 4 healthy living blogs, has a background in Naturopathic medicine, research, journalism, and nutrition. Her blogs are the culmination of her thousands of hours of research and experience and all the posts are verified by scientific findings.