In this long-researched post, you'll find my new and updated red LED light therapy home devices comparison, reviews, and ratings.
If you're confused about which red light therapy home device is the best return for your money – you've come to the right place.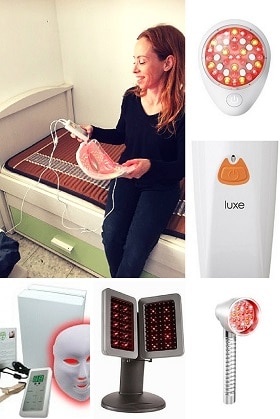 This post contains affiliate links.
Click here
to read my affiliate policy.
In the two comparison tables below you'll find all technical details (treatment area, timer, wavelength, etc.) of each home device (arranged by price) and where to find the best price for it.
Below the tables, you'll find what I like and didn't like (pros and cons) for each red LED light therapy handheld/tabletop/face mask.
This will help you decide in minutes, without doing the tedious research for each product yourself.
👉 See the proven benefits of red light therapy for wrinkles and other skin conditions.
What Does Red Light Therapy Do to Your Skin?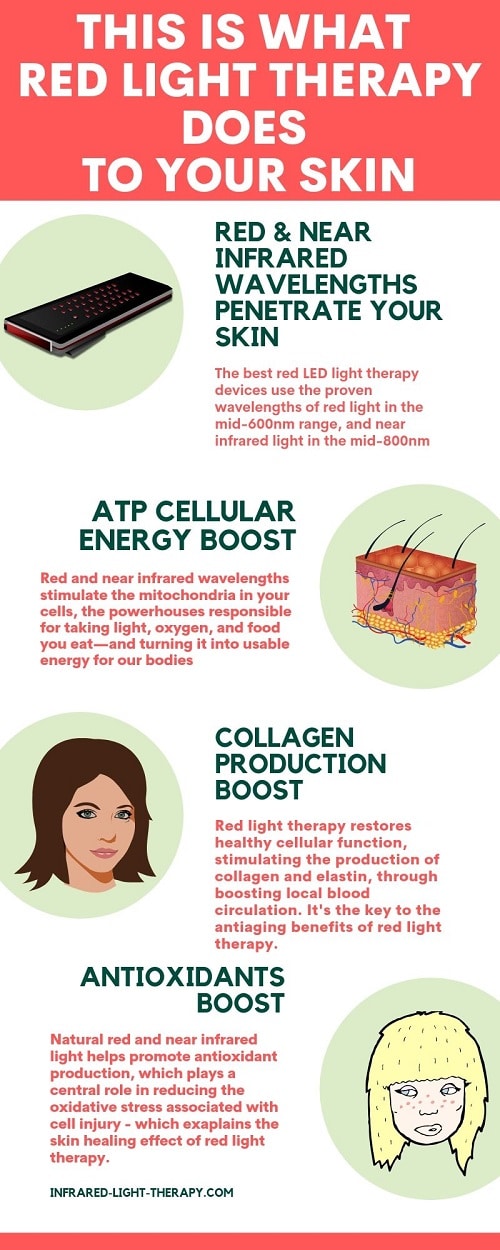 Red light therapy is proven to regenerate skin cells, improve micro blood circulation, increase oxygen content in the blood, improve skin healing from wounds, boost collagen and elastin production (and thus reduce fine lines and wrinkles), improve skin tone and plumpness, and more.
👉 So, what can you use red light therapy devices for?
Wrinkles, fine lines, sagging skin, dull skin, skin redness
Hyperpigmentation
Acne blemishes, acne scars (skin repair), Rosacea
Eczema, Psoriasis
Broken capillaries
Ready to start your at-home red LED facials?
Let's go:
Red LED Light Therapy Reviews & Comparison
Project E Beauty
LED Face Mask
Our Rating
4.6
Type
LED mask
(unlimited
sessions)
Treatment
Area
Entire face
Treatment
Time
15 minutes total
(each color)
LEDs &
wavelength
Red, Blue, Green
and 4 more
colors
150 LEDs total
Timer
15 min.
Price
Check on Amazon
TrueLight Energy
Square
Our Rating
4.8
Type
LED panel
(unlimited
sessions)
Treatment
Area
Entire face, neck,
and chest
Treatment
Time
20 minutes , 3 times a week
LEDs &
wavelength
Red @
650 nm & 630 nm
Near-infrared @ 850 nm
Yellow @ 580 nm
Timer
20 min.
Price
Check on official site
Light Therapy DOME
Our Rating
4.6
Type
Dome panels
Treatment
Area
Face & neck & body
Treatment
Time
30 minutes
3-5 times a week
LEDs &
wavelength
Red
Blue
Yellow
Infrared
1032 LEDs total
Timer
Yes
Price
Check on Amazon
Anyork Red Light Therapy Body Panel
Our Rating
4.4
Type
LED red light therapy
panel
Treatment
Area
Face & neck & chest
Treatment
Time
10-25 minutes
2-5 times a week
LEDs &
wavelength
Red @ 660 nm
380 LEDs total
Timer
Yes
Price
Check on Amazon
And now, see my reviews and pros & cons for each red LED light therapy home device:
1. Project E Beauty LED Facial mask
Project E Beauty LED Face Mask Pros:
7 color therapy lights
Cost-effective
Large treatment area, covers the entire face
Hands-free treatment
Lights are timed automatically, so once the 15-minute session is over, the lights will turn off and you can remove the mask.
👉 I tried the Project E LED face mask for 30 days! Here's what happened.
Cons
2. 🥇 TrueLight™ Energy Square – Professional LED Light Therapy Machine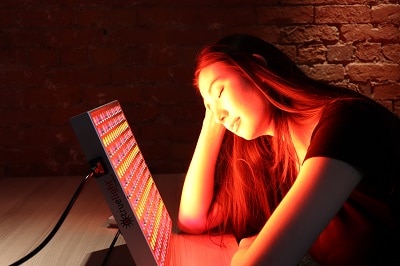 The TrueLight Energy Square by True Dark is the best LED light therapy panel we've found, and especially helpful for collagen production, wrinkle reduction, scar elimination, muscle and tissue recovery, and reducing rosacea and skin irritation.
In one session you can cover your entire face, neck, and chest area!
It has 4 different types of LED therapy lights (wavelengths):
Two different wavelengths of Red for Rejuvenation (660nm & 630nm)
Near-Infrared for Strengthening and pain relief (850 nm)
Yellow for Skin Preparation (580 nm)
You can choose using red only/red+yellow or yellow only.
It's lightweight and portable and covers a lot of skin area due to its large size, and emits no EMF!
Plus, you can choose from two lightning modes – steady or pulsating.
TrueLight also comes with:
Hand-held remote to control lighting options
Optional adjustable stand (recommended)
10-foot power cord
Velvet drawstring storage bag
User Guide & Operating Instructions manual
👉 Treatment time: 20 minutes, 3-4 times a week. For best results, use on bare skin, no more than 6-8 inches away from the treatment area. I recommend using with your eyes closed, or with safety goggles.
The company offers excellent customer service and a 1-year warranty.
✅ Don't forget to use my coupon code MEITAL10 to get 10% OFF the price on the official website
3. EASYBEAUTY Red Light Therapy Dome (with Infrared)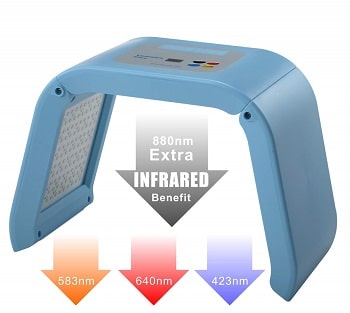 The EasyBeauty professional red LED light therapy dome comes with 4 different wavelengths and 1032 LEDs!
Here are the wavelengths:
Red Light – 640nm – wrinkles reduction, anti-aging, scar healing, psoriasis, and eczema relief
Blue light – 423nm – acne-causing bacteria destruction, cystic acne, skin inflammation prevention, skin purifying
Yellow – 583nm – pigmentation reduction, improving skin softness
Infrared – 880nm – pain relief, heat treatment
The dome structure of this device makes it very easy and comfortable to use (but adds to the price…) and you can choose to use only one color or combine two colors in one (30-minute) treatment.
EASYBEAUTY Dome Pros
Automatic shut off (beeps when treatment time ends)
A professional device with 1032 LEDs
Easy to set up and use
High ratings

on Amazon

It can be used for hair growth as well!
Comes with safety goggles
Cons
No money-back-guarantee trial (but can be returned if you buy through Amazon)
Pulse mode is not recommended, users state that this hurts the eyes, even with the goggles on.
4. Anyork Red LED Light Therapy Body Panel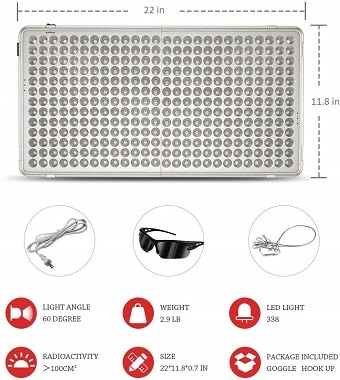 The Anyork red LED light therapy body panel is a larger device, with 338 LEDs, made to cover more than just your face and neck, and comes with a hanger.
Its treatment size is 11.8 X 22 inches, which means you can cover your face, neck and chest area in one treatment of red light therapy (660 nm).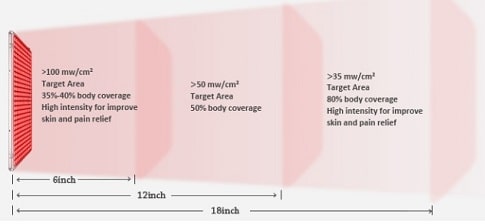 And:
The large number of LEDs and the size of the panel make it a good treatment tool for pain relief and inflammation reduction.
The manufacturers are pretty confident about this one, promising a full 60-day money-back guarantee and 2-year warranty.
👉 Treatment time: Depending on the distance (recommended – 5-15 inches away), treatment time is 10-25 minutes, 2-5 times a week.
Make sure to use safety goggles (included in the package) to protect your eyes, the light is very bright!
Can be hanged by also foldable
Reasonable price
60-day money-back guarantee on Amazon
Easy to set up and use
Comes with safety goggles and hanger
Large treatment area
A lot of LEDs – more powerful treatment
Cons
Some users were frustrated by the product being labeled as "grow light". Just to be clear, grow lights and skin therapy light are both LEDs and are the same.
Confused about the RIGHT device for YOUR Needs?
Download Your Free PDF
– "Which Device Do I Need?" – and find out the best device for your specific condition – Right Now!
5. 🥇Aduro LED Light Therapy Mask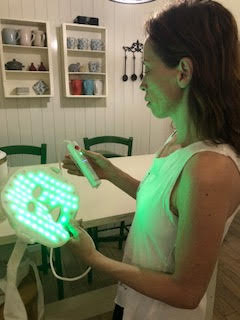 The Aduro LED light therapy mask is our #1 choice when it comes LED masks, because it has 8 colors, 11 pre-programmed treatments (no need to overthink the colors you need), has infrared light, and is made with comfortable silicone instead of the heavy plastic most LED masks are made with.
If an LED mask is what you want, we highly recommend the Aduro LED mask. I tried it (and still use it!), see my results below: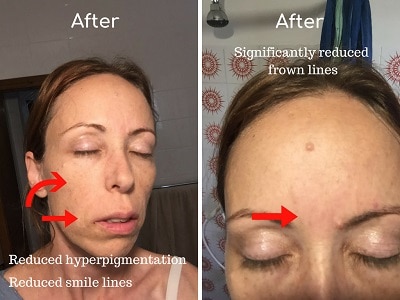 6. Lightstim Wrinkles – Best Handheld LED Light Therapy Device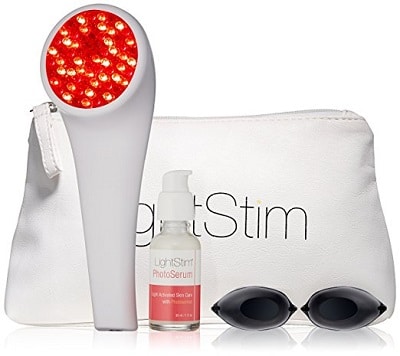 The Lighstim Wrinkles handheld red light therapy device is a long-time (and award-winning) player in the LED light therapy market and has a good reputation and mostly positive reviews.
If you're looking for a handheld device (which requires effort on your part) – the Lightstim is the only one we'd recommend.
It combines red and infrared light therapy in the same device and can be great for reducing fine lines in the forehead, nasolabial folds, crow's feet and cheeks, and treating acne scars.
However, we only recommend this one if you insist upon a handheld device. Since 2019, we prefer LED masks as the best anti-aging and skin healing devices for the skin.
👉 See the Lightstim Wrinkles reviews on Amazon.
7. Norlanya Photo Therapy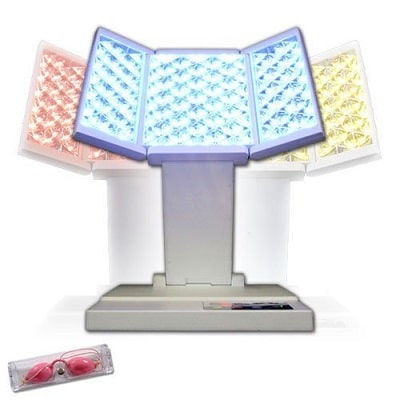 Foldable and easy to carry
Full face and neck coverage in one treatment
Only 10 minutes of treatment time total
Offers continuous/pulse modes
Rechargeable with a USB cord – fit for travel
Includes red, blue and yellow wavelengths
Cons
The light head is not very adjustable – only bends backward
No warranty information on the official website
8. DPL II Panel System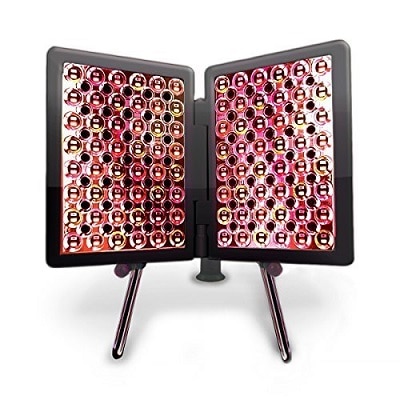 DPL II Light Therapy pros
Large treatment area – covers the entire face
Hands-free treatment
Removable panels
Short treatment time (9-15 minutes)
Auto shut-off, no need to watch the time
Red & infrared – can be used for pain relief too
Cons
Not fit for travel
No multitasking during treatment
✅ What's the BEST Red Light Therapy Home Device?
In this post you've found the 8 most popular red LED light therapy home devices for anti-aging and skin issues, ranging from LED masks to handheld devices to large panels.
The best device for you depends on your specific condition and treatment goals, and of course your budget.
Our top recommendation for LED face masks is the Aduro LED mask.
Our best choice for a red LED light panel is the True Dark Energy square.
Our choice for the best tabletop device is the Norlanya machine.
To see our ratings for each device jump to the comparison table here.
Red LED Light Therapy FAQ
How do you prepare before having a home red LED facial? what can you after treatment? the answers are below:
What is red LED light therapy?
Red LED light therapy, or light-emitting diode therapy, is a natural skincare treatment that uses the red wavelength (450 nm – 700 nm) in various light-emitting devices.
What does red LED light do to the skin?
Red LED light was proven to promote collagen production, heal wounds faster, treat acne scars and improve many skin conditions. 
How Often Can You Use Red Light Therapy?
Each device comes with its own clear instructions to get the best results. Generally, we would recommend using red light therapy 4-5 times a week, starting with 15 minutes treatments (for LED masks and tabletop devices) or 3 minutes per facial area for handheld red light machines.
While everyone reacts differently, You'll probably see results after 8-12 weeks.
After you see skin rejuvenation improvement, you can reduce weekly treatment to 1-2 per week.
How Do You Prepare Your Skin for the Best Results?
Always use red light therapy (phototherapy) home devices on clean skin (preferably after a gentle exfoliation) – remove any makeup, serums or moisturizes completely.
Why?
Because they can interfere with light penetration into your skin.
Make sure to not use any skincare that may cause skin sensitivity to light (like retinol) before treatment.
You can use your regular skincare after treatment as normal.
Pro tip
Did you know that you can use some of these home devices for pain relief as well?
All home devices that include infrared wavelength can be used for local (natural) pain relief – from joint pain to nerve pain, this technology is science-backed for decades.
👉 You can read the 3 compelling reasons to use infrared light therapy for pain relief HERE.
I hope my research has helped you choose the best and the right red LED light home device for you, and please let me know if there are any more questions you have – in the comments below.
To your health and happiness,
Meital