In this long-researched post, you'll find my new and updated red LED light therapy home devices comparison, reviews, and ratings.
If you're confused about which red light therapy home device is the best return for your money – you've come to the right place.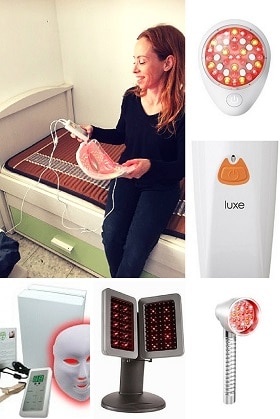 This post contains affiliate links.
Click here
to read my affiliate policy.
In the two comparison tables below you'll find all technical details (treatment area, timer, wavelength, etc.) of each home device (arranged by price) and where to find the best price for it.
Below the tables, you'll find what I like and didn't like (pros and cons) for each red LED light therapy hand held/tabletop/face mask.
This will help you decide in minutes, without doing the tedious research for each product yourself.
👉 See the proven benefits of red light therapy for wrinkles and other skin conditions.
What Does Red Light Therapy Do to Your Skin?
We've prepared this simple infographic: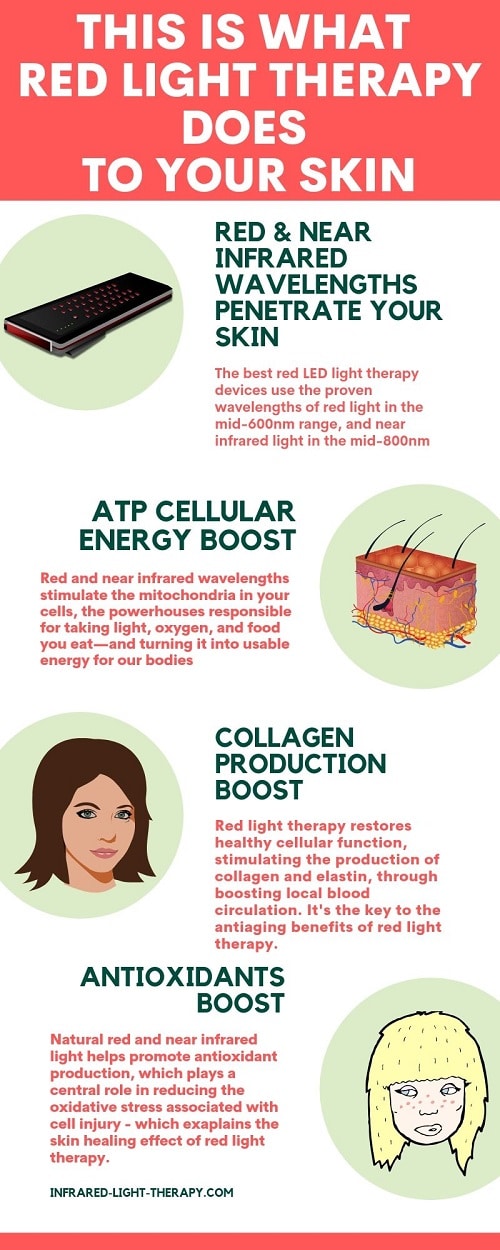 👉 So, what can you use red light therapy devices for?
Wrinkles, fine lines, sagging skin, dull skin, skin redness
Hyper pigmentation
Acne blemishes, acne scars (skin repair), Rosacea
Eczema, Psoriasis
Broken capillaries
Ready to start your at-home red LED facials?
Let's go:
Red LED Light Therapy Reviews & Comparison 
Project E Beauty
LED Face Mask
Our Rating
4.6
Type
LED mask
(unlimited
sessions)
Treatment
Area
Entire face
Treatment
Time
15 minutes total
(each color)
LEDs &
wavelength
Red @
650 nm
Blue @ 463 nm
Green @ 527 nm
and 4 more
colors
Timer
15 min.
Price
Check on Amazon
TrueLight Energy
Square
Our Rating
4.8
Type
LED panel
(unlimited
sessions)
Treatment
Area
Entire face, neck,
and chest
Treatment
Time
20 minutes , 3 times a week
LEDs &
wavelength
Red @
650 nm & 630 nm
Near-infrared @ 850 nm
Yellow @ 580 nm
Timer
20 min.
Price
Check on official site
Handheld 3 LED
colors with RF & EMS
Our Rating
4.5
Type
Handheld LED with RF & EMS
Treatment
Area
Face & neck
Treatment
Time
5-7 days
1-2 a day
LEDs &
wavelength
Red
Blue
Green
Timer
Yes
Price
Check on Amazon
Angel Kiss LED
Mask
Our Rating
4
Type
LED mask
(unlimited
sessions)
Treatment
Area
Face & neck
Treatment
Time
10-20 minutes
total
LEDs &
wavelength
Red @
635 nm
Blue @
463 nm
Green @ 527 nm
150 LEDs total
Timer
5 minute
increments +
brightness
control
Price
Check on Amazon
DPL II
Our Rating
4.5
Type
Panels
Treatment
Area
70 sq. inches
Treatment
Time
15-17 min.
total
LEDs &
wavelength
96 @ 880 nm
32 @ 660 nm
32 @ 630 nm
32 @ 530 nm
Timer
No
Price
Check on Amazon
And now, see my reviews and pros & cons for each red LED light therapy home device:
1. 🥇 Project E Beauty LED Facial mask
Project E Beauty LED Face Mask Pros:
7 color therapy lights
Cost-effective
Large treatment area, covers the entire face
Hands-free treatment
Lights are timed automatically, so once the 15-minute session is over, the lights will turn off and you can remove the mask.
👉 I tried the Project E LED face mask for 30 days! Here's what happened.
Cons
2. 🥇 TrueLight™ Energy Square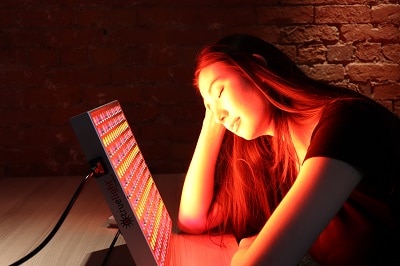 The TrueLight Energy Square by True Dark is the best LED light therapy panel we've found, and especially helpful for collagen production, wrinkle reduction, scar elimination, muscle and tissue recovery, and reducing rosacea and skin irritation.
In one session you can cover your entire face, neck, and chest area!
It has 4 different types of LED therapy lights (wavelengths):
Two different wavelengths of Red for Rejuvenation (660nm & 630nm)
Near-Infrared for Strengthening and pain relief (850 nm)
Yellow for Skin Preparation (580 nm)
You can choose using red only/red+yellow or yellow only.
It's lightweight and portable and covers a lot of skin area due to its large size, and emits no EMF!
Plus, you can choose from two lightning modes – steady or pulsating.
TrueLight also comes with:
Hand-held remote to control lighting options
Optional adjustable stand (recommended)
10-foot power cord
Velvet drawstring storage bag
User Guide & Operating Instructions manual
👉 Treatment time: 20 minutes, 3-4 times a week. For best results, use on bare skin, no more than 6-8 inches away from the treatment area. I recommend using with your eyes closed, or with safety goggles.
The company offers excellent customer service and a 1-year warranty.
✅ Don't forget to use our coupon code to get 10% OFF the price on the official website
3. Handheld LED Light Therapy with RF & ETS
This new, high-quality rechargeable LED light therapy device comes with the 3 most important chromotherapy wavelengths – red, blue and green –  that treat skin aging, acne, acne scars, hyperpigmentation, broken capillaries and more.
Here's an image of the device in my home: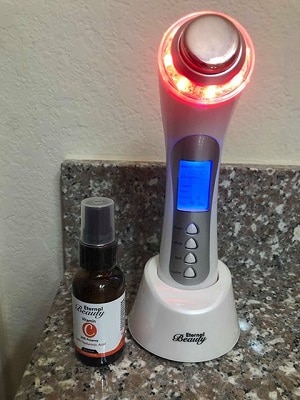 But there's a great bonus inside this FDA-cleared device:
You can combine your LED facial with RF (Radio Frequency) and EMS (Electrical Muscle Stimulation).
👉 What's RF and EMS?
EMS is a gentle electric muscle stimulation used to gently activate the skin cells, stimulate rejuvenation of collagen, improve skin elasticity, soften wrinkles and leave skin looking smooth and healthy.
RF is Radio Frequency energy, which uses the tissue's natural resistance within the various layers of the skin to transform the RF energy into thermal energy – inside your skin.
People with all skin types can use RF energies, with different depths of penetration, allowing for increased collagen contraction and production of new collagen.
Eternal Beauty Pros
Money-saving – 3 anti-aging functions in 1 device
Can be used around the delicate eye area
Portable (rechargeable)
FDA-cleared and has CE approval as well
30-day money-back guarantee
Quick customer service
Cons
You can't use all 3 colors at the same time (but there's no point in doing that)
Charging last for 2-3 treatments
4. Tanda Lux

Tanda Lux pros
Interchangeable treatments heads – Includes blue light (for acne)
Short treatment time per area, full treatment only 12 minutes
FDA cleared
Fit for travel
Good instructions
Onboard timer
Affordable price
Cons
Needs recharging
Product life limited to battery life
The charger may not last long
Confused about the RIGHT device for YOUR Needs?
Download Your Free PDF
– "Which Device Do I Need?" – and find out the best device for your specific condition – Right Now!
5. Angel Kiss LED Mask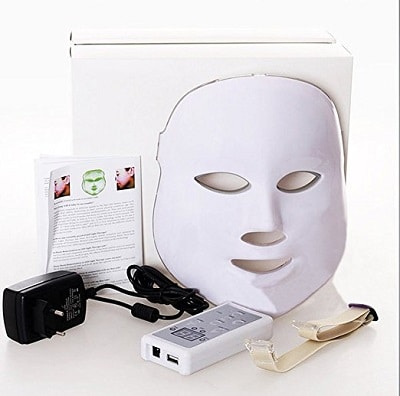 Includes red, blue and green light
Cost-effective, LEDs (light-emitting diode) lasts for a decade
Easy to use, hands-free operation
Portable and durable
Cons
Company reputation not known
May feel a bit heavy on the face
No information on the warranty
6. Baby Quasar Pure Rayz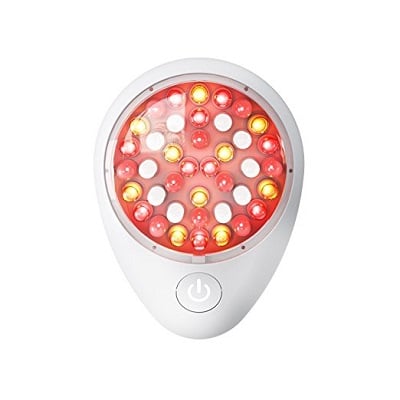 5-year warranty
FDA-cleared for the treatment of wrinkles anywhere on the face
Built-in shut-off timer
It is sized for portability and comes with a dual-voltage power source for international usage, and is hand-assembled from the highest quality ABS plastic or durability.
Includes red, infrared and amber light for pigmentation
Lightweight, compact and portable
Designed to fit comfortably in the palm
Cons
Need to use eye protection with this device
Relatively expensive.
7. Lightstim Wrinkles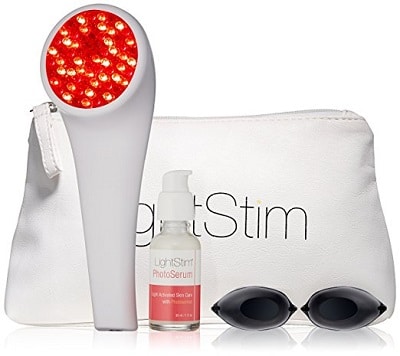 Combines 3 wavelengths
A good size treatment area
5-year warranty
FDA cleared
Fair price tag
Cons
Corded – can't move around during treatment
Doesn't come with goggles
8. Norlanya Photo Therapy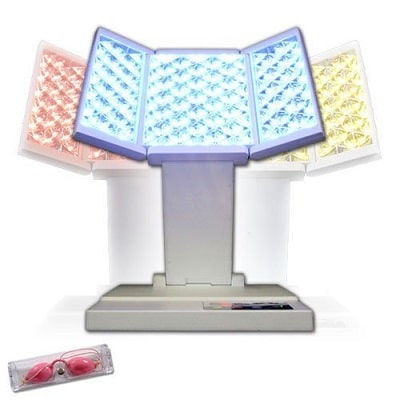 Foldable and easy to carry
Full face and neck coverage in one treatment
Only 10 minutes of treatment time total
Offers continuous/pulse modes
Rechargeable with a USB cord – fit for travel
Includes red, blue and yellow wavelengths
Cons
The light head is not very adjustable – only bends backward
No warranty information on the official website
9. DPL II Panel System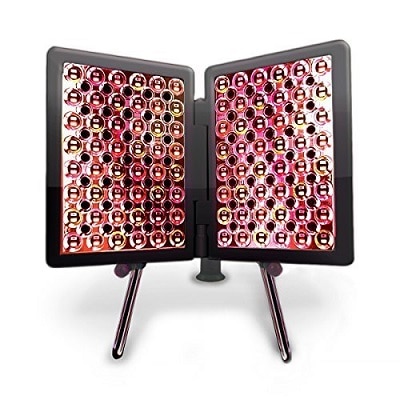 DPL II Light Therapy pros
Large treatment area, covers the entire face
Hands-free treatment
Removable panels
Short treatment time (9-15 minutes)
Auto shut-off, no need to watch the time
Red & infrared – can be used for pain relief too
Cons
Not fit for travel
No multitasking during treatment
✅ Our Top Choices for Red LED Light Therapy Home Device 
In this post you've found the 9 most popular red LED light therapy home devices for anti-aging and skin issues, ranging from the least expensive one (Angel Kiss LED face mask) to the most expensive one.
Our highest rating goes to Project E Beauty LED face mask (4.7 stars), and the Eternal Beauty Cosmetics handheld LED light therapy with RF and EMS (4.7 stars).
Red LED Light Therapy FAQ
How do you prepare before having a home red LED facial? what can you after treatment? the answers are below:
What is red LED light therapy?
Red LED light therapy, or light-emitting diode therapy, is a natural skin care treatment that uses the red wavelength (450 nm – 700 nm) in various light-emitting devices.
What does red LED light do to the skin?
Red LED light was proven to promote collagen production, heal wounds faster, treat acne scars and improve many skin conditions. 
How Often Can You Use Red Light Therapy?
Each device comes with its own clear instructions to get the best results. Generally, we would recommend using red light therapy 4-5 times a week, starting with 15 minutes treatments (for LED masks and tabletop devices) or 3 minutes per facial area for handheld red light machines.
While everyone reacts differently, You'll probably see results after 8-12 weeks.
After you see skin rejuvenation improvement, you can reduce weekly treatment to 1-2 per week.
✅ See my 30-day results from using the Aduro LED Face mask!
How Do You Prepare Your Skin for the Best Results?
Always use red light therapy (phototherapy) home devices on clean skin (preferably after a gentle exfoliation) – remove any makeup, serums or moisturizes completely.
Why?
Because they can interfere with light penetration into your skin.
Make sure to not use any skincare that may cause skin sensitivity to light (like retinol) before treatment.
You can use your regular skincare after treatment as normal.
Pro tip
Did you know that you can use some of these home devices for pain relief as well?
All home devices that include infrared wavelength can be used for local (natural) pain relief – from joint pain to nerve pain, this technology is science-backed for decades.
👉 You can read the 3 compelling reasons to use infrared light therapy for pain relief HERE.
I hope my research has helped you choose the best and the right red LED light home device for you, and please let me know if there are any more questions you have – in the comments below.
To your health and happiness,
Meital