I started looking for a small infrared space heater when our basement reached sub-zero temperatures.
I wanted a small yet effective heater to bring pleasant warmth to the room, without much increasing my heating bills.
While researching I found that a small infrared space heater is the most cost-effective and energy-saving way to heat a small space in your home.
Zone heating through infrared heaters allows you to not only heat the air in the room but every living object in it – for an affordable price.
(In fact, I've calculated how much an infrared heater is going to cost me: about 21 cents per hour).
This little guide is going to help you save a lot of time and some money (because I'll point you to the best price right now) and I hope you find it useful.
Sounds good?
Here's what you'll find in this post:
What I Looked for in my Small Infrared Space Heater
Other than it being easy on the eyes, here are important features to look for in a small infrared heater:
1. It can warm up to 500 square feet fast
2. It's safe for children and pets (cool to the touch, overheat and tip over protection)
3. It's portable and easy to carry around
4. It sells for an affordable price (under $100)
Through my research, here's what I found:
The Top 3 Small Infrared Space Heaters 
If you're in a hurry, here's a basic comparison between the 3 best small infrared heaters:
Dr. Infrared
Size
13"x11"x16"
Weight
23.5 lbs
Heat
Settings
Low (1000-Watts)
High (1500-Watts)
Auto
Temp. settings
50 - 86 F
Heating
Elements
infrared quartz
tube + PTC
Price
Check on Amazon
Lifesmart
Size
12.4" x 7.5" x 13.5"
Weight
11 lbs
Heat
Settings
Low
High
Eco (heats to 68 degrees using only 500-Watts)
Temp. settings
50 - 97
Heating
Elements
3 infrared quartz elements
Price
Check on Amazon
Ryzen H-5000
Size
8" x 13" x 13"
Weight
12.9 lbs
Heat
Settings
Low (750-Watts)
High (1500-Watts)
Eco (700-800-Watts)
Temp. settings
59 - 86
Heating
Elements
infrared quartz
tube + PTC
Price
Check on Amazon
1. Dr. Infrared Portable Space Heater Review (1500-Watt)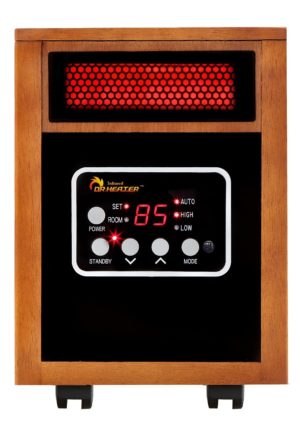 The Dr. Infrared portable (with wheels!) space heater (with a dual heating system: infrared quartz tube + PTC) has a very nice wood finish and is perfect for any small to medium room.
The heater's auto temperature ranges from 50 to 86 degrees and can warm a 1000 square feet relatively fast while being perfectly safe for kids and pets.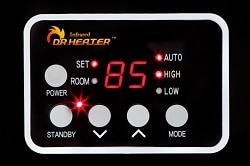 It has three power settings: Auto, Low 1000W and High 1500W.
Size: 13x11x16 inches
Weight: 23.5 pounds.
 Dr. Infrared Pros
Safe – overheat and tip over protection
Energy saving – auto energy saving mode
Super quiet
Has a remote control
Uses 12.5 amps of power (1500 watts)
Built to last 80,000 hours in operation.
12hr automatic shut-off timer
Cons
Not very lightweight – 23 lbs.
Preferred setting not saved
In conclusion, the Dr. Infrared heater is pretty much what I was looking for. It heats the space I wanted it for perfectly. It's easy to adjust the temperature and its good looks don't detract from the rest of my furniture.
👉Spoiler alert: This is the small infrared heater I've chosen to buy, and I absolutely love it)
2. Ryzen H-5000 Pro Infrared Quartz Heater Review(1500-Watt)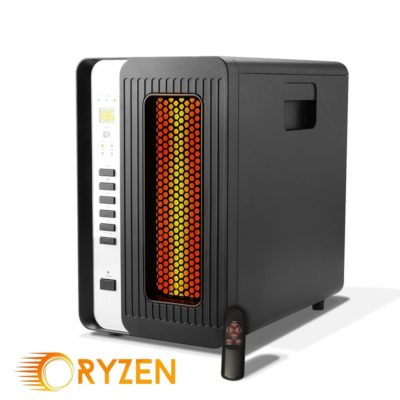 The Ryzen H-5000 infrared heater is a smaller, lighter heater with 3 heating elements (infrared + ceramic PTC) and an Eco setting that can heat smaller spaces to 68 degrees using only 750-Watt.
Size: 8 x 13 x 13 inches
Weight: 12.9 pounds
There are 3 energy saving settings and a large remote control to operate the digital thermostat.
Temperatures can be set from a range of 59 degrees F to 86 degrees.
Ryzen Pros
Eco setting
Lightweight and easy to carry around from room to room.
Dual timer setting that can be used to turn on or off up to 12 hours ahead.
Extremely safe – cool to the touch, tip over and overheat feature, plus a lockable keypad and remote. (tested and approved by 2 USA rating agencies)
Inexpensive – about half the price of the Dr. Infrared heater.
Long 6 ft. power cord
A quiet scroll fan to circulate heat
3-year warranty
Can be left on 24/7 and run as needed by its own thermostat.
Cons
Somewhat complicated controls
👉In conclusion, the Ryzen H-5000 is an efficient little heater that doesn't take a lot of space and is safe around children and pets, for an affordable price.
3. Lifesmart Medium Room Infrared Heater Review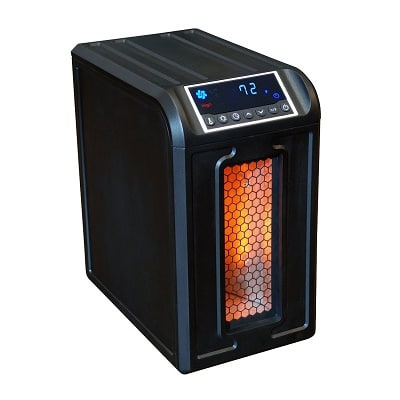 The Lifesmart infrared heater (with 3 infrared heating elements) is the most lightweight heater I've found (weighs only 11 pounds).
(Size is 12.4 x 7.5 x 13.5 inches)
The new model has a digital remote control with backlit LCD screen, and there are 3 heat settings – high, low and eco.
Temperature range: 50F-97F in the current version. ECO is locked to 68F
 Lifesmart Infrared Heater Pros
Compact and portable – easy to move around
Safe – cool to the touch (the front grill gets a little warm but that's it), overheat and tip over shut-off
The unit "remembers" the temperature and mode (high/low/eco setting) when turning the unit off. You can just turn it on and it heats with your previous settings.
3 energy savings settings including an eco-setting that will heat smaller areas to 68 degrees using only 500-Watt.
1-year warranty
Lifetime washable air filter
Cons
The fan inside can be a bit noisy if you are right next to it.
👉In conclusion, the Lifesmart infrared heater is a compact and smart infrared heater which is safe and works very well. It's quiet, the exterior stays cool, and it heats fast.
✅ The BEST Small Infrared Heater WINNER
Through our research, the best small portable infrared heater is the Dr. Infrared Heater.
It really makes a room toasty warm and you can really feel and see it working. It blends nicely with furniture and is energy efficient.
When I check this page, I sometimes find a great sale for it. If you find it for less than $100 – it's a great deal.
I hope my research has helped you and saved you some money and a lot of time finding the best small infrared space heaters for your needs.
Are Infrared Heaters SAFE?
Infrared heaters warm you by radiating infrared rays rather than convection of hot air.
Some people get concerned when they hear the word "radiation", and immediately link it to cancer.
However:
There is potentially harmful radiation, and there's harmless radiation. Infrared heat low -energy and non-ionising radiation – which is harmless and does not affect the DNA.
Infrared radiation is a natural form of heating. You feel when you get in your car after it's been out in the sun.
The sun radiates infrared energy and this is absorbed by our bodies and promotes blood circulation. All of us emit infrared heat all the time. When you and your spouse hug – you both absorb infrared radiation from one another.
(Interesting, right? See these 36 amazing facts about infrared radiation to learn more)
I am, as always, here to answer any question or learn something new from you (just use the comment section below)
To your health and happiness,
Meital