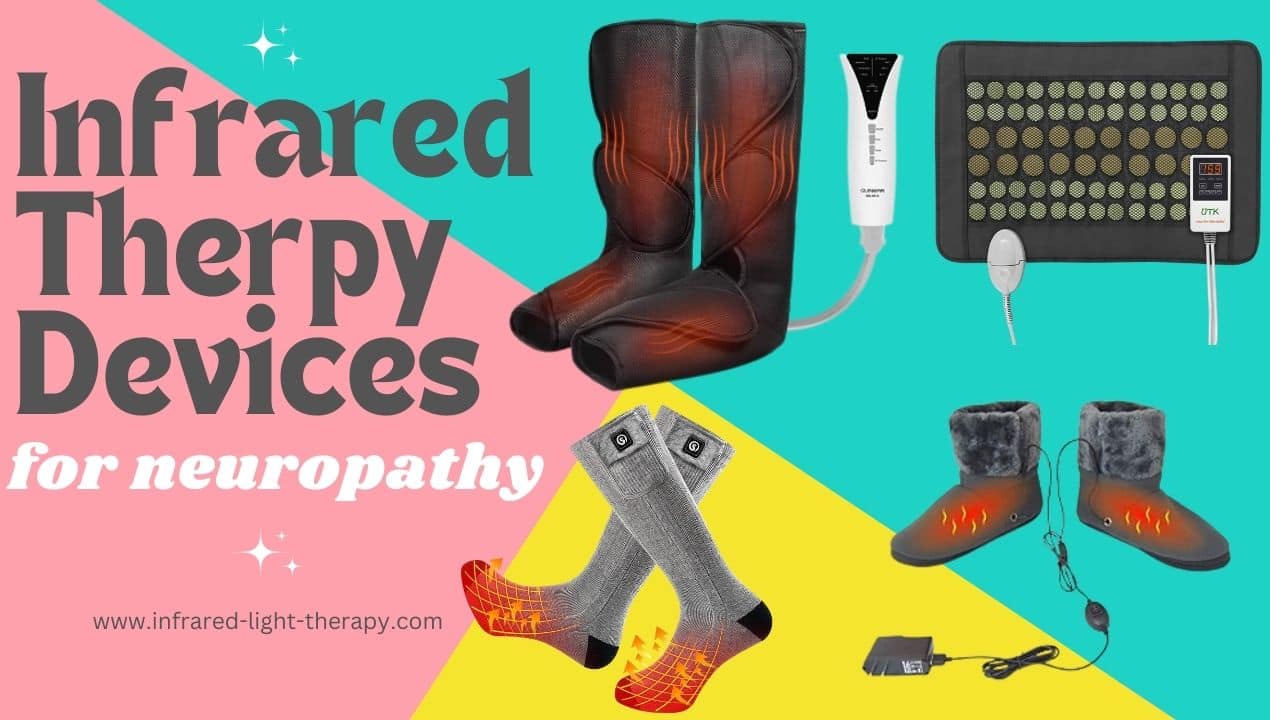 Infrared light therapy for neuropathy is gaining a lot of interest in the past few years and for good reasons:
Infrared therapy devices can be very helpful and ease the life of neuropathy sufferers – without any side effects.
Infrared rays are scientifically proven to heal and even regenerate damaged nerves and are long enough to reach deep into the tissues – all the way to muscles, nerves, and bones.
👉 In a hurry?
Jump to the Best Infrared Devices for Neuropathy, including FIR foot massagers, infrared gloves, infrared socks, and infrared boots.
Professor David A. Arnall, chair of physical therapy at East Tennessee University, has lived with Diabetic Peripheral Neuropathy for 20 years. Arnall is a self-proclaimed professional skeptic. He believes in evidence-based medicine.
And yet:
Arnall, the skeptic, will tell anyone who will listen that infrared light therapy for Neuropathy can restore sensation and reduce neuropathic pain like nothing else.
"My neuropathies are gone"
Says Arnall.
After trying every available therapeutic option (including surgery) with no luck, he discovered infrared light therapy (LLLT), which has succeeded where all other treatments failed.
How Does Infrared Light Help with Neuropathy?
Infrared light therapy is extensively proven to help with Neuropathy. The key to the dramatic relief LLLT brings is nitric oxide. Nitric oxide is a short-lived gas that is crucial to the health of your arteries.
This powerful signaling molecule relaxes the nerves, regulates blood pressure, fights free radicals, and prevents platelets from clumping together.
Infrared light therapy prompts the release of nitric oxide, which enhances blood flow and brings oxygen nutrients, and pain-relieving components – to your tissues and nerves.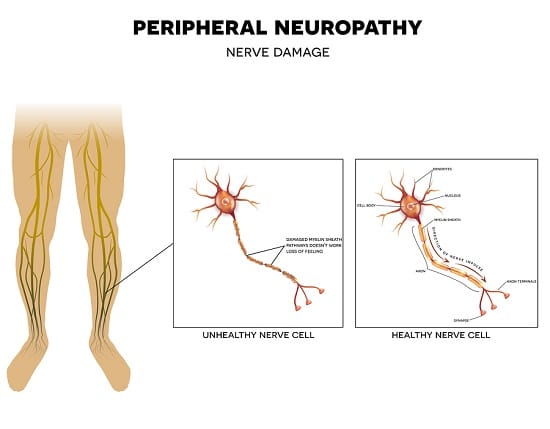 You experience Neuropathy when the nerves that carry messages to and from your brain and spinal cord from and to the rest of your body – are damaged or diseased.
Damage to these nerves interrupts communication between the brain and other parts of your body and can impair muscle movement, and prevent normal sensation in the arms and legs (not to mention – a lot of pain).
Sometimes numbness can be so bad you can stick a needle and it won't hurt.
Other times it feels like someone's hitting you with a crowbar, while at the same time passing a blowtorch across the same area.
The good news is:
No matter the cause of your nerve pain (an injury, infection, diabetes, autoimmune disease, etc.) – infrared light therapy is proven to help.
The Top 9 Infrared Therapy Devices for Neuropathy
Here are our top choices, followed by more options:
You don't have to spend thousands of dollars on FIR sessions.
You can use infrared light therapy to speed up the healing of nerve damage and regenerate nerves at home – whenever you need it.
For example, here's one of our top recommendations:
Infrared Leg Massager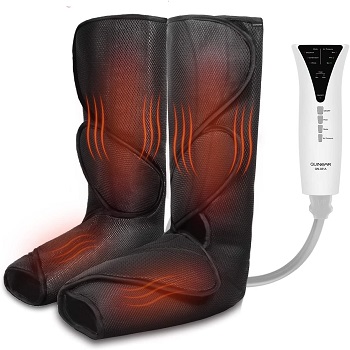 The QUINEAR Leg Massager with Heat is an excellent Neuropathy reliever, which combines both foot and calf massage (2×2 airbags), and infrared heat (2 heat settings – up to 55 degrees Celsius!)
With 3 massage nodes, 3 massage intensities, and 2 heat settings, you can set these infrared boots (via the controller) to relieve Neuropathy pain and promote healing – in only 20 minutes of treatment daily.
And, the Quinear is one of the most stress-relieving experiences we ever tried.
Alternatively, you can get the Life Pro Leg Massager with Heat, which covers the entire leg – all the way to the thighs, and 6 different massage modes, 3 compression intensity levels, and 2 heat settings.
It also includes an extension belt to extend the size if needed.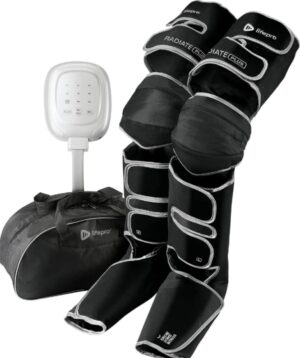 Here are some more great options you can choose from:
Infrared Heating Pad for Neuropathy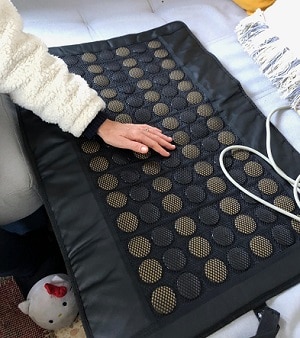 The UTK infrared heating pad is still the best value Jade heating pad on the market and is a good choice for boosting energy in your body – in larger areas.
It's a flexible jade-stone infrared heating pad that you can wrap around any part of your body, and start enjoying the simple things in life again.
The small size pad is 23.5 by 16 inches, with 126 pcs of premium natural jade stones.
The jade stones emit infrared rays when heated.
Plus, the pad releases negative ions that'll elevate your mood and enhance your treatment.
👉 See the top-rated infrared heating pads in 2023
You can also choose a red light therapy wrap – that wraps around your aching areas and allows for direct contact with your skin:
Red Light Therapy Wrap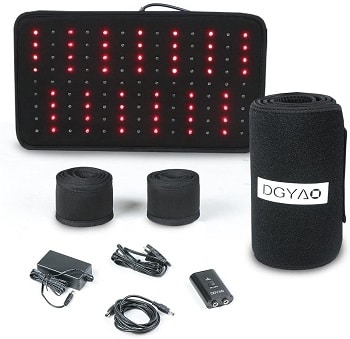 Red light therapy wraps combine the red and invisible infrared wavelength, and due to that – they do not get as hot as far infrared heating pads.
 They are usually lightweight and more portable, some cordless, and great for travel. 
 Infrared Boots for Neuropathy
Infrared boots for neuropathy allow you to target both your feet simultaneously, inside comfy boots that deliver infrared heat via carbon fiber.
Infrared boots can Improve blood flow and oxygen delivery to the nerves and help nerves begin to carry sensations again when the cause of neuropathy is related to poor circulation.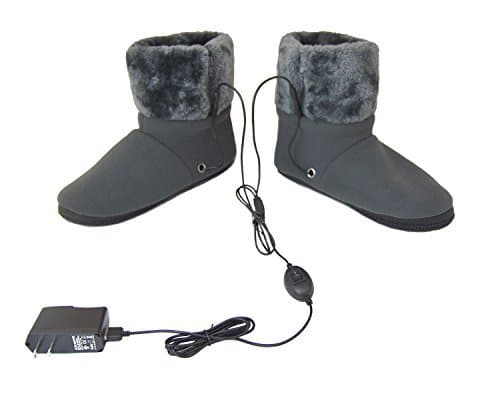 The ObboMed infrared foot warmers are powered with a low-voltage USB outlet and come with a LED indicator to show you the heat level you've reached – up to 109 F. It takes 5-10 minutes to heat up.
Another great option is a red & infrared foot wrap, that uses tiny LEDs to deliver red & near-infrared wavelengths to your feet and does not get as hot as infrared boots.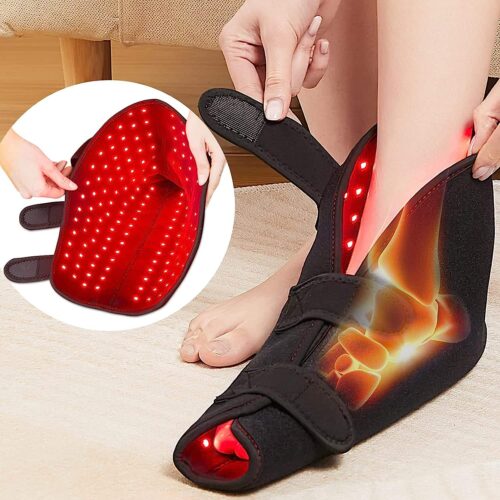 The special design wraps around your foot comfortably, but you can't move around with it or you'll damage the LEDs.
The Cameco wrap has 158 dual-chip LEDs, each emitting both red light therapy (660 nm) and near-infrared (850 nm) that you can use in 6 different treatment modes, including pulsing modes. 
The controller allows you to fully customize the treatment, with temperature settings, time settings, and wavelength settings (with or without pulsing)
Its size fits most feet sizes and the 3 straps allow you to wrap it around your foot comfortably. It's more expensive than infrared carbon fiber boots, but it's definitely more customizable, which is important for sensitive feet.
Infrared Foot Massager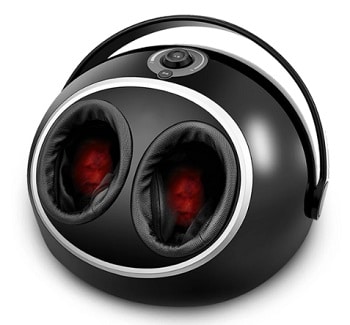 Our #1 recommendation for Neuropathy foot pain is an infrared (heated) foot massager.
Combining infrared heat and Shiatsu or Vibrating massage can reduce pain and numbing in your feet by more than 60%!
👉 See the proof and the top 7 infrared foot massagers  for neuropathy
 Rechargeable Heated Socks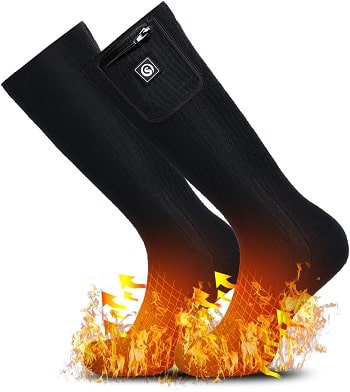 Heated socks, including infrared socks and battery-operated socks, can be very helpful for Neuropathy feet.
Battery-operated heated socks can heat up really fast (usually in 30 seconds) and have far-infrared elements mainly in the front foot area and toes.
The heat stimulates blood circulation and makes them not only great for neuropathy, but for Raynaud's disease, foot arthritis, and chronically cold feet.
Infrared socks are a lower-cost option that we mostly recommend for beginners.
Once you realize how helpful infrared technology is, you'll be more confident about upgrading to a higher-intensity home device.
Infrared Gloves
For neuropathy hand pain we recommend electric infrared gloves, such as the Savior Infrared Gloves, that are 100% portable and work even in sub-zero temperatures: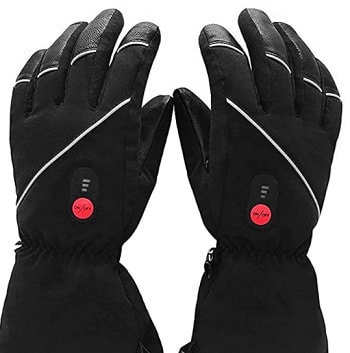 The Savior battery-operated heated gloves emit infrared rays via carbon fiber fabric and heating elements and can be set to 3 different temperature settings  – optional for Arthritis and Neuropathy hand pain.
👉 See the top 6 infrared therapy gloves for Neuropathy – for more options.
Heated Hand Massagers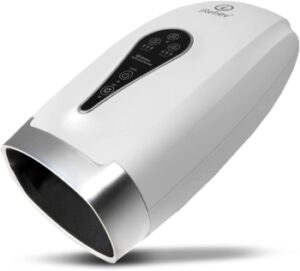 If you suffer from hand numbness and pain from peripheral neuropathy, a heated hand massager can be a life changer and help boost blood circulation in your palms, fingers, and wrists and bring some amazing pain and numbness relief.
Just 10 minutes with a relaxing compression & vibration massage with heat can relieve neuropathy symptoms for most of the day, and help you use your hands normally for any work you need to do.
Is Infrared Therapy Proven to Work for Neuropathy?
According to studies and thousands of testimonials, the answer is YES.
For example, here's one (large-scale) astounding clinical trial:
In 2006, 2239 people suffering from foot numbness caused by Diabetes were treated with infrared photodynamic energy.
About half of them were also suffering from Neuropathy pain (with a pain level of 7.2 out of 10).
The results of the IR treatment:
Numbing and sensation loss were improved by 66%. Pain levels were reduced by 67%.
Can you imagine their relief?
The study concluded:
"MIRE (Monochromatic Infrared Photo Energy) appears to be associated with significant clinical improvement in foot sensation and, simultaneously, a reduction in neuropathic pain in a large cohort of primarily Medicare aged, community-dwelling patients, initially diagnosed with PN. The quality of life associated with these two outcomes cannot be underappreciated"
And again:
This is just one of the many studies proving Infrared technology's amazing ability in restoring sensation and relieving nerve pain.
You can see many more studies here.
Who Can Benefit from Infrared Therapy for Neuropathy?
Infrared light therapy (also known as the cold laser) has been proven effective for nerve pain and sensation loss, no matter the root cause.
This means that IR energy can help all types and root causes of Neuropathy, including:
Peripheral Neuropathy
Local Nerve pain
Facial Nerve Problems
Nerve pain from chemotherapy
Multiple Sclerosis
Shingles
Lyme disease
Nerve pain from hypothyroidism
Carpal Tunnel Syndrome
Diabetic Neuropathy
Non-Diabetic Neuropathy
Fibromyalgia
Idiopathic Neuropathy
Dr. Deborah Hoffman, a North Tampa chiropractor, is an avid supporter of infrared therapy treatments for Neuropathy and uses it regularly at her clinic. She claims that the first response of most of her patients is pain relief along with the warming and soothing sensation reported by her patients.
Remember:
IR therapy does not only mask the pain but speeds up the healing process. You may be surprised to find that your pain or numbness is completely gone – in the long term.
Infrared Therapy Can Help Regenerate Nerves
When nerves are damaged, a natural healing process immediately starts to happen.
The problem is that sometimes the healing and regenerating happen too slowly, and the connected organ starts to degenerate before it happens.
This is where infrared light therapy helps.
In mammal studies (no human studies yet), researchers found that nerves treated with laser radiation had a significant increase in the amplitude of the action potential, which is the signal that travels through nerve fibers, compared to the injured nerves that were not treated with laser radiation.
Other studies have found that rats receiving a laser treatment had a significant improvement in nerve function and muscle strength, as well as better nerve regeneration and thicker myelin sheaths compared to control groups.
To your health and happiness,
Meital
Studies
Ishiguro M, Ikeda K, Tomita K. Effect of near-infrared light-emitting diodes on nerve regeneration. J Orthop Sci. 2010 Mar;15(2):233-9.
Improved foot sensitivity and pain reduction in patients with peripheral neuropathy after treatment with monochromatic infrared photo energy–MIRE.
The restorative effects of pulsed infrared light therapy on the significant loss of peripheral protective sensation in patients with long-term type 1 and type 2 diabetes mellitus.
Improved sensitivity in patients with peripheral neuropathy: effects of monochromatic infrared photo energy.
Meital James
Founder and CEO of 4 healthy living blogs, has a background in Naturopathic medicine, research, journalism, and nutrition. Her blogs are the culmination of her thousands of hours of research and experience and all the posts are verified by scientific findings.