Professor David A. Arnall, chair of physical therapy at East Tennessee University, has lived with Diabetic Peripheral Neuropathy for 20 years.
Arnall is a self-proclaimed professional skeptic. He believes in evidence-based medicine.
And yet:
Arnall, the skeptic, will tell anyone who will listen that infrared light therapy for Neuropathy can restore sensation and reduce neuropathic pain like nothing else.
"My neuropathies are gone"
Says Arnall.
After trying every available therapeutic option (including surgery) with no luck, he discovered infrared light therapy (LLLT), which has succeeded where all other treatments failed.
Can the noninvasive low-level laser therapy relieve your Neuropathy symptoms?
Can it stop the numbing, the burning, tingling and excruciating pain – without any side effects?
The answer is YES.
How Can Infrared Light Therapy Help Neuropathy?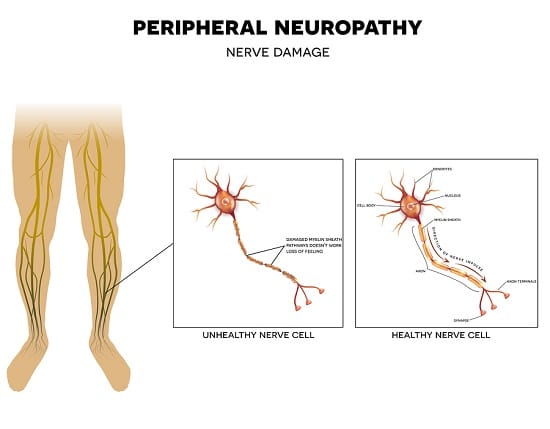 This post contains affiliate links. Click here to read my affiliate policy.
If you suffer from Peripheral Neuropathy, I'm sure you already know the reason for your awful symptoms:
Nerves that carry messages to and from your brain and spinal cord from and to the rest of your body are damaged or diseased.
Damage to these nerves interrupts communication between the brain and other parts of your body and can impair muscle movement, prevent normal sensation in the arms and legs.
Not to mention – a lot of pain.
Sometimes numbness can be so bad you can stick a needle and it won't hurt.
Other times it feels like someone's hitting you with a crowbar, while at the same time passing a blowtorch across the same area.
The best part is:
No matter the cause of your nerve pain (an injury, infection, diabetes, autoimmune disease, etc.) – infrared light therapy is proven to help.
Here's How it Works:
Nitric Oxide.
The key to the dramatic relief LLLT brings is nitric oxide.
Nitric oxide is a short-lived gas that is crucial to the health of your arteries.
This powerful signaling molecule relaxes them, regulates blood pressure, fights free radicals, and prevents platelets from clumping together.
Infrared light therapy prompts the release of nitric oxide, which enhances blood flow, brings oxygen nutrients, and pain-relieving components – to your tissues and nerves.
How to Use Light Therapy for Neuropathy – at Home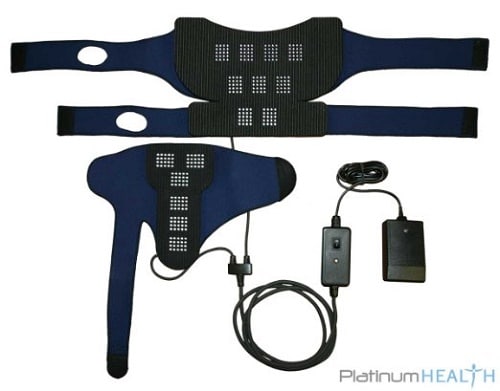 Here's the deal:
You don't have to spend thousands of dollars on FIR sessions.
You can use infrared light therapy to heal nerve damage and regenerate nerves at home – Whenever you need it.
We recommend using medical-grade FIR equipment, such as the Anodyne Infrared Light Therapy Device, or you can try lower-cost alternatives, such as the Revive Light Therapy System.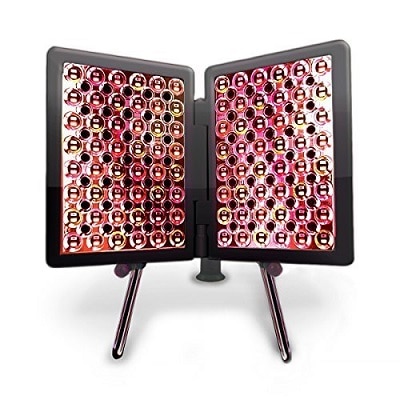 The price difference comes from the size of the FIR home device (the larger the device, the larger the treatment coverage), the number of LEDs (Light Emitting Diodes), and the device's quality and durability.
Here are the requirements for your home device:
Infrared wavelength – 880 – 890nm
FDA Cleared
Covers large areas (to cover your legs/arms/hands etc.)
Has a large amount of LED bulbs, hence more powerful
Here are the 2 easy ways to use infrared light therapy for Neuropathy, at home:
✅ The 6 Best Infrared Devices for Neuropathy
Through our research, these are the 6 best infrared home devices for Neuropathy:
1. Anodyne Infrared Therapy System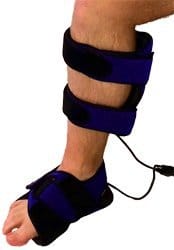 The Anodyne therapy machine (made in the USA) is a true medical grade 890nm infrared home system that was cleared by the FDA in 1994 and is supported by peer-reviewed studies.
(The company is CE marked under the Medical Devices Directive 93/42/EEC for European sales and registered by the FDA for distribution in the US)
These studies were published in journals such as Diabetes care (proving efficiency for Diabetic Neuropathy) and Practical Pain Management.
Anodyne neuropathy pads were found to penetrate 200 mm into the body, which makes it excellent for nerve pain and other Neuropathy symptoms.
It can cover large areas in your body (legs, feet, back, etc.) and has a hands-free operation so you can either relax during treatments or do anything else you want to do.
The square patches (see image) size: 2 3/4 inches wide by 4 1/4 inches long.
After purchasing, you'll probably receive a phone call directly from Florida (where Anodyne is manufactured), making sure you've received it and full usage instructions if you need them.
Price – the Anodyne Infrared Neuropathy home system is expensive, but it's the only medical-grade infrared treatment for home use in the market.
If it can reduce your pain and numbing by 50% (not to mention save your limbs) – isn't it well worth the cost?
2. FIR Heating Pad for Peripheral Neuropathy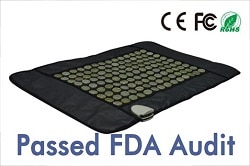 The UTK heating pad will cost you much less than the Anodyne, yet it can be just as effective as a Low-Level Laser Therapy for Peripheral Neuropathy.
(The link will get you to our 15% coupon code on Amazon!)
It's a flexible jade-stones infrared heating pad that you can wrap around any part of your body, and start enjoying the simple things in life again.
The medium size pad is 31 by 21 inches, with 126 pcs premium natural jade stones.
The jade stones emit infrared rays when heated. Plus, the pad releases negative ions that'll elevate your mood and enhance your treatment.
My research showed that the UTK pad has no EMF radiation.
Infrared Therapy for Neuropathy Foot Pain (Best Devices)
If your pain is localized only in your feet – you have 3 amazing options:
1. Infrared Foot Massager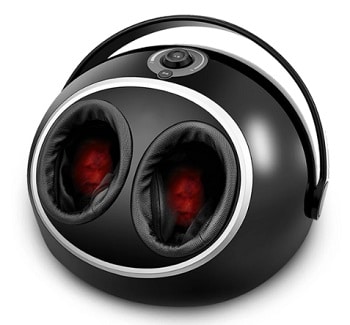 Our #1 recommendation for Neuropathy foot pain is an infrared (heated) foot massager.
Combining infrared heat and Shiatsu or Vibrating massage is proven to reduce pain and numbing in your feet by more than 60%!
👉 See the proof and the top 7 infrared foot massagers  – for Neuropathy
2. Electric Heated Socks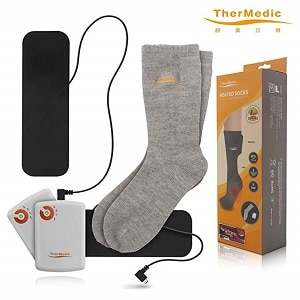 3. Self Heated Socks with IR Mineral Balls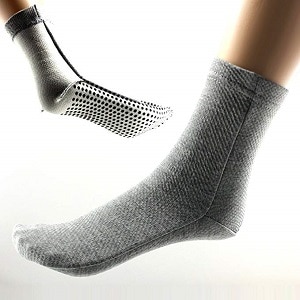 4. Infrared Boots for Neuropathy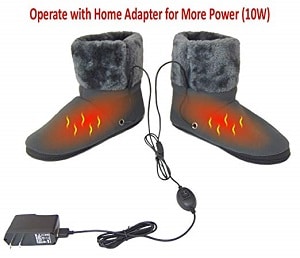 Neuropathy Hand Pain – Infrared Gloves
For Hand pain we recommend infrared heated gloves, such as these: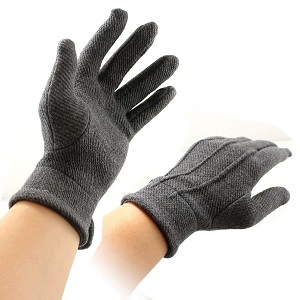 Is Infrared Therapy PROVEN to Work for Neuropathy?
In a word, YES.
For example, here's one (large-scale) astounding clinical trial:
In 2006, 2239 people suffering from foot numbness caused by Diabetes were treated with infrared photodynamic energy.
About half of them were also suffering from Neuropathy pain (with a pain level of 7.2 out of 10).
The results of the IR treatment:
Numbing and sensation loss were improved by 66%. Pain levels were reduced by 67%.
Can you imagine their relief?
The study concluded:
"MIRE (Monochromatic Infrared Photo Energy) appears to be associated with significant clinical improvement in foot sensation and, simultaneously, a reduction in neuropathic pain in a large cohort of primarily Medicare aged, community-dwelling patients, initially diagnosed with PN. The quality of life associated with these two outcomes cannot be underappreciated"
And again:
This is just one of the many studies proving Infrared technology amazing ability in restoring sensation and relieving nerve pain.
You can see many more studies here.
Who Can Benefit from Laser Therapy for Neuropathy?
Infrared light therapy (also known as the cold laser) has been proven effective for nerve pain and sensation-loss, no matter the root cause.
This means that IR energy can help all types and root causes for Neuropathy, including:
Peripheral Neuropathy
Local Nerve pain
Facial Nerve Problems
Nerve pain from chemotherapy
Multiple Sclerosis
Shingles
Lyme disease
Nerve pain from hypothyroidism
Carpal Tunnel Syndrome
Diabetic Neuropathy
Non-Diabetic Neuropathy
Fibromyalgia
Idiopathic Neuropathy
When Can You Expect Results?
With IR therapy, many people we know feel almost immediate pain relief, which lasts for about 6 hours.
For others, the pain starts to fade away only after a week or two of daily use.
Remember:
IR therapy does not only mask the pain but speeds up the healing process. You may be surprised to find that your pain or numbness is completely gone – in the long term.
If you have any questions or concerns, let me know in the comments below. I answer every question.
To your health and happiness,
Meital
References
Improved foot sensitivity and pain reduction in patients with peripheral neuropathy after treatment with monochromatic infrared photo energy–MIRE.
The restorative effects of pulsed infrared light therapy on the significant loss of peripheral protective sensation in patients with long-term type 1 and type 2 diabetes mellitus.
Improved sensitivity in patients with peripheral neuropathy: effects of monochromatic infrared photo energy.