How do I find infrared sauna sessions near me?
Well, it's quite easy:
If you look for "infrared sauna therapy near me" on Google, the search engine will find the nearest far infrared sauna facilities to your home.
But wait!
Before you go and choose the first one you see, check out this post to find a few important factors before starting IR sauna sessions, the best infrared spa therapy places in 2 major cities, and:
]A way for you to reduce the cost of your infrared heat sauna treatments – drastically.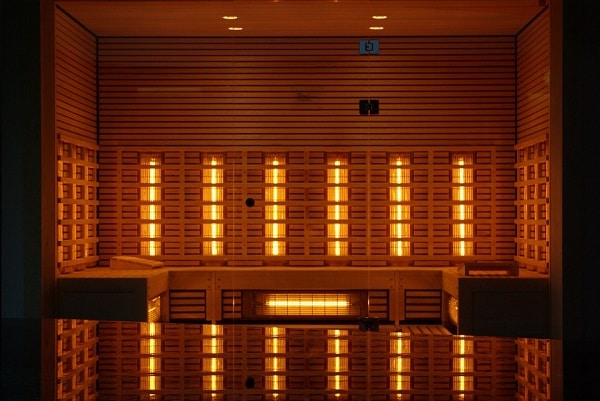 This post contains affiliate links. Click here to read my affiliate policy.
Infrared Sauna Near Me: How to Find the Best Place?
While most infrared spa therapy places are the same, there are a few things to consider before you choose the nearest one to your home:
1. Does the spa have parking? is parking free for customers?
2. What are the opening hours?
3. Is it members only or are walk-ins invited as well?
4. Is it a personal IR sauna or a shared room?
5. How many people use the sauna at the same time?
6. Are towels provided?
7. How often is the Sauna being cleaned?
8. What is the price per session/pack of 10 treatments?
9. Is there any discount for bulk sessions?
10. What's the EMF radiation inside (important!)?
We highly recommend that you call ahead and ask all these questions before you schedule your first infrared wellness treatment.
Infrared Sauna Cost Per Session
The Price range for an infrared sauna session ranges between $30 to $45. Long-term IR sauna treatments can accumulate to hundreds and even thousands of dollars, and you'll need more than a few since the occasional treatment will not be effective enough.
Obviously, the infrared sauna treatment price is one of the most important aspects to consider.
(This is true no matter what you want to use it for – weight loss, detox, pain relief, Neuropathy, etc.)
Through our research, we've found that the price range is:
For a

single IR sauna treatment

–

$30 – $45

.
A

10 pack

ranges from $250 – $500.
Quite expensive, wouldn't you say?
However:
We know for a fact that it's worth it.
So, is there a way to drastically lower the cost of 10 and more infrared sauna treatments?
The answer is YES.
How to Save a Lot of Money on Infrared Sauna Treatments
You have 3 great options:
1. Buying your own infrared sauna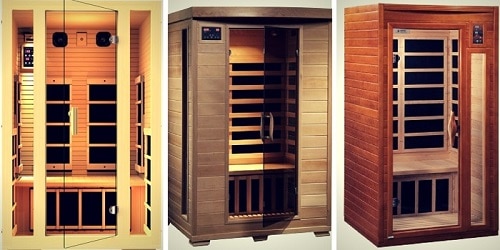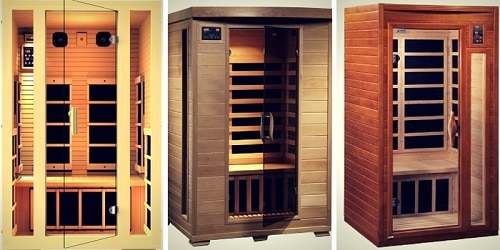 A high quality, low EMF home sauna costs between $1000 (for example, this one is the best for this price) and $2500 – depending on its size and added features.
Let's do the math:
Buying your own 2 person infrared sauna costs about the same as paying for 20-40 sauna sessions in a spa.
But:
Having your own infrared sauna at home means you (and your family, and your friends!) can use it for years, as much as every day, whenever you want to.
Let's say you use this cost-effective infrared sauna 4 times a week (though it's so good you'll want to do it every day), for 3 months.
The price of one home treatment will be $20 – $30. If you continue using it for 6 months – a single treatment goes down to $10. And so on, I'm you get the picture.
There is no doubt that buying a home infrared sauna is a smart way to save hundreds and thousands of dollars in the long run.
👉  We've researched and found the 4 best 2 person saunas, and reviewed them to help you choose the best one for your needs.
2. Buying a Personal Portable Infrared Sauna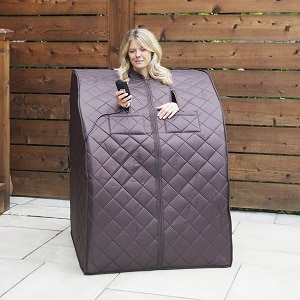 Here's an even lower-cost option to enjoy the incredible benefits of infrared sauna treatments (including whole-body detoxification):
A portable infrared sauna tent/pod/blanket.
A portable infrared rays sauna usually fits one person, does not cover the head area, and costs between $140 – $450.
👉 See the Best (Low EMF) portable infrared saunas in 2022 – and our reviews and recommendation.
We should warn you that since these portable saunas are smaller, you'll be sitting closer to the infrared-emitting panels and you'll likely be exposed to higher rates of EMF. That's why we researched and found the only ones with low EMF.
3. Building Your Own Infrared Sauna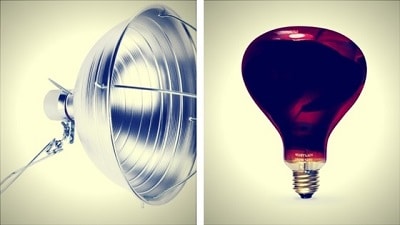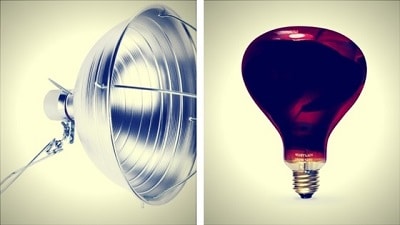 You may be amazed to find that you can build your own near-infrared (low EMF) sauna at your home – for less than $100.
All you need is the right room size (most people use their shower), 3-4 near-infrared (high power) infrared heat lamps, correctly-rated clamp lamps, and a simple wire rack.
We have the full instructions plus safety steps in our DIY infrared sauna tutorial!
Benefits of Buying Your Own Infrared Sauna
Here are a few more advantages in having your own IR sauna at home, that you may have not considered:
1. You can use it without clothes
2. You can invite a friend or your spouse to join you for no extra charge
3. You decide how long you want to use it
4. You don't have to get in your car and drive to it, saves a lot of time
5. You control the temperature
6. You can listen to your favorite music or use anything that helps you relax
7. You save a ton of money in the long term.
If you are not convinced, here are our recommended infrared therapy spa facilities in New York and Los Angeles:
Recommended IR Spas in New York
3. Higher Dose
Address
EQUINOX EAST 74TH STREET
Prices
1 Person: $65
2 People: $80
10 Sessions: $499
👉 If you'd like a home infrared blanket from Higher Dose – use coupon code MEITAL75 to get $70 OFF!
Recommended Infrared Saunas in Los Angeles
1. Sauna Bar
Address
11677 San Vicente Blvd. #208 Los Angeles, CA 90049
Prices
single session $70
10 pack $590
Membership $360 for 12 sessions
Address
209 N. Victory Blvd., Burbank, CA 91502
Prices
1 Single Sweat – $75
3 Sweats – $125
5 Sweats – $200
10 Sweats – $300
3. Sweat Theory
Address
1503 N Cahuenga Blvd, Los Angeles, CA 90028
Prices
Infrared Sauna Session – $35
10 pack – $300
20 pack –  $500
We hope you've found this guide useful, we suggest you browse around the site to find more about the incredible health and beauty benefits of infrared light therapy and cost-effective home solutions best for you.
To your health and happiness,
Meital
Meital James
Meital James, Founder and CEO of 4 healthy living blogs, has a background in Naturopathic medicine, research, journalism, and nutrition. Her blogs are the culmination of her thousands of hours of research and experience and all the posts are verified by scientific findings.