After exploring the most well-known laser caps for hair growth, it's to narrow it down to the 3 best selling ones in 2023.
In this post, we'll review and compare the 3 best-selling (FDA-cleared) laser caps – HairMax PowerFlex, Illumiflow, and Kiierr – to help you make the best long-term decision for regrowing your hair.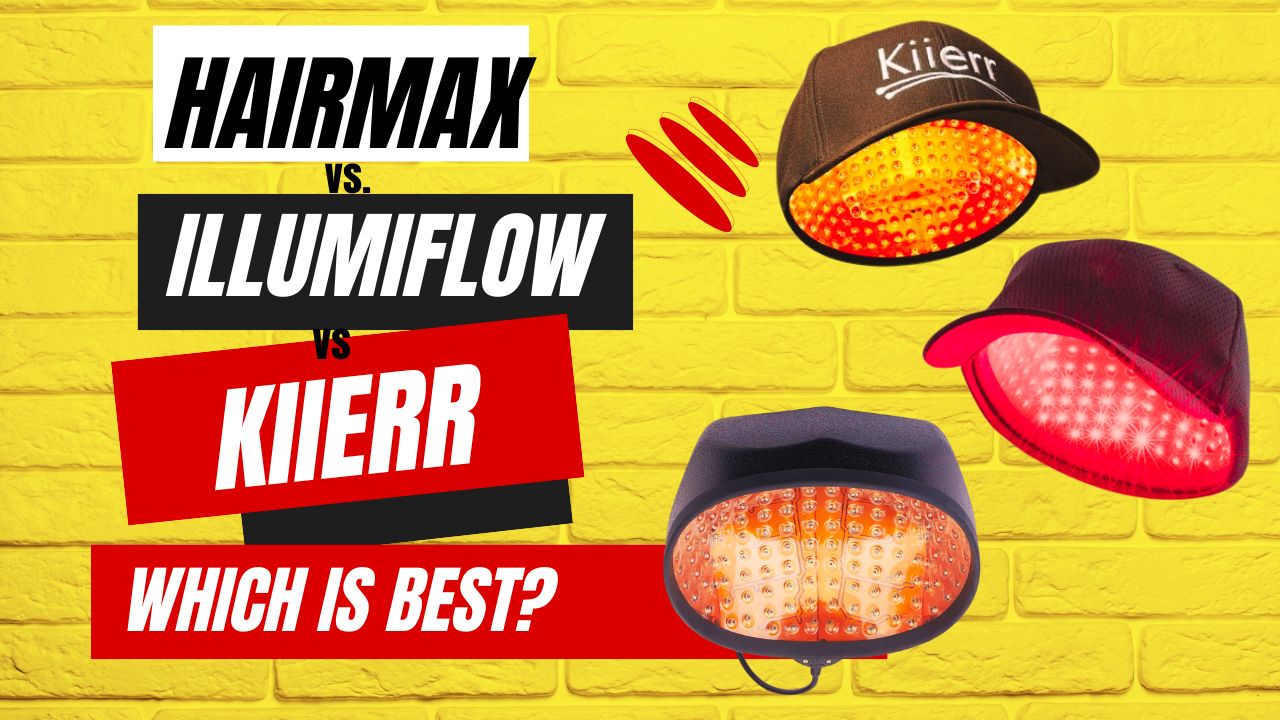 Laser caps for hair growth are getting increasingly popular among people suffering from hair loss, thinning hair, and baldness.
Why?
Because they are proven to work – both by clinical studies and by people using them.
But:
Though laser caps are much more affordable than Low-Level Laser clinic treatments, the best ones are still quite expensive.
Here's a short summary of our findings – we highly recommend to keep reading the specifics below.
This post contains affiliate links, at no extra cost to you.
Kiierr vs. Illumiflow vs. HairMax Laser Caps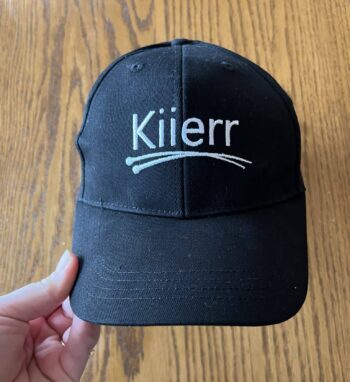 All 3 brands use the same technology and have the same number of lasers and laser output, but it seems like Kiierr Laser Cap has the highest user satisfaction and buyer rating.
The HairMax PowerFlex is the most expensive laser cap, and costs $1299, while the Illumiflow and the Kiierr cost about half this price.
However, the HairMax is the most flexible cap of the three and offers 2 modes of lasers – constant, and pulsating.
The most extensive warranty is offered by Illumiflow (5 years).
HairMax has the lowest consumer average rating (3.85 out of 4, compared to 4.4 for Illumiflow and Kiierr).
Lasers/Strength
Treatment time/Coverage
Price
Returns/Warranty
Kiierr Laser Cap

272 laser diodes
650 nm
1360 Mw
30 minutes every other day
✅ $849 with code PAT125 at Kiierr
7-month returns
2-year warranty
HairMax Powerflex

272 laser diodes
650 nm
1360 Mw
7 minutes X 3 times a week
✅ $1299 at HairMax
1-year returns
2-year warranty
Illumiflow

272 laser diodes
650 nm
1360 Mw
30 minutes X 3 times a week
✅ $799 at Illumiflow
6-month returns
5-year warranty
How Do Laser Caps Work?
Laser caps use low-level laser therapy (LLLT) to stimulate hair growth. The lasers penetrate the scalp to stimulate blood flow, which helps to promote hair growth (studies).
The lasers also help to reduce inflammation in the scalp, which can be a cause of hair loss.
By extending the anagen (growth) phase and promoting hair follicle function, laser caps can help improve hair density, thickness, and strength.
Laser caps are a safe and effective hair loss treatment option that can be used at home with consistent use over several months.
 Technology Comparison 
All 3 brands use real laser diodes (not LEDs) inside their laser caps.
To stimulate the hair follicles and start regrowth, the light needs to be administered at a specific wavelength and consistent power levels.
HairMax, Illumiflow, and Kiierr laser caps all have 272 laser diodes evenly spread around the cap and covered with comfortable silicone.
👉 Scalp coverage – all 3 laser caps are designed for full scalp coverage that reaches almost all the back and sides of the scalp.
The Powerflex by HairMax is rechargeable, while Kiierr and Illumiflow work on AA batteries. 
Technology winner: HairMax Powerflex
Power Output (Irradiance) Comparison 
The strength of each laser cap is determined by the power output (measured) in Mw (milliwatts) and the number of laser diodes.
All 3 brands have 272 lasers, emitting red light therapy at 650 nm (the best wavelength for hair growth) at 5 Mw.
This means that the total power output of all 3 laser caps is 1360 Mw.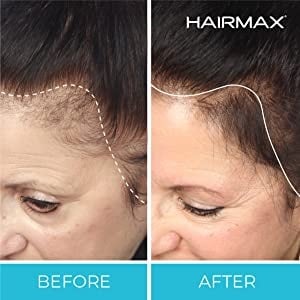 Strength winner: All 3 (tie)
So far, everything looks the same, right?
Treatment Time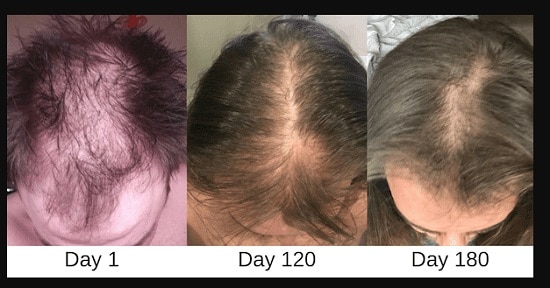 Do you know what's the most important factor in laser caps' successful results?
Consistency.
Through clinical studies (HairMax has done 7 clinical trials so far), it takes 1-3 months to stop hair loss and hair thinning, and 1-3 more months to regrow new, healthy hair.
So, how do you stay consistent?
When you follow the regimen religiously.
This gets easier when the treatment time is minimal, and the laser cap is 100% portable, so you can use them while you work or move around.
So, how do HairMax, Kiierr, and Illumiflow flow compare when it comes to the LLLT hair treatment time?
Treatment Time
Scalp Coverage
HairMax PowerFlex
7 minutes -
3 times per week
Full
Illumiflow 272 Laser Cap
30 minutes -
3 times per week
Full
Kiierr 272 Laser Cap
30 minutes -
3 times per week
Full
Illumiflow – 30 minutes, 3 times a week (auto shut off after 30 minutes)
Kiierr – 30 minutes every other day (3-4 times a week)
HairMax PowerFlex – only 7 minutes of treatment, 3 times a week.
Price, Return Policy, and Warranty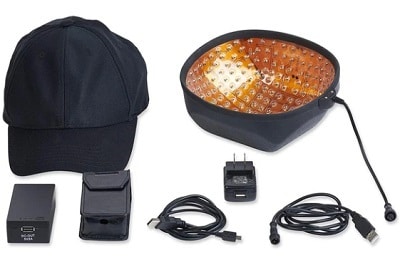 Since laser caps are a big investment, and it sometimes takes up to 6 months to regrow thicker and denser hair, the option to return the laser cap for a full refund (in case it doesn't work) – is very important.
Warranty for the parts and lasers is also important, and the company you buy from must be reliable and confident about their product.
The more confident they are, the longer the risk-free trial will be, right?
Well, here's how HairMax, Kiierr, and Illumiflow compare:
Comparing HairMax, Kiierr, and Illumiflow according to price, trial period and warranty.
HairMax – 6-month money-back guarantee, but you'll have to pay a 25% restocking fee if you decide to return it.
The warranty is for a year.

Kiierr – 7-month money-back guarantee, but you'll have to prove no results with before and after pictures.
The warranty is for 2 years, and it can be extended to 4 years for an extra fee.
Illumiflow – 6 months no-questions-asked money-back guarantee, with an additional 30 days for return shipping.
The warranty is for 5 years.
 Safety & FDA Approval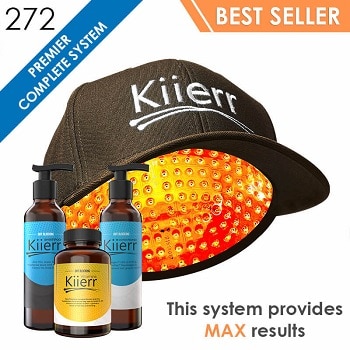 When it comes to laser caps, FDA clearance is very important.
The laser output must be accurate and balanced to promote hair growth safely. All 3 brands compared here are FDA-cleared for men and women.
FDA clearance means that the FDA has determined that the laser caps are substantially equivalent and safe to another similarly marketed device.
Experience and Time on Market

When it comes to laser hair growth, the most experienced company is HairMax, which is celebrating its 20th anniversary and is the pioneer of at-home laser hair regrowth (and sells laser combs as well)
HairMax claims to be the undisputed global leader in the field, with 8 FDA clearances, 7 clinical trials, 14 international medical licenses, and more than 1.8 million laser devices – sold in 170 countries since 2000.
Illumiflow applied for FDA clearance in July 2016, after 7 years of research, and is selling their 2 models of laser caps (148 lases/272 lasers) since February 2017.
Kiierr is the newest player and was granted FDA clearance in September 2018.
Where is HairMax Made?
HairMax laser caps are manufactured by Lexington International LLC in Taiwan and assembled in South Florida. The headquarters are located in Boca Raton, Florida.
Consumer Reviews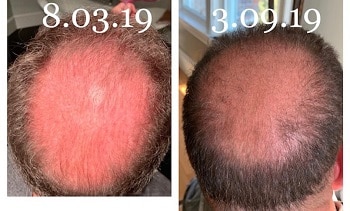 We analyzed hundreds of buyer testimonials and reviews on all stores selling these laser caps, including official sites and Amazon. Here are the results:
HairMax consumer reviews – 34 reviews – 3.85 average rating
Illumiflow consumer reviews – 97 reviews – 4.4 average rating
Kiierr consumer reviews – 301 reviews – 4.6 average rating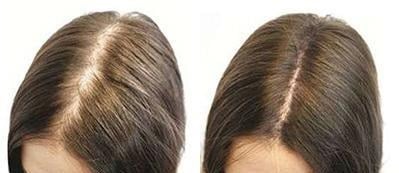 Common consumer complaints:
HairMax – Needs recharging after 1-2 treatments (to avoid a heavy battery pack)
Illumiflow – some users reported the lasers stopped working or not being able to recharge after a year – but the 5-year warranty solves this.
Kiierr – no negative reviews, a few users claimed that it wasn't a miracle cure for them.
Conclusion
After many hours of research, we conclude that all 3 laser caps have their pros and cons, and it's really up to each buyer to choose the right one according to what's most important for you. See the short comparison video below to help you decide:
To your health and happiness,
Meital
Studies
Jimenez JJ, Wikramanayake TC, Bergfeld W, et al. .. Efficacy and safety of a low-level laser device in the treatment of male and female pattern hair loss: a multicenter, randomized, sham device-controlled, double-blind study. Am J Clin Dermatol. 2014; 15: 115–127
Suchonwanit, P., Chalermroj, N. & Khunkhet, S. Low-level laser therapy for the treatment of androgenetic alopecia in Thai men and women: a 24-week, randomized, double-blind, sham device-controlled trial. Lasers Med Sci 34, 1107–1114 (2019).
Egger A, Resnik S, R, Aickara D, Maranda E, Kaiser M, Wikramanayake T, C, Jimenez J, J: Examining the Safety and Efficacy of Low-Level Laser Therapy for Male and Female Pattern Hair Loss: A Review of the Literature. Skin Appendage Disord 2020;6:259-267.
Zarei, Mina & Wikramanayake, Tongyu & Falto-Aizpurua, Leyre & Schachner, Lawrence & Jimenez, Joaquin. (2015). Low-level laser therapy and hair regrowth: an evidence-based review. Lasers in Medical Science. 31. 10.1007/s10103-015-1818-2.
Meital James
Founder and CEO of 4 healthy living blogs, has a background in Naturopathic medicine, research, journalism, and nutrition. Her blogs are the culmination of her thousands of hours of research and experience and all the posts are verified by scientific findings.