Why did we want to research iRestore vs. HairMax laser comb ?
Because it's been long known (and clinically proven) that Low-Level Laser hair growth devices are highly effective in regrowing hair and treating make and female hair loss – 100% naturally.
If you want to save a ton of money (and time) on dermatologist or hair clinic treatments – laser helmets and laser combs are your two best options.
But:
Which one is more effective for hair growth?
What's the difference between laser caps and laser combs?
Which one is best for YOU?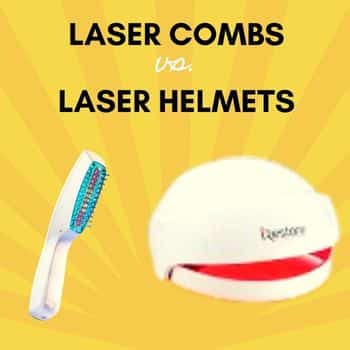 This post contains affiliate links. Click here to read my affiliate policy.
In this post you'll find all the answers:
We've compared all aspects of laser combs and helmets with their pros and cons, specifically the popular iResore and HairMax.
The technology, the treatment time (the effort factor), the ease of use, the price, and of course – the results.
Laser Helmets vs. Laser Combs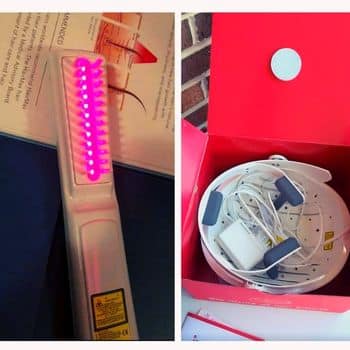 First, here's what you need to know:
Both types of LLLT hair devices are based on the same proven technology.

Science

has shown that Low-Level Laser (LLLT) is safe and effective for stimulating hair follicles and regrowing new, full and healthy hair – for both men and women (with Androgenetic Alopecia and other conditions).
The laser light therapy wavelength used in both laser caps and laser combs is around 650 nanometers (visible red light).
Improvement (reduced hair fall and noticeable hair growth) was reported after 12 to 26 weeks of continuous use – for BOTH laser caps and laser combs.
👉 See exactly how red light therapy for hair loss works!
So, the basics are the same. What are the differences then?
In this comparison, we'll look at the best (through our research) laser combs (HairMax), vs. the best laser helmets (iGrow/iRestore).
iRestore Hair Helmet vs. HairMax Laser Comb
Here's a summary in a comparison table, but we strongly suggest that you read the full details below:
Hairmax Ultima 9
LEDs
0
Lasers
9
Treatment
Time
12 minutes
3 times a week
Coverage
Combed area
Effort
High
Pros
Parts the hair
and allows for better
light reach
Relatively low cost
Cons
High effort factor
Price
✅$199 on Amazon
Reviews
👉See our review
1. Design & Effort Factor
Laser combs are designed to part your hair when you use them. This allows the laser light to have direct contact with the scalp.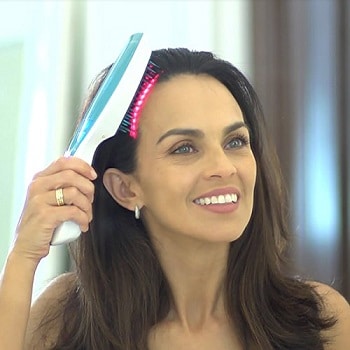 You start with the front of the hairline and wait a few seconds until the light is absorbed before you continue further down the back of your head.
Doubling back over the same area will not be effective, and may encourage hair loss instead of stimulating hair growth.
Laser helmets are designed to "sit" on your head, covering most of your scalp. No effort or action is required.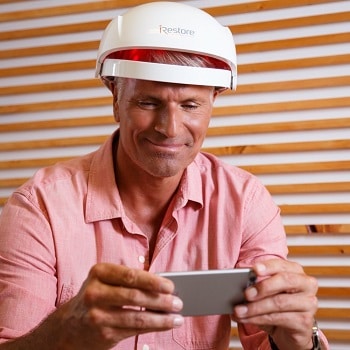 A Professional Lasercomb (such as the popular HairMax) includes 7-12 medical-grade lasers (not LEDs).
Hair growth helmets combine both tiny laser diodes and red LED bulbs.
Our top pick for laser caps in 2022 is the Kiierr 272 laser cap, which includes 272 lasers, covers the entire scalp, and is designed as a regular baseball cap, that is 100% portable and rechargeable, so you can move around freely while doing your 15-30 minute hair growth treatment.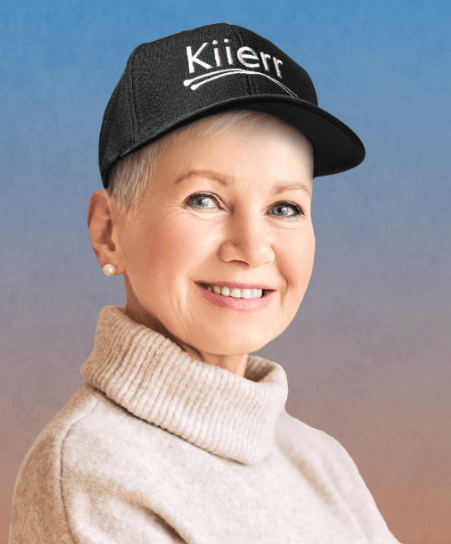 LED vs. Laser – what's better?
Low-Level Laser can be emitted via both laser diodes and LEDs. Studies have found that LEDs and laser diodes are both effective for hair restoration.
So, what's better for your hair?
Well, if you suffer from generally thinning hair in different areas on your scalp, and your scalp is not "blocked" by a lot of thick hair – the effortless helmet or laser cap is a better choice for you.
On the other hand, if you want to treat bald spots and specific areas of thinning hair – use the comb to better expose those areas to the hair growth light.
2. Treatment Time
Laser brushes require 8-15 minutes of active (slow combing) treatment time (depending on the device) – repeated 3 times a week.
For example, The HairMax Ultima 9 should be used for 10-12 minutes, while the more expensive HairMax Ultima 12 requires only 8 minutes of treatment.
Laser caps/helmets usually require 25 minutes of passive treatment, every other day, on non-consecutive days.
So, the question you need to ask yourself is:
What's more important for you: less treatment time or less effort?
If you do not have the patience to slowly comb your hair for 8-15 minutes 3 times a week, a helmet or cap is a better choice for you.
The hands-free design prevents hand and arm fatigue from having to slowly work a comb through your scalp.
If you're really busy and not sure you'll be consistent with treatment (which is critical), consider the new HairMax Laser Band.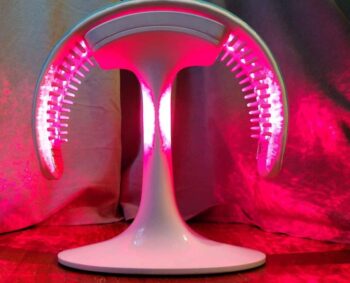 Why?
Because this device (with 82 medical-grade lasers (No LEDs) requires only a 90-second treatment. However, it will not cover all your hair in one treatment and is very expensive.
3. Treatment Area Coverage
As seen in the images, laser helmets are hands-free and cover almost your entire scalp (less coverage on the bottom).
Laser combs cover the area you choose to comb.
4. Time to Visible Results
Both the HairMax brushes and the helmets were clinically tested and were proven to work after 3 months to 6 months of treatment.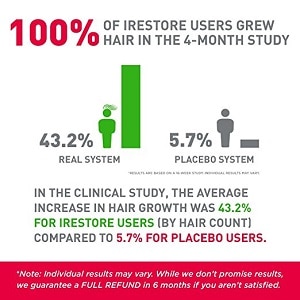 5. Money-Back Guarantee & Warranty
Since we're talking about relatively expensive devices, you'd want to know if you can get your money back in case this technology doesn't work for you, right?
Here's how it works:
The HairMax laser combs come with a 90-day money-back guarantee, and a 2-year warranty (for the battery as well).
The

iRestore

hair growth helmet and the iGrow come with a one-year warranty and a full 6-month money-back guarantee. Our top pick, the

Kiierr laser cap

, has no less than 7 months of free trial!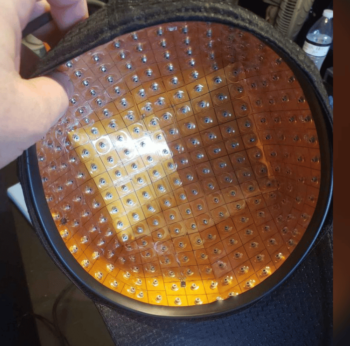 6. Price
Laser hair caps are generally more expensive than laser combs. However, sometimes we find great deals for both devices on Amazon.
👉 See all laser helmets on Amazon
👉 See all laser combs on Amazon
Bottom Line
In this post, we've compared laser hair caps with laser combs. The devices compared were both clinically proven to work within 3-6 months, and both types use the same red light wavelength – 650 nm.
We've determined that there is no one answer that fits all.
The chance of reducing hair loss and regrowing new, healthy hair depends mostly on how consistent you are with the treatment.
The conclusion is:
If you think you won't have the patience to comb your hair slowly for 8-15 minutes three times a week – go for the laser helmet, which is passive, effortless, and allows you to read, watch TV or just rest while you use it.
If your hair is generally thick and you mostly suffer from bald spots – we recommend the laser comb to part your hair to allow the light to reach the spots effectively.
Without hair parting teeth, thick hair can block a majority of the laser light energy from reaching the follicle.
However, this is only if you stick with the treatment. With the red light brushes,  arms can get tired, people begin to slack and skip sessions
If you have generally thinning hair – go for the laser helmet, which offers better coverage and will stimulate blood flow in most of your scalp.
If your main concern is the price – laser combs are less costly. They also make a great first try to see if LLLT for hair loss works for you.
If it does – it may be worth it to invest in a laser cap.
And now over to you:
Have you ever tried using LLLT home devices to restore hair growth? What's your experience? Do you have any questions? Use the comment section below – we answer everyone.
To your health and happiness,
Meital
Meital James
Founder and CEO of 4 healthy living blogs, has a background in Naturopathic medicine, research, journalism, and nutrition. Her blogs are the culmination of her thousands of hours of research and experience and all the posts are verified by scientific findings.