Can a laser hair comb really stimulate hair regrowth and reduce hair loss?
The honest answer is:
Not for everyone.
The laser hair growth brush is proven to improve hair growth for anyone who has live hair follicles in their scalp.
Those who do not – may not benefit from this effective, natural, non-invasive, and cost-effective hair loss treatment.
The laser hair growth comb can help both men and women with various degrees of hair loss, whether from hormonal imbalance or Androgenetic Alopecia.
And, It can save you a ton of money on hair growth clinics or dermatologist visits.
But:
What's the Best Laser Comb for hair growth – of 2022?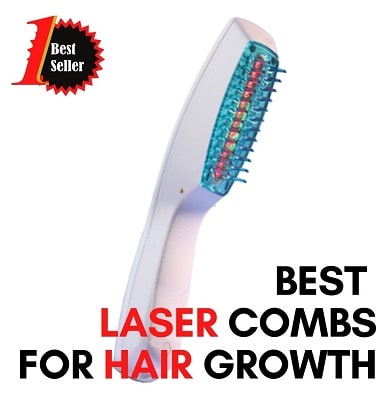 This post contains affiliate links.
How do laser light combs work? What is a Low-Level Laser? How long until your hair starts growing?
The answers are all in this buying guide, with detailed reviews for the 4 BEST laser combs of 2022.
The 4 Best Laser Hair Combs (2022 Reviews)
If you're in a hurry, here are our top 2 picks – HairMax Ultima 9 VS Ultima 12. Below it, you'll find pros and cons and full reviews for each device, plus answers for important questions.
Comparing HairMax Ultima 9 and Ultima 12 according to the number of lasers, treatment time, and price.
Hands-Free Alternative – Laser Caps

Check out the BEST laser caps for hair growth – in 2022!
Does a Laser Hair Comb Work?
A laser hair growth comb is basically an infrared (Low-Level Laser) heated hairbrush. Though Laser sounds like something that can burn a hole through your head, actually, laser brushes use Low-Level Laser that won't burn your scalp and are perfectly safe.
The infrared light stimulates hair follicles (via photobiostimulation) and "wakes them up" back into the hair growth cycle (known as the Anagen phase).
Here's what happens:
The process naturally increases ATP and keratin production, which are the enzymes responsible for delivering energy to living cells, including hair follicles.
LLLT increases local blood circulation, which speeds up and promotes the delivery of key nutrients for growing new, strong, and healthy hair.
The result?
Thicker, stronger, fuller, and healthier hair growth, and reduced hair thinning and loss.
(And a little-known bonus: An infrared comb can be very helpful for scalp eczema and itching. This wavelength is proven to reduce skin redness and itching)
👉 Want to know more about how it works? Check out my post about red light therapy for hair loss.
And now, let's see our laser combs reviews:
Since the HairMax laser comb series is the most popular one, we'll start with HairMax reviews:
1. HairMax Ultima 12

Best Value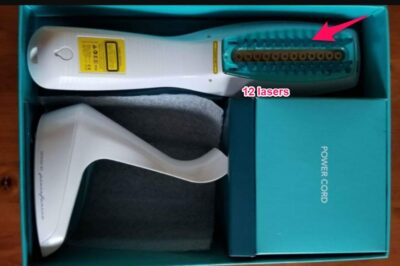 Treatment time – 11-12 minutes, 3 times a week
Wavelength – 650 nm
HairMax has two more models, that only differ in how many lasers they have (laser strength and wavelength are equal for all devices).
The more lasers, the less treatment time you'll need. The Ultima 12 requires only 8 minutes of treatment – 3-4 times a week. It also has an LCD monitor to track elapsed treatment time.
The comb holds a charge for a long time and it's easy to use. Many users experience a reduction of hair loss in just one month and growth of baby hairs in about 4-5 months.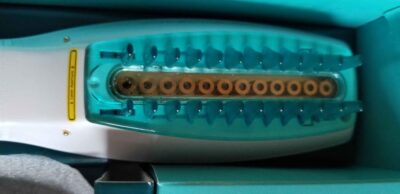 You can safely use other hair treatments along with HairMax laser combs (Propecia/Rogaine), but it's recommended to use the comb before you apply other treatments.
Obviously, the more lasers the device has – the higher the price. However, you get 6 months of a free trial, and if it doesn't work for you, you can return it and get a refund. The shipping is free, and the warranty is for 2 years.
✅ Price –  $399 at HairMax (with free shipping and 1-year trial)
And if you want the shortest treatment – the HairMax Laser Band requires only 1.5 minutes of treatment!
2. HairMax Ultima 9 Classic Laser Comb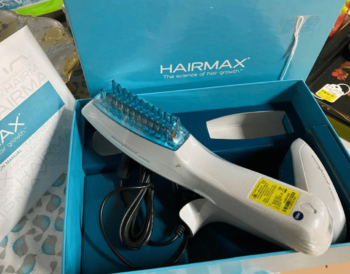 Treatment time: 11 minutes, 3 times a week
Wavelength: 650 nanometers.
As the name suggests, the HairMax comb comes with 9 medical-grade lasers (no LEDs) and delivers light energy (650 nm) to your hair follicles – to treat hair loss and regrow your hair.
HairMax claims you can see visible results within 12-16 weeks, but you should know that you do have to continue to use the LaserComb to keep the hair growth results.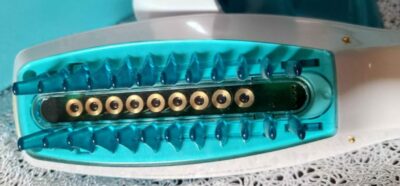 If you stop using it, your hair loss will gradually revert back to what it was before starting treatment.
HairMax Ultima 9 Pros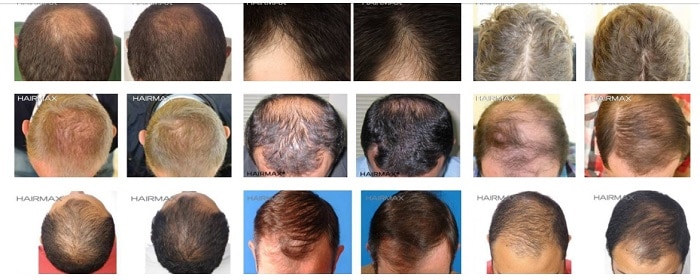 The rechargeable Lithium-Ion battery is made to last for 10 years (it comes with a charging cradle)
2-year warranty on the device, including the battery
1-year money-back guarantee (it's enough time to see if it works for you)
Easy to use, cordless, and lightweight – perfect for travel as well
Feels soothing when you use it
Amazing feature: It beeps every 4 seconds to remind you to move it 1/2 inch further. Beeping can be turned off.
you can use any international power adapter with it
Comes with a quick start guide and a full user manual
Excellent customer service
Cons
12-minute treatment time. It takes patience and willpower to keep combing your hair for 12 minutes.
If you want to cut treatment time by half, consider the Ultima 12 model, which only requires 8 minutes of treatment, or the HairMax Laser Band, which delivers the same total energy in only 90 seconds of treatment (use coupon code FLASH10 to get 10% OFF the price!)
✅ Price – $199 at HairMax (free shipping and 1-year trial)
3. NutraStim Laser Hair Comb Review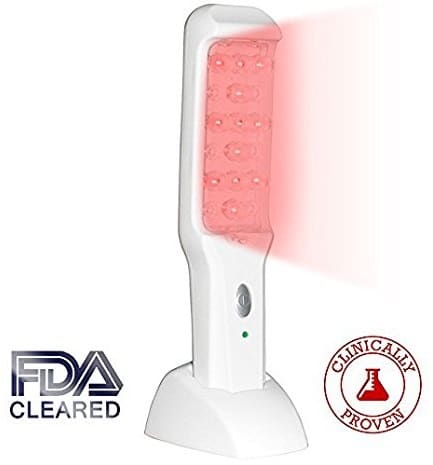 The NutraStim electronic comb is a handheld, cordless, and easy-to-use laser comb – designed and assembled in the USA.
It includes 12 lasers and requires only 8 minutes of treatment 3 times a week, and users can expect to see visible hair regrowth after 4-6 months.
Wavelength: 655 nanometers.
The NutraStim laser hair comb manufacturers claim their device is FDA cleared as an over the counter class II medical device.
Attention
The manufacturers claim this laser comb is for people with MODERATE hair loss, NOT mild and NOT severe.
So if you have a lot of hair loss, or almost no hair loss – this one's not for you.
NutraStim Pros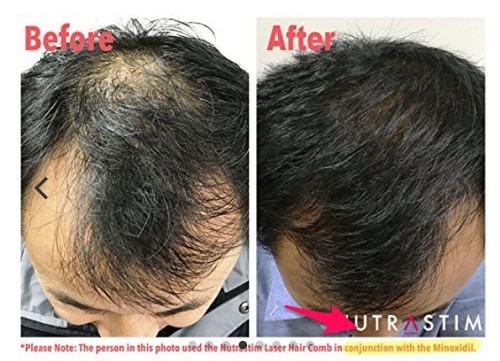 Lightweight, portable (cordless), fit for travel
It comes with an additional universal AC adapter.
Easy to use
1-year warranty, 6-month money-back guarantee.
Automatic shut off after 8 minutes
Good customer service
Charges fast
Cons
Limited use – lifespan is 500 cycles
✅ Price – Check this page on Amazon
4. Body Essentials Light & Massage Therapy Hairbrush –

Budget Pick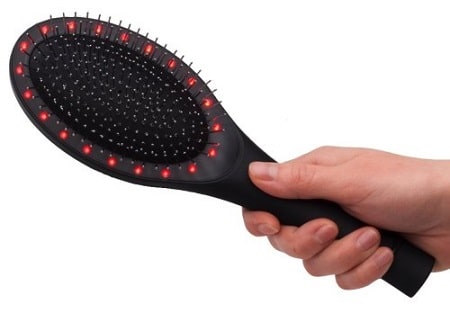 Wavelength: 660 nanometers
Treatment time: 20 minutes max, 3 – 6 times a week
This light therapy & massage hairbrush uses LED light therapy (20 bulbs) and gentle massage to promote healthy hair growth and has 184 flexible steel bristles with ball tips, which feel like a real, regular hairbrush.
(It's not rechargeable, it's powered by 2 AA batteries)
This Light Therapy Comb is much cheaper than the HairMax series.
Why?
We believe that it's cheaper due to using LED lights instead of laser beams, and because it's not rechargeable.
(This doesn't mean it's not effective – LEDs and lasers are both effective, as long the wavelength and intensity is right).
Also: it has a massage feature, which also promotes blood circulation in your scalp and is a great bonus.
Body Essentials Heat & Massage Brush Pros
Massage action detangles hair
Versatile – you can use the LEDs only, massage only, or both
From what I've found here, many people have found it helpful for scalp eczema, redness, and itching.
1-year warranty
Cons
The Batteries only last for 6 hours of use
Not FDA-cleared
No clinical trials
✅ Price – Check this page on Amazon for today's price.
Laser Comb Side Effects
Through our research, the only laser combs ever tested clinically are the FDA-cleared HairMax Laser hair combs. No side effects were reported in all HairMax studies. A total of seven double-blind studies, involving more than 450 male and female subjects, were conducted on the HairMax LaserComb at several research facilities, including the University of Minnesota and the University of Miami.
All subjects (ages 25-60) suffered from Androgenetic Alopecia for at least a year.
Through the study, they used the HairMax for 8-15 minutes, 3 times a week – for 26 weeks.
The result?
93% success rate in reducing hair loss, growing new, fuller, and more manageable hair. This increase was an average of about 19 hairs/cm over a six-month period.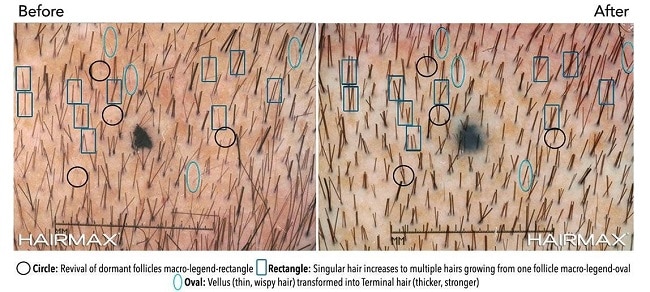 How to Use Use a Laser Comb for Hair Growth
To get the best hair growth results, you simply pass the comb slowly over the scalp area where you suffer from hair loss or thinning hair – about three times a week for 8-15 minutes each time (treatment time depends on the device). Use it on a clean scalp, free of any styling products, excess oils, gels, and sprays – as they can block the light from reaching your hair follicles
Attention
Consistency is key in this home hair growth treatment. If you won't commit to following instructions – your chances of positive results will be lower than average.
If you feel you won't be able to slowly comb your hair for 8-15 minutes 3 times a week – consider using a laser cap (hair growth helmet) instead.
Treatment time is longer but it's completely hands-free and effortless.
Laser Combs FAQ
What is a Laser Comb?
A laser comb utilizes low-level laser therapy technology to stimulate hair follicles and "wake them up" back into the hair growth cycle (known as the Anagen phase). Their unique design allows for the parting of the hair – allowing the light to reach the scalp directly – without the hair interfering with the process.
How Long Does it Take to See Results?
Clinical tests have shown that it takes from 12 to 16 weeks to see visible to full results. But only if you are consistent with your home treatments. If you give it up before (at least) 2 months of treatment, your chances of success are significantly reduced.
Can Laser Combs be Used with Minoxidil?
Yes, laser combs can be used along with any other hair growth treatment, and will likely enhance them. Many hair loss clinics use both because they believe that synergistic results occur. Minoxidil should be used as directed twice a day, and the laser combs 3 times a week. Use the LLLT device first and then the Minoxidil.
What Shampoos Can be Used Along with Laser Combs?
I recommend using sulfate-free shampoos because sulfate or other irritants (such as SLS) can contribute to hair loss.
Conclusion
Low-Level Laser technology for hair regrowth is gaining huge traction – more and more each year, for good reasons:
It's proven to be effective and works for most people with live hair follicles
It's natural, non-invasive, and painless
And if you use a home device instead of clinic treatments, it's money-saving and cost-effective.
You've just found the top-rated laser hair growth handheld devices on the market, fully reviewed and compared, to help you make the best decision for your home hair growth treatment.
And now over to you:
Do you have any questions or comments? I promise to answer everyone.
To your health and happiness,
Meital
Studies
Jimenez JJ, Wikramanayake TC, Bergfeld W, et al. Efficacy and safety of a low-level laser device in the treatment of male and female pattern hair loss: a multicenter, randomized, sham device-controlled, double-blind study. Am J Clin Dermatol. 2014;15(2):115–127. doi:10.1007/s40257-013-0060-6
Treatment of Androgenetic Alopecia in Females, 12 Beam Laser Therapy.
Leavitt, M., Charles, G., Heyman, E. et al. HairMax LaserComb® Laser Phototherapy Device in the Treatment of Male Androgenetic Alopecia. Clin. Drug Investig. 29, 283–292 (2009).
John L. Satino and Michael Markou.International Journal of Cosmetic Surgery and Aesthetic Dermatology.Aug 2003.113-117.http://doi.org/10.1089/153082003769591209
Zarei, M., Wikramanayake, T.C., Falto-Aizpurua, L. et al. Low level laser therapy and hair regrowth: an evidence-based review. Lasers Med Sci 31, 363–371 (2016).
Meital James
Founder and CEO of 4 healthy living blogs, has a background in Naturopathic medicine, research, journalism, and nutrition. Her blogs are the culmination of her thousands of hours of research and experience and all the posts are verified by scientific findings.