Can a helmet or a cap with a bunch of tiny light bulbs in it stop your hair loss and even regrow thicker, fuller hair?
Do laser caps and hair growth laser helmets work?
According to science, the answer is YES. That's why many doctors and hair restoration specialists prescribe a laser cap to their patients.
Low-level laser therapy has been clinically shown to effectively treat hair loss (androgenetic alopecia), prevent receding thinning hair, and regrow thicker, fuller hair – in 3-6 months.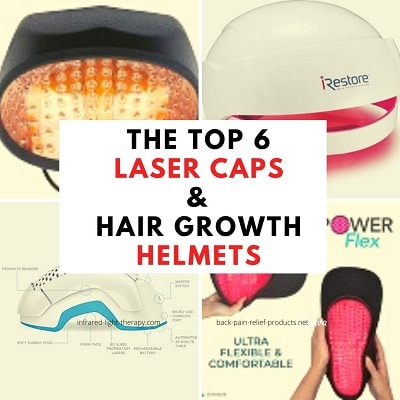 This post contains affiliate links, at no extra cost to you. Click here to read my affiliate policy.
And the best part?
LLLT is a non-invasive, painless, and completely safe way to stimulate hair follicles to grow thicker, fuller, and even more pigmented.
(The many studies are listed at the end of the post).
In this post, you'll find the 6 best FDA-cleared laser caps/helmets for hair regrowth, their pros and cons, and a full comparison between them – to help you make the best choice for your needs.
Are Laser Hats/Helmets PROVEN to Regrow Hair?
A 2019 study published in Lasers in Medical Science found that a laser therapy helmet increased hair thickness and covered bald patches in men and women with androgenetic alopecia.
Similarly, a 2018 study in the Indian Journal of Dermatology, Venerology and Leprology linked low-level laser therapy to improved outcomes and image satisfaction in androgenetic alopecia patients. (WebMD)
All the laser caps you've found here have been clinically shown to:
1. Grow new hair.
2. Double the follicle diameter of existing hair (reverses miniaturization).
3. Slow (and even stop) hair loss.

(See EXACTLY how red light therapy for hair loss works!
But:
If you truly want it to work (and I know you do) – you'll have to be consistent with your home treatments. According to dermatologist Dr. Anna Chacon, it is ideal to repeat the treatment routinely for best results. "The hair cycle lasts every three months, and about 15% of our hair is always in a shedding mode".
Can you do that if the result is new, shining baby hair?
Of course you can.
The 6 Best Laser Caps & Laser Helmets for Hair Growth 
Below you'll find the top 6 laser hair growth caps (helmets) compared, and below you'll find our review and pros and cons of each laser hair growth home device.
Comparing the best laser caps for hair growth according to lasers type and amount, treatment time, trial period, and price.
1. Kiierr Laser Cap

Best Overall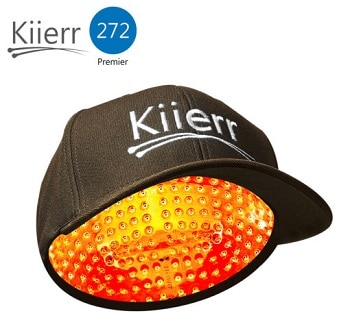 The FDA-cleared Kiierr laser cap has 272 medical-grade lasers concealed inside a sports cap (full scalp coverage) with a total output of 1360 mW's, and guarantees to stop hair loss dead in its tracks within 30-90 days, followed by regrowth of new, thicker hair within 180 days.
Treatment time is 30 minutes every other day, and the cap is 100% hands-free and portable, so you can walk around freely while you doing the treatments.
The combination of the highest strength with a reasonable price makes it our number one choice for 2022.
Customer service is responsive and reliable, and you get a long free trial – 7 months. This is quite enough to protect your investment and shows how confident Kiierr is about the hair growth results you can achieve.
The 2-year warranty includes replacement with a new device in case of any malfunction, with free shipping.
Kiierr offers 2 models – one with 148 lasers, and the other with 272 lasers, and 2 complete hair regrowth bundles – with DHT blocking shampoo, DHT blocking vitamins, and hair growth conditioner.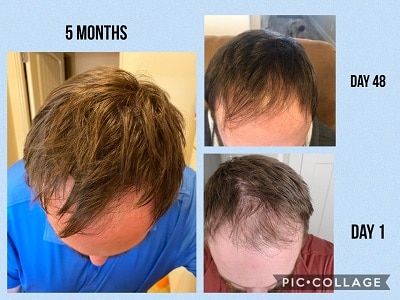 👉 We were very impressed with the genuine customer reviews and their before and after pictures, showing remarkable hair growth!
The DHT-blocking supplement is 100% natural and contains Saw Palmetto, Horsetail Extract & Zinc formula to help slow/inhibit 5-AR enzyme conversion to DHT (which is suspected to cause hair loss).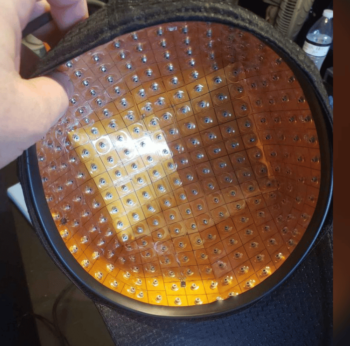 ✅ Price – $995 but there's a $125 discount with coupon code BLK – at the official site.
2. HairMax 272 PowerFlex Laser Cap

Longest Trial
The HairMax PowerFlex also has the same specs – 272 medical-grade lasers, full scalp coverage, and a total output of 1360 mW's, but the price is much higher than the Kiierr laser cap. In fact, it's double the price.
Why?
Because it has a dual operating mode technology for a choice of constant or pulsing laser lightwave for 15-minute or 30-minute treatment time. Also, the PowerFlex treatments are needed just 3 times weekly, and you get the longest free trial in the industry – one year.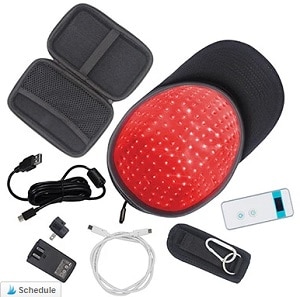 The PowerFlex flexible design, which looks like a regular sports cap, is 100% portable and comes with a rechargeable battery pack.
The silicone inserts (water-resistant for easy cleaning) conceal the 272 lasers and internal circuitry while protecting the diodes and keeping them clean.
Treatment time is 15-30 minutes – 3 times a week – and you can choose a constant or pulsating laser with the dual operating mode.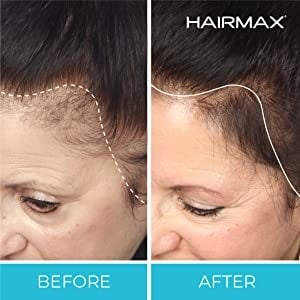 The HairMax laser cap helps restore your hair's natural growth cycle by promoting blood circulation and oxygen while boosting DHT elimination (high levels of DHT can cause hair loss) – resulting in increased density, fullness, and growth.
HairMax PowerFlex Pros
Discrete hair treatment – flexible sports cap design
100% portable
A Comfortable laser cap
Powerful – 1360 mW's output
An easy-to-use controller with an illuminated timer and battery level indicator
6 months money-back guarantee
FDA-cleared
1-year warranty
Cons
Expensive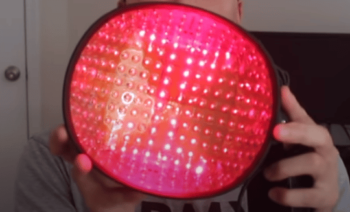 ✅ Price – $1719 at QVC  (180-day trial)- or $1539 for the 202 model (202 lasers) 
👉 Lower-cost alternative – The New HairMax LaserBand 82 – only 90 seconds treatments – 3 times a week!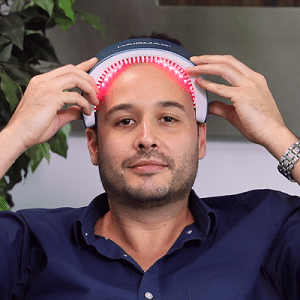 3. illumiFlow 272 Laser Cap

Longest Warranty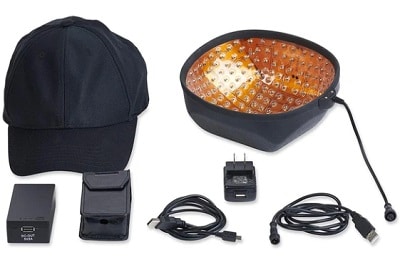 The illumiFlow hair growth cap promises to "regrow your confidence – or your money back", offering 6-month money-back guarantee and a 5-year warranty on both laser caps – one with 148 lasers, and the other with 272 medical lasers.
Results are expected within 4-6 months of treatment, and the first result to expect is a reduction in hair loss, followed by new, thickened hair growth.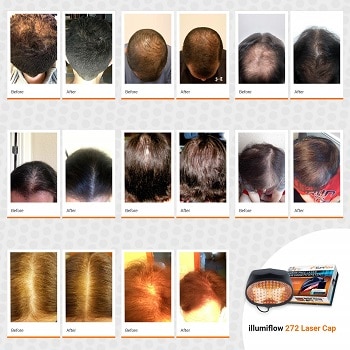 The FDA-cleared illumiFlow is also designed as a sports cap and is 100% portable and discrete.
It's simple to use: all you have to do is connect the cap to your charged battery pack, place it on your head (it has full coverage), and flip the switch to start your 15-30 minute treatment.
The 272-laser model costs less than half of the HairMax PowerFlex but offers no choice between pulsing/constant light, and the total output is not mentioned in its specs.
Want to see an Illumiflow unboxing? check it out below:
illumiFlow 272 Laser Cap Pros
Discrete treatment thanks to the sports cap design
Lasers are calibrated to 650nm, the optimal wavelength for hair growth
Flexible and comfortable
A lot of lasers, lower cost than the HairMax
6-month money-back guarantee
5-year warranty
15-30 minutes 3 times a week
up to 20,000 treatment sessions
Free shipping at the official site
Cons
It May not fit smaller heads perfectly
✅ Price – check the price on Amazon 
👉 Lower-cost alternative – the illumiFlow 148 laser cap, which costs $200 less than the 272 model.
4. iRestore Laser Helmet for Hair Regrowth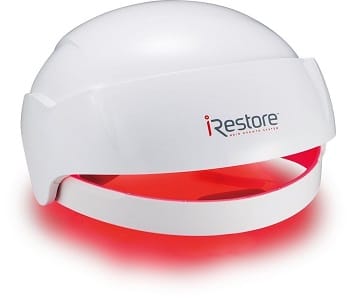 The FDA Cleared iRestore hair loss laser treatment helmet was designed for both men and women with receding hairline, balding and thinning hair.
And that's not all:
iRestore was proven to promote significant hair growth in a 2017 clinical study.
When this 16-week study ended, 100% of men and women saw a visible improvement in hair growth, with more than 43% increase in hair count, after using the iRestore for 30 minutes every other day.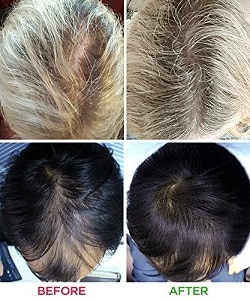 The 51 medical-grade lasers and LEDs inside the helmet radiate light energy that is absorbed by the hair follicles to enhance cell metabolism rate and reactivate follicles to stimulate hair growth.
The best part?
You can expect results in 3-6 months, and if you don't see any visible improvement in your hair growth – you can send it back for a full refund.
iRestore specs: 21 medical-grade lasers (power: <5mW – Low-Level Laer) & 30 LEDs (650 nm – proven optimal wavelength for hair growth).
(LEDs blink for more stimulation while lasers stay constant)
Size: 10.7 x 9.2 x 6.1 inches
Weight: 1.7 pounds
Power: 110-220V (comes with AC adapter)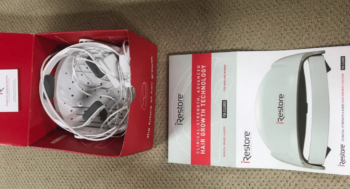 Excellent coverage – the laser diodes and LEDs are speckled all over the interior of the helmet.
No over-use risk – built-in automatic shut off after 25 minutes. You can also shut off the unit at any point during hair treatment.
Eye damage prevention – The iRestore Laser Hair Growth helmet has two sensors placed inside the cap, to prevent the cap from emitting laser unless it is fitted on your head.
One-year warranty and 6 months money-back guarantee
Excellent customer service
Long shelf life – the iRestore was tested in a world-renowned lab to last at least 5 years.
Fits most head sizes comfortably – the system will generally fit a head circumference range of 21 to 24 inches. There's an adjustable component inside that allows for proper fit.
Can be used along with any other hair loss treatments (we recommend trying

Jamaican Castor oil

).
It is very comfortable to use – it has small cushions all around it so it's completely painless to use it.
✅ Price –  check this page on Amazon
Cons
Low power compared to the top competitors
The helmet does not cover the backside and the side of the head directly above the ears. However, (Low-Level Light Therapy) has a cascading effect that, if given the time, will result in improvement outside the immediate treatment area to benefit the entire scalp.
Needs to stay plugged in during treatment. However, you can go completely mobile if you buy the rechargeable battery pack (very much worth the spend!)
Do you have more questions? need help?
Our Facebook page
is the best place to message us and get quick and personal answers! 🙌
5. iGrow Laser Hair Growth Helmet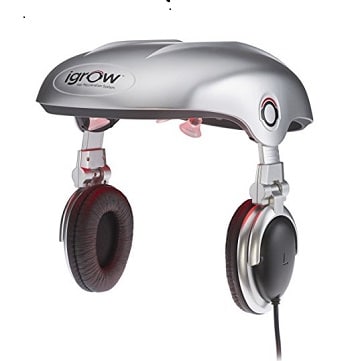 Here's something interesting:
The FDA-cleared iGrow is an almost identical device to the iRestore laser helmet in terms of optical and electronic function (21 laser diodes, 30 LEDs – 650-670 nm, delivered at 3-4 joules per cm2).
Actually, All the technology is the same except for the design and the audio earphones you can see in the image.
You even get the same 6-month money-back guarantee if it doesn't work for you.
And:
It's also been proven to increase hair count (by 36%) in 16 weeks – in two published clinical studies.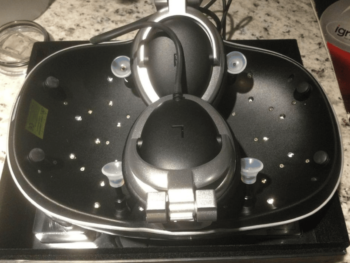 However:
The iGrow price is lower than the iRestore.
Size: 12.2 x 5.9 x 9.8 inches
Weight: 3.4 pounds (double the iRestore weight on your head)
Power': 110v-220v (comes with AC adapter)
iGrow pros
Lower price than all laser caps We've found
Comfortable and easy to use
Good for travel – very easy to take through airports and use while away from home
The headphones are of high quality and the sound is excellent
Automatic shut off after 25 minutes
Excellent customer service, available at all times
From what I found here, many users insist that it works if you are consistent. You can see their before and after pictures too.
Cons
Low power compared to the top competitors
Amazon users rate this one lower than the iRestore.
✅ iGrow hair helmet cost – The iGrow sells for $549 on the official website. But on Amazon, we often find it for much less. Check this page to see today's price. If it's less than $430 – grab it.
6. Theradome Hair Growth Helmet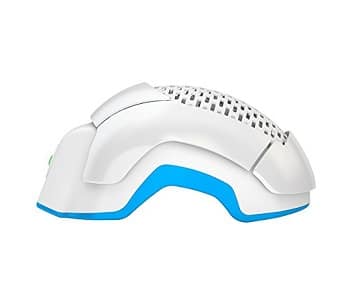 The Theradome has 80 medical-grade lasers (678 nm low-level laser) to be exact – and no LEDs.
This means that potentially, you will get quicker and better results than the iGrow and the iRestore.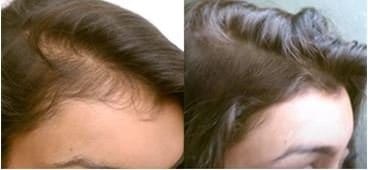 If used as directed, Theradome claims to stop hair loss within 18-26 weeks, to regrow hair within 28-52 weeks, and to provide fuller, thicker hair after 100 weeks.
Also, the Theradome is cordless (comes with rechargeable batteries), meaning you are free to walk around with it.
And that's not all:
Theradome is manufactured in the USA and is recommended by hair rejuvenation experts such as Bosley and HairClub.
Size: 11.8 x 7.9 x 5.5 inches
Weight: 1 pound
Power: 110v-220v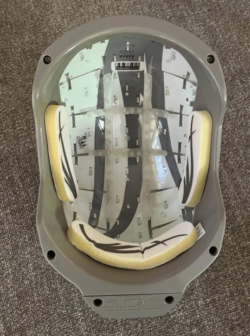 Theradome Laser Hair Helmet Pros
80 laser diodes and full coverage (you can get the 40 LEDs model – the Theradome Evo laser hair growth device – for about half the price on Amazon)
Portable hair growth device – operates on rechargeable batteries and you can walk around while using it.
Counts your treatments – an automated treatment counting system keeps track of the total number of treatments you've undergone.
Reaches all areas, including above the ears
Shorter treatment time – only 20 minutes – twice a week
Lightweight (only 1 pound) – doesn't feel heavy on your head
Automatic shut off after 20 minutes
Fits all head sizes – it has foam inside that can be used for smaller head sizes.
1-year warranty, 120-day money-back guarantee for US citizens.
Cons
Low power
Mixed reviews about customer service
Won't work for advanced hair loss (dead hair follicles)
Much more expensive than the last two
 ✅Theradome cost – When we check this page on Amazon, we sometimes (not often though) find a sale price.
Conclusion
Through our research, we have concluded that the best laser cap for the money is the Kiierr Laser cap!
 Capillus Laser Cap Review: Does it Work?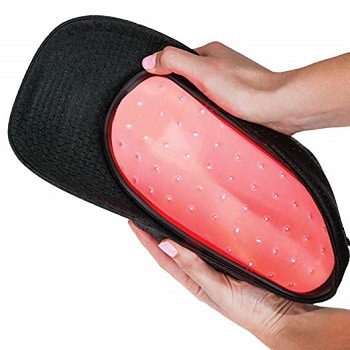 The Capillus company, which sells 3 low-level laser hats/caps, claims that you'll regrow your hair – in only 6 minutes a day.
And the price matches the claim – almost $900 for the 82-laser one, and almost $2000 for the 282-laser cap.
(Forget about the pro model – with 272 lasers – which costs about $3000. 🙄)
Through our research, we've found that there is very little evidence to support the efficacy of the Capillus caps (they've conducted no clinical trials), and buyer reviews are less than stellar.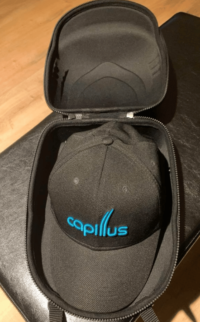 👉 You can see all the Amazon buyer reviews HERE.
Yes, it's completely mobile, and you can use it outdoors with no one knowing your little secret.
But:
We conclude that if you've never tried laser hair growth treatments and proved that this home technology works for you, the huge investment may not be worth it.
How to use a Hair Growth Helmet Safely
First, always follow the instructions.
Do not be tempted to use the device more than directed – it won't work better or faster if you do, and the instructions are based on clinical studies that tested the best way to use them to get the best results.
Second, do not stare directly at the laser lights – they are very bright.
Red light therapy will not heat your scalp, but a tingling sensation after use is normal (it happens because it increases blood flow in your scalp – which is good.)
Laser Caps FAQ
There are literally dozens of frequently asked questions about LLLT for hair loss home treatments, here are the answers to most of them:
What is a Laser Cap?
A laser cap (hair growth helmet) uses safe, low-level lasers/LEDs to energize hair follicles and spur new, natural hair growth, by boosting blood circulation to the hair follicles.
How Long Should You Use a Hair Growth Helmet?
Laser helmets treatment time varies greatly, depending on the number of LEDs/lasers. Treatment time ranges from 5-20 minutes per session, 2-3 times a week.
Can laser Caps Be Used with Other Hair Loss Products?
Yes. It can be safely used with other products such as Rogaine and Minoxidil, and in fact, laser therapy can help make these other treatments more effective.[/su_box]
Are Laser Caps Safe?
Generally, laser hair treatment uses low-energy nonionizing safe radiation. Pregnant women should not use them before consulting with their doctor.
If you are taking medications that affect skin sensitivity to light, consult with your doctor before use. Do not use LLLT if you have skin cancer on your scalp.
Can Laser Caps Cause Cancer?
The science-based answer is NO. Laser treatments for hair loss do not cause cancer.
More than 2000 clinical studies were conducted on the use of LLLT and all of them have found no DNA mutational effects resulting from treatment. The short UV waves (280 – 400 nm) are the type of waves that have been linked to skin cancer, and they are at a totally different wavelength from red light therapy.
👉 Here's a study proving red light therapy is safe even when skin cancer is present.
Do You Have to Cut your Hair to Get the Laser to Work?
Your hairstyle and length will not interfere with your LLLT home treatment because it has a cascading effect and a systemic effect, which will result in improvement outside the covered treatment area.
Some people say that laser combs can reach the scalp better than helmets – because the comb design makes you part your hair and allow the light energy to reach your scalp better.
👉Check out my post about the laser comb.
Do You Have to Keep Using the Laser Cap to Keep the Results?
As with any other hair loss treatment (other than hair transplant) – the answer is yes.
In fact, through my research, I've found that a few users who thought that the treatment does not work for them, discovered that their hair started falling out when they stopped using it and realized that their helmet actually stopped their hair loss.
Basically, because the follicles have "weakened," they need constant revitalizing from the lasers (or whatever other treatment you are using).
However:
Once you finish the suggested treatment period, you can cut down to "maintenance" treatments of once or twice per
Do Laser Caps Work for Dark hair?
Yes, they can work for dark hair. However, you should know that the FDA has not cleared these devices for dark skin.
Refer to the Norwood-Hamilton Scale (approved: Class Ila to V) / Ludwig-Savin Scale (approved: Class I to II) and Fitzpatrick Skin Type Scale (approved: Type I to IV) for compatibility.
Can Laser Caps Be Used After Hair Transplants?"
Yes, however, it's advised to wait at least 30 days before you start using it, and consult with your surgeon to be on the safe side.[/su_box]
I truly hope you've found my research and tips useful.
And now, over to you:
Have you ever tried laser treatments for hair growth? have you tried laser caps before? do you have any other questions? Let me know in the comments below.
To your health and happiness,
Meital
References:
Jimenez, J.J., Wikramanayake, T.C., Bergfeld, W. et al. Efficacy and Safety of a Low-level Laser Device in the Treatment of Male and Female Pattern Hair Loss: A Multicenter, Randomized, Sham Device-controlled, Double-blind Study. Am J Clin Dermatol 15, 115–127 (2014). https://doi.org/10.1007/s40257-013-0060-6
Avci P, Gupta GK, Clark J, Wikonkal N, Hamblin MR. Low-level laser (light) therapy (LLLT) for treatment of hair loss. Lasers Surg Med. 2014;46(2):144–151. doi:10.1002/lsm.22170
Hamblin, Michael R. "Mechanisms of Laser-Induced Hair Regrowth." (2005).
Zarei, M., Wikramanayake, T.C., Falto-Aizpurua, L. et al. Low level laser therapy and hair regrowth: an evidence-based review. Lasers Med Sci 31, 363–371 (2016). https://doi.org/10.1007/s10103-015-1818-2
Urysiak-Czubatka I, Kmieć ML, Broniarczyk-Dyła G. Assessment of the usefulness of dihydrotestosterone in the diagnostics of patients with androgenetic alopecia. Postepy Dermatol Alergol. 2014;31(4):207‐215. doi:10.5114/pdia.2014.40925