Infrared knee heating pads, braces, and wraps are specifically designed for the curvy shape of your knee while emitting deep-penetrating infrared heat all the way to your muscles, bones, and nerves.
When you combine the benefit of design (which allows for wrapping around your knees) with the superior (and safer) infrared heat therapy – you've got the best natural method to relieve knee arthritis/Meniscus – at home.
This post contains affiliate links. Click here to read my affiliate policy.
In this post you'll find the 5 best knee heating pads on the market, with our reviews and ratings, plus a full comparison and best prices, to help you make the best choice for you.
👉 In a Hurry? See our short comparison table first:
👉 Jump to our full heated knee pads reviews
What is a Heated Knee Brace?
Reusable Infrared knee heating pads stimulate the local blood circulation in your knee, encourage healing, relax muscles supporting your knee, increase your range of motion and relieve muscle spasms and pain associated with any of the conditions above.
Need proof? Here's one clinical study
Knee infrared heating pads can be very helpful for:
Knee Arthritis
Knee injury
Knee fracture
Torn Meniscus
Knee Bursitis
Patellar tendonitis
Gout
Iliotibial band syndrome
Osteoarthritis
Knee surgery recovery
✅ The 5 BEST Knee Heating Pads
Through our research, here are the 5 best infrared knee heating pads/wraps, plus our reviews, pros & cons:
1. Arris Knee Brace Wrap with Infrared Heat – Best for Knee Arthritis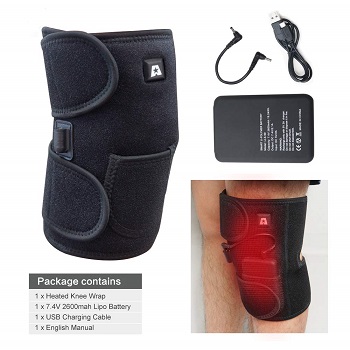 The Arris knee heated brace and wrap uses a larger than average powerful battery (7.4V) and offers 3 heat levels (red/white/blue – 45℃- 55 – 65℃) on its controller.
The Arris automatically stops heating once it gets overheated with its thermal protection safety feature, and heats up very quickly (in 1-3 minutes).
👉 When fully charged (with its USB cable) it supports 1 hour working in high temperature, 2 hours in medium, and 3 hours in the lowest setting.
Arris Knee Heat Wrap Pros
Large wrap that fits all sizes yet doesn't slide off when using it – even while walking or jogging
Industrial strength velcro to hold the wrap in place
Works as a brace alone as well – without the heat
Recharges in 2 hours
30-day money-back guarantee on Amazon
✅ Check price on Amazon today
Cons
May not fit people with total knee replacement
2. DPL FlexPad Pain Relief System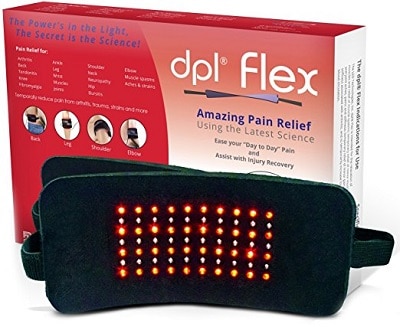 The DPL FlexPad is a highly flexible and comfortable near-infrared (880 nm infrared & 660 red) LED  knee pain pad, which is easy to use and heats up fast.
It has 40 infrared (880 nm) LEDs and 20 red (660nm) LEDs.
You can wrap it around your aching knee and secure it with the adjustable Velcro straps.
It comes with a USB power cord, AC adapter, and full (simple) instructions.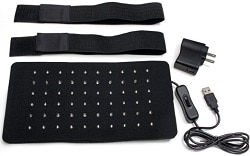 Size: 11.2 x 8 x 2 inches
Treatment area size:  8″ x 5
Weight: 14.1 ounces
DPL FlexPad Pros:
Treats the entire knee in one treatment
Treatment time: 20 relaxing minutes
Requires no set up once out of the box
Pleasant warmth, not too hot
The USB charger cord is 34 inches
Good customer service
✅ Check the price on the official site today
Cons
A bit pricey
No timer or auto shut off, you'll have to watch the time to avoid overdoing it.
3. Sharper Image Heated Physiotherapy Massager – Best for Arthritis, Swelling, Muscle Atrophy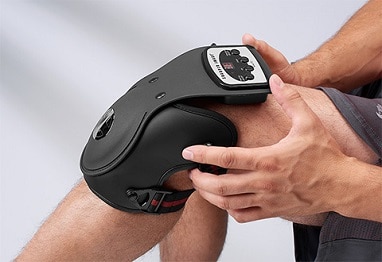 This is no "regular" heated knee pad. The Sharper Image Physiotherapy Massager combines infrared heat, powerful magnets, and vibration massage to quickly relieve and heal knee pain (or elbow/shoulder).
The adjustable heat goes up to 149 F and the vibration massage (very helpful and blood circulation-boosting) can be used or turned off according to your preferences.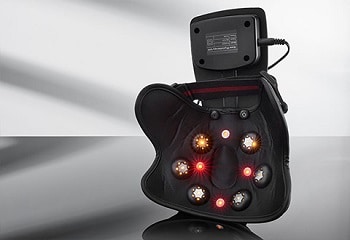 This heated knee massager can be a life-changing treatment for people suffering from any knee condition, including permanent joint dysfunction, muscle atrophy, movement disorders, and knee arthritis.
The device fits all knee sizes up to 20" circumference (women and men), comes with 3 adjustable straps and a protective pad.
Though the price is higher than most knee heating pads, it's well worth it.
Temperature range: (104°F to 149°F)
✅ Price – we found the best price (and warranty) – on the official site
👉 We here at infrared-light-therapy.com love this new advanced knee brace, and soon we'll publish a new post about the best knee massagers with heat – in 2020!
4. TherMedic PW150L FIR Heated Knee Brace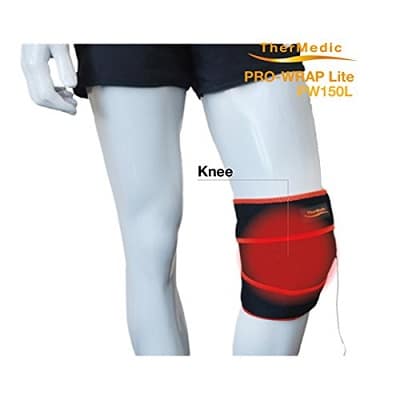 The Thermedic multi-function infrared heating pad (made in Taiwan) is a breathable and ergonomic brace you can use on your knee or any other curvy part of your body – including your ankle.
It emits infrared heat via a carbon fabric element
It has 3-temperature settings and 30 minutes auto shut off for safety and has a CE and FDA certification.
And, an affordable price.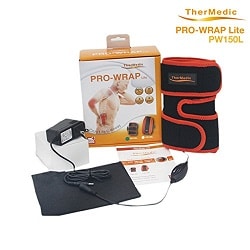 Size: 12.5 x 8.6 x 0.7 inches
Treatment area: 8 x 5 inches
Weight: 15.5 ounces
Temperature: Low Heat 45~50ºC / Medium Heat 50~55ºC / High Heat 55~60ºC
Minimum and maximum knee measurements: 13 inches to 16 inches
The Thermedic is our #1 choice for the best infrared knee heating pad in 2020.
 Thermedic heating pad Pros:
Claims extremely low ELF (electromagnetic wave)
Stays in place and warms up quickly (pleasant heat)
Comes with a handy travel bag
Has Velcro straps
 A Fair price tag
✅ Check today's price on Amazon
Cons
Some users feel that it doesn't get hot enough.
5. HealthyLine Tourmaline Stones Negative Ions/FIR/Far-infrared Knee Pad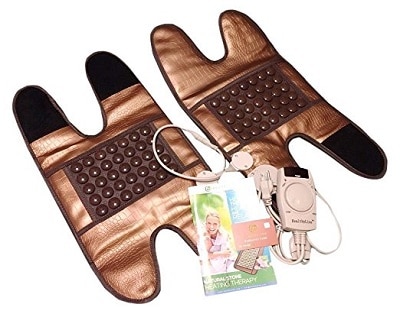 The HealthyLine infrared knee pad is a unique and high-quality knee wrap. It comes as a set of two wrap-pads connected with a wire. This means that you can use it on both knees (if necessary) – at the same time!
This knee infrared heating pad does not use LED to emit infrared heat, but natural Tourmaline stones.
It comes with an LCD controller and is very easy to use.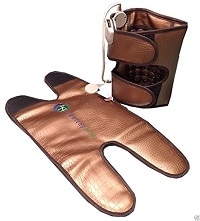 Size: each pad is 25″ x 13″ x 1.2″
Weight: 4.8 lbs in total
 HealthyLine knee heating pad Pros
Can be used for both knees simultaneously, reduced treatment time
FDA, FCC, and CE certified
LED controller with a timer and auto shut off
Has negative ions (for a relaxing experience)
Can get very hot – I recommend using it on medium heat or add a small towel between the pad and your knee if you are using in the highest setting
American based company with good customer service
✅ Check the price on Amazon today
Cons
👉 Still not sure? see the 3 undeniable reasons to use Infrared Light Therapy for pain relief.
Is it Better to Heat or Ice an Arthritic Knee?
Knee cold packs are best to use on acute injuries when your knee is highly inflamed, swelling, and painful.
When the pain and swelling ease up a bit, it's best to use heat (thermotherapy) to relax the muscles supporting the joints, reduce stiffness, and increase blood flow to promote healing.
To your health and happiness,
Meital