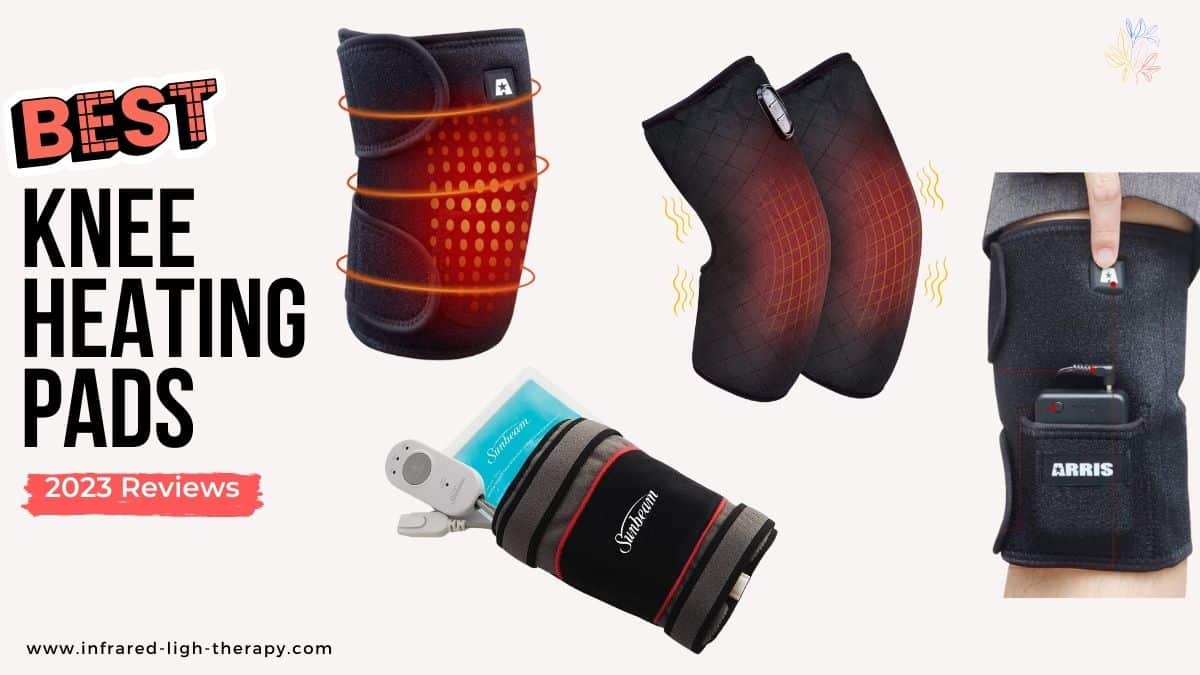 Infrared knee heating pads, braces, and wraps are specifically designed for the curvy shape of your knee while emitting deep-penetrating infrared heat –  all the way to your muscles, bones, and nerves.
When you combine the benefit of wrap-around design with infrared heat therapy – you've got the best natural method to relieve knee arthritis, knee injuries, and knee inflammation – at home.
In this post, you'll find the 6 best knee heating pads on the market, with our reviews and ratings, plus a full comparison and best prices, to help you make the best choice for you. Plus, you'll find the best heated knee massager.
This post may contain affiliate links, at no extra cost to you.
Top Pick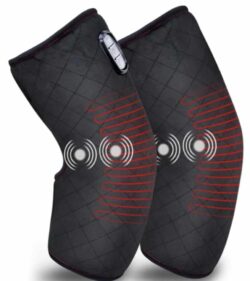 Our top pick for 2023 is the Comfier Heated Knee Massager, which offers 2 levels of heat and 5 vibrating massage modes, that enhance blood circulation and promote healing even more. Here's why:
Heat and massage can be used together or separately
Flexible material that wraps comfortably on the knee
You get 2 braces in the package so you can treat both knees at the same time
👉 Save 30% with coupon code DAD30 when you get to checkout!
For people who do not want a massaging knee wrap, our top pick is the Arris Heated Knee Wrap, which is flexible, fully portable (battery operated), and works for a full hour on the highest heat, or 2 hours on medium heat.
What is a Heated Knee Brace/Wrap?
Knee heating pads are designed as a sleeve for the knee and emit infrared heat all over the knee and surrounding tissues and muscles. This stimulates local blood circulation, encourages healing, relaxes muscles supporting your knee, increases your range of motion, and relieves muscle spasms and pain associated with any condition you may have.
Knee heat therapy was proven very effective in clinical, double-blind human studies.
For example, this study has resulted in a 50% pain reduction for people with degenerative osteoarthritis of both knees – after only 10 days of self-treatment (15 minutes, twice a day).
And, the results lasted for 4-6 months!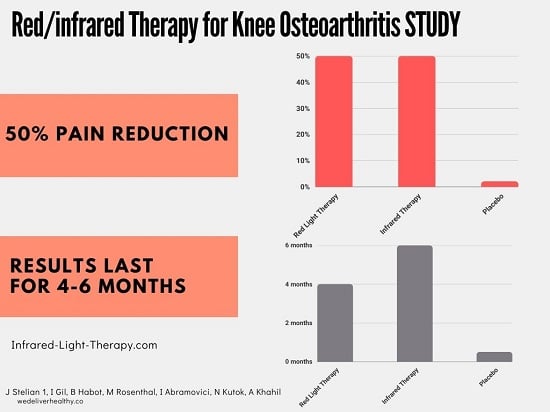 Knee infrared heating pads can be very helpful for:
Knee Arthritis
Knee injury
Knee fracture
Torn Meniscus
Knee Bursitis
Patellar tendonitis
Gout
Iliotibial band syndrome
Osteoarthritis
Knee surgery recovery
The 6 BEST Knee Heating Pads/Wraps
See our top 4 picks below, or scroll down for all our knee heating pad reviews.
Through our research, here are the 6 best infrared knee heating pads/wraps, plus our reviews, pros, and cons:
1. Arris Knee Brace Wrap

Best Rechargeable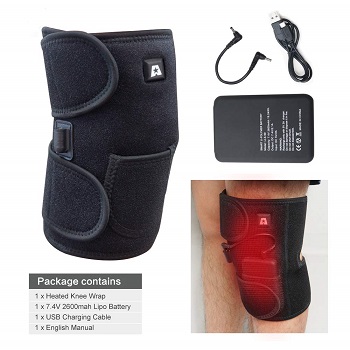 Size – 8.9 x 7 x 2 inches
Weight – 10.4 Ounces
Heat Settings – 45℃/55℃/ 65℃
The Arris battery-operated knee heated brace is can be taken anywhere (it's 100% portable),  it has a larger-than-average powerful battery (7.4V) and it offers 3 infrared (radiant) heat levels (red/white/blue – 45℃- 55 – 65℃) on its controller.
The Arris heated knee sleeve automatically stops heating once it gets overheated with its thermal protection safety feature, and heats up very quickly (in 1-3 minutes).
When fully charged (with its USB cable) it supports 1 hour working in high temperature, 2 hours in medium, and 3 hours in the lowest setting. More than enough to relieve knee pain and promote healing from knee injuries.
It can actually help you enjoy a morning run (it doesn't slide off) – without spending the rest of the day in bed, or in pain.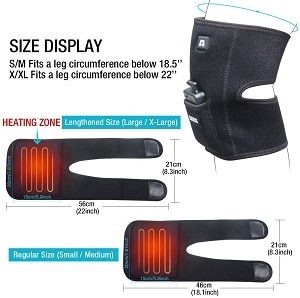 This practical heating pad can also be used on the thigh, arm, and calf, and basically on any curvy body part.
Arris Knee Heat Wrap Pros
Large wrap that fits all sizes yet doesn't slide off when using it – even while walking or jogging
Infrared therapy which is deep-penetrating
Industrial strength velcro to hold the wrap in place
Works as a brace alone as well – without the heat
Recharges in 2 hours
Cons
It May not fit people with total knee replacement
✅ Available on Amazon ($38)
2. Comfier Heated Knee Massager

Best Heated Knee Massager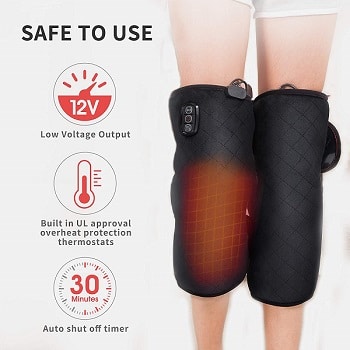 Size – 15.47 x 9.57 x 4.21 inches
Weight – 2.54 Pounds
Heat Settings – 2
Vibration Modes – 5
The Comfier is the best massaging knee brace on this list and includes 2 built-in heat pads (with 2 heat settings) for promoting blood circulation and soothing aching knees, and 2 vibrating massage motors to enhance the blood flow healing effect.
The material really feels soft and comfortable on the skin, and the heat & massage combo can be very helpful for knee arthritis, fibromyalgia, restless leg syndrome, and muscle and ligament pain.
👉 The package comes with 2 braces, so you can use it on both knees at the same time!
You can choose from 5 massage nodes, and the adjustable velcro straps keep it in place for the entire soothing, relaxing, and pain-relieving experience.
With the UL-approved safety thermostat and the auto shut-off, this knee wrap is very safe to use, even if you fall asleep with it.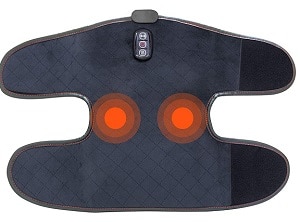 Comfier Knee Massager Pros
Comes with an adapter
Highly adjustable (variable heat and massage modes)
Can be used on both knees at the same time
Massage can be used separately (without heat)
Soft on the skin and snuggles comfortably
High user ratings on Amazon, users reporting reduced swelling, and increased mobility – in the first week!
30-minute auto shut off
Safe – overheating protection system
Cons
Not portable and rechargeable
Can't be washed
✅ Available at Comfier ($46 with coupon code DAD30 – for 2 braces!) and on Amazon ($46)
3. TherMedic Heated Knee Brace –

Most Breathable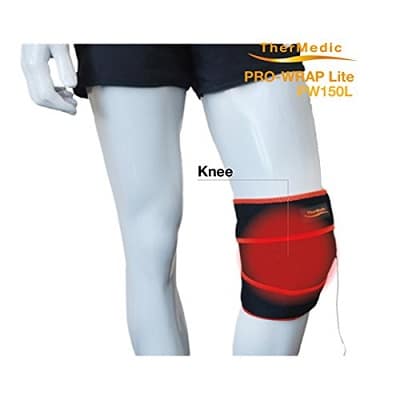 Size: 12.5 x 8.6 x 0.7 inches
Weight: 15.5 ounces
Heat Settings – 45~50ºC/50~55ºC/55~60ºC
The Thermedic multi-function infrared heating pad (made in Taiwan) is a breathable and ergonomic brace you can use on your knee or any other curvy part of your body – including your ankle.
It emits infrared heat via a carbon fabric element and has 3-temperature settings and 30 minutes auto shut-off for safety (CE and FDA certification). It provides consistent heat without being too hot.
Acupuncture professionals love to recommend this one to their patients – for knee problems, back pain, menstrual cramps, and sports injuries.
And, the price is affordable.
 Thermedic heating pad Pros
Claims extremely low ELF (electromagnetic wave)
Breathable material
Stays in place and warms up quickly (pleasant heat)
Comes with a handy travel bag
Has Velcro straps
Cons
Some users feel that it doesn't get hot enough.
✅ Available on Amazon ($69)
4. Sunbeam FlexTemp Joint Wrap

Best Microwaveable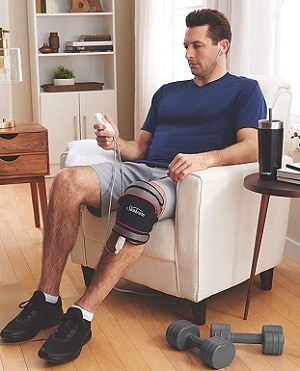 Size: 9.4 x 2.9 x 5.1 inches
Heat Settings – 3
Weight: 0.05 ounces
The Sunbeam electric hot/cold joint wrap (for knees/elbows) delivers soothing heat or anti-inflammatory cold therapy via a removable gel pack.
We recommend using cold therapy only with new, acute injuries, but if you need to ice your knees several times a day – this one is very easy to carry with you, strap on, and continue with your activities.
If you spray the pad with water you can enjoy a moist heat experience as well.
The Sunbeam heated knee pad wraps around your knee easily and stays in place, but it plugs into an outlet so you can move around within the limits of the 9-foot cord.
You can choose from 3 heat settings (on the compact controller), and it automatically shuts off after 2 hours.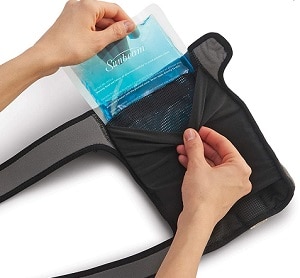 Sunbeam knee heating wrap Pros
5-year warranty
versatile heat settings, the higher setting gets very hot
Both hot and cold therapy to choose from, and a moist heat option
Can be used for both knees simultaneously, reducing treatment time
Easy to strap on and use
Cons
Some users wished there was an extra inch of knee coverage
✅ Available on Amazon ($32) and at Walmart ($35)
5. dpl FlexPad

Best LED Wrap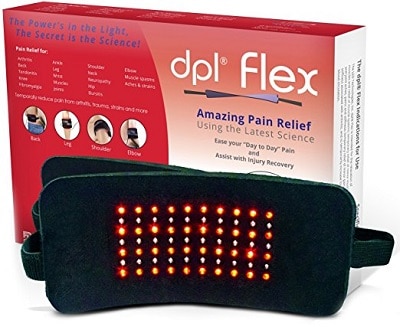 Size – 11.2 x 8 x 2 inches
Treatment area size:  8″ x 5
Weight: – 14.1 ounces
The dpl FlexPad is a highly flexible and comfortable near-infrared (880 nm infrared & 660 red) LED pad, which is easy to use and heats up fast.
👉 It is included in our Top 4 most recommended red light therapy wraps of 2023!
It has 40 infrared (880 nm) LEDs and 20 red (660nm) LEDs. Using 2 different wavelengths is a more holistic approach for light therapy and can be more effective.
You can wrap it around your aching knee and secure it with adjustable Velcro straps.
It comes with a USB power cord, AC adapter, and full (simple) instructions.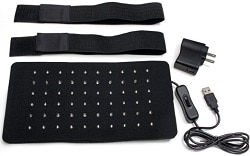 dpl FlexPad Pros:
Treats the entire knee in one treatment
Treatment time: 20 relaxing minutes
Requires no setup once out of the box
Pleasant warmth, not too hot
The USB charger cord is 34 inches
Good customer service
Cons
A bit pricey
No timer or auto shut off, you'll have to watch the time to avoid overdoing it.
✅ Available at Revive Light Therapy ($159 with free shipping, FSA & HSA approved)
6. Sharper Image Knee Massager

With Magnets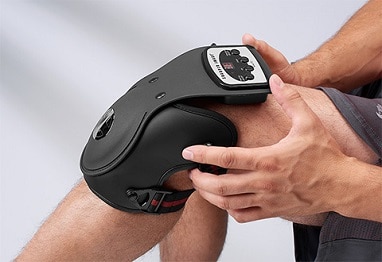 Heat Settings – 104°F to 149°F
This is no regular heated knee pad. The Sharper Image Physiotherapy Massager combines infrared heat, powerful magnets (2 magnets, 1,000 gauss each), and vibration massage (7000 rpm) to quickly relieve and heal knee pain (or elbow/shoulder).
It fits knees up to 20" in circumference, and the adjustable heat goes up to 149 F.  The vibration massage (very helpful and blood circulation-boosting) can be used or turned off according to your preferences.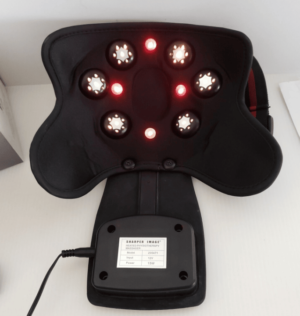 This heated knee massager can be a life-changing treatment for people suffering from any knee condition, including permanent joint dysfunction, muscle atrophy, movement disorders, and knee arthritis.
The device fits all knee sizes up to 20" circumference (women and men) and comes with 3 adjustable straps and a protective pad. Plus, it remembers your last temperature settings so you don't have to repeat the settings every time you use it.
Why magnets?
Research has shown that by exposing the body to a mild magnetic field, the tiniest blood vessels can be encouraged to expand or contract, leading to improved blood circulation and reduced inflammation – a crucial element for faster healing.
Though the price is higher than most knee heating pads, it's well worth it.
Sharper Image Pros
Combined infrared heat and vibration massage is very soothing
Users report significant relief from arthritis, meniscus, and other knee injuries
Can also be used on the shoulder
Shuts off automatically
Has magnets for inflammation reduction
Cons
Sometimes you'll need to move it around a bit to further pinpoint the best spot for relief
May take a few uses to feel lasting relief
✅ Available at Sharper Image ($111 with coupon code SAVE20) and at Walmart ($149)
How Much Do Heated Knee Wraps Cost?
Heated knee braces price ranges from $35 to $140. To get the full price you'll need to add shipping. The price of heated knee pads depends on a few factors, including brand reputation, functionality (heated knee massagers are more costly, and so are LED devices), and quality of materials.
On Amazon, knee heating pads cost between $16 to $140.
The lowest-priced one is the Aroma Season portable knee brace, and the highest-priced one is the Real Relax 2021 Knee massager – with 3 heat settings and 3 vibration levels.
The best-selling one on Amazon is the Comfier heated knee massager, reviewed in this post.
At Walmart, you'll find a wide range of heated braces costing $12 to $29. Looking at the number of ratings for these products, they do not seem to be selling well.
What's Better for Knee Pain – Hot or Cold?
Knee cold packs are best to use on acute injuries when your knee is highly inflamed, swollen, and painful. When the pain and swelling ease up a bit, it's best to use heat (thermal knee therapy) to relax the muscles supporting the joints, reduce stiffness, and increase blood flow to speed up healing.
How Long Should You Use a Heated Knee Brace?
You can use a heated knee brace every day, for as long as it feels comfortable. Most experts recommend using it for 15-20 minutes – 3-4 times a day. As long as the heated brace is placed on your knee, it will enhance blood circulation in the injured area and speed up recovery from injuries, while naturally relieving pain and stiffness.
To your health and happiness,
Meital
Studies
J Stelian 1, I Gil, B Habot, M Rosenthal, I Abramovici, N Kutok, A Khahil, Improvement of pain and disability in elderly patients with degenerative osteoarthritis of the knee treated with narrow-band light therapy, 1992 Jan;40(1):23-6.
Usman Z, Maharaj SS, Kaka B. Effects of combination therapy and infrared radiation on pain, physical function, and quality of life in subjects with knee osteoarthritis: A randomized controlled study. Hong Kong Physiother J. 2019;39(2):133-142.
Hinman MR, Ford J, Heyl H. Effects of static magnets on chronic knee pain and physical function: a double-blind study. Altern Ther Health Med. 2002 Jul-Aug;8(4):50-5.

Meital James
Founder and CEO of 4 healthy living blogs, has a background in Naturopathic medicine, research, journalism, and nutrition. Her blogs are the culmination of her thousands of hours of research and experience and all the posts are verified by scientific findings.