What's the best infrared heating pad for muscle, joint, and nerve pain relief?
What are the pros and cons of IR heating pads?
In this post, you'll find my reviews and comparison for the 5 best-selling infrared heating pads of 2021 and the pros and cons of each one.
👉 Most of the FIR heating pads you'll find below use natural stones (Jade/Amethyst) to deliver the therapeutic infrared wavelength.
This post contains affiliate links. Click here to read my affiliate policy.
The 5 BEST Infrared Heating Pads (2021 Reviews)
First, see our short comparison table.  Below you'll find our detailed far infrared heating pad reviews.
1.🥇 UTK Infrared Heating Pads

Best Overall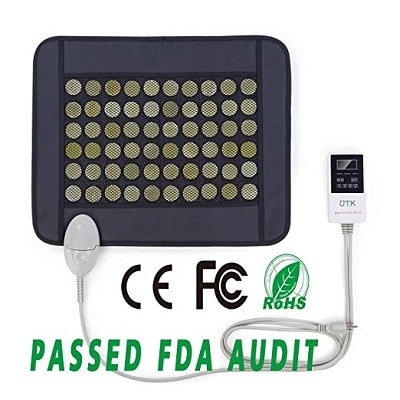 The UTK infrared heating pads are our top choice for several years , and for good reasons:
The company has a good reputation and is a long-time player in the infrared technology world.
The company offers great customer service (we know by personal experience!)
The IR pads are well-built, sturdy (yet flexible and can be folded), last for years, and deliver high temperatures and low EMF radiation.
This is also one of the most reasonably priced Zero EMF heating pads you will find. 
👉 See all models and sizes on Amazon
📢 2020 update: UTK has just released a new lower back infrared belt – specially designed for lower back pain relief with infrared heat delivered via Jade stones. Since it's smaller, the price is also smaller (less than $60!).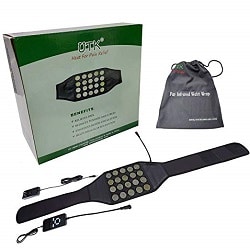 UTK Infrared Heating Pad Pros
Heats up fast, Jade stones and negative ions
Extra-long electric cord
Flexible
Temp and time controller
The jade heating pad is pliable and portable.
It is available in multiple sizes.
The user can adjust settings using the hand-held controller.
The pad comes with a handy carrying case.
Cons
Can't be folded around the neck
2. Ereada Infrared Heating Pads

Best with PEMF
The Ereada infrared heating pads (with negative ions/PEMF magnetism) are made in Korea for the past 20 years and are lined with high grade natural, untreated Amethyst crystals  from edge to edge.
This advanced EMF-free infrared heating system is based on twisted titanium wires in a copper net, silicon, and Teflon insulation to preheat the stones.
The soft and waterproof cover includes 3D air mesh pads to protect the pads that make them very comfortable for long treatments or even to sleep on.
There are 3 types to choose from:
1. The brown series – infrared emitting Amethyst stones (86~158°F) with no EMF emission, and 600v DC of Electrical Discharged Negative Ions – recharging your body during treatment. Come in 7 different sizes!
2. The grey series – bio-magnetic PEMF Amethyst mats  – Amethyst stones are covered with high-end grey suede (heat and sweat resistant) and come with very low-frequency pulsation magnetic coils (adjustable!) – which create the magnetic field above the infrared mat – similar to the earth's natural one.
3. The purple series – with permanent Magnets and Red Light 660Nm Photon LEDs, PEMF, and negative ions.
The company has great customer service and a reliable warranty (the package even arrives with a prepaid return shipping label, in case you have any trouble with it!)
Ereada Infrared Heating Pads Pros
Most versatile and high-grade infrared heating pads on the market
Include adjustable PEMF therapy and negative ions – to powerfully recharge your body (naturally)
High-grade Amethyst crystals, certified as A or A+ grades and tested by the Korean Gemological Institute
EMF-free
Come in many sizes to choose from
The cover is high quality, washable, and comfortable for sleep
Great customer service
Warranty is for personal and commercial use
Lifespan is 3-4 times longer than pads made in China
Cons
More expensive than most IR heating pads (but for good reasons)
✅ Compare prices on the official site!
3. Thermotex Platinum Heating Pad

Best Wearable
The Thermotex IR heating pad does not come with natural stones but uses carbon fiber to emit the infrared rays all the way to your muscles, nerves, and bones.
Some claim that carbon fiber is less efficient for infrared treatments, but users still love this affordable heat pad.
Plus, carbon fiber is used in all portable infrared saunas on the market and proven to be just as effective (though the EMF radiation tends to be a bit higher).
Thermotex Platinum Infrared Pad Pros
Easy to keep in place with Velcro straps
Can be used almost anywhere on your body
Temperature up to 140 F
Made in Canada, high-quality materials
3 heating elements
Cons
Some people found it a bit stiff
May emit some EMF radiation
4. Richway Amethyst Mini Mat
 The Richway Amethyst BioMat is probably the most well-known full-body infrared heating pad for the past few years, but we want to recommend their smaller size – the MiniMat, which is still very large (20″ x 34″ x 1″), can be used on a chair and can be taken to travel or work with its fancy suitcase.
Amethyst Mini Mat pros
Covers the entire back and neck
Overheat protection
Digital controller
Storage and carry bag
Easy to set-up
EMF free
Multilayer waterproof cover
Timer
Adjustable temperature settings
Cons
Expensive
Hard surface (yet comfortable for me)
5. HealthyLine Infrared Heating Pads
The Healthy Line far infrared heating pads are composed of Jade and tourmaline stones ensconced in circular meshes across the length of the Heating pads, comes with a digital controller, and contains EMF protection layers.
This FIR heating pad could be a good alternative for the UTK heating pads, but we've seen over the years that the company tends to often run out of supplies or disappear from stores, which never happens with the UTK brand.
HealthyLineI Infrared Heating Pads Pros
Jade and Tourmaline stones to emit infrared heat
High-quality materials, durable
Adjustable temperature
LED remote control
Lightweight
Made in the USA
Comes in multiple sizes
Cons
No session timer
The large one is expensive
How Do Infrared Heating Pads Work?
IR heating pads deliver far-infrared rays (the invisible part of the sunlight spectrum, felt as heat) either through semi-precious stones (Tourmaline/Jade/Amethyst) or carbon fiber material deep into your body tissues – all the way to your muscles, joints, and spine.
The human body easily absorbs far-infrared heat  and it also produces this type of light energy on its own, making this specific heat energy treatment completely natural.
The thermal effect of IR rays causes increased blood flow quickly, which helps deliver pain-relieving and healing blood components to arrive better and more quickly to the injured area.
Infrared Heating Pads Pros and Cons
Infrared heating pads are superior to "regular" heating pads because the natural heat penetrates deeper into your body (up to 3 inches inside) all the way to your muscles, bones, and nerves.
Infrared therapy is scientifically proven to quickly relieve pain, reduce stress, promote blood flow, and boost healing and recovery –  from any injury or condition.
(👉 See 14 PROVEN benefits of infrared light therapy )
The only con in using them is the possible exposure to EMF (electromagnetic field) radiation. That's why I only chose the lowest EMF IR heat pads available on the market.
How Do You Use an Infrared Heating Pad?
The high-quality FIR pads you've found here are all easy to use.
All you have to do is place them over the problem area (or the root-cause area, for example, the lower back if you have Sciatica), choose a temperature setting and treatment time, and relax.
When treatment is over, the IR heat pad will automatically shut off, and if you don't comfortably fall asleep, you'll feel completely relaxed, rejuvenated, and pain-free.
👉You can use it every day, and some people use it twice or more a day, for 30-45 minutes – with no side effects.
Who Can Benefit from Infrared Heating Wraps & Pads?
Anyone with an acute injury or chronic condition involving all types of pain and inflammation can greatly benefit from an FIR heat pad, including people with:
Muscle aches and pains
Muscle spasms
Hip pain
Fibromyalgia
Arthritis pain, joint pain, and stiffness
Menstrual cramps
Nerve pain from a pinched nerve and Peripheral Neuropathy
Heel spurs
Chronic fatigue
Overweight (use a

full-body wrap

)
And much more.
Infrared Heating Pads FAQ
What is an infrared heat pad?
IR heating pads utilize either semi-precious stones (Jade/Tourmaline/Amethyst) or carbon fiber to emit deep penetrating infrared rays, that soothe, relax and promote healing of muscle pain, joint pain, and nerve pain. 
Is an infrared heat pad better than a regular heat pad?
Infrared rays penetrate deeper into your tissues – up to 3 cm deep – and reach your muscles, nerves, joints, and spine. Regular heating pads mostly heat your skin. 
👉 See more about infrared vs. regular heating pads
Can you sleep on an infrared heating pad?
The combined effect of warmth and relaxation is a perfect solution for a good and deep sleep. However, we advise to not sleep the entire night with it, to avoid overheating of the skin and dehydration.
👉 Most IR pads come with a timer that you set to automatically shut off after you fall asleep.
Does infrared light penetrate clothes?
Yes, infrared rays can penetrate through clothes, bandages, and dressings. 
Conclusion
In this post you've found the 5 best infrared heating pads – reviewed, compared, and rated – to help you make the right buy for you.
👉 Through my research, my updated recommendation is the UTK infrared heating pads. See my full review HERE.
I hope you've found this comparison helpful!
Let me know if you have any other questions or comments, o.k? 😊
To your health and happiness,
Meital
Sources
Gale GD, Rothbart PJ, Li Y. Infrared therapy for chronic low back pain: a randomized, controlled trial. Pain Res Manag. 2006;11(3):193–196. doi:10.1155/2006/876920
Masuda A, Koga Y, Hattanmaru M, Minagoe S, Tei C: The Effects of Repeated Thermal Therapy for Patients with Chronic Pain. Psychother Psychosom 2005;74:288-294. doi: 10.1159/000086319