What's the best infrared heating pad for muscle, joint and nerve pain relief?
In this post, you'll find my reviews, rating and comparison for the four top-rated infrared heating pads in 2019 – to help you find the right one for your needs (and budget).
Other than one, all the FIR heating pads you'll find below use natural stones (Jade/Amethyst) to deliver the therapeutic infrared wavelength.
Below the quick comparison, you'll find what we like and don't like about each IR heating pad, and our updated rating.
This post contains affiliate links.
Click here
to read my affiliate policy.
Why Use Infrared Heating Pads Heat Therapy?
Infrared heating pads are superior to "regular" heating pads because the natural heat penetrates deeper into your body (up to 3 inches inside) all the way to your muscles, bones, and nerves.
Infrared therapy is scientifically proven to quickly relieve pain, reduce stress, promote blood flow, and boost healing and recovering from any injury or condition – anywhere in your body.
👉 See 13 PROVEN benefits of infrared light therapy (opens in a new window)
How Do Infrared Heating Pads Work?
IR heating pads deliver far-infrared rays (the invisible part of the sunlight spectrum, felt as heat) either through semi-precious stones (Tourmaline/Jade/Amethyst) or carbon fiber material deep into your body tissues – all the way to your muscles, joints and spine).
The human body easily absorbs far-infrared heat and it also produces this type of light energy on its own, making this specific heat energy treatment completely natural.
The thermal effect of IR rays causes increased blood flow quickly, which helps deliver pain-relieving and healing blood components to arrive better and more quickly to the injured area.
✅ The 4 BEST Infrared Heating Pads: Comparison & Reviews
Below you'll find a comparison between the top 4 IR heating pads. Below each pad, you'll find a link to jump to our full review (pros & cons)
UTK Infrared
Heating Pads
Our Rating
4.8
Sizes
Small - 15x19
inches
Medium - 31x21
inches
Large - 24x70
inches

Weight
Small – 2.3 lbs
Medium - 6.6 lbs
Large – 11 lbs

Stones
Jade/Tourmaline

Temperatures
103-159 F

EMF Blocking
Yes
Price
Compare on
Amazon
The Amethyst
Mini Mat
Our Rating
4.8
Sizes
20 x 32
inches
Weight
8.5 lbs
Stones
100% Amethyst

Temperature
35-70 C
95 – 158 F
EMF
Blocking
Yes
Price
Check official site
HealthyLine
Our Rating
4.7
Sizes
Small – 18x18
inches
Medium - 32x20
inches
Large – 72x24
inches

Weight
Small – 5.2 lbs
Medium – 6 lbs
Large – 17 lbs

Stones
Jade/Tourmaline
Temperature
Up to 160 F

EMF
Blocking
Yes
Price
Check on Amazon
Thermotex
Platinum
Our Rating
4.2
Sizes
17 x 15 inches
Weight
2.5 lbs

Stones
3 carbon fiber
panels
Temperature
111-140 F

EMF
Blocking
No
Price
Check on Amazon
And now, see my reviews and pros & cons for each FIR heating pad:
1. Amethyst Mini Mat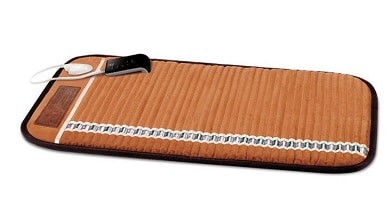 Amethyst Mini Mat pros
Covers the entire back and neck
Overheat protection
Digital controller
Storage and carry bag
Easy to set-up
EMF free
Multilayer waterproof cover
Timer
Adjustable temperature settings
Cons
Expensive
Hard surface (yet comfortable for me)
Confused about the RIGHT device for YOUR Needs?
Download Your Free PDF
– "Which Device Do I Need?" – and find out the best device for your specific condition – Right Now!
2. UTK Infrared Heating Pads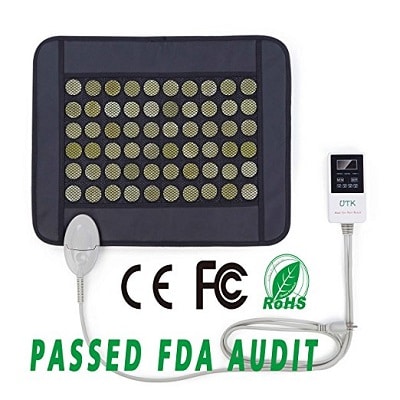 📢 February 2019 update: UTK has just released a new low back infrared (no EMF) belt – specially designed for lower back pain relief with infrared heat delivered via Jade stones. Since it's smaller, the price is also smaller (less than $60!).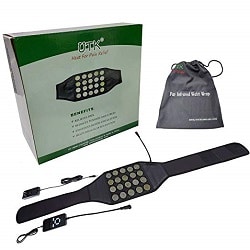 Plus, you can lower the price by 20% more by using our special coupon code found HERE – on Amazon.
UTK Infrared Heating Pad Pros
Heats up fast, Jade stones and negative ions
Extra-long electric cord
Flexible
Temp and time controller
The jade heating pad is pliable and portable.
It is available in multiple sizes.
The user is able to adjust settings using the hand-held controller.
The pad comes with a handy carrying case.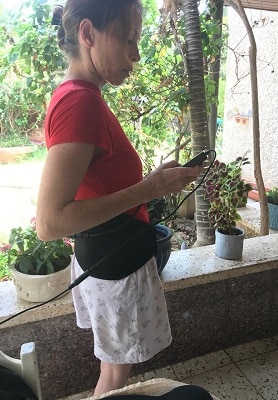 📢 See my full, detailed review for the UTK Infrared Heating Pads.
Attention
Great news! I got you an amazing coupon code! For a limited time, you can
use our coupon code to get a 20% (!) discount
on UTK infrared heating pads – the Tourmaline series. 
Go HERE
to apply the coupon code straight to your Amazon account.
Cons
Can't be folded around the neck
3. Thermotex Platinum (Bob and Brad)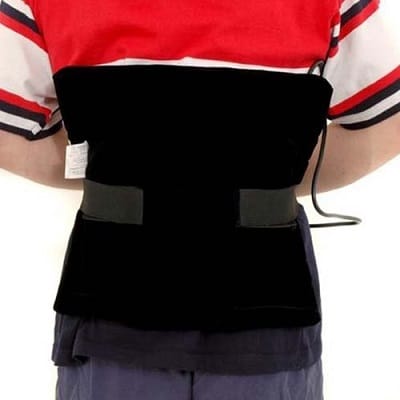 Thermotex Platinum Pros
Easy to keep in place with Velcro straps
Can be used almost anywhere on your body
Temperature up to 140 F
Made in Canada, high-quality materials
3 heating elements
Cons
Some people found it a bit stiff
May emit EMF radiation
4. HealthyLine Infrared Heating Pads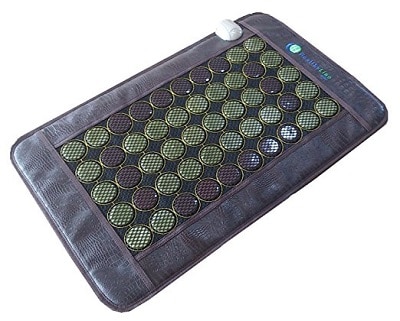 HealthyLineI Infrared Heating PadsPros
Jade and Tourmaline stones to emit infrared heat
High-quality materials, durable
Adjustable temperature
LED remote control
Lightweight
Made in the USA
Comes in multiple sizes
Cons
No session timer
The large one is expensive
How Do You Use an Infrared Heating Pad?
The high-quality FIR pads you've found here are all easy to use.
All you have to do is place them over the problem area (or the root-cause area, for example, the lower back if you have Sciatica), choose a temperature setting and treatment time, and relax.
When treatment is over, the IR heat pad will automatically shut off, and if you don't comfortably fall asleep, you'll feel completely relaxed, rejuvenated and pain-free.
👉You can use it every day, and some people use it twice or more a day, for 30-45 minutes – with no side effects.
Who Can Benefit from Infrared Heating Wraps & Pads?
Anyone with an acute injury or chronic condition involving all types of pain and inflammation can greatly benefit from FOR heat pads, including people with:
Muscle aches and pains
Muscle spasms
Hip pain
Fibromyalgia
Arthritis pain, joint pain, and stiffness
Menstrual cramps
Nerve pain from a pinched nerve and Peripheral Neuropathy
Heel spurs
Foot aches and pains
Chronic fatigue
Overweight (use a

full-body wrap

)
And much more.
👉 See the 14 incredible (and proven) health benefits of infrared light therapy!
Infrared Heating Pads FAQ
What is an infrared heat pad?
IR heating pads utilize either semi-precious stones (Jade/Tourmaline/Amethyst) or carbon fiber to emit deep penetrating infrared rays, that soothe, relax and promote healing of muscle pain, joint pain, and nerve pain. 
Is an infrared heat pad better than a regular heat pad?
Infrared rays penetrate deeper into your tissues – up to 3 cm deep – and reach your muscles, nerves, joints, and spine. Regular heating pads mostly heat up your skin. 
👉 See more about infrared vs. regular heating pads
Can you sleep on an infrared heating pad?
The combined effect of warmth and relaxation is a perfect solution for a good and deep sleep. However, we advise to not sleep the entire night with it, to avoid overheating of the skin and dehydration.
👉 Most IR pads come with a timer that you set to automatically shut off after you fall asleep.
Does infrared light penetrate clothes?
Yes, infrared rays can penetrate through clothes, bandages, and dressings. 
Conclusion
In this post you've found the 4 best infrared heating pads – reviewed, compared and rated – to help you make the right buy for you.
👉 Through my research, my updated recommendation is the UTK infrared heating pads. See my full review HERE.
I hope you've found this comparison helpful!
Let me know if you have any other questions or comments, o.k? 😊
To your health and happiness,
Meital