Is there a low-cost (and effective) alternative for the expensive home infrared sauna?
The answer is YES.
A portable infrared sauna.
While most home infrared saunas cost at least $1500 per unit (and up to $5000), the average personal infrared sauna (blanket/tent/pod) costs less than half this price and is just as effective.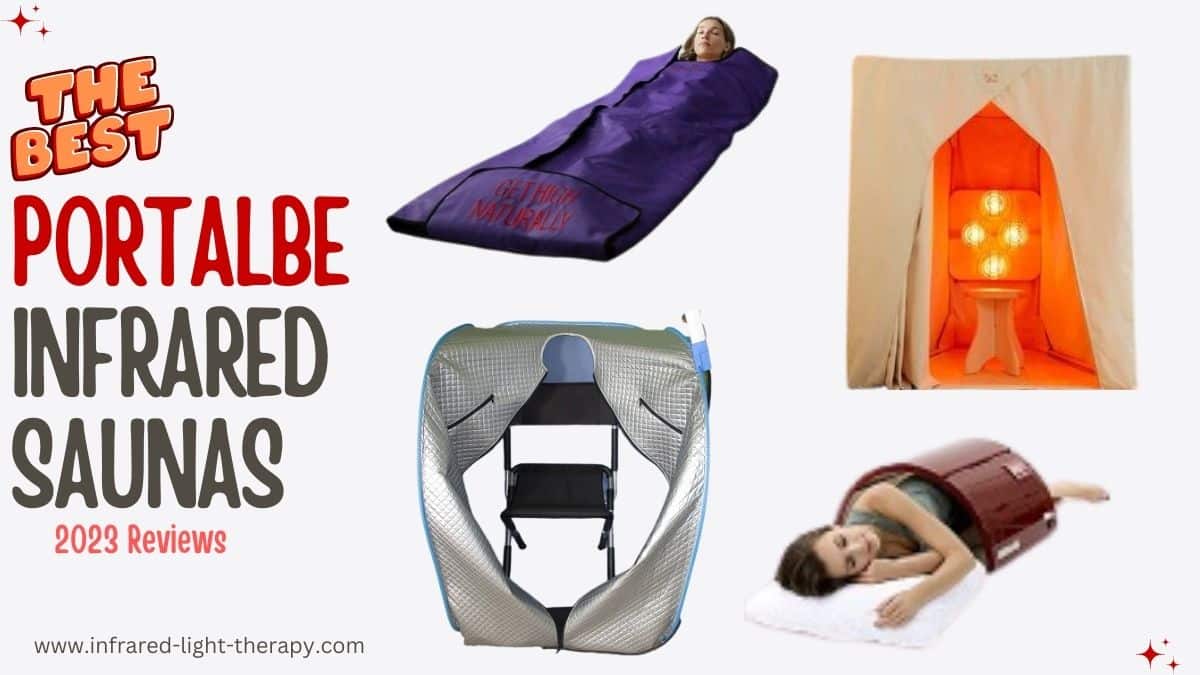 Portable infrared saunas include infrared sauna tents, infrared sauna blankets, and infrared sauna domes.
But:
Where do you find a high-quality and safe portable infrared sauna?
The answers are here.
We've researched and found the 6 best low EMF, safe, and effective portable infrared sauna tents, pods, and blankets of 2023 – to help you make the best decision for your health.
👉 In a Hurry?
see our comparison table first, or jump to our portable infrared sauna reviews!
No ads, reader-supported: This post may contain affiliate links, at no extra cost to you.
Regular Infrared Sauna vs. Portable Infrared Sauna
Compared to a wooden FIR sauna, a portable infrared sauna is portable, and can be easily packed and taken away with you or moved around your home – without it taking too much space.
It uses the same infrared technology as wooden saunas, it heats up just the same and faster, and the power consumption is lower.
Also, a portable IR sauna is easier to operate and maintain, requires no assembly, and it can be used without clothing.
Your head stays out of the sauna, which allows you to talk on your phone or watch TV.
1. Size
No doubt you'll need more space to accommodate a Wooden sauna.
Wooden Sauna sizes vary, but the average is 5 x 6 feet and can reach up to 7 x 8 feet. Portable saunas can be folded and take up very little space.
2.  IR Heating Elements
Wooden IR saunas mostly use carbon & ceramic far infrared heaters while portable saunas use carbon fiber or near-infrared bulbs.
You can achieve the same temperature and deep heat in a portable sauna as in a wooden sauna.
3. EMF Radiation
Since portable IR saunas are smaller and your body is closer to the infrared emitting material, most portable saunas radiate more EMF than a wooden sauna.
The best 2 person infrared saunas use EMF shielding elements to reduce exposure to electromagnetic radiation.
4.  Space Inside the Sauna
The smallest wooden sauna can accommodate 2 people.
A portable IR sauna can only be used by 1 person. Potentially, you can save electricity by allowing 2 people to use a home sauna, which you can't do with the portable one.
Also note that when you use a portable sauna, your head stays out during treatment.
5.  Extra Features
You can add many accessories to a wooden sauna, such as chromotherapy (LED lights), a music system, etc.
You won't find these features in a portable sauna.
6.  Price
Portable IR saunas cost much less than wooden saunas, about 1/3 of their price, yet they are just as effective as wooden saunas for your health purposes.
A portable IR sauna is a container intended to raise your body temperature and emit deep-penetrating infrared rays, to provide many amazing health benefits, including:
Pain relief
Full body detox (toxin and heavy metal release)
Stress Relief and deep relaxation
Weight loss (calorie burning)
Improved sleep
Increased blood circulation
Skin anti-aging
Mental clarity and better focus
Anxiety reduction (through activating the parasympathetic nervous system)
The 6 BEST Portable Infrared Saunas (Low EMF)
Below you'll find only high-quality and safe portable infrared sauna tents, pods, and blankets – researched and checked by us – for 2023.
 1.🥇 Higher Dose – Best Infrared Sauna Blanket 
Though most people use infrared sauna blankets for weight loss (you can burn 500 calories in one full treatment), you can use them to get all the health benefits of infrared therapy – including full body detox, pain relief, blood circulation boost, anti-aging, and more.
Infrared sauna blankets are similar to heavy sleeping bags; you enclose yourself in one as it emits infrared rays and builds body heat.
They are compact, lightweight, 100% portable, require no setup, easy to operate, and can be used in bed, on the floor, or in a chair.
Attention
Since you are wrapped in the blanket, you are very close to the IR-emitting material, so it's essential to get a LOW EMF sauna blanket!
Here's our top recommendation for a Low EMF infrared blanket in 2023: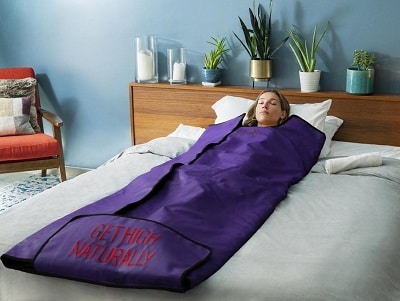 Infrared technology – carbon fiber and therapeutic crystals (Amethyst/Tourmaline)
EMF radiation – lowest on the market
Material: Waterproof Polyurethane (PU) fireproof cotton
Temperatures – 58 F – 158 F
Warranty – 1 year/14-day returns
The celebrity-favorite Higher Dose infrared blanket is the most popular low EMF infrared blanket, and for good reasons:
The new model now has a full Amethyst layer for an even and natural infrared rays emission, a Tourmaline layer (for generating negative ions), a clay layer for balanced heat, a charcoal layer (to amplify the detox process), and a medical-grade magnetic strip (for even more blood-circulation boosting).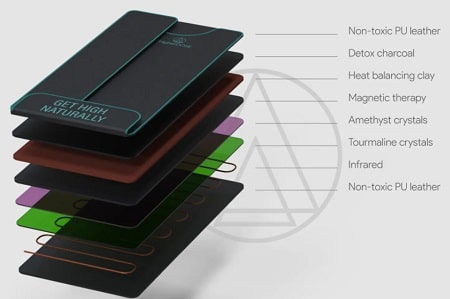 This high-quality and comfortable blanket will turn you into a sweaty burrito in no time, is easy to use, and is made with 100% toxin-free materials.
Treatment time is 50 relaxing minutes (increase the heat gradually!), which will detoxify you, take away your aches and pains, and leave you stress-free, bloat-free, and ready to take on the world.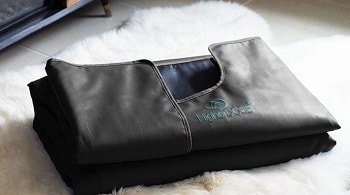 The blanket is easily folded and could fit under a bed, into a suitcase, and in a car – great for travel as well.
Dr. Stork and Dr. Batra of The Doctors day-time show tried the Higher Dose and reported a good sweat and a warm and relaxing feeling. They recommend it to people who want sauna treatments and do not have a home sauna to cut costs significantly.
Pros
The new model is well made and easy to use
Powerful enough to produce sweat even if you are an experienced sauna user
Produces negative ions
Has 2 therapeutic crystal types inside and a magnetic layer
Cons
High initial investment (but using my code MEITAL75 gives you a $105 discount!)
No accessories
✅ Available at Higher Dose ($594 with coupon code MEITAL75)
👉 Did you know? red light therapy is proven to reduce fat cells and cellulite appearance!
2. Durherm Infrared Sauna Tent – Lowest EMF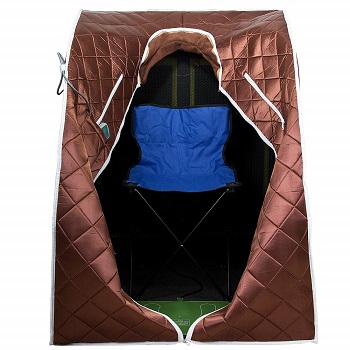 Through our research, the Durherm far-infrared personal sauna is the best one for the money. Here's why:
This sauna is almost EMF-free
Well-built and lasts for years
It uses the semi-precious Tourmaline stone panels to emit IR rays
It is large, which allows you to place yourself far enough from the EMF radiation
It comes with the most accessories – including a foldable chair, IR footpad, washable neck collars, and a controller.
EMF radiation – Through our research, this IR sauna emits only 3mG anywhere inside (measured with a Trifield meter), proving the company's claim that the sauna produces almost no EMF radiation.
Infrared technology – ultra-thin carbon fibers and tourmaline panels. Tourmaline is a semi-precious stone that emits natural IR rays when heated and has many more health benefits, such as producing negative ions.
It is commonly used in the best infrared heating pads and mats.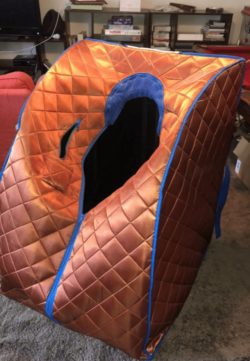 Temperature settings – The surface temperature on the heat panels is 104-140 F, and the air inside reaches up to 130+ F.
Warranty – 1 year
Accessories – heated Foot-pad, sports chair, 2x Terry Cloth Neck, foam pad
✅ Available on Amazon ($549)
3. Heat Wave Rejuvenator – Best Budget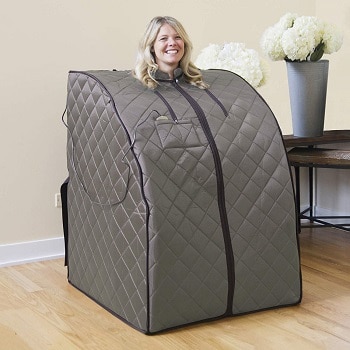 Size – 33.5″ x 28″ x 38″
Weight – 18 lbs.
Temperature settings – 5 heat settings up to 150 F
The Radiant saunas IR sauna is much less expensive than the Durherm sauna and is our second choice for the best far infrared portable sauna in 2023.
It is energy efficient, but the EMF radiation is a bit higher than the Durherm.
It uses carbon heating panels, placed evenly inside – for steady and even heat, and includes an air ionizer and some great accessories, including a canvas chair and a heated floor mat.
Infrared technology – 3 carbon heating elements, sealed by PET material (which is eco-friendly).
EMF radiation – through our research, this sauna emits about 15 Mg in the center, which is not as low as our first choice but is still considered safe.
Controller – with 6 automatic time settings.
Accessories – comes with a foldable canvas chair, neck collar, beach towel frame, heated footpad, foam floor mat, and an ionizer.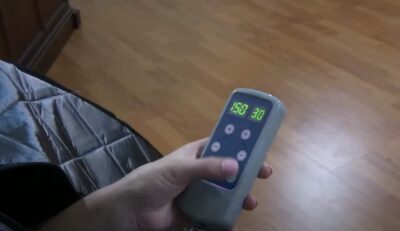 Rejuvenator Pros
Easy setup
Great accessories, especially the heated floor pad to treat your feet
Relatively low-priced
Foldable and portable, can be used anywhere
Has an auto shut-off safety feature
Cons
No heating panels in the front
Some heat escapes through the neck area
You'll need to use towels to prevent sweat all over the chair and foot pad
✅ Available on Amazon ($219)
4. Sauna Space

Best Portable Near Infrared Sauna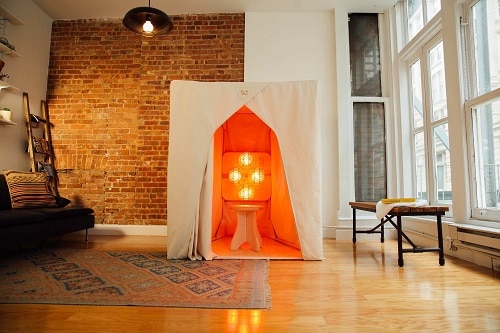 The Sauna Space near-infrared sauna tent is the best NEAR infrared sauna on the market – and emits zero EMF radiation.
(Unfortunately, that's why it's the most expensive one)
This handmade near-infrared sauna, which is made in the USA, uses 4 high-power near-infrared heat bulbs (on a ready-made light panel) inside a cabana enclosure made with high-quality natural materials.
Near-infrared light is known to be more deep-penetrating than far-infrared light and emits close to zero EMF.
Here's why we love this hand-made beautiful portable sauna:
100% natural materials (chemical-free cotton and zero VOC-rated, hypoallergenic wood and bamboo)
full spectrum light emission that peaks in the near-infrared region (600-950nm)
Almost zero EMF tungsten heat lamps
Handmade stool
You can plug it anywhere on a standard outlet, no special wiring is needed
Operating the sauna will only cost about $0.16 per hour of use
100 Day Money-back guarantee (free trial)
👉 More details
Entrance Width: 52 inches
Rear Width (where Light Panel is mounted): 24 inches
Depth: 52 inches
Height: 63 inches
Setup time: 30 minutes max (1 person, tool-free!)
✅ Available at SaunaSpace ($3900 with a 10-year warranty and a 100-day trial)
Note: You can buy only some of the parts. For example, you can only buy the 4-bulb light panel and use it in your bathroom.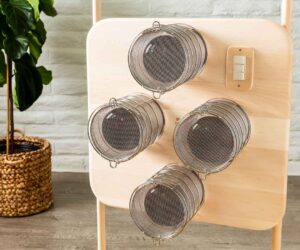 See
9 INCREDIBLE
infrared sauna benefits
& results
from people worldwide – including chronic fatigue, muscle pain, joint pain, cellulite reduction, and more!
5. Relax Sauna Portable Sauna – Hottest Infrared Sauna Tent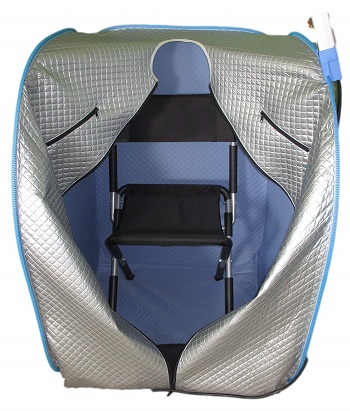 Size-  31.5″ x 31.5″ x 45″
Weight – 26 lbs.
Temperature – up to 170 F
This high-quality low-EMF infrared sauna tent emits only 1.3 mG on the chair in the center of the inside tent and is one of the highest-rated FIR saunas on Amazon.
The company claims that this sauna produces 95% FIR at 4 – 14 microns, as compared to 30%-50% useable FIR in other saunas, and it is definitely the hottest portable infrared sauna on the market (though you can select the number of operating heaters to customize your treatment).
Plus, pre-heating time is literally just a few seconds. And, the chair is more than a folding camping chair compared with other sauna tent chairs.
However, the fan noise is a bit loud, and the price is well above average.
Infrared Technology – ceramic radiators that are FDA-cleared medical devices.
EMF – this is a very low EMF FIR sauna (most EMF is near the feet area)
Storage – this sauna can be folded like a windshield sunshade and you can slip it into a free-provided carry bag and take it with you when you travel as well.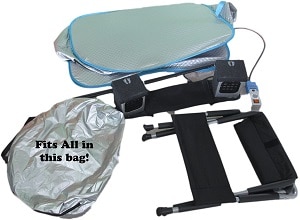 Tent Material – special nylon fiber tested and approved for high temperatures without outgassing. No PVC materials.
Cost to operate – through our research we've found that if you use the Relax Sauna for an hour every day, the average increase in your energy bill should only be about $4-$5.
✅ Available on Amazon.($1500)
6. Tuning Dome Portable Infrared Sauna – Best Sauna Dome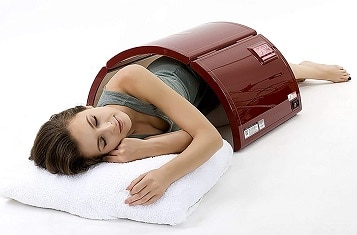 Infrared technology – Active Carbon Fiber Heating
Temperature settings – 35 – 85 degrees Celsius
Warranty – 1 year
Portable infrared sauna domes are designed to deliver infrared rays just like tents, the only difference is the arc design, which allows you to lie down and relax – instead of sitting upright on a chair.
This special design allows people with difficulty sitting up straight for the entire detox treatment to also enjoy infrared home saunas.
The Tuning Dome Ray sauna uses active carbon fiber heating elements and bio-ceramic heaters to deliver infrared rays (7-15 micron wavelength), uses very little electricity, can be carried anywhere, and is easy to set up, with variable temperature and time settings.
This foldable FIR sauna dome comes with a carrying bag and a controller with 3 times settings, and 3 temperature settings (35℃ – 85℃)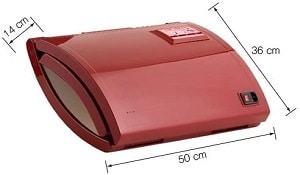 The dome won't cover your entire body in one treatment, but you can place it anywhere over your body when you lay down on your bed, your sofa, or a carpet.
The body part you are treating must be naked, and you can use it twice a day for 30-60 minutes. However, note that this is a relatively high EMF sauna, not fit for sensitive people.
Pros
Made in Korea
Foldable and easily portable
Low power consumption
Cons
Does not cover the entire body in one treatment
High price
✅ Available on Amazon.($550)
Infrared Sauna Blanket vs. Tent
While both sauna blankets and sauna tents are lightweight and portable, a sauna blanket is usually a bit easier to fold, store, and move around than a sauna tent (which always comes with a chair), and does not require any installation or setup.
However, since a sauna blanket comes in direct contact with your skin, you have to wear thin clothing when you use it, compared with a sauna tent, which can be used without clothing and does not touch your skin.
The heating elements inside a sauna blanket (which emit some EMF radiation) are much closer to your body, so it is critical to choose a low-EMF and high-quality sauna blanket.
In a sauna tent, heating elements are placed further away from your body (but not far enough to emit zero EMF). Both sauna types need to be tested for low EMF radiation.
Do Portable Infrared Saunas Work? 
A portable infrared sauna works in the same way as a regular infrared sauna.
It uses either carbon panels or carbon fibers to emit deep-penetrating light in the infrared wavelength, or near-infrared bulbs to emit the near-infrared wavelength.
It keeps the heat generated surrounding you through either a closed tent, a pod, or a blanket that covers your entire body – except your head.
You'll get the same pain-relieving and detoxing benefits as a regular infrared sauna.
Is the EMF Radiation in Portable Saunas Higher?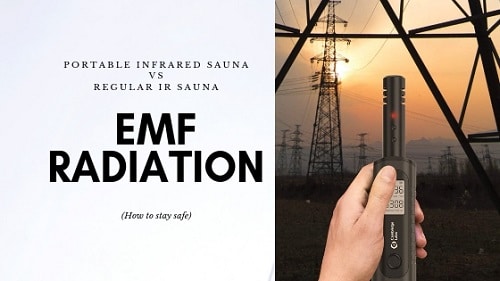 Since portable IR saunas are smaller, your body is closer to the infrared-emitting material – which almost always emits high electromagnetic radiation.
That's why it's important to only buy a SAFE and low EMF portable infrared sauna, with EMF-blocking elements inside.
EMF radiation in the Interior and above (where your head would come out) should range between 5-15 milligauss, and no more.
There are no EMF-free infrared saunas, and if you see a brand advertises this, it is false advertising.
Conclusion
Portable infrared saunas can be the most cost-effective way to treat your entire body with wonderfully effective infrared rays.
Whether you go for an infrared sauna tent, dome, or blanket – make sure to only buy a LOW EMF sauna, to enjoy the health benefits – without "cooking" yourself in EMF radiation.
Have questions? concerns? Use the comment section below (we answer everyone), or message us directly on our Facebook page.
To your health and happiness,
Meital
Meital James
Founder and CEO of 4 healthy living blogs, has a background in Naturopathic medicine, research, journalism, and nutrition. Her blogs are the culmination of her thousands of hours of research and experience and all the posts are verified by scientific findings.