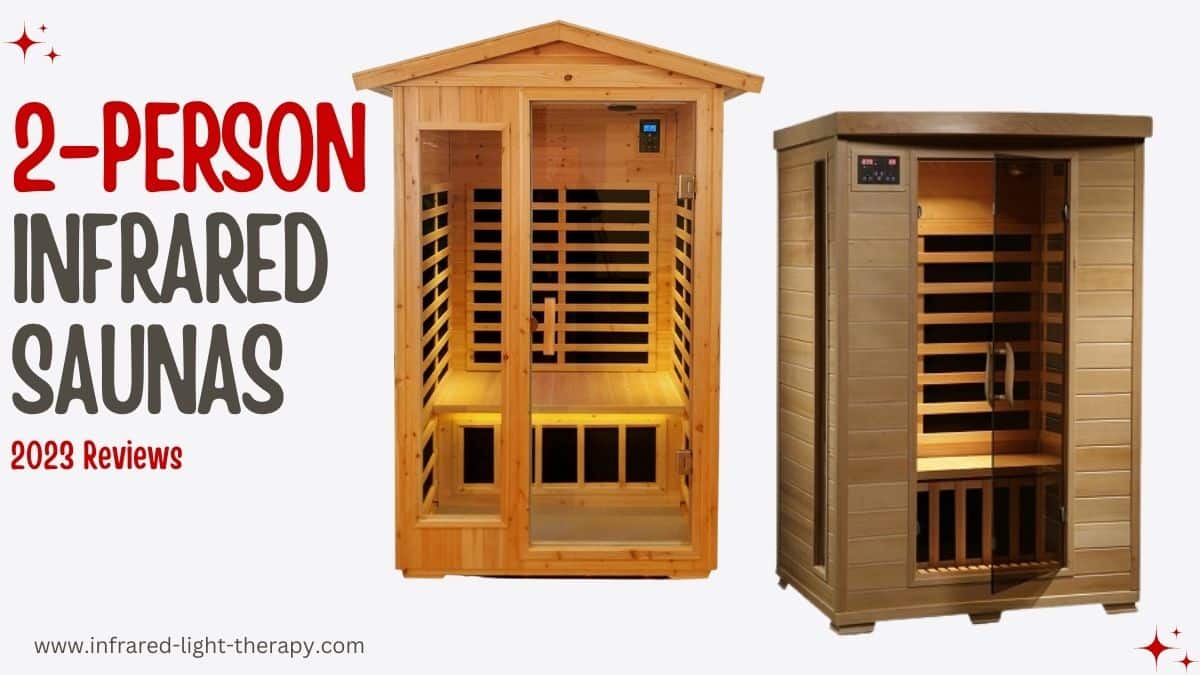 Finding the best 2 person infrared sauna is not an easy task, though it's one of the best things you can do for your health.
(You can see why in my post – 9 Incredible Far Infrared Sauna Benefits, including fibromyalgia, chronic fatigue, cellulite, pain relief, and more.)
The staggering amount of health and beauty benefits of infrared saunas can literally make your jaw drop. And, a two-person sauna is big enough for two people, yet small enough to fit an average room.
Which is the best and safest & best 2-person infrared sauna – for the money?
We've researched long and hard to find the answer, and you'll find it here: Reviews and ratings for the 4 best 2-person infrared saunas in the market.
This post may contain affiliate links, at no extra cost to you.
2-Person Infrared Saunas Reviews & Comparison
If you're in a hurry, here's a short comparison between our top 3 picks. Below each table, you can jump to our infrared saunas reviews, including their pros & cons.
Best Infrared Saunas Comparison
👉 Can infrared saunas really help you burn calories, reduce belly fat and lose weight? the science-backed answer is inside our post about infrared saunas and weight loss
And now, let's get to the point.
What's the Best Two-Person Infrared Sauna for Your Home?
It's time to review our top 4 choices for home infrared saunas – for 1-2 people:
1. HeatWave Hemlock Infrared Sauna

Best Value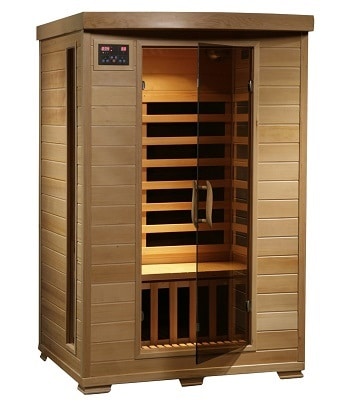 Size: 49″ W x 39″ D x 75″ H
Interior dimensions: 43″ W x 35″ D x 67″ H
EMF radiation – 2.3mG
Temperatures – up to 141 F
The Radiant Saunas (HeatWave) home infrared sauna is made with solid Hemlock wood, this one has 6 carbon heaters, including a floor heater, and features 7 chromotherapy lights.
It heats up to 120 in about 30 minutes and then slowly goes up after that. In 1 hour it will reach 132 F.
It's a solid build. Nice extra features with the radio, speakers, chromotherapy lights, and controls both on the outside and inside.
Plus, this model is loaded with extras:
A floor heater
Tinted tempered glass door
A towel hook
A magazine rack
2 backrests
electronic oxygen ionizer
Approved by CE, CETL, RoHS, and ISO 9001 certifications
The HeatWave infrared sauna is high quality, has great add-ons, smells great, has a low power consumption yet high infrared emission, and is easy to assemble.

HeatWave Infrared Sauna Pros
The oxygen ionizer purifies the air inside the sauna
The tinted tempered glass makes it more stylish and you don't feel trapped in a box
It has adjustable roof vents that you can open to the outside air if you need some fresh air.
Easy to unload and assemble with buckle construction
LED controls can be used both inside and outside the sauna, you don't have to get out to adjust the settings
Uses a regular home outlet
Interior light allows you to read while you relax in your sauna
Made with solid "green" wood
Can be installed over a carpet
No weight limit
Cons
 Only a 1-year warranty for the radio
 You have to wear socks so you won't burn your feet if you set the sauna to the highest temperature
✅ Price – $3136 at Overstock, or check today's price on Amazon
2. Dynamic Santiago 2-person Far Infrared Sauna –

Eco-Friendly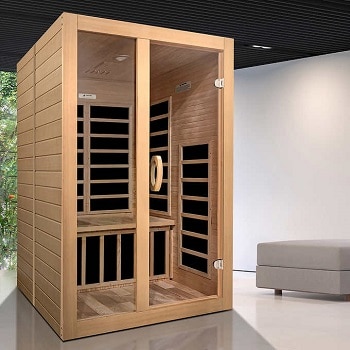 Dimensions – 6′ 3" H x 3′ 4" W x 3′ 10" D
Temperature – maximum 145F – ideal operating temperature between 120F to 130F
EMF radiation – 8.0mG
The Santiago Dynamic Sauna is the newest model of the well-known Dynamic Saunas brand and is quickly becoming very popular.
We like that the Santiago is built with the environment-friendly reforested Canadian Hemlock, which retains heat more efficiently, heats up faster, and so is energy efficient.
It has 7 low EMF infrared heating panels that operate at 8-12 microns and cover most of the saunas' interior, and this allows the heat to flow evenly inside it.
Here's what you get:
7 low EMF heating panels – 2 on the rear wall, 2 on each side wall, and 1 under the bench
LED control panel – with temperature and time settings
Reading light
Music System MP3 aux connection and dynamic speaker with pre-amp (no radio included)
Tempered glass door
Chromotherapy lights
Roof vent
A front wall with clear stationary tempered glass
1 seating bench
Reflexology foot heaters (nice!)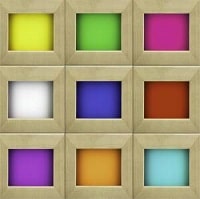 Dynamic Santiago FIR Sauna Pros
Relatively low price (we found the lowest price at Wayfair)
Environment-friendly and energy-efficient sauna
Easy to assemble – clasp together assembly (takes 45 – 60 minutes for 2 adults)
Can be installed on a carpet and anywhere indoor
You can listen to music inside it
Chromotherapy LED lights
Reflexology foot heaters
Free shipping
5-year warranty
ETL listed
Cons
Maximum capacity is limited to 350 pounds
✅ Price – $2099 at Wayfair (free shipping)
3. Dynamic Saunas Barcelona Infrared Sauna –

Lowest Price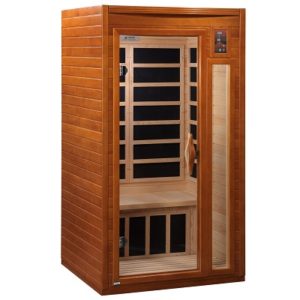 Size: 39.2 x 35.3 x 72.5 inches
Bench dimensions: 16×36 inches
EMF radiation – 2.3mG
Temperatures – up to 130 F
The Dynamic Saunas Barcelona (with 6 carbon panels) is one of the least expensive ones on our list.
The Barcelona infrared sauna is built with reforested Canadian Hemlock wood and is double-paneled constructed with the thickest interior and exterior wood planks.
It was the first we had seen at this very favorable price point, at a size that would fit easily in the house, and does not need special wiring.
We concluded that it's high quality relative to its price.
Here's what you get:
6 low EMF Far Infrared carbon heating panels
Includes a foot heater
MP3 Auxiliary Connection
Temperature up to 130 F (operates most effectively at 120 F)
Soft-touch interior and exterior LED control panel
Clear tempered glass doors
Clasp together assembly
Comes with a towel holder and magazine rack
It can be installed on a carpet and at any indoor location, including the basement, garage, or walk-in closet.
Easy assembly – takes 30-45 minutes.
Every part is light enough to be carried by one person, except for the glass doors
Low EMF – 2.3mG at a 24cm distance
Any phone, or MP3 player with a 3.5mm port hooks to the speakers. It comes with a wire to attach your device to the speakers.
It comes with a remote for the lights, the inside-outside control panel is very convenient.
Cons
Some people would say that calling it a 2-person sauna would be a stretch. These two people should really like each other to go in together.😉
The foot heater does not get warm enough. However, sitting sideways on the bench takes care of that.
EMF reading of this sauna is the highest one compared to the other two (when looking at all measurements)
✅ Price – $1899 at Walmart, or check today's price on Amazon
2. JNH Lifestyles 2 Person Infrared Sauna –

Popular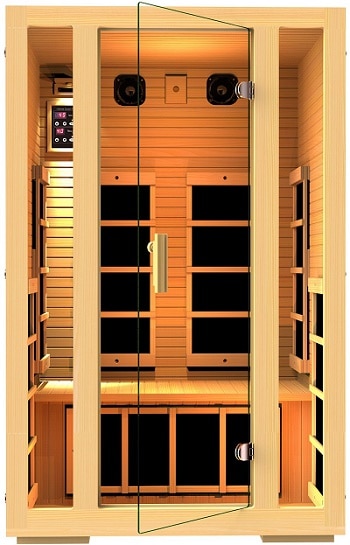 Size: 47.3 x 75 x 39.5 inches
EMF radiation – 2.omG
Temperatures – up to 140 F
The JNH 2-person sauna combines quality construction, efficient infrared carbon heaters, low EMF, good style, and a fair price tag. The unit seems very well built and sturdy, but you'll need two people to assemble it.
Here's what you get:
7 low-EMF carbon far infrared heaters (2.0 mG)
15 amps  (just like any household appliance)
FSC certified Canadian Hemlock wood construction
Dual wall construction
Two premium speakers along with an amplifier via a 3.5mm auxiliary plug
LED lighting
Digital controller for temperature and treatment time
Maximum temperature: 140 F
No maximum weight limit for people using it
No need to clean it
5-year warranty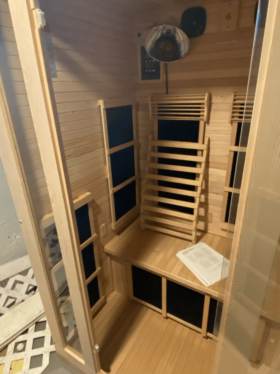 The JNH carbon infrared sauna is high-quality engineering and planning for its price.
It's stylish, made with good material, safe to use, and comes with great customer support. It's easy to unload and assemble and has a fair price tag, which makes it the best selling home infrared sauna in the last few years.
JNH Infrared home sauna Pros
 Stylish
Easy to unload and assemble. Takes about 30 minutes once you finish unloading the parts.
High infrared emission via carbon heaters, located in the back, side, and calf areas
Made with "green" wood, no chemicals added. Canadian Hemlock is a good combination of strength and weight.
UL Listed components and ETL Approved
Has a digital controller for temperature
 Well insulated, keeps the heat inside and the cold outside
All front is (safety) glass, you don't feel stuck in a box
Cost-efficient light bulbs
Takes 10-15 minutes to reach 125 F. Pretty quick.
You can listen to music while you're in it
You can install  it on a carpet
Customer support is top-notch
Cons
No backrests. However, you can easily get one on Amazon.
 Assembly instruction could be clearer
How to Choose a Home FIR Sauna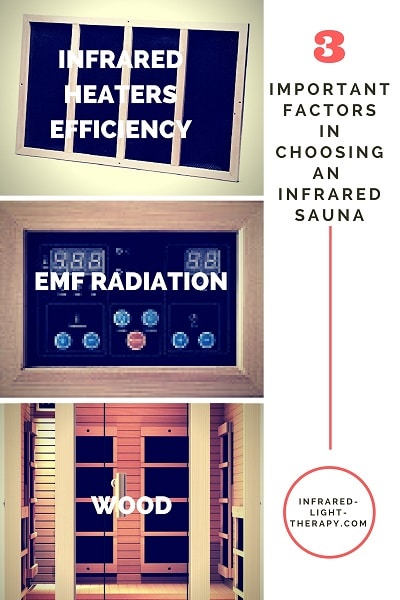 This is important:
An infrared sauna can be the ultimate health-promoting tool you'll ever have, but only if you follow a few important quality and safety rules before you buy one.
For example, it has to be built with the right type of wood, and it has to be low EMF (electromagnetic field) radiation.
We'll explain these examples and a few more important features below.
1.  Low EMF radiation
Choosing a low EMF infrared sauna is the most critical factor for your safety. A safe level of EMF is considered to be anything below 3.0mG.
Through our research, we've found that there's no zero EMF infrared sauna out there, but as long as the levels are at the safe readings, the difference between 2.0mG and 0.05mG is not critical.
In 2021, the most popular home infrared saunas use carbon as a heating element, which is better than the Ceramic used in old saunas.
However, carbon inherently emits higher EMF.
The best far infrared sauna brands have reduced the EMF levels emitted from their carbon levels via protecting layers.
If you are looking for the best NEAR infrared home sauna – this is the best one in 2023.
2. Infrared Heater Efficiency
The material construction of the infrared heaters inside the sauna determines the quality of heat reaching your body, and ultimately the quality of your infrared sauna. Here are the 3 main types of infrared heaters:
Ceramic – is considered as the old infrared technology and has a small infrared emission surface and a shorter lifespan.
Many manufacturers still offer them because they are cheaper than large high-tech carbon heater panels.
Carbon heater panels – considered the most advanced infrared therapy heating systems. They have a greater heat distribution potential. Plus, the surface temperature of carbon heaters is lower (about 150-170 degrees F).
With carbon heaters, you get an even, effective infrared wave exposure over your entire body, no matter where you position yourself in the sauna.
Ceramic/carbon blend – the cost-effective best of both worlds solution. It combines low EMF (from ceramic), efficient infrared emission, and an affordable price.
Bottom Line
Since the quality of and efficiency of the infrared heaters determine how well your infrared sauna works (more benefits/less time for results), we recommend only buying a carbon heater/ceramic+carbon infrared sauna.
3. Best Wood for Infrared Saunas
Here are the main types of wood used in home infrared saunas:
Western red cedar – high quality, naturally durable, light, has a high resistance to decay and is known for its pleasant aroma. The main benefits of cedar are its beauty and its durability (which is more important for an outdoor infrared sauna than an indoor one).
Nordic spruce – European in origin, light in color, no-odor material, and has a slight resistance to decay.
Canadian Hemlock – is the least expensive one and requires mild treatment from time to time. However, its hypoallergenic properties, along with a good balance between weight and strength, make it a good choice for an infrared sauna.
Bottom Line
All these wood types are non-toxic and fit for an indoor sauna (that isn't exposed to hard environmental conditions). The more economic infrared saunas use Canadian hemlock, which lowers the total price.
How Much Does a 2-Person FIR Sauna Cost?
A 2-person far infrared sauna will cost between $1500 to $6000 or more, depending on the wood type, size (Cedar is the best and most expensive one), number of infrared heaters, type of heaters (ceramic is cheaper than carbon), weatherproofing (roof), and number of accessories inside.
The lower-cost models are made for indoor use, usually with Canadian Hemlock wood, and contain 4-6 infrared heaters.
Mid-range models cost between $1800 to $3000 and are usually made from Cedarwood and contain 6-8 carbon fiber infrared panels.
The highest-end 2-person infrared saunas cost between $3000 to $6000 and are made with red Cedarwood, are larger in size, and contain 7-8 carbon fiber heaters spread all over the sauna, including the floor.
Some of them include a roof so they can be placed outside. They are usually packed with accessories, including backrests, oxygen ionizers, chromotherapy lights, towel racks, and more.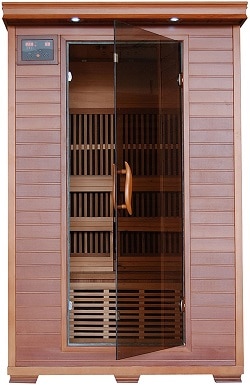 How Much Electricity Does a 2-Person Infrared Sauna Use?
Most infrared home saunas do not use a lot of electricity. Using a 1000W sauna for one hour will cost you about 12 cents. If you use your IR sauna for an hour every day, it will cost you less than $5 per week. Infrared saunas are cheaper to run than traditional saunas.
It's worth noting that some infrared saunas may have energy-saving features that can reduce electricity consumption. Also, the cost of running the sauna will depend on your local electricity rates, which can vary widely depending on your location.
How Frequently Should You Use an Infrared Sauna?
Far Infrared saunas are considered safe to use daily. In fact, you'll get quicker results if you use it more than 3-4 times a week.
As always, listen to your body and if at some point you feel uncomfortable – take a break for a few days.
And, hydrating like crazy is critical, because these treatments will make you sweat. A lot.
How Long Should You Stay in an Infrared Sauna?
On average, most people sit inside the sauna for 30-45 minutes. Use at least twice a week starting with 10-15 minutes at a time and working up to 30-40 minutes – slowly. Do not do infrared heat treatments more than twice a day. Make sure to hydrate before, during, and after your IR sauna sessions.
Conclusion
You've just found the 4 best INDDOR home infrared saunas in the market with a fair price tag on all three.
(If you're interested in an OUTDOOR sauna – see our post about the only true weather-resistant FIR saunas.)
Our #1 choice for a 2-person infrared sauna is the HeatWave Hemlock Sauna. It's built with high-quality materials, it has low EMF and infrared emission is high – and it has loads of accessories, including a floor heater.
The 2-person saunas are our favorite because you can use them with a friend or a loved one, while their size fits most average rooms. Plus, they're more affordable than a larger sauna, yet offer the same health benefits.
👉 If you feel your budget can't handle this type of investment right now, consider getting a portable infrared sauna instead.
I hope you've found my research and conclusion helpful and time savings. Please let me know if you have any other questions or concerns – in the comments below.
To your health and happiness,
Meital