Can red light therapy stop hair loss and start new hair growth?
Can it stop hair thinning, bald spots, and balding for both men and women?
In this post, you'll find the science behind red light therapy for hair growth, before and after pictures, and how to use low-level laser hair treatments – at home.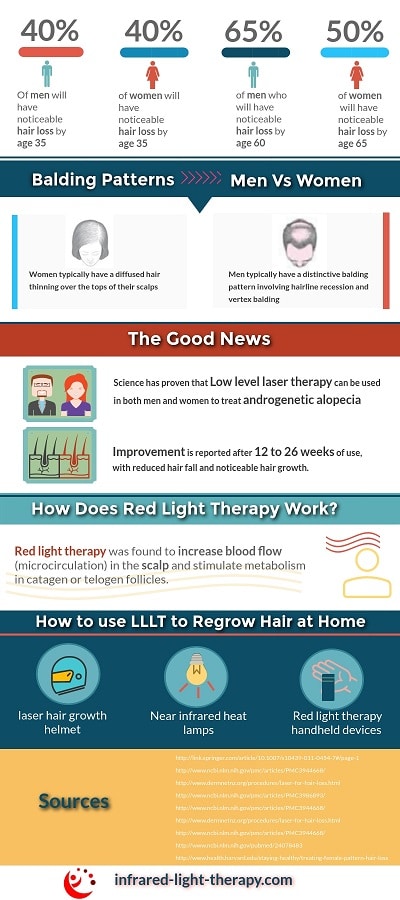 This post contains affiliate links, at no extra cost to you.
What if there's a safer, natural (and possibly better) alternative for minoxidil, finasteride, and hair transplants?
Keep reading and find out.
👉 In a Hurry?
Jump to the best ways to use red light therapy for hair growth – at home!
What Does Red Light Therapy Do to Your Hair?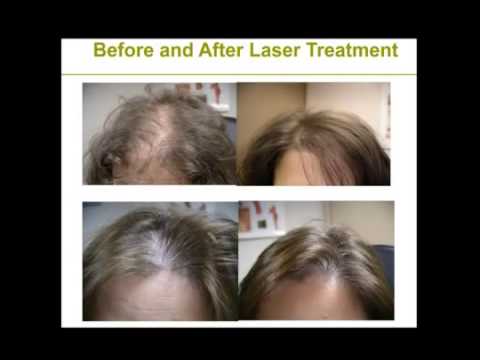 First, let's agree on some (disturbing) facts:
1. Men typically have a distinctive balding pattern involving hairline recession and vertex balding.
2. Women normally suffer from diffuse hair thinning over the tops of their scalps.
3. For both men and women, this feels horrible.
The hair growth cycle consists of 3 phases – growth (anagen phase), resting (telogen phase), and shedding (catagen phase).
Red and near-infrared hair growth light therapy was found to increase blood flow (micro blood circulation) in the scalp and stimulate metabolism in catagen or telogen follicles.
This result is an accelerated production of anagen hair – new hair (stimulation of epidermal stem cells in the hair follicle bulge and shifting the follicles into anagen phase).
Here's the good news:
Science has proven that Low-level laser therapy can be used in both men and women to treat androgenetic alopecia.

Studies

show that cold laser can regrow your hair on the top of your head/crown and along the forehead hairline
Research proves that LLLT has no side effects, is painless, and is safe.
Improvement is reported after 12 to 26 weeks of use, with reduced hair fall and noticeable hair growth.
How to Use Red Light Therapy for Hair Growth
Here are the 3 Ways You Can Treat Your Hair Loss with low level laser – at Home:
1. A Laser Cap for Hair Growth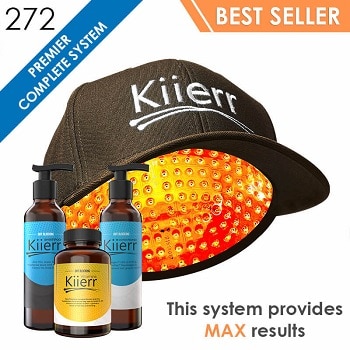 The BEST laser caps have been clinically shown to:
Grow new hair
Double the follicle diameter of existing hair (reverses miniaturization)
Slow (and even stop) hair loss
👉 See our comparison for the 3 best-selling laser caps of 2023 – HairMax vs. Illumiflow vs. Kiierr!
2. A Laser Comb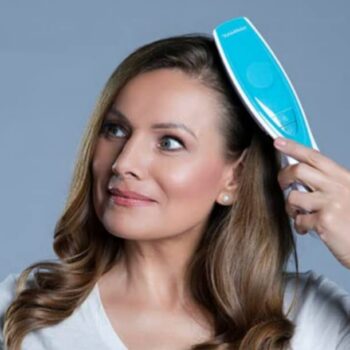 This laser comb for hair loss requires time devoted to carefully moving the comb through the hair to allow laser penetration to the scalp.
The main advantage of a laser comb is the direct contact the device has with the scalp, which makes sure the maximum strength of the light is utilized and absorbed through the skin. This is most beneficial for people with long hair, or thick hair that acts as a barrier to the light.
The HairMax Laser Comb is the only FDA-cleared laser brush device for the treatment of hair loss.
However, the results vary.
For some people it works, for others, it doesn't. Many times the effort required makes people quit the treatment, and this prevents the desired results.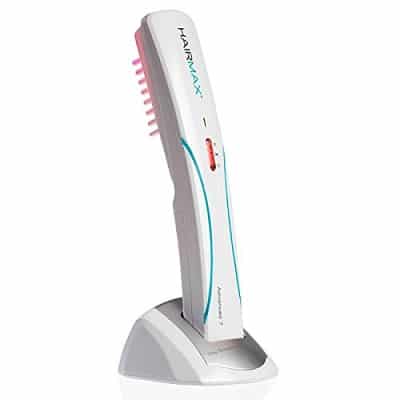 3.  A Red Light Therapy Lamp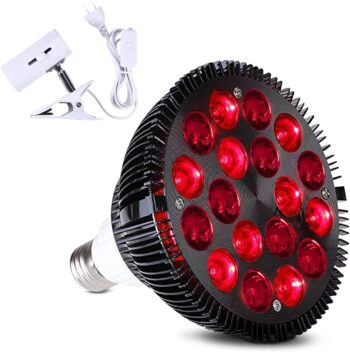 Here's how to use a simple red light therapy lamp for hair growth:
1. Look for a bulb or lamp that emits red light at a wavelength of 650-660nm, which has been shown to be the most effective for stimulating hair growth.
2. Position the lamp about 6 inches away from your scalp, making sure that the light is hitting the areas where you want to promote hair growth.
3. Set a timer to 10-30 minutes, depending on the strength of the device.
4. Use regularly- to see results, it's important to use the lamp regularly. Most experts recommend using it 2-3 times per week for several months.
You can also get a red light therapy lamp with a convenient base – ready to use, such as this one: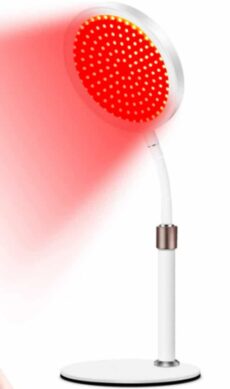 👉 If you have thick, coarse, or long hair in some areas, you may need a laser comb to allow the light to reach your scalp in those areas. Learn more in our post comparing laser helmets to laser combs.
When Can You Expect Results?
Results from red light therapy devices for hair growth can vary depending on individual factors such as age, genetics, and overall health.
However, some studies have shown that red light therapy treatments can increase hair counts, boost hair thickness, and improve the overall appearance of hair – after at least 12 to 26 weeks of regular use.
That's why good companies, such as HairMax, offer a 5-6 month money-back guarantee – to allow you to check your results and get a refund if you don't see any.
However:
You have to be consistent and do not expect results in less than a month. For some people, it can take up to a year to see full potential results.
That;s why
Red Light Therapy for Hair Loss: Is it Proven to Work?
As with all good things, this discovery was accidental:
In 1967, just a few years after the first working laser was invented, a Hungarian scientist wanted to test if laser radiation can cause cancer in mice.
He shaved their hair, divided them into two groups, and gave a laser treatment with a low-powered (694 nm) laser to one group.
The surprising results?
The mice did not develop cancer. The hair on the treated group grew back much faster than the untreated group. This was the first demonstration of laser "biostimulation".
What about the latest studies?
This paper, published in the Lasers in Surgeries and Medicine Journal in 2013, has researched all clinical studies in PubMed and Google Scholar regarding hair loss treatment with LLLT and concluded:
"Controlled clinical trials demonstrated that LLLT stimulated hair growth in both men and women. Among various mechanisms, the main mechanism is hypothesized to be stimulation of epidermal stem cells in the hair follicle bulge and shifting the follicles into anagen phase."
Another paper, published in 2016, analyzed 11 studies, which investigated a total of 680 patients, consisting of 444 males and 236 females (with male and female pattern hair loss).
The results were extremely positive:
"Nine out of 11 studies assessing hair count/hair density found statistically significant improvements in both males and females following LLLT treatment."
Additionally, hair thickness and tensile strength significantly improved in two out of four studies.
So now let's get practical:
What's the Best Wavelength for Hair Regrowth?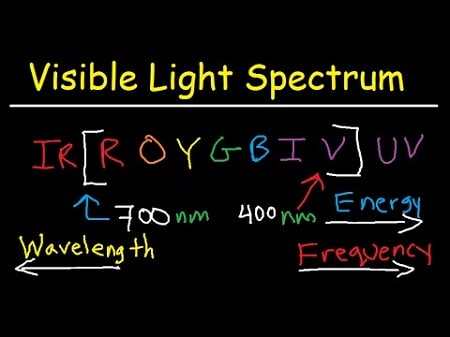 Through analyzing many studies, we found the best wavelength for hair regrowth to be 655nm. Some studies achieved the same results by using devices in the range of 630 – 670 nm. 
How Much Does Laser for Hair Growth Cost?
Look:
When I heard how much in-office hair lasers cost a year (about $4000), I almost fainted.
The good news is:
The home version of strong LED (light-emitting diode) light (a real, screw-in red light therapy light bulb) is inexpensive and available to everybody.
Summary
In this post, I've shown you the amazing ability of red light therapy in stopping hair loss and regrowing hair on the scalp.
Men and women with androgenetic alopecia, as well as people who have lost their hair due to chemotherapy, can benefit from this painless, non-invasive, and safe way to regrow hair.
The benefits of LLLT for hair loss:
1. Can be used in both men and women
2. Noninvasive, painless, natural, and safe
3. Home treatments are relatively inexpensive
4. Hair growth can occur on the top of the head and along the hairline of the forehead as well.
5. Visible results can be seen after 12 to 26 weeks of use.
What have you tried for hair loss? Have you tried red light therapy? Tell me, I'm here to help.
To your health and happiness,
Meital
Studies:
Chung, H., Dai, T., Sharma, S.K. et al. The Nuts and Bolts of Low-level Laser (Light) Therapy. Ann Biomed Eng 40, 516–533 (2012). https://doi.org/10.1007/s10439-011-0454-7
Low‐level laser (light) therapy (LLLT) for treatment of hair loss, Pinar Avci MD, Gaurav K. Gupta MD, PhD
, Jason Clark MD, Norbert Wikonkal MD, PhD, Michael R. Hamblin PhD, https://doi.org/10.1002/lsm.22170
Jimenez, J.J., Wikramanayake, T.C., Bergfeld, W. et al. Efficacy and Safety of a Low-level Laser Device in the Treatment of Male and Female Pattern Hair Loss: A Multicenter, Randomized, Sham Device-controlled, Double-blind Study. Am J Clin Dermatol 15, 115–127 (2014). https://doi.org/10.1007/s40257-013-0060-6
The growth of human scalp hair mediated by visible red light laser and LED sources in males, Raymond R. Blanche BS , Adam B. Bodian MD, Richard P. Chiacchierini PhD, Adolfo Fernandez‐Obregon MD, Eric R. Kazmirek BS, https://doi.org/10.1002/lsm.22173
Meital James
Founder and CEO of 4 healthy living blogs, has a background in Naturopathic medicine, research, journalism, and nutrition. Her blogs are the culmination of her thousands of hours of research and experience and all the posts are verified by scientific findings.