A chronic or non-healing wound can be very stressful.
In some cases, it can become infected and lead to amputation, or worse.
When I found that red and infrared light therapy can heal any wound up to 200% faster, I had to let everyone know.
Red LED light therapy for wound healing is a natural, non-invasive, scientifically proven, and safe way to heal chronic and non-healing wounds, no matter their cause.
👉 In a Hurry?
Jump to the best ways to use red light therapy for wounds – at home!
This post may contain affiliate links, that earn us a small commission, at no extra cost to you.
Can Red Light Therapy Heal Wounds?
According to many studies, biologists have found that irradiating the cells with near-infrared light (photobiomodulation) from LEDs (light-emitting diode) – makes them grow 150% to 200% faster than cells not stimulated by this light.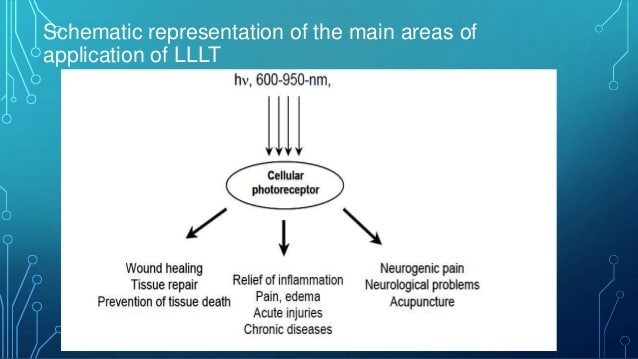 Red and infrared light rays increase energy inside cells that speed up any healing process and penetrate all the way into your skin and deeper.
Here's How Red Light Therapy Affects Wounds
Infrared light therapy is described by science in terms of wavelength, measured in nanometers.
Any number between 620 nm to 680 nm is visible red light.
Any number between 700 and 1100 is invisible near-infrared light.
Here's how it works:
1.  Studies have found that near-infrared wavelength increases microcirculation and the formation of new capillaries.
The result?
The wound area receives more oxygen and nutrients to help with the natural wound-healing process.
2. Low-level laser promotes lymph system activity – this helps with detoxification of the wound without overtaxing the lymph system and prevents lymphedema.
3. Infrared rays clean up dead cells: boosted blood circulation helps with cleaning up dead or damaged cells, including dead bacteria.
4. Infrared therapy promotes collagen production – as proven in many studies, cold laser (red light waves) stimulates collagen and elastin production in the final wound healing phases.
5. It helps release ATP (raw cellular energy) which gives energy to the damaged cells in the wound so they can heal better and faster (study).
Red Light Therapy for Wounds Studies
Here's a list table of just some of the studies, for your reference:
Study Design
Participants
Red Light Therapy Device
Results
Human Clinical Study
60 participants with complicated wounds
Laser diode at 633 nm (red light)
✅ Increased levels of substances that promote wound healing,
✅ Collagen synthesis
Human Clinical Study
16 people with uncontrolled diabetic foot ulcers
633 nm laser (red light)
✅ Reduction in wound size and pain scores after 12 days
Human Cell Study
Double Blind
Human vein cells
635 nm LEDs (red)
✅ Increased stimulation of cell growth and movement
Human Clinical Study
71 people with pressure ulcers
658-nm laser (red light)
✅ 70% wound closure after 1-month treatments, 5 times per week
2 Ways to Use Red Light Therapy for Wounds (at Home)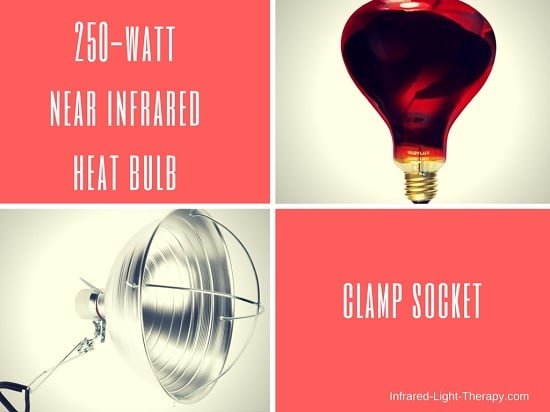 These days you don't have to pay for expensive clinic appointments to treat a non-healing wound naturally.
There are a few excellent red light therapy home devices and lamps you can use every day at home – starting today.
Here are your best options:
1. A Near-Infrared Heat Lamp
Infrared heat lamps are reddish near-infrared bulbs, also known as "heat lamps".
These powerful 250-watt heat bulbs emit near-infrared rays with red, orange, and yellow light combined.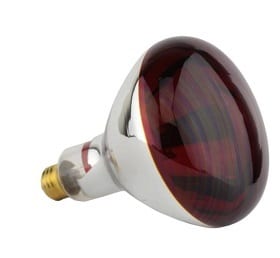 The heat from these lamps can penetrate deep into your wound, up to about 2 inches in!
To use a near-infrared heat bulb safely, you'll need a clamp socket designed for a 300-watt bulb, like this one.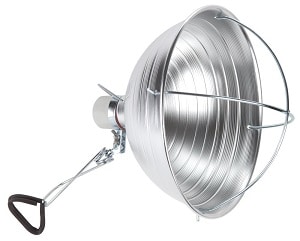 Here's How to use it:
Clamp the socket to a convenient place (a chair, a bed, a headboard, etc.) where you can move your wound close to the lamp.
 Keep a safe distance of about 12 inches away from the lamp, and if at any point the heat feels too much, move further away from the lamp.
Do not let the lamp directly touch your skin. Also, move the lamp or your body slightly during the lamp session as otherwise, it may cause a slight burn. Point the light to the surrounding area of the wound too.
Remember to disinfect the lamp/device with alcohol.
Set a timer for your session. Red Light therapy is very relaxing and you may fall asleep and over-treat yourself.
According to studies, the optimal treatment time is 1.5 – 5 minutes per treatment area, every day until the wound is healed.
Shortcut
You can get a pre-made red & infrared lamp
HERE
– for $49.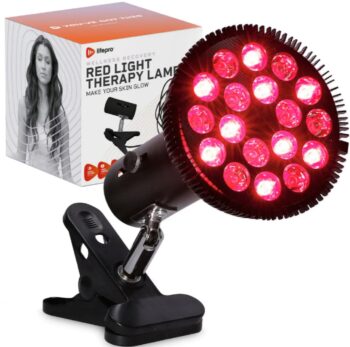 The LifePro lamp combines 9 LEDs emitting red light rays (660nm) and 9 LEDs emitting infrared rays (850 nm).
This one gets less hot than a near-infrared lamp and is best for heat-sensitive people.
2. 🥇 Red/Infrared Hand-Held Device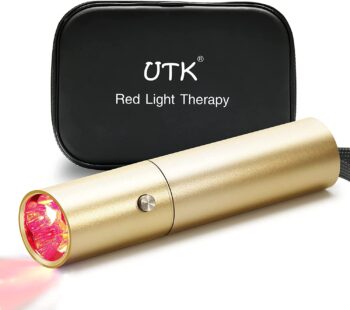 Several studies have proven the amazing positive effects of red and near-infrared LED therapy for wound healing.
For example, in a 2016 study, researcher Asheesh Gupta found the most effective wavelength range for wound healing was near-infrared light, followed by red light and super-pulsed light.
These wavelengths have beneficial effects on impaired dermal wound healing by promoting photobiomodulation, which stimulates the healing of skin wounds.
You can find all of these wavelengths (and two more) in the UTK Red Light Therapy device, which has 5 different wavelengths and a pulsing mode for each one and costs less than $80 on Amazon.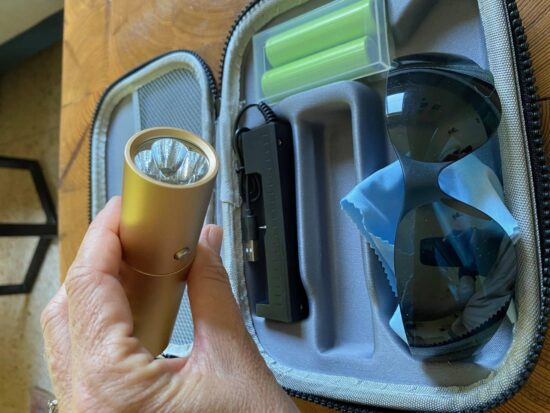 It is lightweight, small, portable, perfect for localized treatments, and comes with two rechargeable batteries to last for years.
I have the UTK Red Light Therapy Device at home and use it for wound healing, psoriasis relief (reduced redness and itching), acne spot treatments and even for treating the scar on my dog's neck from a recent surgery.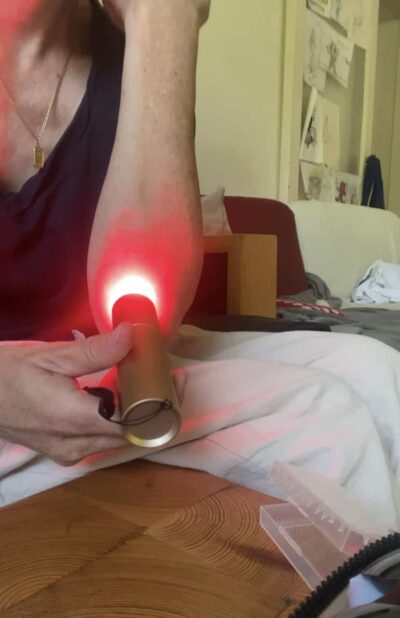 What Type of Wounds Can Red Light Therapy Treat?
Many studies prove that red light therapy (Low-Level Laser Therapy) can close any non-healing wound (a wound that doesn't heal after 4 weeks), even in diabetics.
People with the following conditions can greatly benefit from infrared therapy:
1. Diabetic ulcers
2. Venus ulcers
3. Pressure ulcers
4. Nonhealing surgical wounds
5. Serious burns
6. Oral sores from chemotherapy/radiation
7. Metabolic-disease-related wounds
8. Wounds that repeatedly break down
How Long Does it Take for the Wound to Heal?
Depending on several factors (your nutrition, for instance), it takes an average of 47 days and no less than 4 weeks of daily treatments, to heal a chronic wound.
Studies have shown that healing can occur even after only 3 days. But for some, it can take months.
👉 Attention – studies have found that the healing process was accelerated when the LED irradiation started immediately after the wounds were created
A natural and side-effect-free treatment that can prevent infections and amputation is worth it – no matter how long it takes.
Side Effects and Risks
Red light therapy is a proven side-effect-free natural method.
If you use it correctly (and especially not tempted to overuse it), you'll enjoy a safe treatment.
However, you still have to protect your eyes, to be on the safe side.
These products can produce high glare, so use eye protection, like these safety goggles. Never look directly into your home red light therapy device.
Can Red Light Therapy Penetrate a Cast?
The penetration of red-light therapy depends on the wavelength and wattage of the light, as well as the distance and angle.
If you are using a home device, it is unlikely that the device would be powerful enough to penetrate through a cast.
You'll need a professional device with a high enough irradiance to get through a cast.
Can You Use Red Light Therapy on an Open Wound?
Yes, you can use red light therapy devices on open wounds, as long as the device does not directly touch the wound surface.
In fact, a study published in Photomed Laser Surgery has proven that low-level laser significantly improved tissue repair for patients suffering from chronic diabetic wounds.
To your health and happiness,
Meital
Studies
Chaves ME, Araújo AR, Piancastelli AC, Pinotti M. Effects of low-power light therapy on wound healing: LASER x LED. An Bras Dermatol. 2014;89(4):616–623.
Light therapy by blue LED improves wound healing in an excision model in rats, Adamskaya, Natalia et al. Injury
Immediate Vascular Photochemical Reactions to Infrared Laser Irradiation in Normal Volunteers. Journal of American Science
Harry T. Whelan, et al. Effect of NASA Light-Emitting Diode Irradiation on Wound Healing, Journal of Clinical Laser Medicine & Surgery.Dec 2001.305-314.
de Alencar Fonseca Santos J, Campelo MBD, de Oliveira RA, Nicolau RA, Rezende VEA, Arisawa EÂL. Effects of Low-Power Light Therapy on the Tissue Repair Process of Chronic Wounds in Diabetic Feet. Photomed Laser Surg. 2018 Jun;36(6):298-304.
Meital James
Founder and CEO of 4 healthy living blogs, has a background in Naturopathic medicine, research, journalism, and nutrition. Her blogs are the culmination of her thousands of hours of research and experience and all the posts are verified by scientific findings.