Welcome to our red and infrared light therapy FAQ page!
If you're curious about these exciting therapies and how they can help you, you're in the right place. In this section, we'll answer the most common questions about red and infrared light therapy, breaking down the complicated stuff into simpler terms.
Whether you want to improve your skin, reduce pain, or boost your overall well-being, we're here to provide you with straightforward answers.
Infrared Light Therapy for Pain
How Deep Does the Infrared Wavelength Penetrate?
The light penetration depth increases at lower wavenumbers (longer wavelengths). Infrared light penetrates the inner layers of the skin at about 2 to 7 centimeters deep. This means it reaches the muscles, nerves, and even the bones.
(Source)
How Long Does Infrared Light Therapy Take to Work?
Whether you are using an infrared heating pad, a LED light therapy panel device, or an infrared lamp – it depends on the extent of the pain and your health condition.
Some will use infrared light (for example, via an infrared bulb) for pain once and feel immediate results (which can last for more than 6 hours), while others will have to use the system 2 to 3 times in a row before they feel significant pain relief.
However, infrared light therapy for pain has long-lasting effects, and the more you use it the faster healing you'll experience.
👉 Related: the amazing results people get with regular infrared sauna treatments.
How Often Can I Use Infrared Light Therapy?
Infrared Light is experienced as heat and can be used every day, with no side effects if used properly – to reap the incredible infrared light therapy benefits.
If you have an infrared heating pad, use a heat setting that feels comfortable and not too hot. Stay hydrated. Wait a day before you use it again, to allow the natural healing process to occur.
If you have a LED panel system, you can use it for up to 30 minutes – twice a day.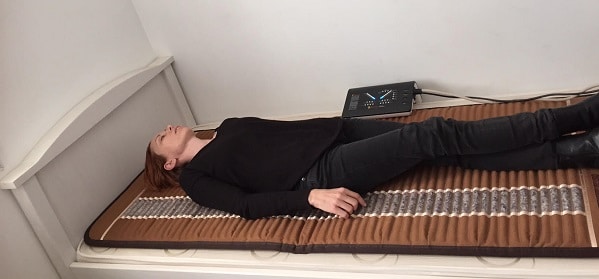 What's the Best Light Wavelength for Pain Relief?
The NASA study, upon which infrared LED therapy was based, used 3 wavelengths: 670 nm, 728 nm, and 880 nm (infrared).
The 880 nm wavelength was proven to be the most effective. However, the real key to your home device is the energy delivered (joules/cm2), not the particular nm of the LED device.
A few home units have an energy output that goes as high as 150 joules/cm2.
For example, the new DPL IIa reaches 31 joules per cm2 in 8 minutes.
The more powerful systems are used by physicians and spas and reach this level quicker, but these machines are too expensive for home use and can only be purchased by professionals.
Does Infrared light therapy hurt?
Devices and saunas with Infrared light therapy do not hurt. Infrared light therapy is gentle, painless, safe, non-invasive, and nonabrasive. There have been no reports of adverse reactions.
Can I treat my pets with Infrared Therapy?
Pets love and benefit from infrared light therapy. If you have an infrared heating pad, you can use it (on a low setting) for any painful condition your pet suffers from.
You can use infrared therapy devices for injuries, arthritis, sore hips, and post-surgical healing.
 Red Light Therapy for the Skin
How Long Does Red Light Skin Therapy Take to Work?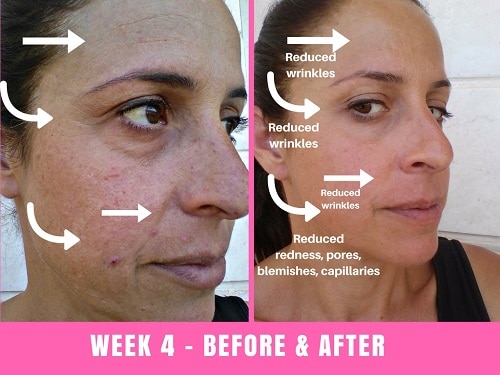 Again, it depends on your specific skin and its condition.
Red light therapy is not an immediate miracle maker. Changes won't occur overnight, but red light therapy at home will give you ongoing anti-aging benefits anywhere from 24 hours to 3 months, depending on your condition and how often the light is used.
To see a noticeable change in wrinkles and fine lines, you may need at least a 2-month home treatment, at least 2 times a week.
(Though some people report results faster, even after one month)
We tried 2 LED red light therapy Masks!
To maintain the improvement, you should continue doing red light therapy home treatments once a week.
You'll see fast improvements in your skin tone, smoothness, and brightening. Some people report this after only 2 weeks (that "healthy glow" we all want).
We recommend treatments for at least 20 weeks, for maximum results.
To keep track of the anti-aging benefits of red light therapy, we recommend taking weekly or monthly pictures with a good-quality camera, in the same lighting, at the same time of the day.
Looking in the mirror randomly is not the best way to see your progress over time.
How Often Should You Use Red Light Therapy?
The frequency of using red light therapy depends on the specific condition being treated (skin/pain relief) and the parameters of the therapy being used.
Different studies have used different frequencies (wavelengths) and power densities (irradiance) of red light therapy to achieve different therapeutic effects.
For example, in a study on the effect of red and near-infrared LED light on skin rejuvenation, participants received treatment for 20 minutes per session, three times per week, for a total of 12 weeks.
In another study, researchers used a device with a power density of 120 mW/cm2 (higher strength) to treat chronic inflammation –  for 90 seconds per area, twice a week, for a total of 8 weeks.
If you are using a home device, it is best to follow the instructions in the manual, including the duration and frequency of treatment – for best results.
It's important to understand that red light therapy needs your commitment and patience – do all the required sessions, but do not be tempted to do more than necessary to avoid side effects.
👉 I use my LED Light Therapy Mask 2-3 times a week at this point since I love my results and want to keep them. 😍
Can Red Light Therapy be Combined with Other Light Therapy?
You can use red light therapy with other wavelengths. In fact, most anti-aging home devices combine red light therapy and infrared light therapy (which can penetrate deeper into your skin).
For acne treatment, it's more efficient to use both red and blue light therapy (red after blue) to boost the healing of acne and prevent scars.
What is LED Light Therapy?
LED light therapy home devices emit color light wavelengths to penetrate and treat the skin, via LED (light-emitting diodes.
LED is a light source that emits infrared light (and thereby, heat) when activated.
It is most often administered via single light units or 2-panel tabletop devices that are directed at the skin from a few inches away.
The anti-aging and/or pain relief effects come from exposure to light.
Is Laser More Effective Than LED Light Therapy?
While most people think that lasers work better than LED systems, this is not true.
Recent studies have found that light therapy through LED is just as effective as light therapy via laser diodes.
Once a laser light penetrates the skin it is no longer a collimated beam of light, it is the same as an LED.
Can You Use Regular Skin Care Products with Red Light Therapy?
Generally, you can use red light therapy with your regular skincare products, but mainly after treatments.
Before using red light therapy, make sure your skin is thoroughly cleansed off all products. After treatment, you can follow up with your typical skincare routine.
This is because most products can block the penetration and absorption of light. Others (like benzoyl peroxide or alcohol) can cause skin irritation when used under intense light.
See the 5 best serums for LED light therapy!
Can You Use Retinoids and LED Light Therapy Together?
When you do red light therapy treatments, it's recommended to use Retinoids only at night.
Retin-A can cause skin sensitivity to light, that's why only night use is recommended.
Also, make sure to use sunscreen daily.
(We recommend a natural sunscreen, like this one).
Can Red Light Therapy Cause Skin Cancer?
Red LED light therapy can not cause cancer, because it does not include the UV rays' wavelength.
It is safe for the skin as long as it's used properly and not over-used.
Also, red light therapy alone will not tan your skin. Studies show that red light therapy is safe even in the presence of malignant lesions.
Can Pregnant Women Use Red Light Therapy?
Red LED light therapy is considered safe for pregnancy and breastfeeding. RLT only affects the top layers of your skin and does not have a systemic effect since it won't penetrate deep into your body.
Even if you were to apply RLT to your abdomen, the penetration depth of the light is not going to go anywhere near as deep as the uterus is.
LED devices are also a good, natural option for controlling the hormone-triggered acne of pregnancy. They're also pain-free and need no downtime.
 Red Light Therapy for Wound Healing and Scarring 
How Long Will Red Light Therapy Take to Heal a Chronic Wound?
The healing process is longer and more visual when healing a chronic severe wound with red light therapy.  Improvements will be gradual.
According to studies, it can take about two months to heal a chronic wound with red light therapy.
How Long Will Red Light Therapy Take to Heal a Scar?
The age of the scar tissue will determine the time required to see the results of scar reduction.
Acne scars and scars from other types of injuries can start being visibly improved in as little as two weeks, and should gradually fade over time with continued use.
Home treatments with red light therapy can be used to prevent acne scars in the first place.
We recommend using the science-proven blue light therapy to kill acne-causing bacteria when a pimple "threatens" to show up, and immediately following with red light therapy to speed up healing and prevent new scars.
For this reason, the best acne light therapy home devices combine both blue and red wavelengths.
Can You Use Red Light Therapy After Botox?
We recommend that you wait at least two weeks after Botox injections before beginning with low-level laser therapy.
If you have any concerns, speak with your doctor or dermatologist.
Specific Health Conditions
Is Red LED Therapy Good for Psoriasis?
Red and infrared rays increase circulation and help bring moisture back into the affected skin, which benefits Psoriasis.
Plus, it can reduce the plaques associated with Psoriasis. A recent study has found that a combination of 830 (nm) (near-infrared light) and 630 nm (visible red light) LLLT, can demonstrate a resolution of Psoriasis.
👉 See exactly how to use red light therapy for psoriasis – at home.
Can Red Light Therapy Help With Thinning Hair?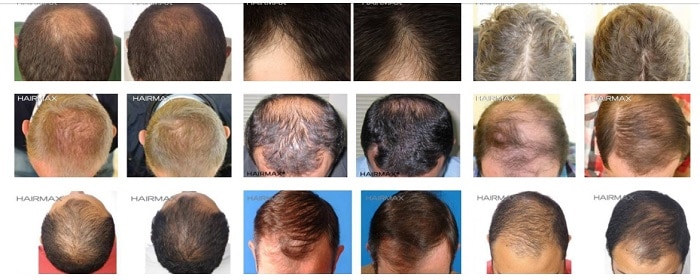 A few promising studies have proved accelerated hair growth and stimulation of dormant hair follicles with the use of red light therapy. Science proves that Low-level laser therapy can be used in both men and women for treating androgenetic alopecia
(👉 See the top 6 laser caps and helmets (hair growth caps) for hair loss or the top 4 laser combs.
Studies show that red light therapy can regrow your hair on the top of your head/crown and along the forehead hairline
Improvement is reported after 12 to 26 weeks of use, with reduced hair fall and noticeable hair growth.
👉 See all about red light therapy for hair loss scientific facts!
Does Red Light Therapy Help with Allergies?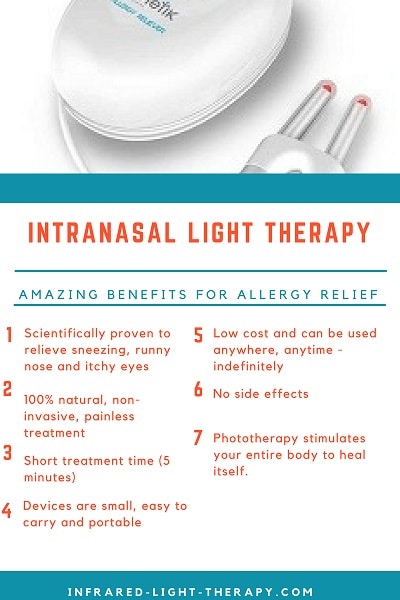 Growing evidence in the last years suggests that intranasal red light therapy can help relieve Hay Fever, Allergic Rhinitis, and even cold and flu symptoms such as a runny nose, sneezing, watery and itchy eyes, and nasal congestion.
👉 See the science behind it and the 3 best intranasal light therapy devices for allergy relief. You'll be surprised to find how affordable and effective it can be for you.
Does Infrared Light Therapy Kill Fungus?
Though science has not concluded whether infrared light therapy can help with toenail fungus, we've found one published study with the 870/930 nm device, with clinical cure rates (3 mm of clear nail growth) of 63 percent noted six months after four treatments. 
Can Red Light Therapy Heal Rosacea?
Through our research, we've found many people with Rosacea finding huge relief from their symptoms using red light therapy.
Since Rosacea is an inflammatory condition, red & infrared light can help greatly.
LLLT was proven many times to reduce inflammation and pain naturally. When you control inflammation, it reduces swelling, redness, itching, and pain.
👉 See how to use red light therapy for Rosacea – at home
Does Red Light Therapy Work for Cellulite?
Since cellulite is thought to be triggered by the weakening of connective tissues and a decrease in microcirculation, red light therapy can become an alternative to conventional (usually useless) treatments.
Studies have shown that red light therapy alone has no positive effect on cellulite.
But:
When scientists combined phototherapy with massage treatment – cellulite size was reduced by 71%!
When another study combined red light rays along with using a topical anti-cellulite gel, LLLT was able to bring about remarkable cellulite reduction.
Do you see the point?
Combine a simple massager and infrared heat, and supercharge your cellulite treatment by 71%!
👉 See more about how to use red light therapy for cellulite.
If you have any questions about red & infrared light therapy, we promise to answer within 24 hours. Use the comment section below.
To your health and happiness,
Meital
Studies
Myakishev-Rempel M, Stadler I, Brondon P, et al. A preliminary study of the safety of red light phototherapy of tissues harboring cancer. Photomed Laser Surg. 2012;30(9):551-558.
Jimenez JJ, Wikramanayake TC, Bergfeld W, Hordinsky M, Hickman JG, Hamblin MR, Schachner LA. Efficacy and safety of a low-level laser device in the treatment of male and female pattern hair loss: a multicenter, randomized, sham device-controlled, double-blind study. Am J Clin Dermatol. 2014 Apr;15(2):115-27.
Jan Magnus Bjordal, Rodrigo Alvaro Brandão Lopes-Martins, Jon Joensen & Vegard Vereide Iversen (2010) The anti-inflammatory mechanism of low level laser therapy and its relevance for clinical use in physiotherapy, Physical Therapy Reviews, 15:4, 286-293,
Gold MH, Khatri KA, Hails K, Weiss RA, Fournier N. Reduction in thigh circumference and improvement in the appearance of cellulite with dual-wavelength, low-level laser energy and massage. J Cosmet Laser Ther. 2011 Feb;13(1):13-20.
Landsman AS, Robbins AH, Angelini PF, Wu CC, Cook J, Oster M, Bornstein ES. Treatment of mild, moderate, and severe onychomycosis using 870- and 930-nm light exposure. J Am Podiatr Med Assoc. 2010 May-Jun;100(3):166-77.
Meital James
Founder and CEO of 4 healthy living blogs, has a background in Naturopathic medicine, research, journalism, and nutrition. Her blogs are the culmination of her thousands of hours of research and experience and all the posts are verified by scientific findings.