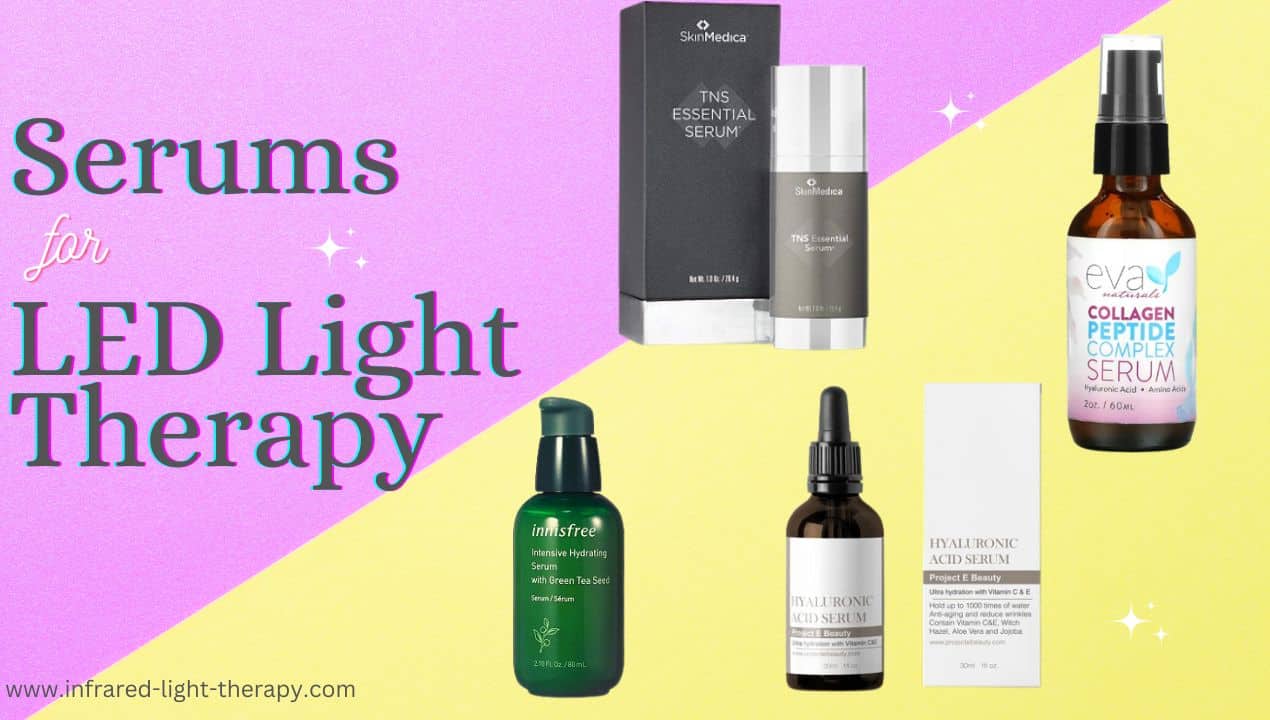 Using a good serum with your LED light therapy is essential for optimal results.
Here's why:
A good serum can boost all skin benefits of LED light therapy when used immediately after a LED light treatment.
And, home LED facials can work wonders on your skin, but sometimes your skin feels dry after them, and serum is necessary to bring back moisture and promote cell regeneration.
In this post, I'll show you the best serums to use with LED light therapy, and a little-known secret about the one natural ingredient – proven to supercharge the effect of any LED light treatment.
This post may contain affiliate links, at no extra cost to you.
Important: Use LED Light Therapy on Clean Skin
LED light therapy penetrates the skin best when the skin is clean. Heavy creams can prevent the light wavelengths from reaching deeper skin cells, and you'll lose some of the benefits you can enjoy from LED masks and red LED light therapy devices.
These benefits include:
Wrinkle and fine lines reduction
Sagging skin improvement
Acne Prevention
Hyperpigmentation reduction
I recommend exfoliating at least once a week. Exfoliating "pushes" your skin to build new, fresh skin cells, and using LED light therapy can keep these cells fresh and healthy.
Before you do a LED facial, use a natural face cleanser (my favorite is this one) to allow for maximum anti-aging action.
AFTER your treatment, you may apply peptides, antioxidant creams, serums, or EGF products.
👉 But, there is just one exception. There is one product you can use BEFORE a LED light therapy facial. Keep reading to find out what it is!
Here are our top 6 choices for 2023, compared in the table below. Below it, you'll find our detailed reviews, pros and cons.
Comparing the best serums to use with LED light therapy according to uses, main ingredients, and price.
Pro Tip – The Secret Upgrade for Your LED Light Treatment
Did you know?
Green tea is proven to significantly enhance red LED light therapy results – when used BEFORE treatments. For example, this study has found that placing cotton pads soaked with green tea once a day for 20 minutes before LED light therapy – has led to rejuvenated skin, reduced wrinkles, and juvenile complexion – 10 times faster (in 1 month instead of 10 months) than using LED light therapy alone.
Why?
Because green tea extends the action spectrum of phototherapy.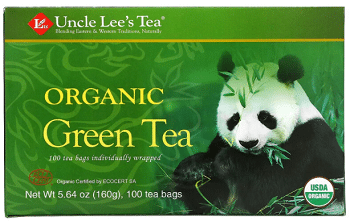 Want to get results 10 times faster? Use a few cotton pads soaked with organic green tea – for 20 minutes before your home LED facial. Alternatively, you can use a Green Tea extract serum, like this one.
And now:
The 6 Best Serums to Use with LED Light Therapy 
Anti-aging and acne-fighting serums offer great benefits for aging or damaged skin.
They are based on tiny elements (to be able to penetrate the outer layer of the skin), promote faster skin regeneration, and restore necessary moisture after LED light treatments.
The most suited serums for LED light therapy contain peptides, Argan oil, vitamin C, and retinol.
1. Project E Beauty Hyaluronic Acid Serum

Best Value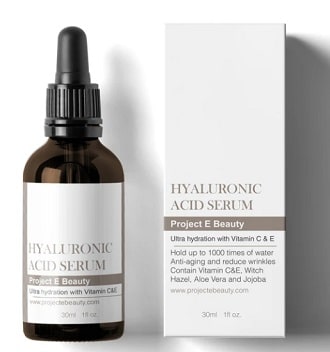 Project E Beauty is a well-known brand that makes the Project E Beauty LED mask (Click the link to see my trial and results!)
The company has created the best serum to use after treatment with its LED mask, and it contains natural and organic ingredients, such as vegan Hyaluronic acid, vitamin C, and vitamin E (natural antioxidants that promote collagen production).
These 3 ingredients combined have great skin benefits, including dark spot removal, pore reduction, fine lines and wrinkles reduction, moisturizing, reducing redness, and scars, and treating hyperpigmentation.
This oil-free serum is safe to use under the eyes and can reduce dark circles and puffiness. It absorbs quickly and results in supple and smooth skin.
👉 More ingredients inside the Project E Beauty serum: witch hazel, aloe Vera, geranium, green tea, horsetail, dandelion, calendula, willow bark, and elderflower extracts.
✅ Available at Project E Beauty ($24 with code SLSS20) and on Amazon ($16)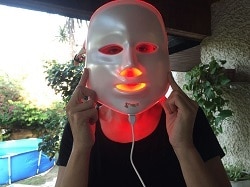 2. Eternal Beauty Light Therapy Serum

Made in USA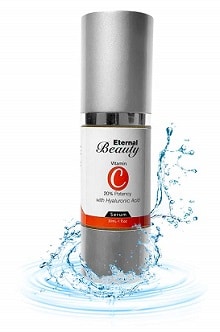 The Eternal Beauty Light Therapy Serum was specifically designed for LED light therapy treatments, with its active ingredients – Hyaluronic Acid, Vitamin E, and Vitamin C.
I love the fact that this serum is USA-made and contains only natural ingredients, including rosehip oil, vitamin B6, and more. These can help reduce fine lines and wrinkles (under the eyes as well), improve pigmentation, and nourish your skin with vitamins.
Most customers have pointed out that this serum absorbs quickly, and hydrates very well after LED treatments.
✅ Available on Amazon ($20)
3. SkinMedica TNS Essential Serum

Best Skin Regeneration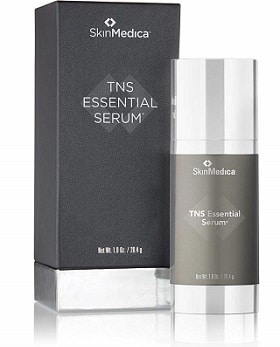 This all-in-one anti-aging serum contains growth factors, antioxidants, and peptides that improve the appearance of wrinkles, fine lines, skin tone, and skin texture.
What is TNS?
TNS stands for Tissue Nutrient Solution and is composed of alpha-arbutin and hyaluronic filling spheres. This serum contains more than 380 growth factors – naturally occurring, potent proteins that fight aging and preserve epidermal health.
For best results, use this serum twice a day (but not before a LED facial)
✅ Available at Dermstore ($295 with 2 gifts!), and on Amazon ($265)
What's the Best LED Face Mask?
We've reviewed and compared the
Top 7

LED Face Masks

of 2023
– check out our results!
4. Peptide Complex Serum by Eva Naturals

Best Budget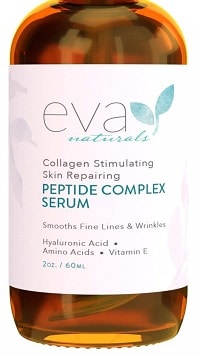 The Eva Natural collagen-stimulating peptide complex (made in the USA) serum contains Aloe Vera, Vitamin E (heals skin damage, reduces free radicals), Hyaluronic Acid, and peptides that can smooth wrinkles and improve skin elasticity.
What are Peptides?
Peptides are potent proteins that "alert" your skin when it's time to produce more collagen. They are also natural healing agents.
The serum also contains Witch Hazel and Jojoba which can brighten your skin and even skin tone. The company is very confident about this serum and offers a full refund if you don't like it, and the consumer ratings on Amazon are high.
✅Available at iHerb ($15), and on Amazon ($15)
5. Juice Beauty Blemish Clearing Serum

Best for Acne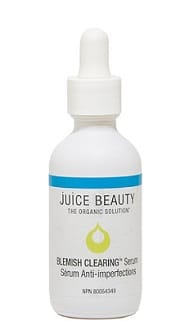 If you use LED light therapy (red & blue wavelengths are best) to fight and prevent acne breakouts – use an acne serum (not to be confused with "regular" serums").
Acne serums are lightweight formulas filled with strong anti-inflammatory active ingredients (like willow bark) that can stop a breakout fast, and fade any marks that may have been left behind.
The Juice Beauty Blemish Clearing organic serum does exactly that, plus targets dryness, oily skin, and hyperpigmentation (with vitamins C, E, and B5).
CoQ10, and organic aloe renew the skin for a healthy, clear complexion and a youthful glow.
✅ Available at Ulta ($32), and at SkinStore ($24 with coupon code COUNTDOWN)
5. TruSkin Vitamin C Serum

Best for Skin Brightening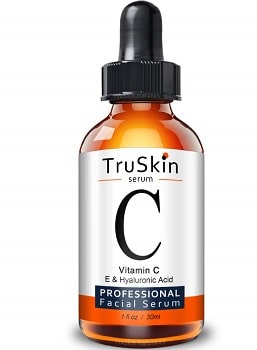 What about vitamin C serum and LED light therapy?
Vitamin C serums pair nicely with LED light therapy, as long as you use it only after your light therapy session. Serums with vitamin C are best for skin brightening, but also for fine line reduction and acne healing.
Through my research, the best skin-brightening Vitamin C serum is the TruSkin Naturals, with Hyaluronic Acid, Vitamin E, and Witch Hazel.
It is currently Amazon's choice for the best Vitamin C serum, with more than 50,000 glowing reviews. Consumers say this one does it all – reduces fine lines, brightens the skin, treats dark spots, and leaves your skin smooth and happy.
✅ Available on Amazon ($22)
Can you use Retinol with LED light therapy?
Using retinol and light therapy together can give your skincare routine a boost. However, retinol is known to cause the skin to be light-sensitive, so you should never apply retinol before light therapy use, as your skin may react unexpectedly. Retinol can safely be used after light therapy.
FAQ
How Do You Prepare Your Skin for LED Light Therapy?
LED light therapy's best results will be achieved on a clean, bare face. Make sure you don't have any makeup or moisturizers before a LED facial, to allow for maximum light penetration in your skin.
Should I Use a Vitamin C Serum Before a Red Light Therapy? 
The only recommended serum to use before LED light therapy is a serum that contains a high amount of Green Tea extract. Green tea was proven to enhance LED facial results in clinical studies. While A vitamin C serum enhances LED facials, it may block some of the red light rays penetration into the skin, so I recommend using it immediately after treatment instead.
How to Choose a Serum to Use with LED light therapy?
The best serum to use with LED light therapy is essential after a LED treatment because LED light can leave your skin dry, and the best serum will enhance your anti-aging and skin healing results. Make sure the serum contains peptides, antioxidants, and hyaluronic acid.
To your health and happiness,
Meital
Studies
Aldag C, Nogueira Teixeira D, Leventhal PS. Skin rejuvenation using cosmetic products containing growth factors, cytokines, and matrikines: a review of the literature. Clin Cosmet Investig Dermatol. 2016;9:411-419. Published 2016 Nov 9. doi:10.2147/CCID.S116158
Jeong S, Yoon S, Kim S, et al. Anti-Wrinkle Benefits of Peptides Complex Stimulating Skin Basement Membrane Proteins Expression. Int J Mol Sci. 2019;21(1):73. Published 2019 Dec 20. doi:10.3390/ijms21010073
Meital James
Founder and CEO of 4 healthy living blogs, has a background in Naturopathic medicine, research, journalism, and nutrition. Her blogs are the culmination of her thousands of hours of research and experience and all the posts are verified by scientific findings.