Do LED face masks work?
We put it to the test, and our LED face mask before and after, and review, is here.
We tried the Project E Beauty LED mask for 30 days, to find if this popular red LED light therapy mask can really reduce fine lines and wrinkles, improve skin elasticity, even the skin, heal acne, tone the skin, and make it glow – as it promises.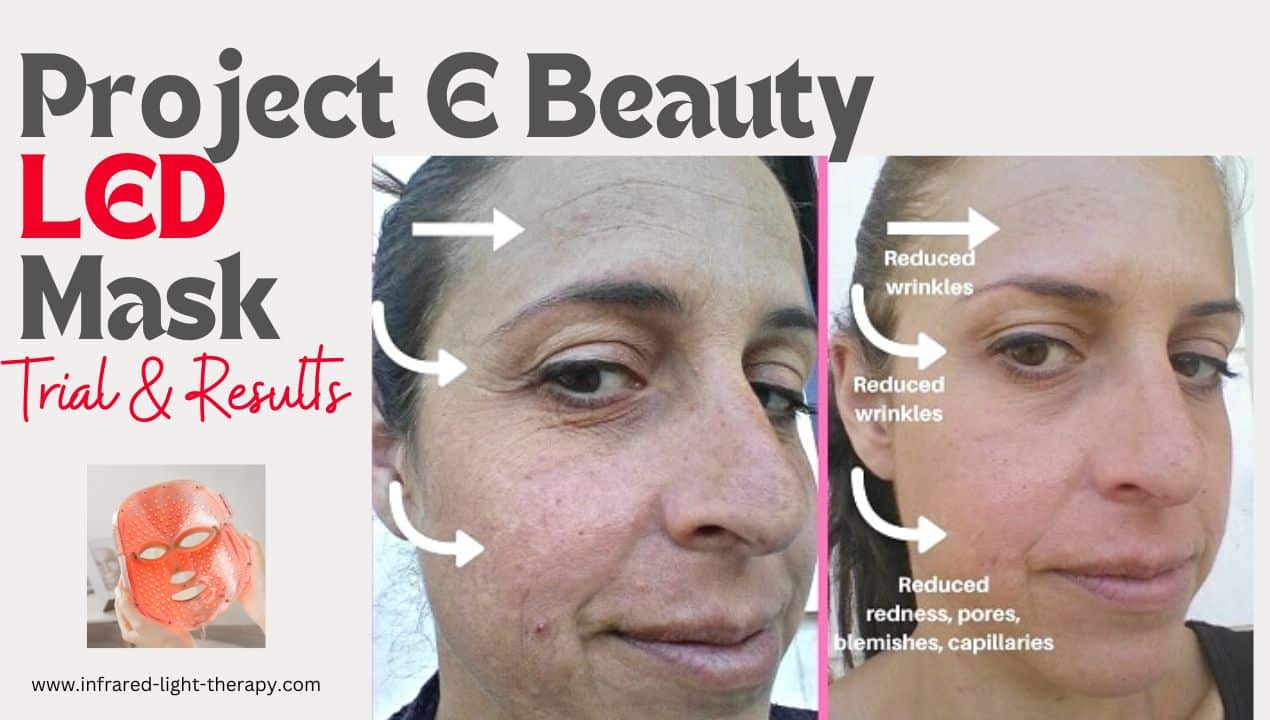 This post contains affiliate links, at no extra cost to you.
We've taken many before & after pictures, starting from day 1 all the way to day 30, and we'll reveal them below.
It's time to show instead of tell, right? :)
Project E Beauty LED Mask Review (+ Before & After)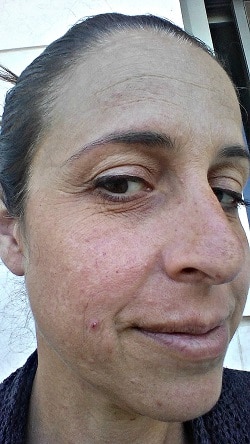 In this post, you'll find our detailed results and how exactly we used the Project E colorful LED Beauty LED mask, to help you see if it's worth buying and trying it.
Sounds good?
👉 Note: The Project E Beauty LED mask is featured on our Top 7 LED Face Mask Reviews of 2023!
Project E Beauty LED Face Mask: What We Got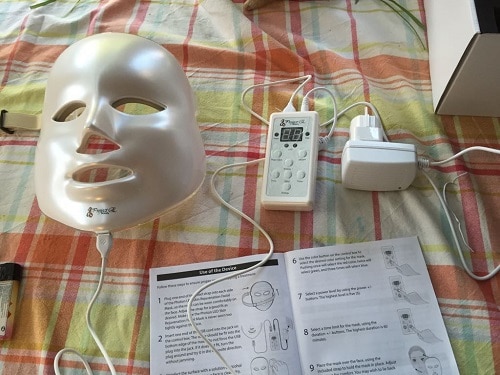 The Project E Beauty Facial Mask Package includes:
1 LED mask (150 LEDs)
1 remote control
1 USB cable
1 Power cord (110V – 220V)
1 head strap
1 full English user manual
Size: 9.4 x 11 x 5.9 inches
Weight: 1.1 pounds
1. The LED photon Mask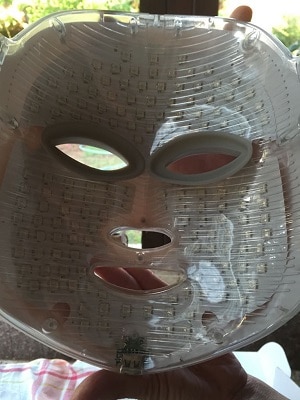 This skin rejuvenation photon mask includes 150 tiny LED bulbs  – 60 above the eyes and 90 below the eyes and can be used an unlimited number of times.
Using the remote control you can choose from 7 wavelengths, but we only tried the most important ones – either the red light, blue light, or green light:
Red (630 nm) – promotes collagen production via increased blood circulation in the area. It penetrates about 8-10 mm into your skin (see our 10 most recommended

red LED light therapy devices

)
Blue (415 nm) – proven to destroy acne-causing bacteria, minimize pores and heal acne faster.
Green  (525 nm) lighten dulled skin and relax it. It penetrates about 0.5 mm into your skin.
Through the easy-to-use remote control, you can set the intensity level of the light, ranging from 1 to 5.
Note: you can't use more than 1 color per treatment.
The device has two cords – one goes from the mask to the control pad, and the other goes from the control pad to the electric outlet. Once connected, it's about 5 or 6 feet long. Either cord can be unplugged when you're done for easier storage.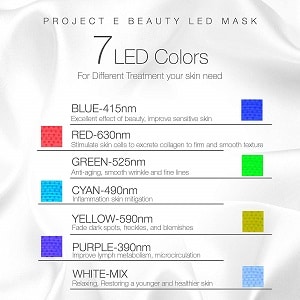 2. The Remote Control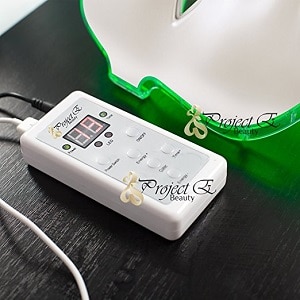 The remote control allows you to set which color you want to use (red/blue/green), the intensity level (1-5), and the treatment time (5-60 minutes, in 5-minute increments).
The lights do not get hot.
When treatment time is over, the LED mask shuts off automatically.
We found the remote control to be user-friendly and easy to use.
How I Used The Project E Beauty LED Face Mask
Our happy experimenter tried the mask for 30 days.
We chose to follow the clear instructions and started with one 10-minute red light treatment, followed by one 5-minute blue light treatment – 4 times a week.
The next week she took it up a notch and did five 20-minute red light treatments, followed by 10-minute blue light treatments. Last two weeks she upped the red light treatment time to 25 minutes while continuing with 10 minutes of blue light therapy.
She didn't use the head strap, because she used this time to lie down, relax, and meditate.
 Project E Beauty LED Mask Before & After
Week 1 Results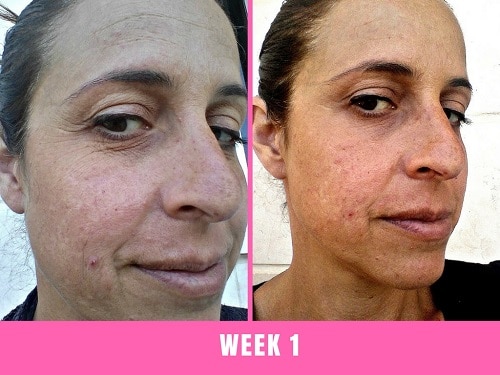 Treatment time
20 minutes (15 minutes red light, 5 minutes blue light). Intensity – 3 on the first day, 4 on the next, and 5 on the next day and from now on. Total: 4 times this week.
How it felt
the LED facial feels pleasant and relaxing (the mask does not get hot), and forces you to dedicate 20 minutes to rest. But, the mask does feel a bit heavy on the face and leaves a slight mark near the eyes and on the nose.
However, the marks disappear in about 30 minutes.
My skin feels a little dry and tight immediately afterward, but I use the best serum for LED light therapy immediately after each treatment, which returns the moisture and elasticity immediately).
✅ Results
My skin looks somewhat more even, and redness is slightly reduced.
Week 2 Results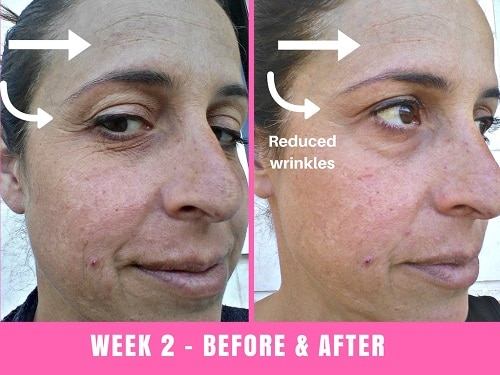 Treatment time
20 minutes (15 – red and 4 – blue), intensity level 5, a total of 5 treatments this week.
How it felt
it feels like my skin has adapted to the treatment and does not get as dry as it did on week 1. Also, it feels like my skin is cleansing and removing excess oil.
✅ Results
Skin looks dewier, a bit more glowing, and wrinkles near the eyes (crow's feet) noticeably reduced. Reduced redness, pigmentation, and capillaries.
Week 3 Results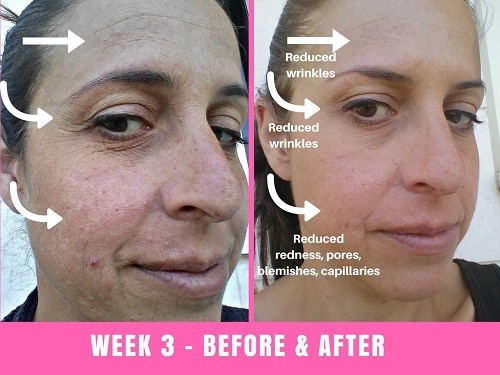 Treatment time
Same as last week.
How it felt
I'm starting to really enjoy my daily rest time when all I have to do is lay down and relax.
 ✅ Results
I'm starting to get compliments about my glowing skin, from people who have no idea I'm doing red LED facials at home.
Week 4 Results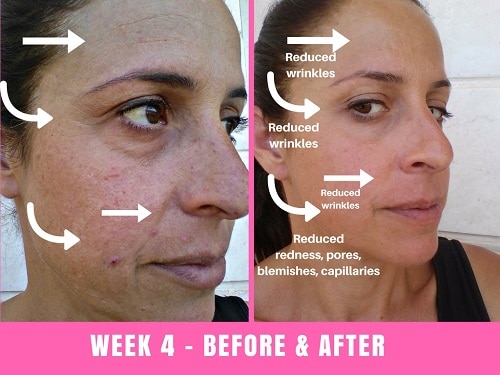 Treatment time
Same as last week.
Project E LED Face Mask 30 Days Results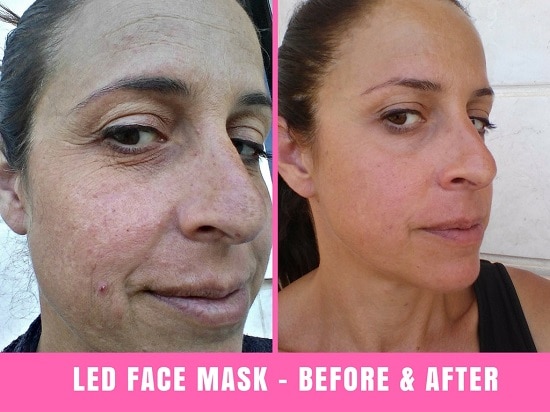 The daily use of the Project E LED mask and adding it to my routine was an enjoyable experience.
It has forced me (yay!) to set aside 25 minutes every day to focus on myself.
Overall I am very happy with the results.
After only 30 days I can say that nothing has disappeared overnight but I can see (and others can too) a noticeable change in my skin and I believe the LED face mask works as it promises.
Here are the skin changes I've noticed:
Skin feels and looks smoother
Reduced capillaries
Reduced crow's feet, forehead wrinkles, and nasolabial wrinkles
Reduced pigmentation
Slight improvement in acne scarring
Skin feels generally cleaner
I intend to continue using the Project E LED Face mask and I can't wait to see my skin after the full 12 weeks.
I have a feeling that this is the future of skincare!
Project E Beauty FACE & NECK Facial Mask Review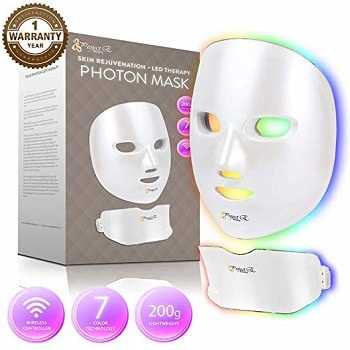 The new 7-color Project E Beauty LED mask has a neck attachment to treat neck wrinkles and sagging skin, and it's completely portable with its rechargeable battery.
This means you can treat your face and neck at the same time – in one treatment – while moving around and doing anything you'd like.
Another great bonus is that it's 50% lighter in weight than the previous version, and won't feel heavy and uncomfortable on your face.
While we highly recommend this mask, please do not use the neck attachment if you have thyroid problems – without consulting with your doctor first.
👉 The 7 colors include:
Red – 630 nanometer (skin anti-aging, redness)
Blue – 450 nm (acne)
Green – 525 nm (skin soothing, hyperpigmentation)
Cyan – 490 nm
Yellow – 590 nm
Purple – 390 nm
White
👉 Treatment time – 10-15 minutes per treatment, 3-4 treatments a week, and reduce to 1-2 treatments a week once the result is shown.
Is Project E Beauty FDA Approved?
No LED face mask is currently FDA-approved. In general, most LED light therapy devices are FDA-cleared, as are some LED face masks.
At this point, Project E Beauty LED masks are not FDA-cleared.
To your health and happiness,
Meital
P.S
And what about the celebrity favorite Deesse Pro LED mask? is it worth over $2000? find out!
Meital James
Founder and CEO of 4 healthy living blogs, has a background in Naturopathic medicine, research, journalism, and nutrition. Her blogs are the culmination of her thousands of hours of research and experience and all the posts are verified by scientific findings.