What's the best handheld LED light therapy device – for skin tightening, skin rejuvenation, redness reduction, wrinkle reduction, and anti-aging?
Well:
As I always stay updated with the most advanced LED light therapy machines, I'm here to share my research results with you – updated for 2023.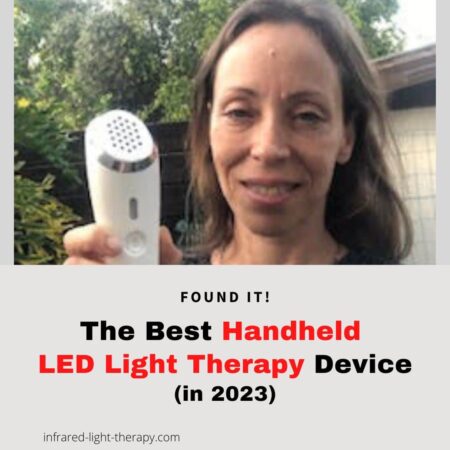 This post contains affiliate links, at no extra cost to you.
As the red & infrared light therapy skin technology rapidly advances, you don't have to settle for the simple, flashlight-looking, and overpriced LED light therapy devices.
Why not get the benefits of both red light and infrared heat, combined with a gentle blood circulation-boosting massage – in one handheld device?
That's exactly what I've found for you. Keep reading to get all the details, my pictures, and exactly how to use it.
You're going to love it.
Ready?
Let's go.'
The Different Types of Handheld LED Light Therapy Devices
Handheld LED therapy devices are wands that emit red light (600-700 nm), blue light (400-470 nm), and near-infrared light (700-1000 nm). Every light wavelength offers different skin benefits. The red light range is most beneficial for skin anti-aging, while the blue light range is best for acne prevention and healing. The near-infrared wavelength is good both for the skin and for pain relief and penetrates much deeper than the last two.
Some devices emit more than one wavelength and offer all three light options. The best ones offer some type of gentle massage, to boost blood circulation even more and to make the best of the treatment. 
What's the Best Handheld LED Light Therapy Device?
I have owned and tried many LED light therapy devices (And still do), but my top choice when it comes to handheld LED light therapy is the Clerel Skin Advanced. Here's why:
Clerel Handheld LED Light Therapy Device Review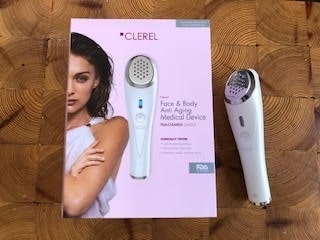 The new Clerel handheld LED light therapy device caught my attention immediately.
Why?
Because it combines 3 of the most important skin rejuvenation features – in one, simple-to-use machine:
1. Red LED light therapy (633nm)
2. Deep penetrating infrared light therapy (830 nm)
3. Micro vibration massage
4. It is FDA-cleared
And all of this turns on in just one push of a button.
These 3 powerful features only turn on when you press the device against your skin. When you remove it from your skin – it stops working – to protect your eyes.
The red light wavelength, delivered through 24 LED light therapy bulbs (placed in a sterling silver panel), is absorbed at a cellular level and promotes collagen production and skin regeneration in the first skin layers.
The infrared wavelength (felt as heat) penetrates deeper and takes care of the deeper layers of the skin.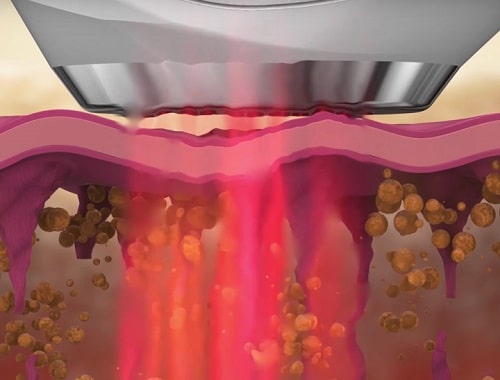 👉 The gentle, micro-vibration massage enhances the blood flow even further, thus boosting collagen production to the max – in one treatment with the compact and stylish device.
When Can You Expect Results?
You'll be able to see clear results within 2-4 weeks of use and keep the results after that, even if you reduce the number of weekly treatments.
And the best news?
This unique design makes this device effective for pain relief as well and treating stretch marks and cellulite at home – 24/7.
How Does the Clerel Skin Advanced Work?
First, here's a short video with me using the Clerel, below you'll find all the details and how to use it:
Attention - Coupon Code 😍
Use my
special $80 discount
that I've arranged for my readers  –
CLE80
– at
Beauty Devices
.
Through my research and personal trial, the FDA-cleared Clerel is a high-grade device made with the finest materials, supported by a 3-year warranty.
👉 Here's why I find it to be the best handheld red LED light therapy home device – in 2023:
1. The treatment head is made with medical-grade, 925 sterling silver, a non-reactive precious metal that distributes infrared heat evenly and can be placed directly on the skin with minimal risk of irritation or allergic reactions.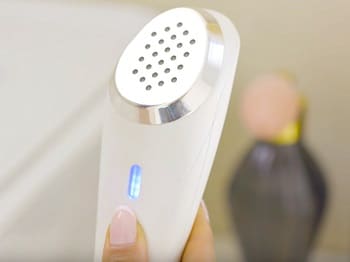 2. Touch sensor – the device has a touch sensor, so the light and heat it emitted only when the device is touching the skin, to protect your eyes from the light.
I do not use it with safety goggles because this unique feature makes them unnecessary.
See below:
(👆 Get my special $80 discount with coupon code CLE80 on the Beauty Devices site – but hurry, only the first 20 customers can use it!)
3. Temperature control – this feature prevents overheating of the device and keeps the optimal temperature when the device touches your skin.
4. Automatic timer – each treatment area requires exactly 4 minutes, and the device beeps to remind you to move to the next treatment area.
5. Compact, lightweight, and 100% portable – the Clerel is cordless and comes with a rechargeable battery. When the battery is charged, you can use it for more than 1.5 hours without recharging.
It is small and lightweight and I carry it around with me in my handbag, to use on the go – wherever I am.
6. It is FDA-cleared.
How to Use the Clerel Skin Advanced
It's so simple to use this handheld device, a 4-year-old can do it – safely. The instructions say it's optimal to use it 3 times a week, but I use it 5 times a week.
1. Cleanse your skin thoroughly – remove all makeup, skin products, and just plain old dust 😉
2. Dry your skin completely.
3. After charging the device fully, power it on by pressing the button, and place it on your skin at the first treatment area you'd like, with mild pressure.
As you keep the pressure, you will begin to feel the infrared heat gradually increasing, to a pleasant and comfortable temperature.
4. Gently glide the device across the first area in small circular motions. The built-in timer will beep after 4 minutes, to remind you to move to the next treatment area.
I have divided my face into 4 treatment areas: the left cheek (including the left under eye and side), the right cheek, the forehead, and around the mouth. Complete treatment takes 16 minutes, and it's super relaxing and pleasant.
5. When treatment is finished, power off the device and apply your usual moisturizer and skincare products.
6. Clean the device with a dry cloth and place it in the device charger until your next use.
Can This Handheld Red LED Light Therapy Device Be Used for Pain Relief?
This handheld device can not only be used on your facial and neck skin but it can also be used as a pain relief tool for small areas. For example:
Joint pain – around the aching areas
Muscle pain – use in a circular motion on the trigger point or aching muscle area
Nerve pain – can be used on the feet and hands
This excellent device can also be used for home cellulite treatment since it combines red, infrared, and gentle massage – perfect for breaking down white fat cells!
Where to Find the Best Price
The only site I recommend buying the Clerel new device is the Beauty Devices site, where I managed to get you an $80 discount when you use coupon code CLE80, and it's the only site that offers a 3-year warranty and a 30-day trial (return period).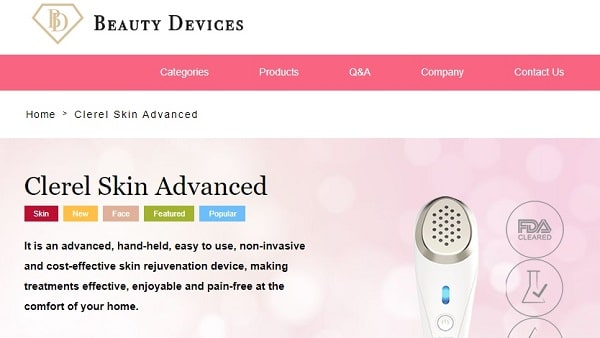 Happy skin days,
Meital
Meital James
Founder and CEO of 4 healthy living blogs, has a background in Naturopathic medicine, research, journalism, and nutrition. Her blogs are the culmination of her thousands of hours of research and experience and all the posts are verified by scientific findings.