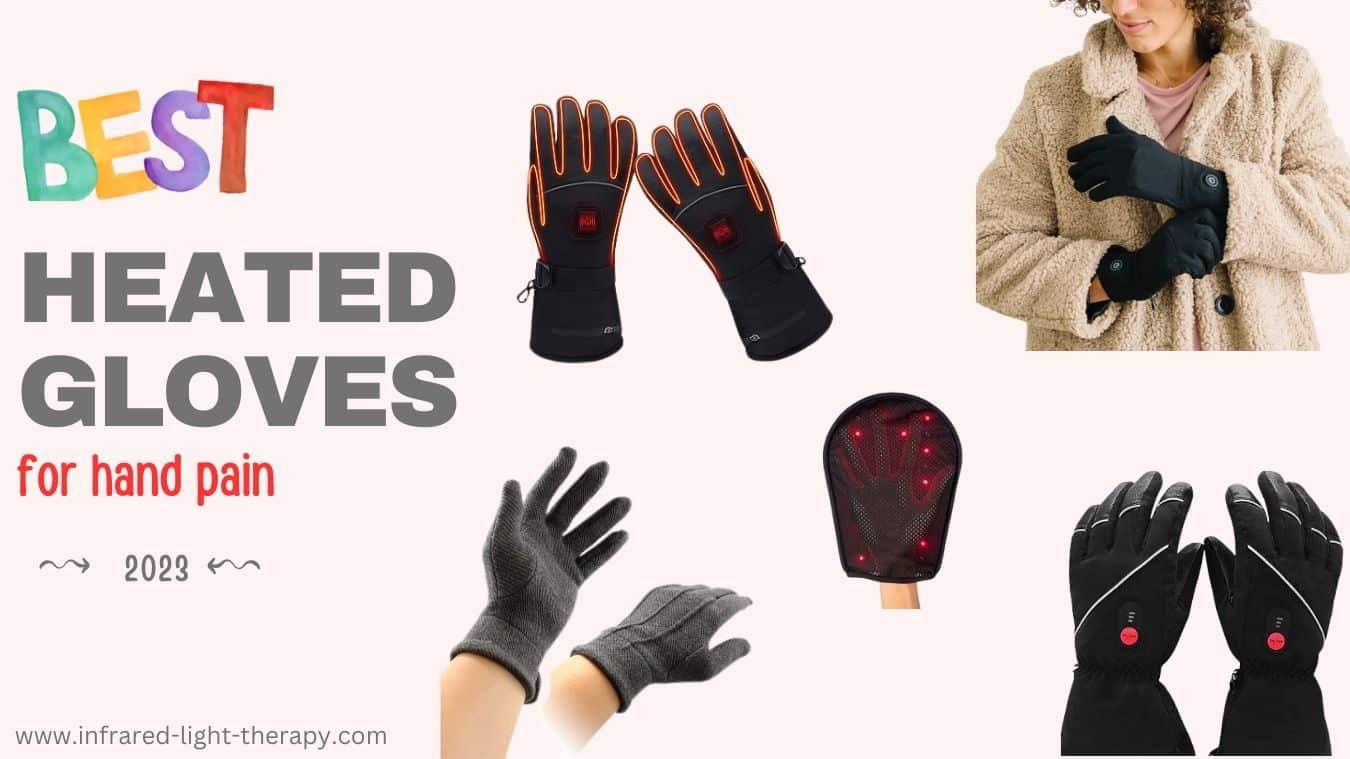 Infrared therapy gloves are proven to relieve hand pain, hand swelling, wrist pain, and general discomfort caused by rheumatoid arthritis,, Carpal Tunnel, neuropathy, Raynaud's, and trigger finger.
They can even improve your grip – if you use them correctly.
But:
How do you choose the best heated gloves for arthritis, neuropathy, Raynaud's Syndrome, and cold hands?
What's the difference between bio-ceramic gloves and electric-heated gloves?
You'll get all the answers here.
👉 See our short comparison table first, or you can jump to our detailed infrared gloves reviews – below.
Comparing the best heated gloves according to type, heat & compression features, and price.
(This post may contain affiliate links, at no extra cost to you)
What is an Infrared Therapy Glove?
An infrared therapy glove uses body-emitted or electrical heat to boost blood circulation in your hands, fingers, and wrist. Infrared gloves can significantly relieve symptoms such as hand and finger pain, stiffness, numbness, tingling, and wrist pain. Occupational therapists often recommend infrared therapy gloves to people living with arthritis, neuropathy, Raynaud's, strained hand ligaments, and more.
👉 For Carpal Tunnel Syndrome we recommend a heated wrist wrap, and a heated hand massager!
There are plenty of heat therapy gloves on the market.
Some are made with heat-retaining infrared (ceramic) fabric, some are electric (battery-operated) FIR gloves, and some are microwaveable.
Some cover the entire hand and fingers, and others leave the top of your fingers exposed.
Who Should Use Infrared (Thermal) Gloves?
Anyone suffering from Raynaud's, rheumatoid arthritis, trigger finger, carpal tunnel, neuropathy, tendonitis, and strained ligaments in the hand, causing pain, stiffness, numbness, and poor hand function.
👉 We also recommend heated socks for people with Neuropathy, Diabetes, and all conditions causing cold or achy feet.
So, what's the difference between all these therapeutic heated gloves?
Bio-Ceramic Gloves vs. Electric Heated Gloves
Bio Ceramic gloves (also known as Arthritis gloves) are usually designed to be somewhat tight – to add compression therapy to the heat and promote blood circulation. They mostly cover only the lower part of your fingers, and you'll need to wear them for at least 8 hours a day to get the full benefits.
Electric heated gloves cover the entire hand, fingers, and wrist, are electrically heated, have various heat settings, and you'll need less treatment time.
However, they are bigger, and heavier, and do not offer compression therapy. Also, you won't be able to work with your hands while they are on (but you can sleep comfortably with them).
Keep reading to find the best infrared gloves for your needs.
The 8 Best Infrared Heated Gloves 
Through our research, here are the top-rated heated gloves:
1. Intellinetix Vibrating Gloves

Best for Neuropathy
Heat – Low
Compression – moderate
Vibration – moderate
Vibration is a great upgrade when it comes to electric heated gloves because it adds the benefits of massage and relaxation to your treatment (and helps distract you from the pain).
(For the full benefits of massaging your hands – see the best heated hand massagers for arthritis)
The Intelitex soft and breathable gloves slip on just like any other glove, but then, with a push of a button, it starts vibrating gently through small motors inside the fabric, and even a bit of healing heat.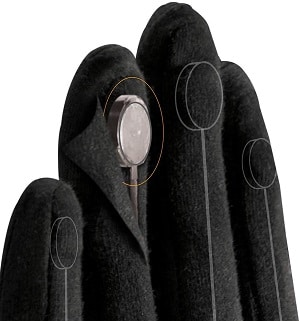 You'll only need 20-30 minutes twice a day for long-lasting results, but these vibrating gloves can run for 40 minutes without recharging (with a USB cable.
✅ Available at FSA Store ($119) and on Amazon ($92)
2. Savior Arthritis Heated Gloves

Best Rechargeable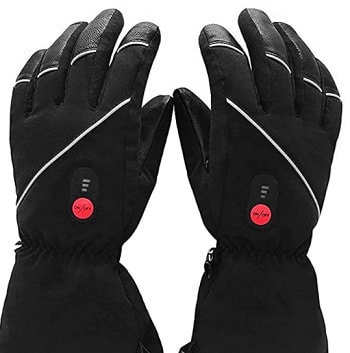 Heat – High
Compression – Low
The Savior battery-operated heated gloves emit infrared rays via carbon fiber fabric and heating elements and can be set to 3 different temperature settings (Low/Medium/High) – optional for Arthritis and Neuropathy hand pain.
The Savior gloves are made with an external layer of 40% lambskin and 60% polyester, breathable, waterproof, and wind-resistant. They feel warm even before you turn them on.
The internal part is made of a soft pearl cotton insulation layer with heat elements and a pair of 2200mAh rechargeable lithium-ion batteries. They cover the entire hand and their size fits everyone, so there's no need to measure your hands.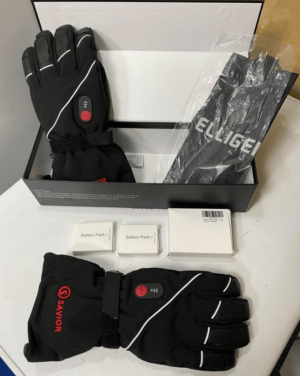 They are 100% portable, waterproof, and wind-resistant, and are designed to use for winter sports, but they can also be used for hand pain treatment, including arthritis, carpal tunnel, Raynaud's, and Fibromyalgia.
We recommend using these gloves for at least 2-4 hours – twice a day – to get the full benefits.
✅ Available on Amazon ($140) and at Walmart ($89)
Interestingly, all four types of pain are decreased or completely relieved while I wear battery-operated heated gloves, even without pain medication. In addition, wearing the gloves decreased the swelling in my fingers to the point that I can now make a fist, which was impossible prior to continuous  heated glove use" – The Rheumatologist
3. IMAK Arthritis Compression Gloves 

Best for Arthritis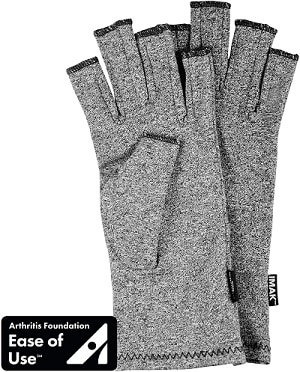 Compression – moderate
Heat – moderate
IMAK, one of the leading brands of compression products designed for arthritis, has earned the Arthritis Foundation's Ease of Use badge, for their different types of gloves.
The IMAK lightweight gloves are made with 92% cotton and 8% spandex and are breathable, snug fit, and feel comfortable even if you wear them all day. They offer light compression and warmth and help to boost circulation to relieve pain and promote healing.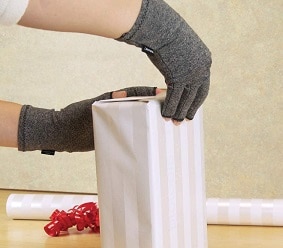 The open fingertips help you touch and grip and they are perfect for doing your daily chores while you use them. They do not dry out your hands, and they are great to use in the summer to prevent hand pain and swelling.
The only con is you have to know how to measure your hands to order the right size for you:
Lay a ruler, straight edge, or tape down flat on the table. Then, lay your hand on the numbers; put the Zero at one edge as you are looking down over your hand. If you see 2 3/4 inches or less, order the XS; more than that, and up to 3 1/8 inches you need a Small size.
The Medium is up to 3 1/2 inches and the Large is up to 4 inches.
Having the correct size compression gloves determines the success and pain relief provided.
✅ Available at Arthritis Supplies ($19) and on Amazon ($23)
4. Thermoskin Arthritic Gloves

Best for Raynaud's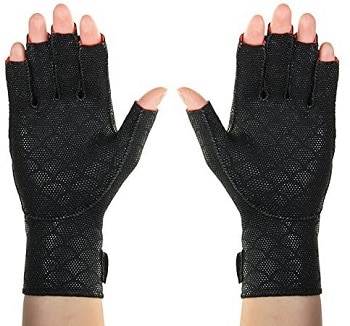 Warmth level – moderate
Compression level – moderate
Thermoskin is an Australian-based company with 30 years of experience in making arthritic gloves.
These warming compression gloves are made with Trioxon lining to capture your natural body's heat, while the outer layer is textured for better grip, to allow for gardening, and household chores.
The anatomically shaped gloves (covering the palms, wrist, and most of the fingers) are mildly compressing, and the seams are strong and durable. They actually feel like a very skinny wet suit for the hands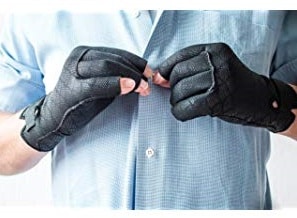 The Thermoskin arthritis gloves are somewhat stiff and may feel uncomfortable for sensitive people, but they can be great help for Raynaud's Syndrome symptoms and are well-made and long-lasting.
✅ Available at Arthritis Supplies ($39) and on Amazon ($33)
5. LED Hand Pain Relief Mitten Best LED Therapy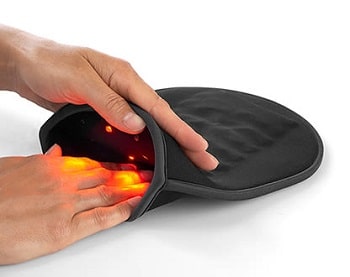 Heat – low (red light wavelength)
Compression – none
The Sharper Image LED Hand Pain Relief Mitten treats all types of hand pain, including Carpal Tunnel, arthritis, neuropathy, and repetitive stress injuries, and it's a one size fits all glove.
These red light therapy gloves increase blood circulation and healing through medical-grade LED bulbs, In the red (660 nm) and infrared (880 nm) range.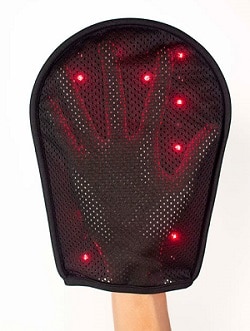 It is rechargeable (cordless) and portable, so you can easily take it with you anywhere, or just relax in front of the TV with it. The battery lasts for about 40 minutes per charge.
Many consumers have written positive testimonials about this device, claiming it has helped them feel noticeable relief from arthritic hands, carpal tunnel, and hand injuries – usually immediately after the 20-minute treatment.
The only con in this electric hand warmer is that you can only treat one hand at a time, or buy 2 mittens to treat both hands in 20 minutes. If you are a busy person and cannot spare time – this one is not for you.
✅ Available at Sharper Image ($127 with coupon code SAVE20)
👉 Alternatively, consider the dpl Flex Mit, which costs the same ($129 at Revive Light Therapy) and has the same exact features and design.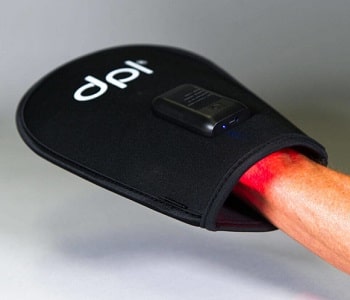 6. Comfy Brace Arthritis Hand Compression Gloves

Best Compression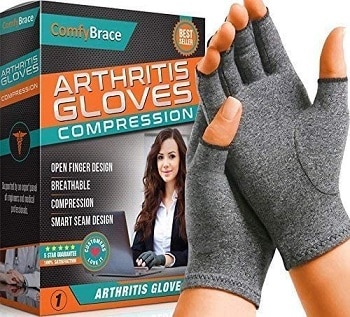 Compression – moderate
Heat – moderate
The Comfy Brace warming compression (fingerless) gloves are very similar to the IMAK gloves, made with the same material (cotton & spandex), and are also breathable, comfortable, and long-lasting (good stitching).
The light compression and warmth, and the open fingertips prevent swelling and ease hand pain while you run errands, cook, walk the dog, drive, or work on your computer.
The fabric prevents moisture and you can easily hold on to things when you work and are comfortable to sleep with – at night (to wake up without swelling).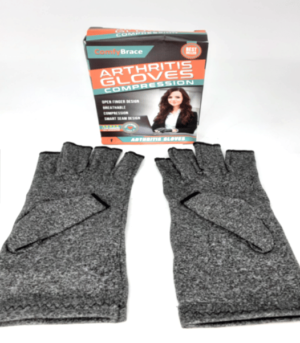 The high-quality stitching stays perfect even if you wash and dry it every day, and the company offers a money-back guarantee and a lifetime warranty.
Amazon buyers love this pair of arthritic gloves and give it very high ratings.
✅ Available on Amazon ($17)
7. Dr. Frederick's Original Arthritis Gloves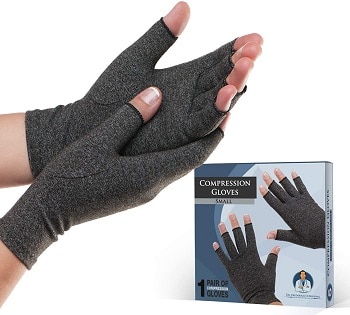 Heat – low-moderate
Compression – moderate
Dr. Frederick's original arthritis gloves are highly popular with their sleek, soft, and breathable composition, and open fingertips that allow you to use your phone and pick up anything you need – without slipping.
These compression gloves use your natural body heat to provide warmth and are tight enough to allow for compression on your fingers, thumbs, wrists, and other joints.
They are machine washable and come in 3 sizes. The right size will be a perfect fit and allow for heat and compression therapy while allowing you to do your daily chores pain-free and comfortably.
✅ Available on Amazon ($15)
8. Toasty Touch Ultra Thin Heated Gloves – Best for Typing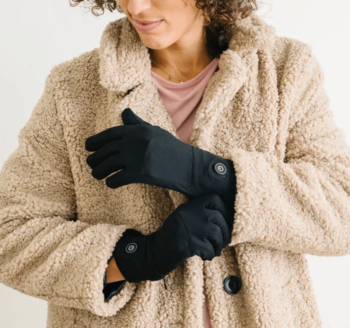 Heat – Medium
Compression – none
The Toasty Touch heated gloves are the thinnest electric warming gloves you'll find, and they allow you to get the heat you need without the bulkiness of hot packs and thick fabrics. You can easily use them for typing and other daily tasks, and they are touchscreen compatible!
With a simple push of a button, you turn them on and choose from 3 levels of heat. They are the best for indoor use, but outdoors, they can be used as heated glove liners (great for Ski).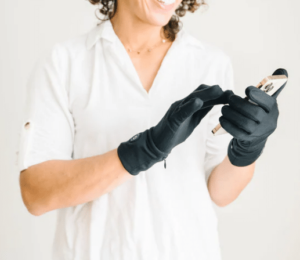 They were engineered for people with Raynaud's Syndrome and cold hands, and they are very comfortable and not too bad on the eyes. They are powered by a pair of rechargeable lithium batteries (7.4V 2200 mAh) that keep your hands toasty warm for 6 hours – anywhere and anytime you want.
The heat doesn't reach the palms, so no sweaty palms to be annoyed about.
Toasty Touch Pros
Best for indoor use
100% portable and rechargeable
Made of thin lycra which feels very comfortable
Perfect for retaining fingers flexibility
6 hours of continuous heat
Cons
Not suitable for trigger finger relief
Not warm enough for sub-zero temperatures, better for home-use
✅ Available at Toasty Touch ($110)
How Do Heated Gloves Relieve Hand Pain?
Heat therapy gloves work in 2 major ways, including infrared therapy, and compression:
1. Infrared Heat – infrared rays, felt as heat, are tried, tested, and proven to quickly boost blood circulation, dilate blood vessels, relax muscles and promote healing and regeneration of cells.
Electric infrared gloves use electricity to produce infrared rays and can get much hotter than non-electric gloves (making treatment more powerful and fast).
(👉 Learn exactly how infrared light therapy for arthritis works!)
2. Compression – arthritis gloves are designed to offer compression therapy as well. Compression also boosts local blood circulation, which promotes more oxygen and healing nutrients in the blood.
Thermal Compression gloves can be helpful for finger swelling and wrist joint stiffness – while relieving hand pain.
How to Use Heat Therapy Gloves for Hand Pain 
First of all, when you use arthritis gloves (with heat + compression) – make sure the gloves fit. If they are too tight or too loose, you won't enjoy all the benefits. You have to use them for at least 8 hours a day, or you can use them when you sleep. You probably won't feel results if you just use them here and there.
If you use battery-operated infrared gloves, you can still use them for 8 hours or while you sleep, but from our experience with infrared therapy, you won't need more than 2 hours twice a day – to get the full benefits.
Vibrating heated gloves can be used for 20-30 minutes, twice a day.
Thermal Gloves FAQ
Do Arthritis Gloves Work?
7 clinical trials have proven that hand symptoms such as pain, stiffness, and swelling improve substantially when arthritis gloves are used. However, marginal or no improvement in hand function (with the exception of grip strength) linked to the use of therapy gloves is being reported.
Are Infrared Gloves Safe?
Infrared therapy is one of the safest and most natural therapies for hand pain relief. Far infrared rays have nothing to do with UV radiation and they feel like the heat from the sun.
It promotes blood circulation and thus oxygen supply and healing nutrients to damaged tissues in your hands and fingers. This results in faster healing and natural pain relief that lasts for hours.
How Long Can You Wear Thermal Compression Gloves?
Most infrared arthritis gloves are designed for 8 hours of use per day/night. To get the full benefits, you should wear infrared gloves for at least 8 hours a day. However, you'll get the benefits even if you only wear them for about one hour per day.
To your health and happiness,
Meital
P.S
Check out more ways to use infrared light therapy for Neuropathy, and the best infrared light therapy home devices.
Studies
Nasir SH, Troynikov O, Massy-Westropp N. Therapy gloves for patients with rheumatoid arthritis: a review. Ther Adv Musculoskelet Dis. 2014;6(6):226-237. doi:10.1177/1759720X14557474
Oosterveld FG, Rasker JJ. The effect of pressure gradient and thermolactyl control gloves in arthritic patients with swollen hands. Br J Rheumatol. 1990;29(3):197-200. doi:10.1093/rheumatology/29.3.197
Peggy T. McKnight OTR/L , C. Kent Kwoh MD. Randomized, controlled trial of compression gloves in rheumatoid arthritis https://doi.org/10.1002/art.1790050407
Meital James
Founder and CEO of 4 healthy living blogs, has a background in Naturopathic medicine, research, journalism, and nutrition. Her blogs are the culmination of her thousands of hours of research and experience and all the posts are verified by scientific findings.