How do you choose from the 12 different models of Homedics Foot Massagers with infrared heat?
What is the best Homedics foot massager– for Plantar Fasciitis, Neuropathy, blood circulation, Arthritis, or any other condition that causes foot pain?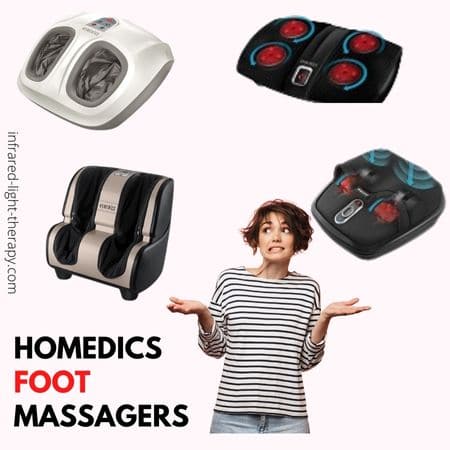 This post contains affiliate links.
To help you find the best Homedics foot massager (with heat) for your needs, we've reviewed, compared, and analyzed 350 user reviews for the 5 best-selling models of 2022.
Top Pick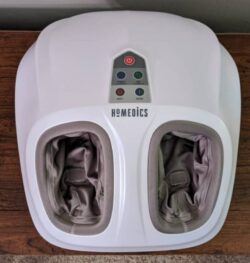 Our top pick for 2022 is the Homedics Shiatsu Air 2.0, which is the only model that is fully customizable and thus also fits people sensitive to pain or heat:
No worrying about too much compression and intensity – choose massage type intensity and compression intensity
Full coverage infrared heat
Strong motor – can work for 40 minutes straight
For people with swollen feet, we recommend the Homedics Air Max, which has semi-open foot chambers and offers a more gentle squeezing. 
Related Articles: Best Infrared Massagers | Best Shiatsu Foot Massagers
What is a Homedics Foot Massager Good For?
Your feet carry you around all day every day and suffer a great amount of pressure each day.
The Homedics foot massager was designed for soothing and relieving foot pain caused by any reason, including standing work, plantar fasciitis, neuropathy, running pain, blood circulation problems, diabetes, and daily stress.
Homedics offers 12 different foot massagers, including shiatsu foot massagers with air compression and heat, and vibrating/shiatsu foot & calf massagers.
All models include toe-touch controls for easy reach without bending down, and they are all well made, last for years, can be easily cleaned, and easily stored, with a 2-year warranty.
👉 So, what's the difference between all models, and which one is the best value Homedics foot massager?
You'll find out in a second – below.
Here's a quick comparison table for the 5 best models. Below you'll find the pros & cons for each foot massage machine and our foot massager reviews.
Homedics Foot Massagers with Heat – Which Model Is Best for You?
Through our research of hundreds of consumer reviews, the best Homedics Foot Massager model is the Homedics Shiatsu Air Pro 2.0, because you can choose both the shiatsu intensity and the compression level separately, and adjust every feature according to your pain level and condition, including the heat, and the type of massage.
See our full reviews below:
1. Homedics Air Pro Review –

Best for Muscle Tension
Feet size – up to US men 13 (narrow)
Massage heads – 2
Size –16.4 x 14.1 x 9.2 inches
Weight – 9.02 pounds
The Homedics Air Pro is a full coverage foot massager with infrared heat and customized toe-touch controls, that offers shiatsu massage, compression massage, and rolling massage.
The slow, gentle air compression rhythmic massage soothes the muscles, while the rolling shiatsu massage kneads the trigger points in your feet and releases them.
The combination of reflexology massage and gentle squeezing boosts your blood circulation quickly while releasing muscle pain, which makes it recommended for foot swelling and foot muscle pain.
👉 RELATED: 14 Proven Health Benefits of Infrared Therapy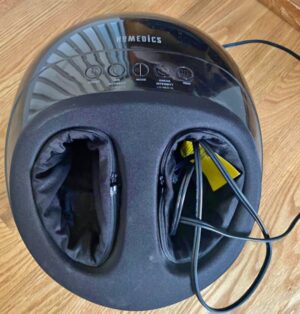 Homedics Air Pro Pros
The strong infrared heat increases blood circulation and relaxes the muscles quickly
Strong massage even at the lowest setting – great for heel pain (use with socks)
Full foot coverage
Immediately relieves stress
Cons
Can't be used for more than about 15-20 minutes to avoid the motor heating up too much
Takes a few minutes to heat up
Not recommended for diabetics
✅Price – $160 at Walmart, or check price on Amazon 
2. Homedics Shiatsu Air 2.0 Review –

Best Overall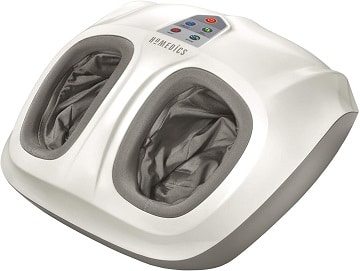 Feet size – up to US men 14
Massage heads – 4
Size – 17.1 x 14.4 x 8.7 inches
Weight – 9.03 pounds
According to buyer reviews, the best feature in the Homedics Air 2.0 is the shiatsu intensity settings.
With this full coverage infrared heated foot massager you can choose both the compression massage strength and the shiatsu massage intensity.
You can actually choose any feature (kneading/rolling/compression/heat) separately, or use all of them in one effective treatment.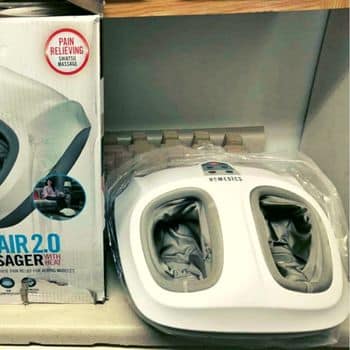 The amazing versatility of this model makes it the best overall Homedics foot massage on the market.
Homedics Air 2.0 Pros
Most customizable Homedics foot massager
Strong motor, can be used for 40 minutes and more
Toe touch controls allows choosing massage type and intensity
Full coverage
Machine washable cover
Very high buyer ratings
Cons
✅ Price – $169 at Homedics, lower price on Amazon
3. Homedics Air Max Review –

Best for Swelling Feet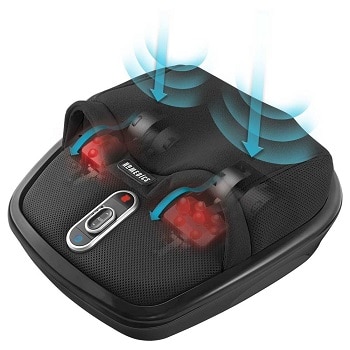 Feet size – all
Massage heads – 2
Size – 15.8 x 14.8 x 5.6 inches
Weight – 8 pounds
The Homedics Air Max offers 2 massage types to choose from: deep kneading shiatsu, or air compression massage (gentle squeezing).
The foot chambers are open so this foot massager fits all feet sizes, even swollen feet.
You can customize the intensity of the compression massage to decide how firm or gentle the squeezing will get.
It has a user-friendly simple push-button control panel (toe-touch) and can be easily machine-washed with the removable zipped cover.
Homedics Air Max Pros
Super quiet
Massage intensity is adjustable
Even heat distribution
Fits all feet sizes
You can choose the massage type you'd like
✅ Price – $129 at Homedics, lower price on Amazon
Cons
4. Homedics Therapist Select Review –

Best for Runners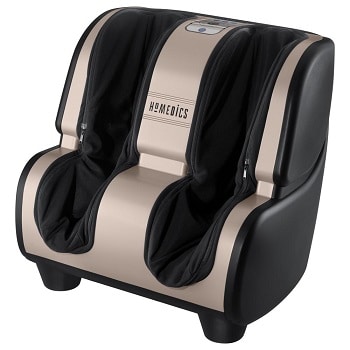 Feet size – up to US men size 12 (narrow)
Massage heads – 4
Size – 21.38 x 20.5 x 21.75 inches
Weight – 25.5 lbs.
The Homedics Therapist Select is a foot & calf massager that doesn't end at your ankles and works the kinks out of the sometimes-overlooked calf muscles.
This one is especially good for runners and people who work on their feet all day.
The Therapist Select massager offers a full-coverage deep kneading massage, rolling massage, vibration massage, and compression massage – from calf to toe – with 3 intensities to choose from.
It's also the only model that has 6 different massage programs to choose from, so you'll never get bored.
The adjustable tilt allows you to use it no matter where you sit (recliner/chair/sofa) and the cover is removable and washable.
Homedics Therapist Select Pros
Deep and relaxing massage for the feet and calves, plus compression massage
Customized intensity
Easy to reach control button, between the knees
Versatile massage – 4 different massage programs
Can be used in any seating position
Comes with a carrying handle for easy transport
Easily cleaned
Strong massage –fits runners and athletes
Cons
Bulky and heavy (but who cares if it brings pure joy at the end of the day)
Not suited for wider than average feet
Some users feel the massage is too strong
✅ Price – $349 at Homedics, or check the price on Amazon
5. Homedics Elite Review –

Best for Neuropathy/Diabetes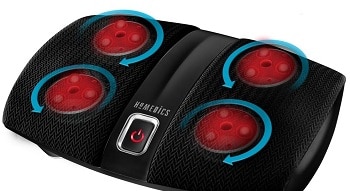 Feet size – all
Massage heads – 4 (12 nodes)
Size – 13.8 x 12.4 x 4.2 inches;
Weight – 4.4 pounds
The lightweight Shiatsu Elite Foot Massager is the lowest-cost foot massager in this list, mainly because it offers no compression massage and only deep kneading of the soles of your feet.
However, it's gentle enough to be used by people who suffer from neuropathy and diabetes, and the heat boosts blood circulation to speed up healing from these painful conditions.
(👉See the best infrared therapy devices for Neuropathy)
It has 4 rotating deep kneading massage heads (12 massage nodes total) with soothing heat – that massage your arches and soles.
The convenient toe-touch controls allow you to turn it on or off with a single push of a button and you can easily adjust the massage intensity by how much you press your feet against it.
Fits all feet sizes
Lightweight and portable
Toe touch controls
Budget-friendly price
Cons
No full coverage
No compression massage
No intensity settings
✅ Price – $64 at Homedics, or check price on Amazon 
Homedics Foot Massager Alternatives
If the Homedics model you like best is out of stock, or you want to consider a high-quality alternative, we recommend that you check out our post with the top 6  infrared foot massagers of 2022.
At the time this post is published, we especially like the Snailax Heated foot massager: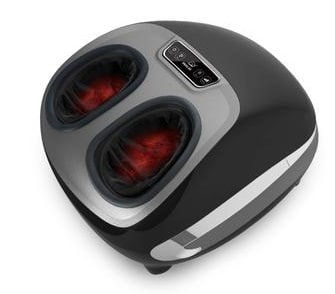 The Snailax heated foot massager uses Shiatsu, rolling, compression, and infrared heat to give you full coverage, invigorating and soothing foot massage and has 3 programs and 3 intensity levels you can choose from.
✅ Price – $104 at Snailax – use code NEW25 for a 25% discount!
Foot Massager FAQ
How Does the Homedics Foot Massager Work?
The Homedics foot massager includes thermal rolling massage heads that move in different directions and feel like a Shiatsu massage from heel to toe. The air compression bags create gentle and rhythmic squeezing pressure to fully soothe and relax your feet.
How Often Can You Use a Shiatsu Foot Massager?
You can use the Homedics foot massager several times daily, for 15-30 minutes each time, and no longer than 30 minutes in the same area. Overuse may lead to increased pain or further injury.
How Much Does a Homedics Foot Massager Cost?
The Homedics foot massager prices range from $49 to $250, depending on the variety of massage types, intensity settings, and foot and calf coverage. It is recommended to buy the best model for your specific needs.
To your health and happiness,
Meital
Meital James
Founder and CEO of 4 healthy living blogs, has a background in Naturopathic medicine, research, journalism, and nutrition. Her blogs are the culmination of her thousands of hours of research and experience and all the posts are verified by scientific findings.