$2000 vs. $300.
That's the price difference between most LED face masks on the market and the Deesse Pro LED mask.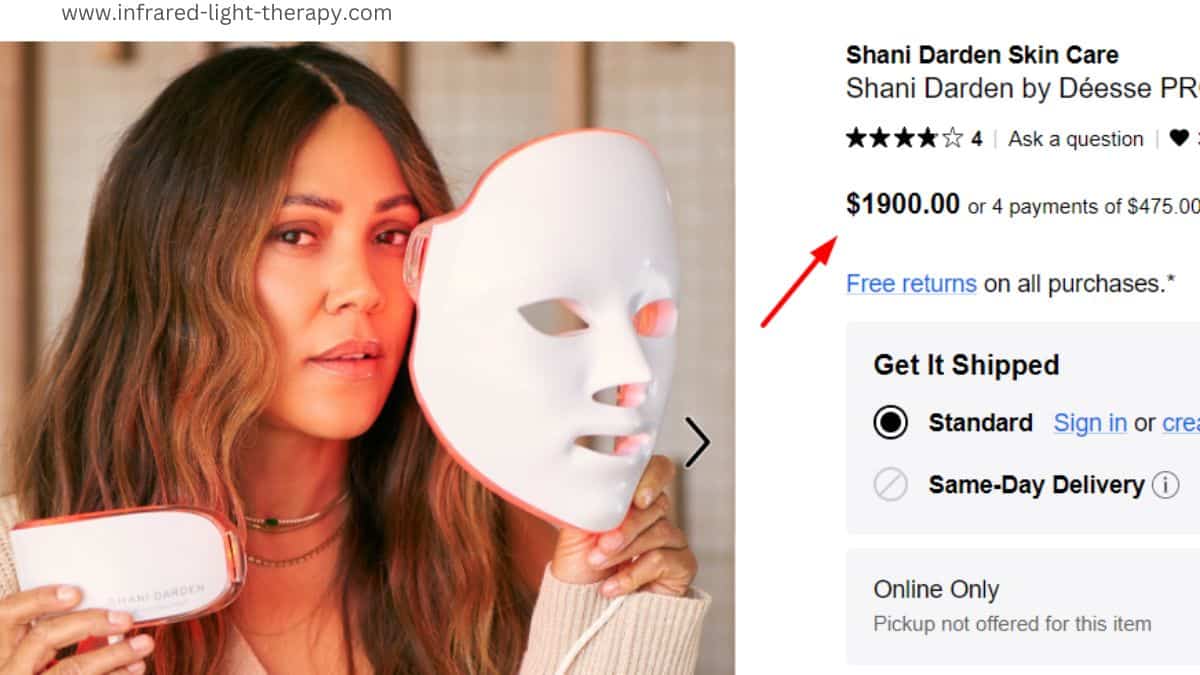 This post may contain affiliate links, at no extra cost to you.
We are huge fans of LED face masks, and use them regularly with great results (see our Project E Beauty LED Mask trial).
But:
With a price difference so staggering, it's hard not to wonder what could warrant a roughly 2,000% increase in cost from one LED mask to the next.
Wouldn't you like to know?
In this post, you'll find the main difference between the Deesse mask and the lower cost (yet popular) LED masks, whether it can deliver better anti-aging and acne healing results, and the bottom line:
Is the Deesse LED mask worth spending almost $2000?
Deesse Pro LED Mask Review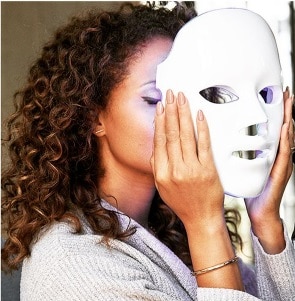 When the buzzing trend of LED light therapy masks began, the Deesse Korean LED mask was everywhere.
Pictures of celebrities and A-listers wearing the mask at clinics or at home popped like mushrooms after the rain – all over social media.
Stars like Jessica Alba, Kim Kardashian, and Kate Hudson claimed it to be their favorite tool to keep their skin smooth and flawless, while their expert aesthetician explained how red light therapy promotes collagen and elastin production – naturally.
Since then, dozens of lower-cost LED masks appeared in stores and online and became instantly popular because they made this innovative treatment affordable for us normal humans.
At the same time, Deesse kept releasing newer and more advanced LED masks, ending with the new pro next-generation version.
Where is the Deesse LED Mask Made?
All Deesse light therapy masks are manufactured by Senbitec Co. Ltd in Korea.
What's so special about it? why does it cost like a 30-day vacation in a 5-star hotel in Thailand?
Let's see:
Deesse Pro LED Mask Features
The Deesse professional phototherapy mask includes 770 LEDs (154 bulbs for each color) that deliver low-level laser light in 4 different colors and 6 treatment modes, and claims to improve:
fine lines and wrinkles
Blemishes
Pigmentation
Scaring
Anti-aging
Here are the 6 treatment modes it offers:
Red (630 nm) – for collagen and elastin production, which firms and plumps the skin and reduces fine lines and wrinkles.
Supercharged red – 10-minute express anti-aging treatment.
Blue (415 nm) – for destroying acne-causing bacteria and treating blemish breakouts.
Green

(520 nm) –

 to treat hyperpigmentation and lighten the skin, which improves overall complexion.

Blue

&

green

– calms irritated and sensitive skin.
Near-Infrared (830 nm) – boosts skin healing and supercharges blood flow and ATP production and can be used after skin procedures.
This is also more LEDs than any other mask on the market, and the mask also allows you to use more than one color at once, which is rare.
You can also choose from two intensity settings.
The Deesse comes with a control box, a power cord, and protective goggles.
👉 If you mainly want to treat wrinkles and fine lines, you can opt for the lower-cost Express model, which combines red light therapy and near-infrared light therapy – the best wavelengths for skin antiaging – The Deesse Pro Express. It is also much more comfortable since it is made from flexible silicone instead of rigid plastic.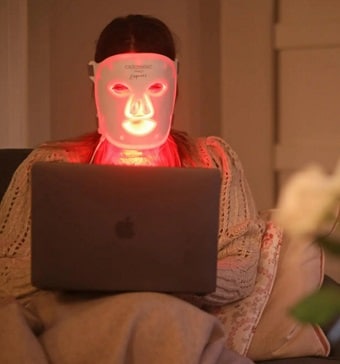 Deesse LED Mask Treatment Time
After cleaning your skin (which is mandatory before every red light facial), you put on your goggles, choose a treatment mode in the control box, and use it for 20 – 30 minutes.
This Reddit reviewer (with great results – check them out) uses green tea products (which we also recommend – see why HERE) before using the mask for 25 minutes daily, alternating between the different programs.
After treatment, use your regular skincare products, and never use the mask after applying retinol or AHA product.
You can use it daily except for the blue light, which is recommended only once a week (we don't know why… blue light is considered safe 3-4 times a week to treat acne).
Deesse Pro LED Mask vs. Lower-Cost LED Masks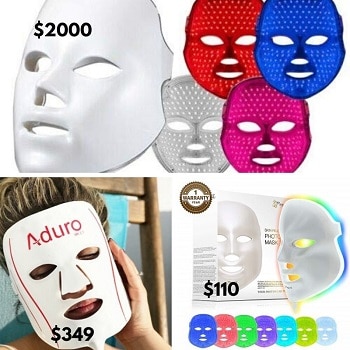 LED Light Therapy Mask
LEDs
Comfort Level
Treatment Programs
Price
Deesse Pro LED Mask

177 LEDs
6 colors + infrared
Medium comfort level
1 color per mode
✅ $2010 at Cult Beauty
Aduro LED Mask

198 LEDs
8 colors + Infrared
High comfort level
11 programs
(combined colors)
✅ $370 at Aduro Australia (use code MEITAL20 for discount)
👉 See my Aduro trial results
Current Body LED Mask

50 LEDs
2 colors - red & infrared
High comfort level
1 program
(red & infrared combined)
✅ $380 at Current Body
Project E Beauty LED Mask

149 LEDs
7 colors
Low Comfort Level
1 color per treatment
✅ $139 at Project E Beauty
Use code MEITAL05 for a 5% discount
👉 See my trial and results
Comparing the Deesse LED Mask with lower-cost competitor LED Light Therapy Masks, according to LEDs (strength, treatment options, comfort, and price.
Generally, all LED masks are built and work in the same way.
A certain number of LEDs are attached to a facial mask (made with either plastic or silicone – like the

Aduro LED mask

) and emit light rays in different colors and wavelengths.
Some masks offer 3 lights; others offer 7-8 colors. Some include the infrared wavelength (which is proven to boost skin healing and relieve pain), and some don't.
Some LED facial kits have programmable treatment modes, that combine two or more colors, and most offer just one light wavelength per treatment.
The 2 main differences between the Deesse and the other consumer-grade LED masks are:
The Deesse has 770 LEDs, while the others have between 120-200 LEDs. The more LEDs you have, the more powerful the treatment.
The Deesse offers 6-8 modes of treatment, while most LED masks offer only 1-color mode and no combined lights. This means that you'll need more treatment time if you want to use, for example, the red light for anti-aging and then the green light to calm the skin.
Otherwise, there are NO other significant differences.
As we mentioned in the beginning, we have two LED masks – the Project E beauty one and the Aduro LED mask.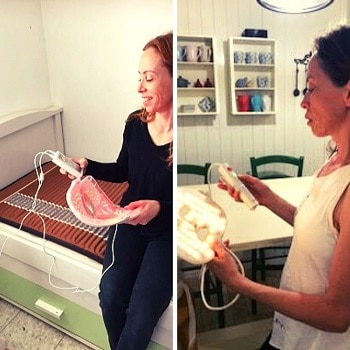 While both have much fewer LEDs inside, we have proven them powerful and effective – while costing only between $110 (for the Project E Beauty) and $349 for the Aduro.
(👉 See our trial and results for the Project E Beauty LED mask, and for the Aduro LED mask)
Furthermore, the Aduro LED mask, which has 198 LEDs and costs only $349 – is made with silicone instead of the regular hard and uncomfortable plastic that the Deesse is made with.
(Comfort is very important to be able to stick with the treatments and keep your results!)
👉 Plus, the Aduro LED mask has 8 different color wavelengths (including infrared!) and 11 pre-programmed treatments you can conveniently choose from with the remote.
So, what's our conclusion?
Is the Deesse LED Mask Worth its Price?
While the Deesse seems to be the most powerful LED light mask (thanks to the 770 LEDs inside), it does cost over $2000, and may not be the best choice for a first-time user of LED therapy masks. Deesse does not (and cannot) guarantee that you'll get results, and how good those results will be, and we haven't found a way to return the mask if it doesn't work for you.
That means that you may throw $2000 – straight into the trash.
Plus, it's not a comfortable mask because it's made with rigid plastic and can feel heavy on your nose and face, which may compromise the chances of you sticking with the treatment.
(We know about more than a few people that quit using a LED mask just because it's uncomfortable).
While the lower costs ones do have fewer LEDs, we tried 2 of them and got some amazing results.
If this is your first time purchasing an LED facial mask, we recommend starting with the $100 – $300 lower-cost LED masks and upgrading to the Dessee – only if you see that it works for you.
Nobody should go broke trying to chase the light-therapy dragon, nor should you assume that just because Jessica Alba swears by a fancy LED mask, it'll give you glowing Hollywood skin, too
That's our honest opinion.
Any questions or comments? Use the comments below or message us directly on our Facebook page.
To your health and happiness,
Meital
Meital James
Founder and CEO of 4 healthy living blogs, has a background in Naturopathic medicine, research, journalism, and nutrition. Her blogs are the culmination of her thousands of hours of research and experience and all the posts are verified by scientific findings.