If you think that using an infrared (heated) foot massager is just another way to relax your tired and aching feet at the end of the day – think again.
Infrared foot therapy is a natural and cost-effective treatment that is a must for people who suffer from poor blood circulation, heel pain (Plantar Fasciitis), Neuropathy, flat feet, arthritic feet, and varicose veins.
Combined with Shiatsu massage, you get a simple device that can help reduce pain, tension, and inflammation, while promoting relaxation and healing.
In this post, you'll find the proven benefits of infrared foot massagers, and the best shiatsu/vibrating heated foot massagers – in 2023.
👉 In a Hurry? here's a short comparison table for the best heated foot massagers. Below you'll find their benefits and full reviews.
This post contains affiliate links, at no extra cost to you.
Infrared Foot Massager Benefits
The proven benefits of heated foot massagers include long-lasting pain relief (muscle/nerve/bones), Improved blood circulation, healing of nerve damage (regeneration), edema reduction, and stress relief.
It can help people with chronic illnesses, people that work all day on their feet, people who suffer from poor blood circulation, and people who suffer from Plantar Fasciitis, neuropathy, and arthritis.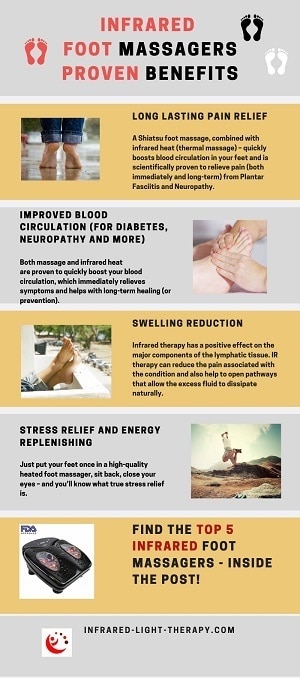 1. Long-Lasting Foot Pain Relief
A Shiatsu foot massage, combined with infrared heat (thermal massage) – quickly boosts blood circulation in your feet and is scientifically proven to relieve pain (both immediately and long-term) from Plantar Fasciitis and Neuropathy.
And:
Shiatsu (kneading) infrared electric foot massagers target the foot reflexology pressure points used by traditional Chinese medicine while emitting deep-penetrating infrared radiation, which results with:
Increased blood circulation (which plays a huge role in

tissue healing

!)
Pain relief
Tissue (and nerve) repair
How?
IR therapy causes the release of nitric oxide, a short-lived gas that is crucial to the health of your arteries.
This powerful signaling molecule relaxes them (makes them wider) – which allows for more oxygen and pain-relieving components, and prevents blood clotting.
2. Improved Blood Circulation 
Improving blood circulation issues is crucial for anyone suffering from Diabetes, Peripheral Neuropathy, Edema (swelling), Varicose veins, Obesity, and more.
Both massage and infrared heating are proven to quickly boost your blood circulation, which immediately relieves symptoms and helps with long-term healing (or prevention).
For example, a large-scale infrared therapy study, with patients suffering from both Diabetes and Neuropathy, found that numbing and sensation loss was improved by 66%, and pain levels decreased by 67%!
Note: some heated foot massager machines may include a warning for diabetics to not use them. The reason is that diabetics may be sensitive to heat.
We recommend that you consult with your doctor before using this device.
(When you do, ask him/her about this study – showing that 4 weeks of FIR radiation administered to the feet of type 2 DM patients significantly reduced cortisol levels and blood glucose levels.)
3. Foot Swelling Reduction
Swelling feet is the most common symptom of extremities lymphedema.
More than a few studies have shown that infrared therapy has a positive effect on the major components of the lymphatic tissue.
For example, this study has found that infrared heat has significantly reduced swelling, and has decreased the deposition of fluid, fat, hyaluronan, and protein in the lymphatic tissue.
Also:
Infrared light therapy can reduce the pain associated with the condition and also help to open pathways that allow the excess fluid to dissipate naturally.
The reduction in swelling (in feet and ankles) means more nutrients for the damaged tissues and better cell rejuvenation.
4. Stress Relief 
You won't need scientific proof for this one, trust me. Just put your feet once in a high-quality heated foot massager, sit back, and close your eyes – and you'll know what true stress relief is.
The 8 Best Heated Foot Massagers 
Researching the best foot massagers, we looked for devices that allow you to tailor the massage to your specific needs, which means various intensities, massage types, and targeting specific areas.
We avoided bulky and uncomfortable designs, or devices that do not provide enough pressure or heat.
We made sure to check for durability, reliability, and value for money.
Here are our choices:
1. Snailax Foot Massager –

Best Value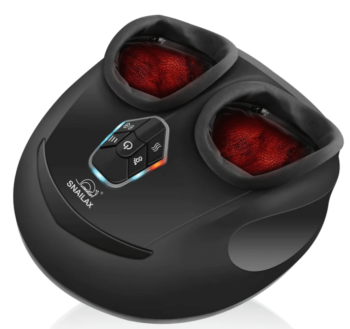 Massage types – Shiatsu/Rolling/Air Compression
Programs – 3
Intensity – 3 levels
Feet size – up to size 12
Through our research, the Snailax is the best-value foot massager of 2023 and the best return for your money.
The Snailax foot massager has 3 auto-programs you can choose from, all of which combine Shiatsu kneading, scraping, rolling massage, and air compression massage, with 3 different intensity levels.
The optional infrared heat feature (2 settings) boosts local blood circulation and makes this treatment very relaxing and soothing for tired and aching feet.
The Snailax is sturdy and well-finished, good-looking, and has a sleek design. The inserts do not feel sweat-inducing and are machine washable.
The control area is easy and simple to use.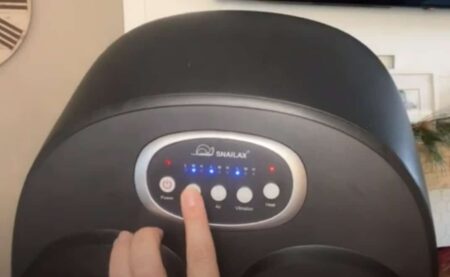 Snailax Foot Massager Pros
2-year warranty and free shipping on the official site
Easy to operate with toe-touch controls
Highly versatile with 3 programs and 3 intensity levels
Washable feet sleeves, easily detachable
Cons
Some people may find the pressure is too much, especially people with large feet
✅ Available at Snailax ($63 with coupon code labor30) and on Amazon ($69 with code under the price)
👉 We are familiar with many of the Snailax products and know they are all high-quality, durable, and reasonably priced, with outstanding customer service.
We have tested and recommended their infrared body massager as well.
2. Slabway Foot Massager – Best for Flat Feet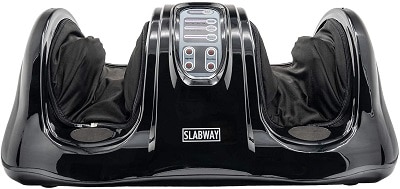 Massage types – Shiatsu
Programs – 4
Intensity – 3 levels
Feet size – all
According to experts, the best massage for flat feet is a kneading massage for the arches of the feet, to try and make them less flat.
There is no need for compression massage (which feels too intense for some people) for this condition.
The Slabway foot massager is the only foot massage machine on this list that offers great Shiatsu massage – without constricting your feet inside a chamber.
It does not do air compression (squeezing) massage, and the controller allows you to choose the speed and direction of the massage balls as you want it.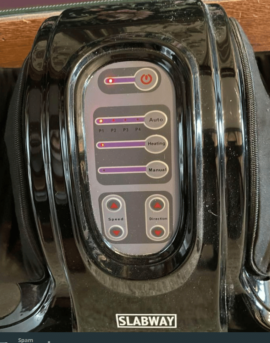 The design of the Slabway makes it fit for all foot sizes, and the open build allows you to massage your calves and other parts of your body as well.
It comes with an infrared heating option, to boost blood circulation while the muscles are being treated.
Slabway Pros
Fits all foot sizes
Wireless remote control
Best for flat feet
Lightweight and compact
Cons
No compression massage
Heavy and hard to move around
✅ Available on Amazon ($158)
3. Human Touch Reflex5s –

Best Foot & Calf Massager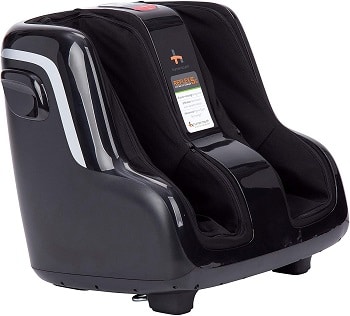 Massage types – 8-figure circular rolling/Vibration
Intensity – 2 levels
Programs – 2
Feet size – all
With a patented 8-figure Shiatsu rolling massage, the Reflex5s foot and calf massager boosts blood circulation toward the center of your body in a circular, natural massage motion, or intense vibration massage.
It utilizes CirQlation – a Human Touch patented massage that rubs the calves in an upward, rolling, or wave-like way, which forces blood away from the feet and toward the core of your body, improving blood flow and making you feel better.
Another unique technique used is the Figure-Eight Technology, which emulates the same techniques used by massage professionals.
Heat is delivered via warm air circulation while the machine is on, which means that this is not deep penetrating heat.
The onboard console allows for easy access to choosing from 2 massage programs, 2 intensity levels, and 2 massage motions.
The adjustable tilt base of the Reflex5s makes it easy to find the best massage angle, as seen below: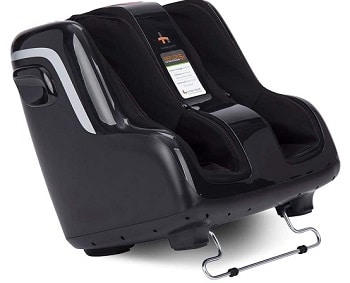 The massager does take up a sizable amount of space in your home (19 by 18 by 18 and weighs about 25 pounds) so if you're looking for something a little less cumbersome this might not be the right product for you.
On the other hand, it is best for people with larger calves and feet – the pressure would be perfect for them.
Reflex 5s Pros
Reaches the entire feet and calves
Easy-to-use controls
Feels like a real massage done by hands
Cons
Heavy, large, and bulky
Compression may not be strong enough for people with smaller calves
✅ Available on Amazon ($195) and at Walmart ($220)
4. Homedics Foot Massager –

Best for Wide Feet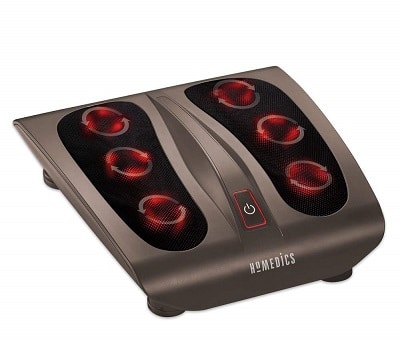 Massage Types – Shiatsu (finger, palm, and knuckle motions)
Programs – 1
Intensity – no settings
Feet size – all
👉 We've compared and reviewed 6 Homedics Foot Massagers!
Deep kneading (through 18 small rotating nodes) and infrared heat make this one the perfect massager for the sole of the foot, and the breathable fabric prevents sweating and keeps your feet dry.
There are no bells and whistles, but you can control the intensity of the massage simply by the weight of your feet on it, and it fits people of all foot sizes, including wide feet that will be crunched and pounded to death inside the typical chamber foot massager.
Easy to use
Portable and the size allows you to easily hide between furniture when not in use
No foot sweating – the top of the footbeds is covered with a breathable nylon mesh.
Fits people of all foot sizes
2-year warranty
Quiet
Long Cord (6 feet)
Can be used on your hands, calves, and thighs as well
Very helpful in relieving pain from Plantar Fasciitis
Cons
Massage can feel too rough for people with sensitive feet. The massage rollers are quite strong.
✅ Available at Homedics ($49) and on Amazon ($65)
5. Renpho Foot Massager –

Best for Plantar Fasciitis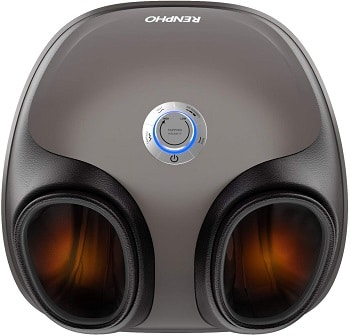 Massage Types – Shiatsu/Air Compression
Programs – 3
Intensity – 3 levels
Feet size – up to size 12
With the Renpho foot massager PRO 3 you can choose from 3 massage modes and 3 pressure levels, to target any point of your feet, and enable or disable heat, tapping, and air compression.
The heated airbags massage your feet while boosting blood circulation to relax and heal the muscles, nerves, and tissues more effectively.
The shiatsu massage helps clear out toxins and invigorates the lymphatic system, which results in quick pain relief and immediate relaxation.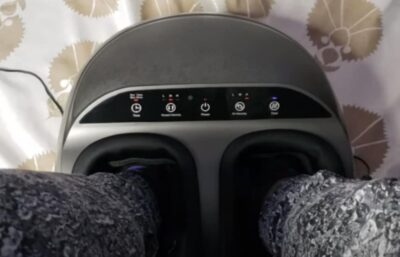 Renpho Foot Massager pros
You can choose from an intense massage or a gentler massage with the adjustable air compression intensity
Soothing and relaxing – optional infrared light therapy
You can choose either the toe-touch panel or a controller
Can be cleaned with the replaceable and washable cloth cover
Auto shut off after 15/30 minutes
1-year warranty and great customer service
Cons
People with very wide feet may find it difficult to insert their feet into the chambers
Makes some noise
✅ Available on Amazon ($90)
6. Nekteck Foot Massager –

Lightweight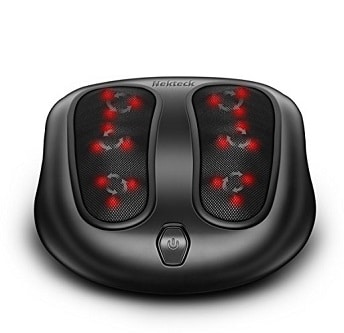 Massage Types – Shiatsu
Programs – 1
Intensity – 1 level
Feet size – all
Like the Homedics foot massager, the Nekteck foot massager is a basic footbed massager, with 6 massage heads, 54 massage nodes, and no other bells and whistles.
It is lightweight and easy to move around but has suction cups at the bottom to keep it stable on the floor. To use it, all you have to do is switch it on with your toe – without bending.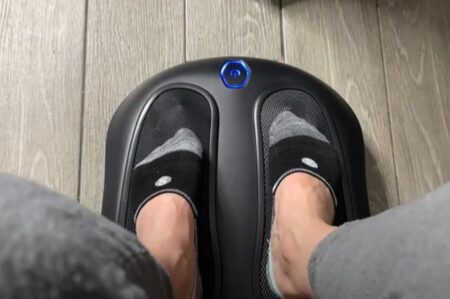 Nekteck Foot Massager Pros
Portable and has built-in cord storage and a carry handle
Quiet operation
Highly rated on Amazon
Good customer service – will refund you even if it breaks down after a year
1-year warranty
Cons
Intense foot massage. We recommend using a towel between your feet and the footbeds for sensitive feet.
If you have high arches – you may need to move your feet to help the massager reach them properly.
✅ Available on Amazon ($43 with code under the price) and at Walmart ($50)
7. Miko Shiatsu Foot Massager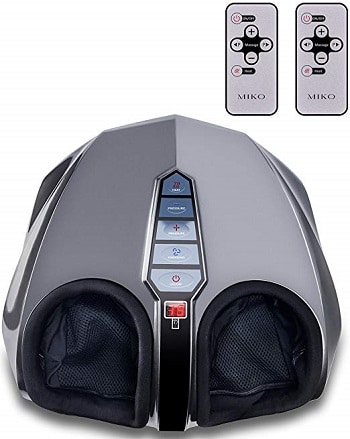 Massage options: Shiatsu/vibration/Air Compression
Programs –  1
Intensity – 5 pressure settings
Feet size – up to size 13
The Miko Foot Massager has 5 pressure levels to choose from, which makes it easier for you to find the right intensity for your level of pain and sensitivity.
However, users have reported the pressure is not consistent.
It offers unique shiatsu nodes and massage techniques, acupressure and compression features, rolling shiatsu, and independent foot chambers that deliver a shiatsu massage to the bottom and sides of feet.
The Miko Foot Massager also has infrared heat, deep-kneading, soothing natural vibrations, and a built-in timer to help relieve pain, improve circulation, and relax tense muscles.
The Miko was voted best electric foot massager by People Magazine and we agree – it is definitely one of the best ones you can find.
However, it is quite expensive.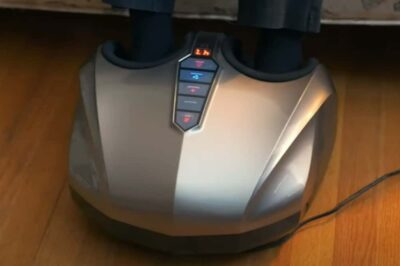 Miko Foot Massager Pros
More than average pressure levels
Easy to use
Five intensity settings
Removable and washable covers
1-year warranty
Excellent customer service
Highly rated by Amazon buyers
Cons
Not the best choice for people with sensitive feet (for example, diabetics), and some users complain about it not treating the heels sufficiently
✅ Available at Miko ($149 with free 2-day shipping) and on Amazon ($130)
8. Daiwa Felicity Foot Massager

Best Vibration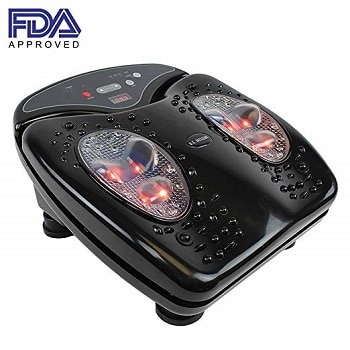 Massage options – Vibration/Acupressure
Intensity – 12 levels
Heat levels – 2
Programs – 1
Feet size – all
The Daiwa Felicity battery-operated foot massager has no less than 12 intensity settings, more than any foot massager on this list, so it's easy to customize the right level for your needs and pain sensitivity. 
The high-frequency vibration plate stimulates muscle fibers, increasing blood flow, easing tension, and soothing pain. And, it has 8 different spots of infrared light positioned at key reflexology zones.
It is built with raised footbeds for proper foot placement and can be used on other places in your body (hands, calves, ankles, etc.)
The vibration massage can be gentle enough for sensitive feet or high frequency and powerful for muscle relaxation and release.
With so many pressure options, it's easy to find just the right one for you.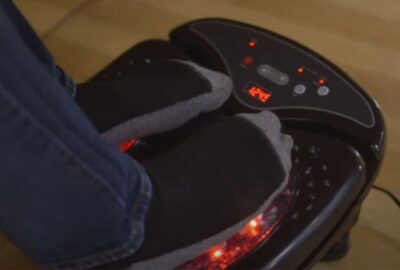 Daiwa Felicity Pros
Most pressure and intensity levels you can find in a foot massager
Offers both vibration and acupressure massage
Comes with a rubber mat to place under the massager
10/15/20 minutes timer
Cons
No compression (squeezing) massage
Battery operated – requires battery replacements
✅ Available on Amazon ($149) 
Infrared Foot Massager Types
In this post you'll find 3 types of heated foot massagers:
1. Footbeds – these massagers only treat the soles of your feet – there is no air compression massage on the whole foot.
Some of them have only Shiatsu (kneading) and some have vibration as well. This type is best for swollen feet or painful feet that may feel too compressed inside foot chambers.
2. Foot chambers – these electric foot massagers massage the entire feet and often combine air compression massage, Shiatsu, and vibrating massage.
These massagers can cost twice as much as the footbeds massagers, due to the added features and extended coverage. They fit best to people suffering from muscle tension in the feet.
3. Foot, calf, and leg massagers – these devices massage the entire foot plus the calves at the same time, at variable speed. They fit best for runners and athletes.
Infrared Foot Massager Side Effects
Generally, both massage and infrared therapy are proven to be safe and effective, without short or long-term side effects.
However, overdoing either may lead to some damage, that's why all heated foot massagers on the market automatically shut off after 15-20 minutes of treatment.
This helps you avoid overuse and damage from too much heat or too much intense massage (also known as a "sensory injury").
For some people, the intense Shiatsu massage from the heated foot massager is too painful and may make them stop using the foot massager and miss out on the benefits.
That's why it's important to choose a versatile foot massager, which allows for more gentle massage and speed settings.
To your health and happiness,
Meital
Studies
Young-Hee Lee, Bit Na Ri Park, and Sung Hoon Kim, The Effects of Heat and Massage Application on Autonomic Nervous System,  doi: 10.3349/ymj.2011.52.6.982
Hamblin, Michael. (2008). The role of nitric oxide in low level light therapy. 10.1117/12.764918.
The University of Illinois at Chicago. "Massage therapy improves circulation, alleviates muscle soreness." ScienceDaily. ScienceDaily, 16 April 2014.
Li, K., Zhang, Z., Liu, N.F. et al. Efficacy and safety of far infrared radiation in lymphedema treatment Lasers Med Sci (2017) 32: 485.
Ryotokuji, Kenji et al. "Preliminary results of pinpoint plantar long-wavelength infrared light irradiation on blood glucose, insulin and stress hormones in patients with type 2 diabetes mellitus." Laser therapy vol. 22,3 (2013): 209-14.
Meital James
Founder and CEO of 4 healthy living blogs, has a background in Naturopathic medicine, research, journalism, and nutrition. Her blogs are the culmination of her thousands of hours of research and experience and all the posts are verified by scientific findings.