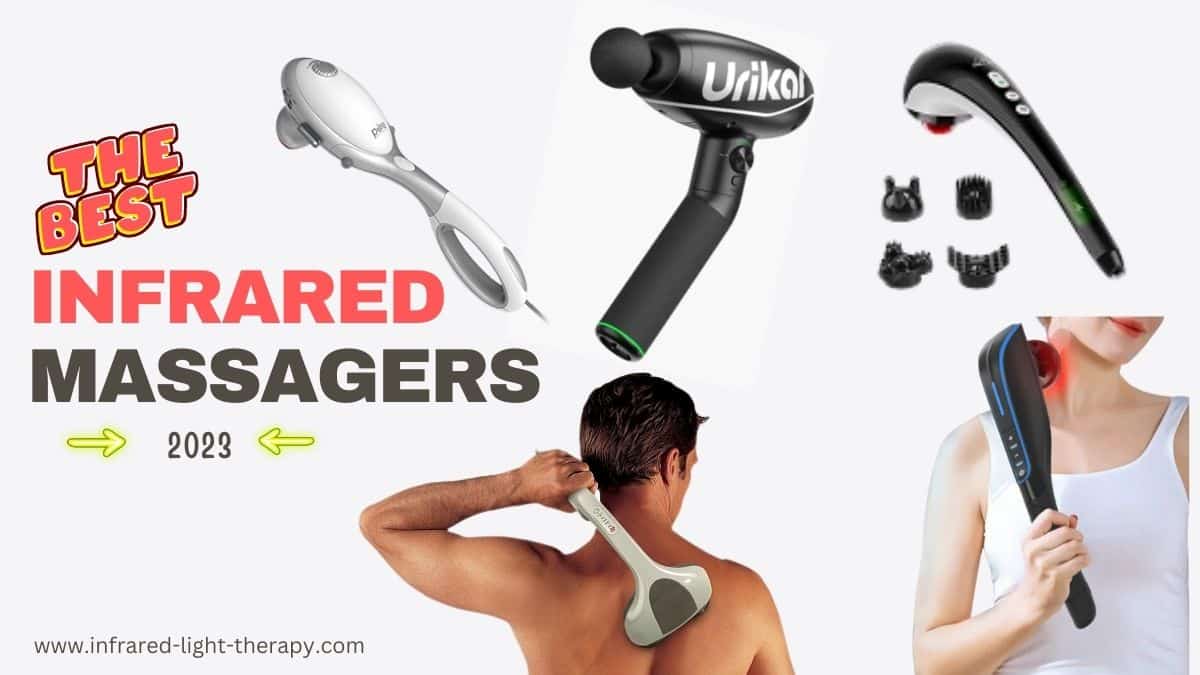 Though mostly small and lightweight, handheld infrared massagers are available in many types and sizes, and if you know how to choose one, it will quickly become one of your best therapeutic tools for muscle and joint pain, blood circulation prpoblems, and even cellulite reduction – anywhere in your body.
Why?
Because Infrared heat can double the pain-relieving and blood-circulation-boosting ability of any electric body massager.
Don't settle on a regular massager when you can use the healing power of infrared heat to supercharge muscle pain relief, boost blood circulation, and even reduce cellulite.
Surprisingly, a handheld infrared massager won't cost much more than the average massager.
Infrared Massager Benefits
Combining massage therapy with infrared therapy applied to an injured area in your body immediately increases blood flow and permeability (which leads to faster recovery).
It also penetrates deeper into the tissues, relaxes tight muscles, reduces stress, eliminates toxins, reduces cellulite (by destroying white fat cells),  and speeds up healing.
Handheld infrared massagers are designed to be versatile and portable, making them convenient for use anytime, anywhere.
They usually come with different attachments or massage heads that can target specific areas of the body, such as the neck, shoulders, back, or legs.
This versatility allows you to customize your massage experience based on your individual needs.
(See a list of studies at the end of the post)
👉 In a Hurry? see our top picks compared below:
Comparing the best infrared massagers according to features and price.
No ads, reader-supported: This post may contain affiliate links, at no extra cost to you.
How to Choose an Infrared Massager
Here's what I looked for when I researched the best infrared massager:
1. It is lightweight. If you plan to use it by yourself, you don't want your massager to be too heavy to hold for more than a minute.
2. It is reliable and high quality, so it won't break down after a few weeks.
3. It has a long electric cord. You don't want your movement to be limited.
4. It has a relatively big handle so you can use it comfortably.
5. It has different intensity levels so you can find the best one for you
6. It has additional accessories, such as interchangeable heads or attachments, to target different areas of the body.
Note
If you need an infrared foot massager – make sure to see our 2023 research results and the 7 BEST infrared foot massagers (with heat)- for heel pain, Neuropathy, diabetes, flat feet, varicose veins, and more!
Through my 10-hour research and trial, these are the 6 best infrared massagers in 2023 – reviewed and compared:
The 6 Best Infrared Massagers for Muscle Pain & Cellulite
Here are my detailed infrared handheld massager reviews:
1.

Snailax Infrared Massager – Best for the Money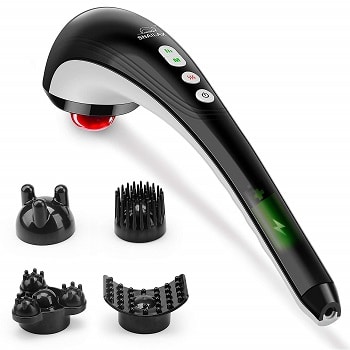 Size: 15 x 5.5 x 4 inches
Massage modes – 3
Weight: 1.8 pounds
Attachments – 4
✅ $41 with code labor30 at Snailax
The Snailax infrared body massager is 100% portable (just recharge and take it anywhere with you), powerful enough even on a low setting, has variable speed settings, and 4 attachments.
One of them allows you to use deep massage acupressure points.
It has a powerful vibration motor that can produce a deep-tissue percussion massage for the neck, back, shoulders, legs, and feet, and
includes an infrared heat feature (that will go up to 130℉).
The Snailax infrared massager is highly versatile – it comes with 4 interchangeable massage heads, 3 automatic massage modes, and 3 adjustable speed settings.
We found it to be one of the best infrared body massagers for pain relief and cellulite reduction – because it's powerful yet gentle enough to treat cellulite areas in your body.
Pros
Can be used on the go – the battery can last for 80 minutes on a full charge!
Sturdy, well-built
Powerful – has enough pressure even on the low setting
Comfortable grip
Quiet – makes a low humming sound
2-year warranty
Cons
The battery only lasts for 80 minutes on a full charge
✅ Available at Snailax ($41 with code labor30), and on Amazon ($39)
2. Urikar Pro 2 Infrared Massage gun

Best Overall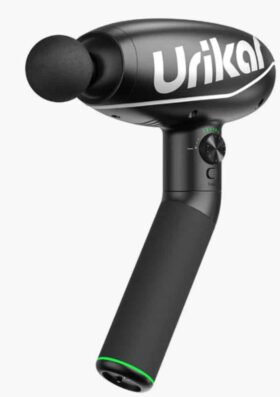 Size – 10 x10 inches
Weight – 2.6 pounds
Attachments – 8
Massage modes – 4
✅ $119 with coupon code URK3OFF at Urikar
The Urikar Pro 2 Massage Gun Infrared Massage Gun is a powerful percussion massager (above-average 12mm amplitude and a powerful stall force) – with a heated tip, that boosts your blood circulation even more – to alleviate chronic pain, quickly relieves DOMS, and enhances injury recovery.
The intense heated percussion massage is delivered through a ceramic head that warms up to 104-113 degrees Fahrenheit and can be replaced with non-heated heads that come with it – if you wish.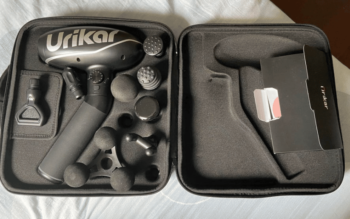 Compared to the more expensive Tim Tam heated massage gun, this one comes with up to 3,600 RPMs (compared to TimTam's 2,800 RPMs) and costs about half its price.
The 8 interchangeable heads allow you to change the type of massage, and you further adjust with 4 massage programs and 5 speed levels.
The battery lasts for 2-5 hours on a single charge, and the lifetime warranty protects your investment.
A unique feature you have to know about is the impressive ergonomics with a rotating arm (180-degree rotation), which helps greatly with reaching most of your back areas.
Urikar Heated Massage Gun Pros
A heated ceramic head (which can be removed and changed to other heads) delivers heat into your muscles
Powerful percussion massage
Highly adjustable (massage type, modes, and speed levels)
Long-lasting battery
Budget-friendly massage gun
Low noise
30-day money-back guarantee & lifetime warranty
Cons
Feels bulky compared to other handheld massagers
A shorter stroke length (12mm) may be limiting for some athletes
✅ Available at Urikar ($119 with coupon code URK3OFF)
3. Mo Cuishle Percussion Back Massager

Best for Cellulite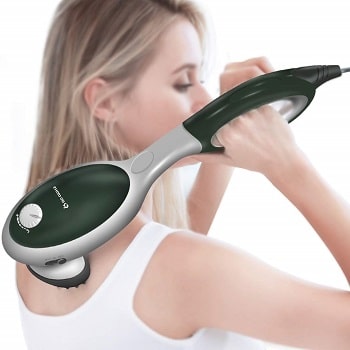 Size – 17 x 5 x 4.4 inches
Weight: 2.4 pounds
Attachments – 3
Speed levels – 5
This handheld Infrared lightweight massager has a powerful motor (3900 times per minute) and a wide range of speed levels you can choose from.
It has a long, anti-slip handle that is comfortable to use when you glide it over your aching muscles or cellulite areas – without any massaging oils.
The massage heads are made of silicone and the shell is made of ABS, which is high quality and environmentally friendly.
The "body scraper" attachment is especially good for cellulite treatment, combined with heat.
You can use it with or without heat, but I recommend always using heat.
The Mo Cuishle is one of the best IR body massagers to improve blood circulation, relieve muscle spasms and pain, and reduce cellulite.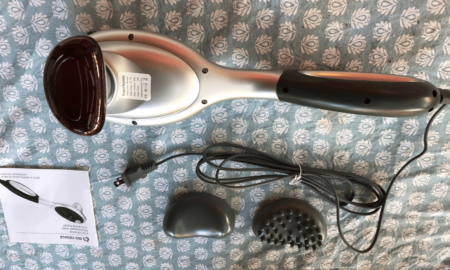 Mo Cuishle Pros
Includes infrared massage therapy
Easy to use, massager slides on the skin without massage oils (but can be used with them – if they are not alcohol-based
3-year warranty and 90-day money-back guarantee!
Can be used on any muscle in your body, and reaches everywhere
Designed to slide along the back, avoiding the spine.
Reasonable price
Cons
Heart patients and pregnant women are advised to not use it
Could be a little heavy for some people
You can't use the added attachments when you use the heat feature
✅ Available on Amazon
4. Snailax Foot Massager

Best Infrared Foot Massager
The Snailax infrared foot massager is made for foot pain relief, achy feet, and total relaxation after a day's work.
Heated Shiatsu or vibrating foot massagers can be the best natural solution for Plantar Fasciitis (heel pain), neuropathy, running recovery, flat feet, Varicose Veins, and more.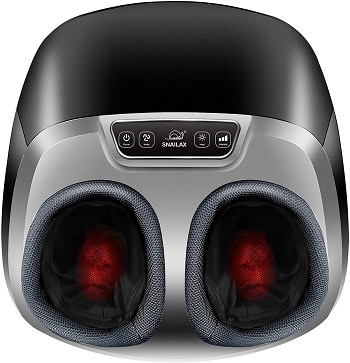 The Snailax infrared massager offers shiatsu massage and air compression with 3 massage modes and 3 pressure levels, so it's fully adjustable for anyone up to US men size 12.
See the Top 6 Infrared Foot Massagers
We've dedicated a full review post with the
top 6
heated shiatsu foot massagers
of 2023 – including vibrating foot massagers, shiatsu foot massagers, and the best foot and calf massagers. Check it out!
5. Comfier Deep Tissue Massager

With 6 Attachments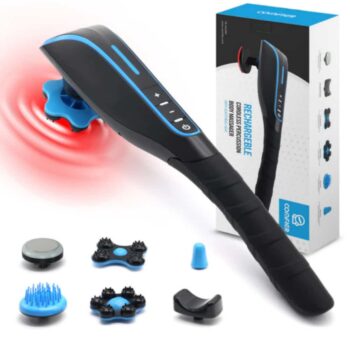 Size – 17 x 8 x 3.5 inches
Weight – 3.06 Pounds
Attachments – 6
Massage modes – 3
✅ $45 on Amazon
The Comfier Deep Tissue cordless Massager has 6 attachments for every type of massage you want, 3 automatic percussive massage modes, and 3 speeds (up to 3600 rpm).
While it is a bit heavy, it has a great reach. You won't need assistance with this one – to get to your upper, mid, and lower back.
The heated node reaches up to 113°F in just a few seconds – for a soothing warmth that melts your muscles while they are being massaged.
The 2000mAh battery will keep it working for at least 75 minutes single charge, which takes 2 hours.
Here are the attachments and what you can do with them: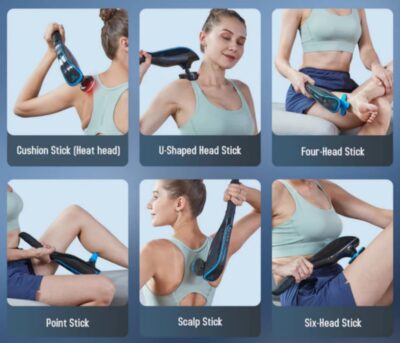 Comfier Pros
quiet
Easy to grip and reach everywhere – long, anti-slip handle
Many attachments and speed settings
Cons
Only one attachment allows for a heated massage
Battery lasts for 75 minutes per charge
✅ Available on Amazon ($45)
👉We've recommended a few other Comfier products here on the blog, including their elbow heating pad, and knee heating wrap,
6. Homedics Infrared Percussion Massager (with Heat)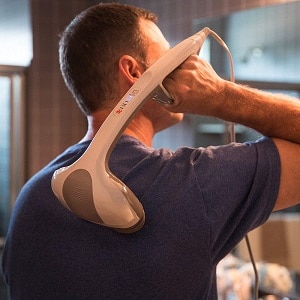 Size: 17  x 6 x 5.5 inches
Weight: 2.48 pounds
Attachments – 2
✅ $45 with code DRIFT30 at Homedics
Lightweight and portable, this Homedics infrared heated percussion massager weighs about 2.4 lbs and comes with 2 sets of massage nodes and a control.
It has 4 speed settings and 2 sets of attachments. However, the heat feature works best without the massage nodes, when the red light is exposed.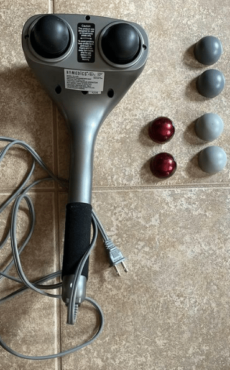 It is one of the most popular infrared massagers on Amazon, the most lightweight one, and is reasonably priced.
✅ Available at Homedics ($45 with code DRIFT30), and on Amazon ($45)
👉 We've recommended other Homedics infrared products on this blog, including the Homedics Infrared Foot Massager
How to Use an Infrared Massager
To use an infrared massager for the best results, make sure that it is switched off when you plug it in.
Then choose your preferred treatment head. Switch the device on, set the desired massage speed, and whether you want the heat on or off.
Use both your hands to guide the massager to any area on your body (excluding your face and scalp).
You can stand, sit, lie down, or massage another person.
Massage intensity can be changed depending on how hard you press it against your skin. I recommend massaging each area for no more than 3-4 minutes.
Infrared Massager Side Effects
The most important warning regarding infrared heat massagers is for diabetics. Diabetics cannot use these massagers because due to nerve damage, they cannot feel how hot the massager gets and can burn their skin unknowingly.
Otherwise, if you take a few minutes to figure out the right massage head and the right speed level, you're not supposed to experience any side effects other than pain relief, muscle relief, and stress relief.
Can You Use a Heated Massager During Pregnancy?
You can not use an infrared massager on your back or stomach when you are pregnant, because the electric impulses can stimulate uterus contraction and can cause premature labor.
However, you can safely use it on your legs or arms – at a low speed and gently.
Can You Use an Infrared Massager for Fat Burning?
Near Infrared therapy (low-level laser), combined with vibration massage, is proven to result in a significant reduction of fat thickness and cellulite.
Most studies have shown visible results after 12 weeks of treatment. These results were not diminished even after the treatment was finished.
I hope this guide was helpful and saved you some time (and money).
If you have any questions please use the comment section, or message me on my Facebook Page – I answer everyone.
To your health and happiness,
Meital
P.S
Are you aware of the powerful massage & infrared heat combo for cellulite reduction?
Studies
Tsai SR, Hamblin MR. Biological effects and medical applications of infrared radiation. J Photochem Photobiol B. 2017;170:197-207.
Romero C, Caballero N, Herrero M, Ruíz R, Sadick NS, Trelles MA. Effects of cellulite treatment with RF, IR light, mechanical massage and suction treating one buttock with the contralateral as a control. J Cosmet Laser Ther. 2008 Dec;10(4):193-201.
Do-Won Kim, Dae Woon Lee, Joergen Schreiber, Chang-Hwan Im, Hansung Kim, "Integrative Evaluation of Automated Massage Combined with Thermotherapy: Physical, Physiological, and Psychological Viewpoints", BioMed Research International, vol. 2016, Article ID 2826905, 8 pages, 2016.
Savoia A, Landi S, Vannini F, Baldi A. Low-level laser therapy and vibration therapy for the treatment of localized adiposity and fibrous cellulite. Dermatol Ther (Heidelb). 2013 May 23;3(1):41-52.
Meital James
Founder and CEO of 4 healthy living blogs, has a background in Naturopathic medicine, research, journalism, and nutrition. Her blogs are the culmination of her thousands of hours of research and experience and all the posts are verified by scientific findings.