Though mostly small and lightweight, infrared body massagers are available in many types and sizes and can become your new best friend if you need to relieve muscle pain, boost blood circulation and even reduce cellulite in your body.
People who look for hand-held infrared body massagers know that Infrared heat can double the pain relieving ability of any standard body massager.
They know not to settle on a regular massager when they can use the healing power of infrared heat to supercharge muscle pain relief – and fast.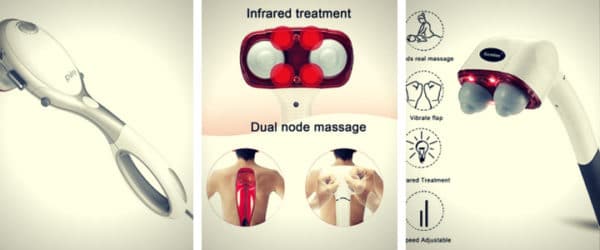 Surprisingly, an infrared light therapy body massager won't cost much more than the average handheld massager.
But now you want to know:
What to look for when you buy an infrared electric massager?
How hot does it get?
How many massage heads and extra features do I need?
Which one is the best?
Where do you find the best price?
The 4 Best Infrared Body Massagers (for Pain Relief & Cellulite)
Here's what I looked for when I researched the best infrared heat body massager:
1. It is lightweight. If you plan to use it by yourself, you don't want your massager to be too heavy to hold for more than a minute.
2. It is reliable and high quality, so it won't break down after a few weeks.
3. It has a long electric cord. You don't want your movement to be limited.
4. It has a relatively big handle so you can use it comfortably.
5. It has different intensity levels so you can find the best one for you
📢 Note
If you need an infrared FOOT massager – make sure to see our 2019 research results and the 5 BEST infrared (heated) foot massagers – for heel aches and pains, Neuropathy, diabetes, flat feet, varicose veins and more!
Through my 10-hour research (I really wanted one for myself), these are the 4 best infrared massagers in 2019 and my infrared body massager reviews:
1. Kemier ET-01 Physio Deep Tissue Massager with Infrared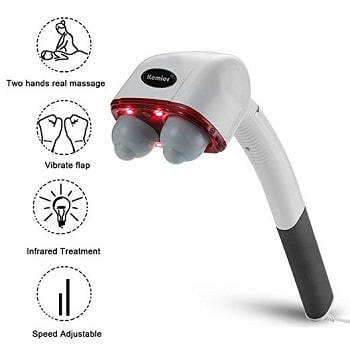 The Kemier Physio Infrared light Massage machine is a powerful 3-level vibrating massager, which is coated with a silicone-like material and can be comfortably used even without massage oils.
It's one of the best body massagers to improve blood circulation, relieve muscle spasms and pain, and reduce cellulite.
Massager size and weight: 15 x 5.5 x 5 inches ; 2.65 pounds
Voltage: AC110V
Power: 25w
Cord Length: 1.7 meter
Kemier infrared massager pros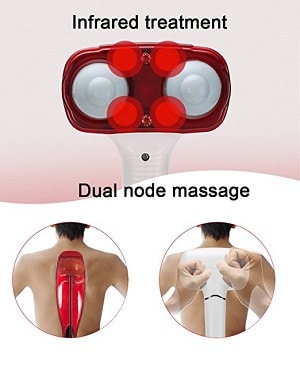 Includes

infrared massage therapy

Easy to use, massager slides on the skin without massage oils (but can be used with them – if they are not alcohol-based
Vibrates on 3 different levels
Can be used on any muscle in your body, and reaches everywhere, with the help of a wrist wrap.
Designed to slide along the back, avoiding the spine.
Great price (

check today's price here

)
Cons
Heart patients are advised to not use it
Could be a little heavy for some people
2. Pure Enrichment Infrared Percussion Massager (Best for Fat Burning)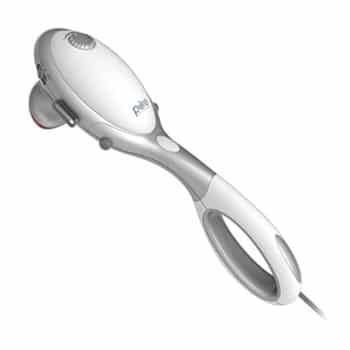 This infrared body massager is our number one choice for 2019, and here's why:
It's powerful enough even on a low setting, it has variable speed setting and 2 attachments – one allows you to use deep massage acupressure points.
It's highly versatile – you can use it without the handle, which detaches if you'd like, and it has a Velcro strap to help you reach all areas of your body.
We found this one to be the best infrared slimming (cellulite massager) – because it's powerful yet gentle enough to treat cellulite areas in your body.
👉 See proof that infrared massage reduces fat!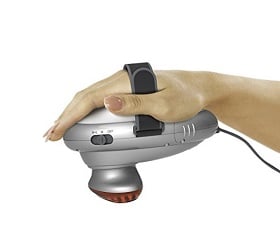 Size: 15.9″ x 4.3″ x 4.8″
Weight: 2.1 pounds
Power: 120V, 60Hz, 14W
Power Cord: 6.5ft
Pure Enrichment massager Pros
Sturdy, well-built
Powerful – applies enough pressure even on the low setting
Comfortable grip
Has infrared heat that heats up well
Relieves sore muscles anywhere on your body
👉Check today's price on Amazon
Cons
May feel a bit heavy for some people
Confused about the RIGHT device for YOUR Needs?
Download Your Free PDF
– "Which Device do I Need?" – and find out the best device for your specific condition – Right Now!
3. Homedics Infrared Massagers Review
Homedics has 2 infrared hand massagers we recommend, one of them costs less than $40:
HoMedics Percussion Action Massager with Heat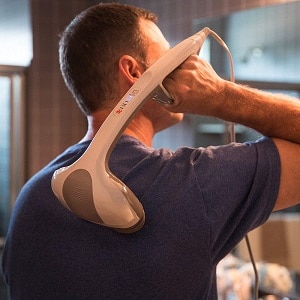 Lightweight and portable, this Homedics infrared heated percussion massager weighs about 2.4 lbs and comes with 2 sets of massage nodes and a control.
However, the heat feature works best without the massage nodes, when the red light is exposed.
HoMedics WV-100H Therapist Select Massager with Heat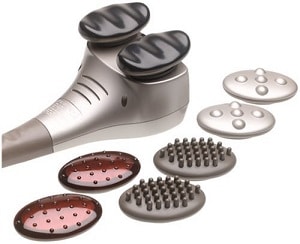 This one is a professional vibrating infrared massager used by therapists. It comes with 4 pairs of treatment heads, variable speed control and a 16-foot power cord (all body areas can be reached!)
However, the price is also very "professional" 😉
How to Use an Infrared Massager
First, make sure that the massager is switched off when you plug it in. Choose your preferred treatment head.
Switch the device on, set the desired massage speed and whether you want the heat on or off.
Use both your hands to guide the massager to any area on your body (excluding your face and scalp). You can stand, sit or lie down, or massage another person.
Massage intensity can be changed depending on how hard you press it against your skin. I recommend massaging each area for no more than 3-4 minutes.
Infrared Body Massagers Side Effects
The most important warning regarding infrared heat massagers is for diabetics.
Diabetics cannot use these massagers because due to nerve damage they cannot feel how hot the massager gets and can burn their skin unknowingly.
Otherwise, if you take a few minutes to figure out the right massage head and the right speed level, you're not supposed to experience any side effects other than pain relief, muscle relief, and stress relief.
Can you use a heated massager during pregnancy?
Well, not if you use it on your back. The electric impulses can stimulate uterus contraction and can cause premature labor.
I hope this little guide was helpful and saved you some time. If you have any questions please use the comment section, I answer everyone and everything.
To your health and happiness,
Meital
P.S
Are you aware of the powerful massage & infrared heat combo for cellulite reduction?