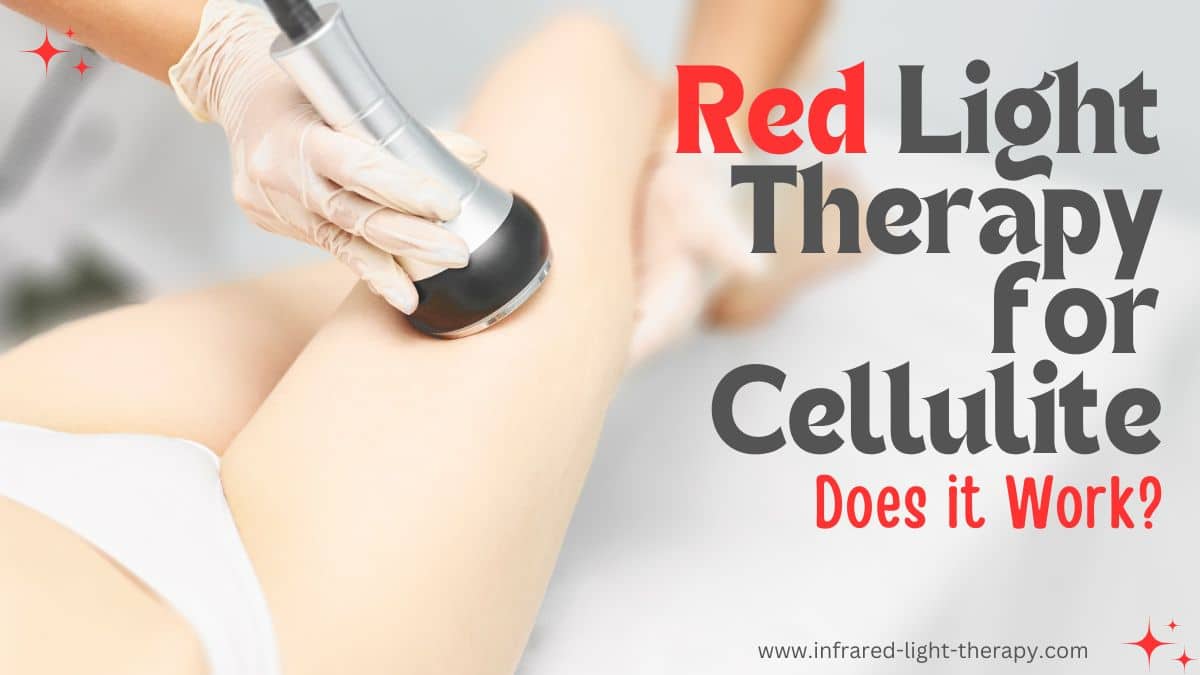 Does red light therapy work on cellulite?
In this post, you'll find the science behind red light therapy, how it can help with cellulite, stretch marks, and breaking down fat, and how to combine low-level home laser devices with other treatments – to maximize your home cellulite treatment.
Also known as low-Level Laser for cellulite, this little-known secret is proven to dramatically enhance any cellulite treatment you've ever tried, whether it's:
Massage
Anti-cellulite gel
Exercise
Detox
Or just about any anti-cellulite treatment you've ever done.
And:
If you use this natural, non-invasive, painless, and side-effect-free method correctly, you may finally see visible cellulite reduction – for the first time since you've started this battle.
How Does Red Light Therapy Reduce Cellulite?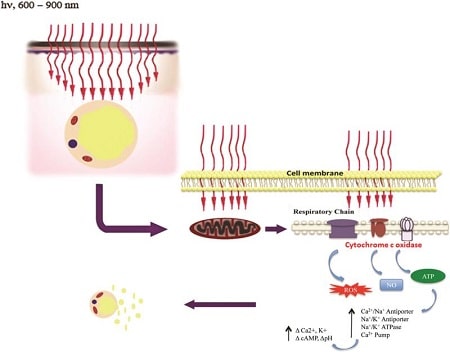 Red light therapy – which can be used at home by yourself whenever you want to – is now proven to supercharge any cellulite treatment.
Here's how:
1. Red light therapy is proven to reduce overall body circumference measurements of the hips, waist, thighs, buttocks, and upper arms,  with recent studies demonstrating the long-term effectiveness of results.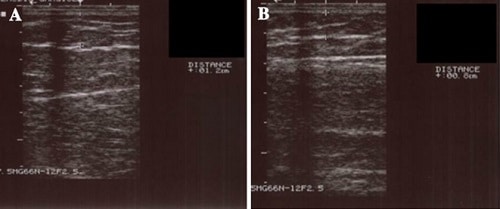 2. Red & infrared rays are proven to boost blood circulation and thus collagen and elastin production (reversing the breakdown of collagen typical to cellulite, fixing damaged skin, and improving skin firmness)
3. Infrared heat improves lymphatic drainage, essential to any cellulite treatment to prevent swelling.
Most women don't know about this little-known secret, that's why they are extremely surprised to find their cellulite almost diminished after a few infrared sauna sessions!
(Keep reading to see a few amazing stories)
Below you'll find how to use cellulite light therapy to finally see a visible reduction in your cellulite, when you combine it with other common cellulite treatments, such as gels, massagers, exercise, and detox.
👉 Here are our top picks, in case you're in a hurry:
Treatment Time
Wavelength
Features
Price
Infrared Slimming Massager

5-10 minutes daily
Infrared
Rechargeable
3 massage heads (vibration)
3 speed settings
3 massage modes
✅ $42 with code summer30 at Snailax
👉 Go to Best Infrared Massagers of 2023
Red Light Therapy Massager

10-20 minutes daily
Red (low heat)
3 attachments
3 strength levels
✅ $26 on Amazon
Use code under the price
Infrared Sauna Blanket

30-45 minutes
3 times a week
Far infrared
Effortless
Temperature control
gemsone therapy
Negative ions
✅ $594 with code MEITAL75 at Higher Dose
Personal Infrared Sauna Tent

30-45 minutes
3 times a week
Far Infrared
Effortless
Temperature control
Effortless

✅ $220 on Amazon
👉 Go to Best Portable FIR Saunas
No ads, reader-supported: This post may contain affiliate links, at no extra cost to you.
How to Use Red Light Therapy for Cellulite at Home
There are plenty of ways to use red light therapy for cellulite at home – in a way that will finally work.
You will get the results you want from a high-output LED device that can deliver the intensity of light needed for absorption into the body's tissues.
The best results will be achieved by combining red and NIR (near infrared) light.
1. Infrared Slimming Massager for Cellulite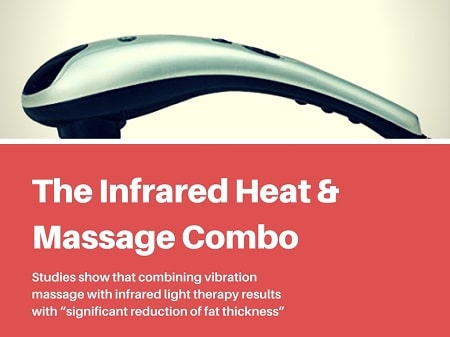 Have you massaged your thighs vigorously only to find no visible results?
It's because you didn't know about red light therapy for cellulite.
Can infrared heat break down fat?
YES!
 This study has proven that combining vibration massage with infrared light therapy results in a "significant reduction of fat thickness".
This fat thickness reduction was proven with objective tools such as photographic evaluation, blood tests, and eco-graphic evaluation.
The study concluded:
In this study we have demonstrated the safety and efficacy of the combination between low-level laser therapy and vibration therapy for the resolution of localized adiposity and fibrous cellulite.
Another study has found:
The low-level, dual-wavelength laser energy and massage device safely improves the appearance of cellulite while reducing thigh circumference
👉 See how to use an infrared sauna for weight loss, calorie-burning, and belly fat reduction!
You can boost your anti-cellulite home treatment by using a handheld massager with infrared heat, like this one. (for a very low price).
And there's a bonus:
You can use your infrared massager to naturally and effectively relieve muscle pain anywhere in your body!
👉 Want more options? see our infrared massagers reviews for 2023!
2.  Anti-Cellulite Gel & Red Light Therapy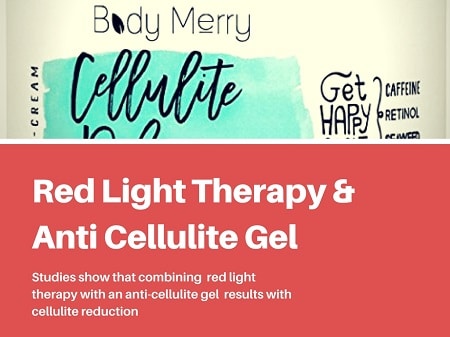 Did you ever try an anti-cellulite gel for weeks only to be disappointed by the results?
It's probably because you haven't supercharged it with red and infrared light therapy (phototherapy).
A promising study has found that 90% of subjects, treated twice a day with an anti-cellulite gel, and 15-minute red & infrared LED light therapy twice a week – were downgraded to a lower cellulite grade by clinical examination, digital photography, and pinch test assessment.
The results of this small but well-documented, randomized, double-blinded study:
Eight of nine thighs with Grade II-III cellulite responded positively to a novel, combined 3-month treatment program of a phosphatidylcholine-based, anti-cellulite gel and LED exposure, as determined by the clinical determinants obtained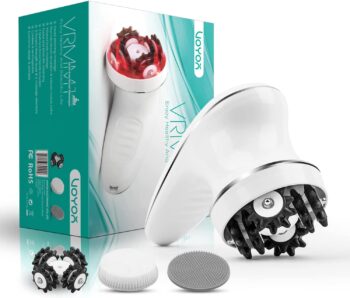 Treat your cellulite areas with a good anti-cellulite gel twice a day, and use a red light therapy massager, an infrared heat lamp, or a professional LED Panel – twice a week for 15 minutes.
3. Infrared Sauna for Cellulite (Before and After)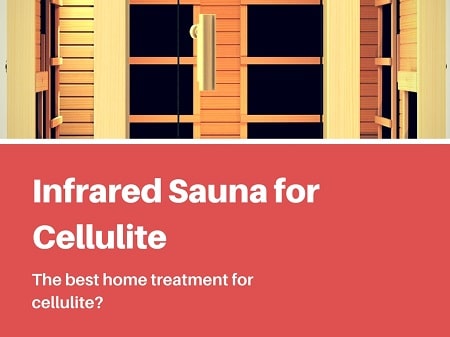 Most people use infrared sauna treatments for full body detox, weight loss, pain relief, and overall immunity.
That's why they are extremely surprised to wake up one morning and see their cellulite almost gone or seriously diminished.
There is little scientific evidence that infrared saunas help with cellulite, but there are many success stories you'll find when you research infrared sauna results online (which I do. A lot.)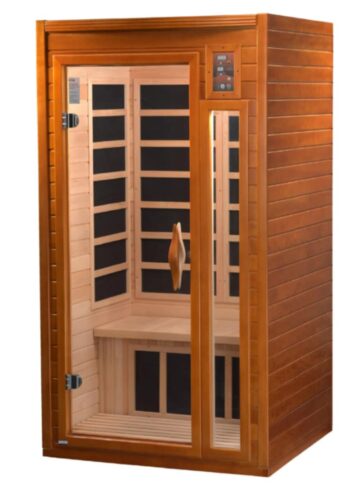 Here's one example, from checkinfrared.com:
I am a couple of kilo's overweight, but not obese in any way. Yet, I have had a severe cellulite problem all my life.
Just like my mother.I was diagnosed with Lyme disease 2 weeks ago. Because of it, I bought an infrared cabin to help me detox.
Since then, I have been sweating every day.
It's wonderful. I feel better, I am happier, the pain in my shoulder has significantly diminished.
I sleep better. Not only me, but the whole family also enjoy the sauna. But the absolutely cool thing is…………My cellulite is clearly diminishing. WOW.
No joking. It works. It really really works.
Use regular infrared sauna treatments to finally get rid of your cellulite.
Regular sauna treatments in spas or clinics are not budget-friendly and can get very expensive in the long run.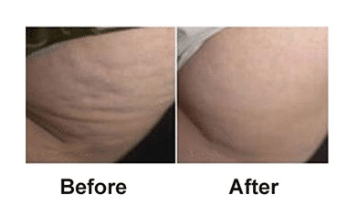 However:
There are a few ways to save a lot of money on infrared sauna treatments (especially if you consider the other amazing health uses for infrared saunas).
1. Buying your own infrared sauna (you can see the best 2-person infrared saunas) will allow you to use it 24/7 for years to come.
2. Buying a portable infrared sauna is just as effective yet costs much less.
3. Building your own zero-EMF near infrared sauna – for less than $100
4. Exercise & Infrared Light Therapy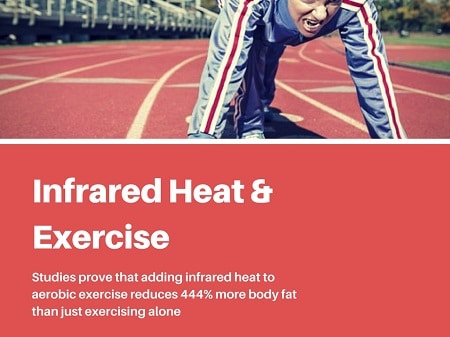 We all know that exercise can help reduce body fat and release toxins through sweat, further helping the cellulite problem.
Exercise improves lymphatic drainage, which carries toxins out of the body. Those experiencing challenges with drainage often notice more cellulite in their bodies.
But:
Here's what happens when you add infrared light therapy to the mix:
This study has found that a group of women working out on stationary bicycles 3 times a week for 4 weeks and exposed to infrared light therapy lost an average of 8 cm or 444% (!) more body fat – compared to 20 women doing the same without infrared radiation.
Isn't that incredible?
Bottom Line
If you are exercising regularly, consider starting with infrared sauna treatments before or after your workout.
There are a few great options:
1. Buy your own low EMF infrared sauna – see the 4 best 2 person infrared saunas (there's a high-quality one for less than $1000!)
2. A lower-cost alternative – a portable infrared sauna.
3. The lowest cost option – DIY near infrared sauna (for less than $100)
Conclusion
You've just found the proven secret to finally seeing a visible, clear cellulite reduction anywhere in your body, for the first time in your anti-cellulite battle.
Red and infrared light therapy.
This natural wavelength, the heat of the sun, will supercharge any anti-cellulite treatment you do and can bring amazing results even if used alone via an infrared sauna.
Infrared light therapy offers all the amazing healing benefits of sunbathing – without the dangerous UV rays.
There are many ways to use infrared light therapy at home:
Infrared saunas
Portable infrared sauna
Red Light Therapy massager
The technology exists. Use it and reap the benefits.
(Don't forget to check out 3 more proven skin benefits of red light therapy!)
What about you? Have you ever tried infrared light therapy for cellulite or anything else? Share your experience with me in the comments below.
To your health and happiness,
Meital
Studies
Avci, Pinar et al. "Low-level laser therapy for fat layer reduction: a comprehensive review." Lasers in surgery and medicine vol. 45,6 (2013): 349-57. doi:10.1002/lsm.22153
Savoia, Antonella et al. "Low-level laser therapy and vibration therapy for the treatment of localized adiposity and fibrous cellulite." Dermatology and therapy vol. 3,1 41-52. 23 May. 2013, doi:10.1007/s13555-013-0026-x
Wunsch A, Matuschka K. A controlled trial to determine the efficacy of red and near-infrared light treatment in patient satisfaction, reduction of fine lines, wrinkles, skin roughness, and intradermal collagen density increase. Photomed Laser Surg. 2014;32(2):93–100. doi:10.1089/pho.2013.3616
Savoia, A., Landi, S., Vannini, F. et al. Low-Level Laser Therapy and Vibration Therapy for the Treatment of Localized Adiposity and Fibrous Cellulite. Dermatol Ther (Heidelb) 3, 41–52 (2013). https://doi.org/10.1007/s13555-013-0026-x
Meital James
Founder and CEO of 4 healthy living blogs, has a background in Naturopathic medicine, research, journalism, and nutrition. Her blogs are the culmination of her thousands of hours of research and experience and all the posts are verified by scientific findings.