Can you place an infrared sauna outdoor?
Are there any true weather-resistant infrared saunas?
The answer is YES.
The problem is:
A true weatherproof outdoor infrared sauna – is hard to find.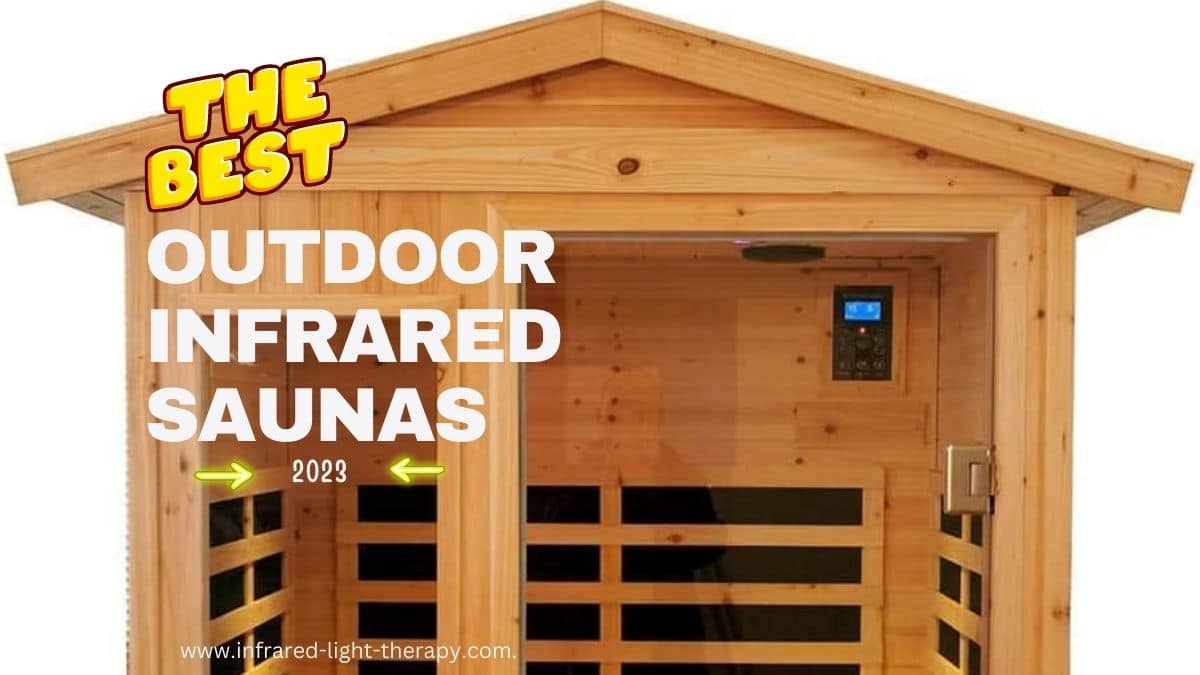 This post contains affiliate links, at no extra cost to you.
In this post, you'll find how to find a weatherproof infrared sauna you can place outside (patio and backyard) and save space in your home, and our top recommendations for 2023.
Can You Place an Infrared Sauna Outside?
Most home infrared saunas are built to survive only indoors. If you want to place your FIR sauna outside, you have to make sure it is specially designed as an outdoor sauna room. This is because exposing the sauna elements to humidity, heat, snow, and wind can ruin them, and if the sauna is not well insulated, it will be harder to keep the heat inside.
An outdoor infrared sauna has to be built with water-proof solid wood, it has to be well insulated, and usually comes with a roof.
👉 In a Hurry?
See our comparison table below, or jump to the outdoor infrared sauna reviews
Comparing the best outdoor infrared saunas according to number of infrared heaters, material, price, and warranty.
How to Choose an Outdoor Infrared Sauna
Outdoor far infrared saunas are different than indoor ones and are usually more expensive (see the best 2 person indoor FIR saunas or the best 3-4 person infrared saunas)
But still, they make a wise long-term choice and will help you detoxify, boost your immune system, lose weight (not just water weight!), and naturally relieve your pain, among other health benefits.
👉 Related: The Amazing Far Infrared Sauna Benefits
Here are the most important factors to consider:
1. Electricity – an outdoor far infrared sauna needs electricity to function. You'll need to install it next to an adequate outlet. Make sure it is close enough to a GFI outlet with enough capacity.
(You'll find the power requirements for each sauna we recommend – in our reviews below)
2. Space – the best thing about an outdoor infrared light sauna is the fact it won't take up space inside your home. You can place it on your patio, in your backyard, or on a deck outside.
And, if you have enough space outdoors, you can enjoy a large sauna – fit for 4-5 people.
3. Insulation – to be able to work up a sweat you'll need a far infrared technology sauna that keeps the heat inside even when the weather is cold.
A specially designed outdoor sauna is made with the right kind of solid wood (more on that below) and is well-insulated. This will also lower your electricity spend on the sauna.
4. EMF radiation – choosing a low EMF infrared sauna is a critical factor for your safety.
A safe level of EMF is considered to be anything below 3.0mG.
5. The number of infrared heaters –  since outdoor IR saunas are typically larger (3-person or more) – the number of heaters can be between 6-10.
A sauna for 4 people requires 8-10 heaters, while a 3-person sauna will have 6-8. The number of heaters can make a difference when it comes down to the temperature control and the heat inside.
6. Best wood type for outdoor saunas – the commonly used ones are hemlock, cedar, pine, and spruce.
Cedar is considered the best, followed by hemlock. The cheaper ones are made with pine or spruce. Cedar and hemlock are the most stain and moisture-resistant.
7. Safety – make sure it is up to local building codes, safe, and able to withstand weather damage.
The Top 5 Outdoor Far Infrared Saunas [Reviewed]
Unfortunately, pickings are slim. It took us a lot of research and digging to find the 5 high-quality FIR saunas below:
1. Western Pacific 4-Person Outdoor Infrared Sauna

Best Corner Sauna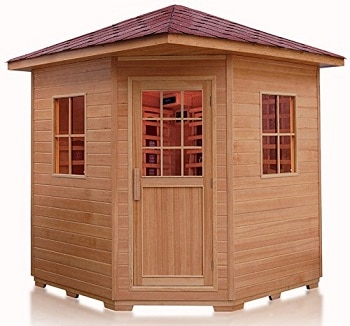 Size – 59.1 x 59.1 x 84.5 inches
Weight – 550 lbs.
Temperature – 110F to 140F
Power Usage – 220v / 30 Amps / 60hz / 2400 Watts (you'll need hook-up and a termite-resistant 6-foot square pad)
Warranty – 10-Year Limited Warranty: 10 years on the structure, 5 years on the heaters, and 3 years on the electronics.
The Western Pacific 8XL outdoor FIR sauna looks like a standalone house on its own.
The double-wall construction (can be assembled by yourself) comes with a weather-sealed tempered glass door, waterproof shingle roofing, and two classic windows, and is made with quality hemlock wood – which is weather resistant.
Four people can sit in it, three comfortably, and two can stretch out on their own benches (or do some hot yoga)
It has 8 ceramic infrared heaters that heat up fast (6 Heaters on back walls and 2 Heaters under the benches), 4 reading lamps (LED), and 4 LED lights for chromotherapy ($160-$300 worth).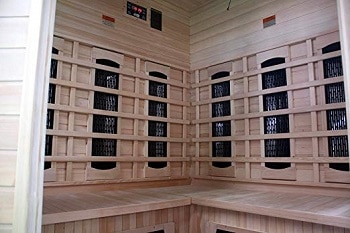 It will take 2 people about 2 hours to assemble, and it is easy to assemble and disassemble in case you'll move and wish to take it with you.
Accessories: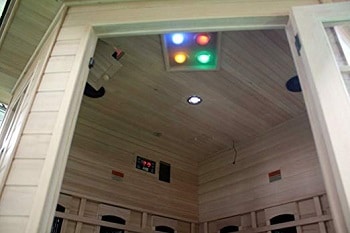 Music player options (iPhones/iPod/MP3 – $200 worth)
Digital control panel

Oxygen ionizer

($150 worth)
Ozone generator
2 benches, each is 55″ wide x 17.5″ deep.
✅ Available on Amazon.
2. Xmatch Far Infrared Wooden Outdoor Sauna – Best for 2 People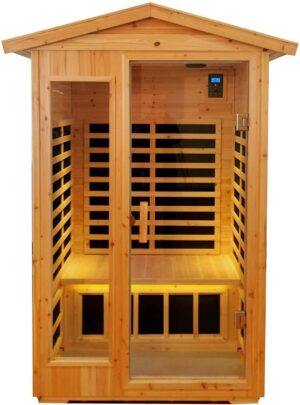 Size – 58 x 41 x 82 inches (40 x 34 x 72 inches inside)
Weight – 188 lbs.
Temperature – 110F to 140F
Power Usage – 1750W and power supply AC 120V/50~60HZ
The Xmatch 2-person outdoor infrared sauna fits people up to 4.9-6.2 ft. tall and uses 9 low-EMF carbon Far Infrared plates built inside this kiln-dried hemlock sauna.
Within 10-15 minutes, the carbon panels heat up to 140 degrees Fahrenheit, and you can control the temperature, treatment time, and the chromotherapy lights through the LCD panel inside.
Buyers on Amazon praise its ease of assembly (no help needed) – the tongue and groove design ensures a quick assembly, and all 6 parts arrive sanded and smooth to the touch.
We like that the company discloses the sauna's EMF radiation (average of 6mg – lower than a microwave), and most buyers mention the quick response and assistance from the customer service and the quick delivery.
We also like that the inside wood is not treated with chemicals (the exterior layer wood is treated with waterproof oil paint).
Accessories:
Bluetooth Speakers: 2 x 12V-4in Speakers
 2 LED Reading Lamps
2 Colorful Chromotherapy Lights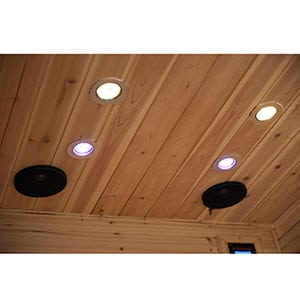 Perfect for 2 people, doesn't take up much space
Well insulated and designed for outdoor use
Can be used when outside temp. is under 0 degrees
Heating elements cover the entire body
Heats up quickly
Easy assembly, quick shipping, and good customer service
Comes with Bluetooth speakers, reading lights, and 2 chromotherapy (light therapy) bulbs
12-year lifetime
Cons
Not ideal for people taller than 6 feet 2 inches
You have to keep it not rained directly and flooded
Takes longer to heat when the outside temperature is below zero
✅ Available on Amazon ($2699)
3. Western Pacific 3-Person Outdoor Infrared Sauna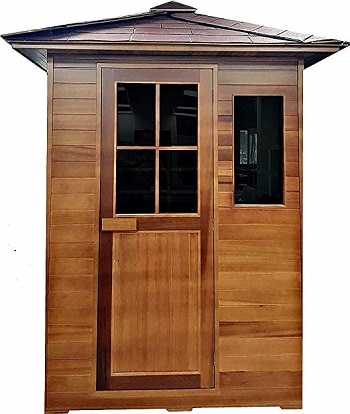 Overall Assembled Size: 75″ Wide x 62″ Deep x 102″ Tall.
Bench Size: 55.5″ Wide x 22″ Deep
Weight: 450 lbs.
Electrical Requirements: 110v, 60hz, 20A (Standard 110v Plug Installed)
Warranty – 10 years
Accessories – the same as the 4-person sauna above
The Western Pacific 3-person sauna is very similar to the 4-person one when it comes to the accessories, but it is smaller, has one window and one bench, and fits up to 3 people. Assembly will take 2 people about 2 to 3 hours.
However:
It costs a bit more than the larger one.
Why?
Because it's built with the best wood for outdoor saunas (100% waterproof red cedar wood construction) and has 7 carbon fiber heaters – thet are considered the best FIR heaters.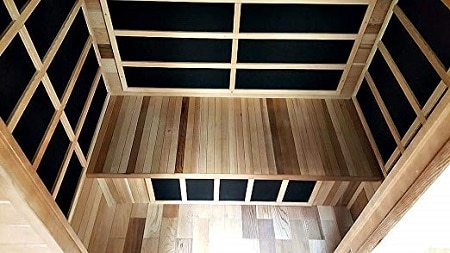 It comes with a weather-sealed tempered partial glass door and 1 glass window, and If your budget can handle it, it's the highest quality outdoor FIR sauna you'll find in 2023.
✅ Available on Amazon.
4. Grandby 3-Person FAR Infrared Sauna –

Best Value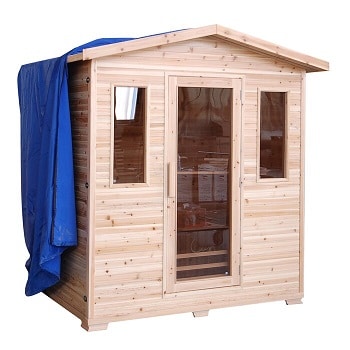 Power – 120 Volts / 2100 Watts/ 20 Amps
Size – 6′ 11" H x 6′ W x 3′ 11" D
Cabin dimensions – 5′ 8" H x 4′ 9" W x 3′ 1" D
Weight – 487 lbs
Warranty – 7 years
The SunRay Saunas Grandby FIR rectangle outdoor sauna has a pitched, waterproof roof and comes with a rain cover, making it safe to assemble in your backyard or patio.
We think it is extremely cute and looks like a playhouse that's nice and warm inside.
It comfortably accommodates 3 people and has 7 ceramic heaters (which heat up faster in colder weather), and reaches up to 140 F, inside a solid Canadian Hemlock build.
The sauna requires a standard 110 V plug as long it is 20 Amps.
The natural Canadian hemlock is mildew, rot, rust, and corrosion resistant, and blends beautifully with nature outside your home.
Accessories
1 seating bench & 3 backrests
Vent
LED lighting
Oxygen ionization
FM radio w/CD and MP3
Cup holders
✅ Available at Wayfair ($2796)
5. Cayenne 4-Person Outdoor Sauna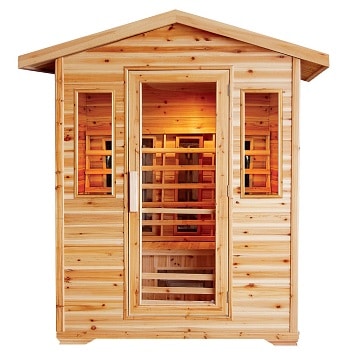 Power: 120-Volt, 20 Amp plug, 2100 watts (It has to be on its dedicated circuit. So you can put a 30 amp plug on the end of the wire or hardwire it into a junction box).
Size: 79 in. x 52 in. x 83 in.
Cabin dimensions: 71 in. x 47 in. x 75 in.
Warranty: 7-year structural warranty – guaranteed for defects in materials and workmanship.
The Cayenne 4-person outdoor infrared sauna is large and spacious, can accommodate 4-5 people, and has 8 fast-heating ceramic FIR elements inside.
It's made with weather-resistant and durable Canadian Hemlock wood and is ETL/CSA Certified (meets all US and Canadian electrical safety standards).
This beautiful sauna will look beautiful on your deck, on your patio, or anywhere in your backyard. It is easy to install with tongue and groove construction (tongue and groove joints allow two flat pieces to be joined strongly together to make a single flat surface.).
Accessories (included in the price):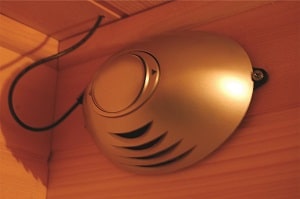 Long bench seat
LCD control panel
Oxygen ionizer
Recessed exterior lighting
FM radio with CD player
Reading lamp
Cupholder
✅ Available on Amazon
Indoor vs. Outdoor Infrared Sauna – Pros & Cons
An indoor FIR sauna takes up space inside your home, while an outdoor sauna doesn't.
Indoor saunas use power supply already in your home, while outdoor ones require weather-resistant cables and an adequate outlet. Outdoor saunas are usually larger and can accommodate more people, while indoor saunas are more private.
An outdoor sauna must have a roof and be built with humidity-resistant wood, while indoor saunas may last longer because they won't be affected by temperature changes.
Finally, outdoor saunas require more power and may heat up slowly compared with indoor saunas.
How Much Does an Outdoor FIR Sauna Cost?
The average price of an outdoor infrared sauna is $2000-$4000. The cost to buy and build an outdoor infrared sauna will vary depending on the size, quality of construction, wood type, heaters type, and energy rating. Size is usually the biggest factor in determining the price. The larger the sauna, the higher the purchase price. 
The average price for a 3-4 INDOOR IR sauna is $2000-$3000.
How Much Does it Cost to Run an Outdoor Infrared Sauna?
Infrared saunas use much less electricity than traditional saunas. They use less power because they mostly heat surfaces and not the surrounding air. They also have a lower preparation time – most FIR saunas heat in up to 30 minutes, while traditional saunas take an hour or more to heat up to the "sweating temperature".
The electricity cost for an FIR sauna depends on how much you pay per kilowatt-hour on your current plan. For example, a 2200W FIR sauna, run for one hour, will generally use 1KWh of electricity – around 26.4 cents in the USA.
Outdoor Infrared Sauna FAQ
What is the Best Wood for an Infrared Sauna?
According to sauna experts, Cedar has always been the most popular choice for an infrared sauna, because it is naturally resistant to moisture and will not contract or expand as other wood when the temperature changes. It is also one of the most durable woods. However, it can vary in quality and health certifications.
How Often Should You Use an Outdoor Sauna?
On average, most people use an infrared sauna 3-4 times a week, for 30-45 minutes each session.
Infrared saunas are safe to use every day, and you may feel the
amazing infrared sauna results
sooner if you do, but as always you should listen to your body, and use it to the point it doesn't feel comfortable anymore.
Conclusion
Placing an infrared sauna in your home or outside is one of the best and most cost-effective actions you can take to dramatically improve your health.
(Not sure why? Here are 14 proven benefits of infrared therapy)
In this post, you've found the only 4 true weather-resistant outdoor FIR saunas of 2023.
📢
Our top recommendation
is the
Western Pacific 3-person FIR sauna
, because it's built with the best wood for outdoor saunas, and has 7 carbon fiber (the best type) heaters, the best insulation, and is quite beautiful.
The second runner-up is the Grandby 3-person FIR Sauna outdoor IR sauna.
Our 3rd choice would be the Cayenne 4-person sauna.
If these saunas are too heavy on your budget, consider a small, 2-person indoor FIR sauna, which doesn't take much space and costs between $1000-$1500.
👉 For the lowest-cost version of infrared sauna – check out our post about the top portable infrared saunas of 2023.
Any questions? We're always happy to help. Use the comments below or message us directly on our Facebook page.
To your health and happiness,
Meital
Meital James
Founder and CEO of 4 healthy living blogs, has a background in Naturopathic medicine, research, journalism, and nutrition. Her blogs are the culmination of her thousands of hours of research and experience and all the posts are verified by scientific findings.