The Aduro LED mask is the 4th mask I reviewed (yes, I'm a bit obsessed), and the second one I tried for at least 30 days.
But:
We still REALLY wanted to try the Aduro 7+1 LED face mask.
Why?
Keep reading below.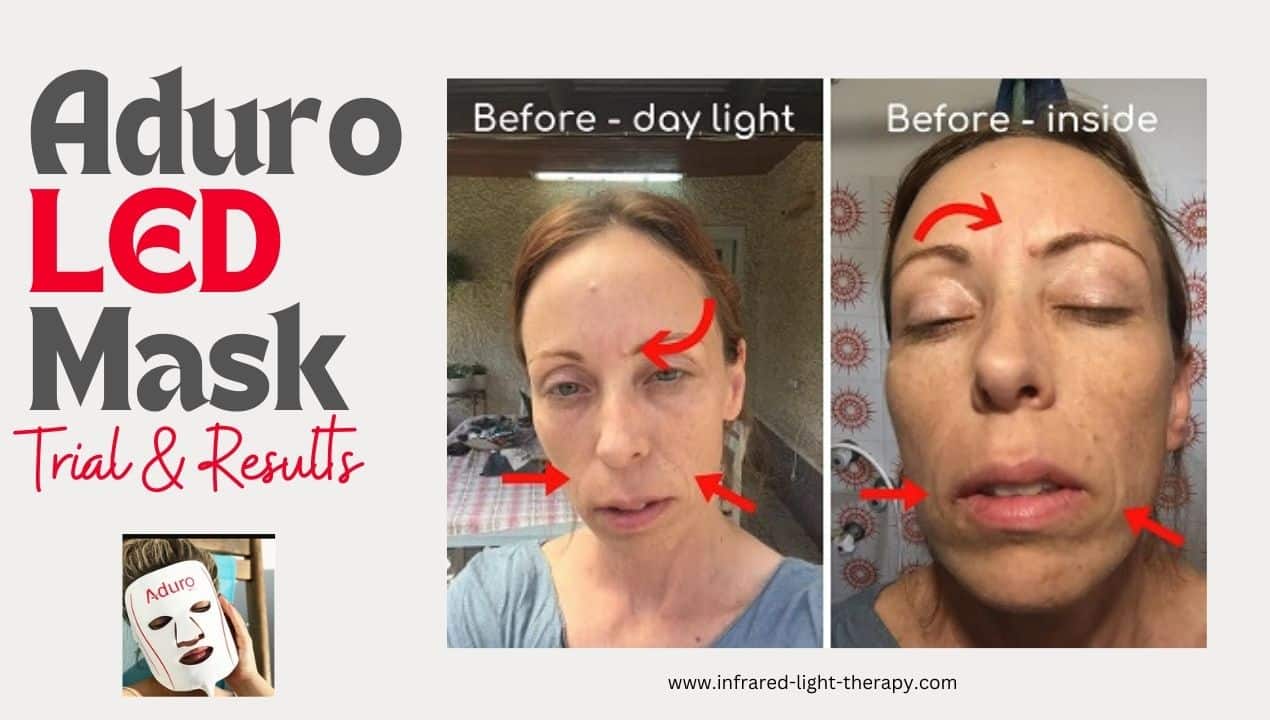 I wanted to try the Aduro because it has 5 unique qualities no other LED facial mask has:
1. It's Portable (has a rechargeable battery) – you can move around with it
2. Lightweight material (medical silicone – only 7 ounces)
3. It is a programmable LED mask – 11 pre-programmed treatments to choose from
4. Infrared wavelength included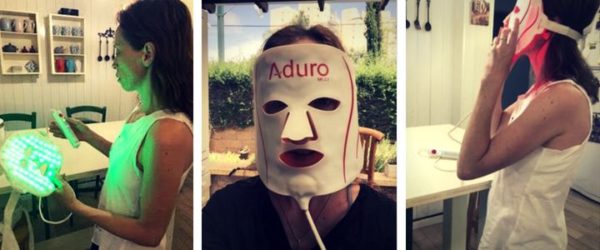 (We were not paid to try this LED facial mask, and we were not given it for free.)
In this post, you'll see why these qualities made us so curious, how we used it (for 30 days), our review, and our results (plus before and after pictures).
 Aduro 7+1 LED Mask Trial Results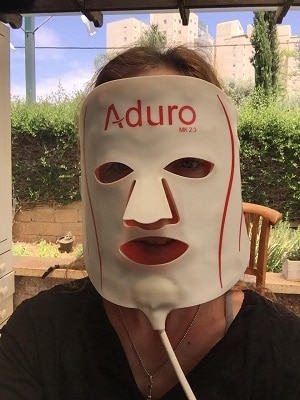 Before we tell you how we used it and how it works, I'm sure you want to see my results, right?
Here's what my skin looked like before: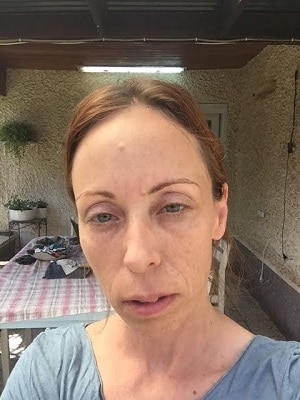 Aduro LED Mask Before and After
Here are the before pictures: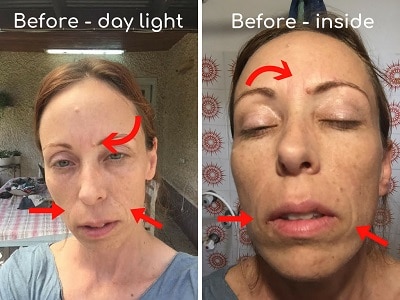 And here are the after pictures: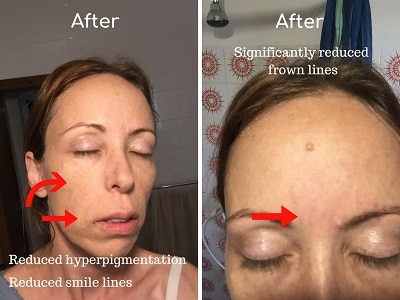 I wasn't expecting overnight miraculous results, but overall my skin looks more glowy and slightly firmer, and I definitely noticed wrinkle reduction – in the nasolabial area and frown lines (hurray!)
I also noticed a slight improvement in my hyperpigmentation and skin redness between the eyebrows.
Overall I'm thrilled with the results (been asked a few times if I've "done any work"), I think that this mask is well worth its price, and definitely will continue to use it for 30 more days or longer.
Now, let's see exactly how I used it:
First, here's what you get in the box: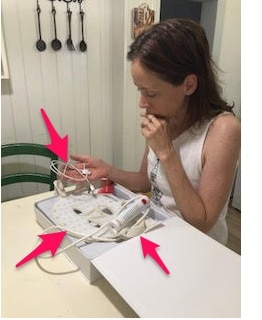 There is the mask, the controller with all the treatment options, instructions, and a charger.
The mask It is a thick rubbery feeling mask that fits well around the face. The edges are quite soft so I think it will fit around all face shapes.
The back of the mask is joined by Velcro and It holds up well with no slipping which is important if you want to get on with doing things while the mask is on.
How I used the Aduro LED Mask
Since my main issues are wrinkles, fine lines, and hyperpigmentation, I used 3 (alternating) treatments – 5 times a week:
1. Skin booster
2. Wrinkle Reducer
3. Skin Balancer
Each treatment lasted 20 minutes before the mask automatically shut off.
It was extremely easy to use. I fully charged it with the USB cable, and the charging lasted for 4 treatments each time.
I only strapped it on my face, chose the treatment from the controller, and usually proceeded to do my dishes (or just rest on the sofa).
The mask leaves the skin slightly warm (in a pleasant way), especially if you use the treatment that includes infrared light therapy (which is experienced as heat).
I followed each treatment with a Vitamin C serum and moisturizer.
RELATED: The Best Serums to Use After LED Light Therapy
The feeling afterward is great. If you allow yourself the time to sit back and relax – you'll enjoy a stress relief bonus – which all of us need.
I masked 5 times a week – allowing my skin to regenerate on the weekends.
Aduro LED Mask Review: 5 Unique Reasons I Had to Try it
Here are the reasons we tried the mask:
1. No Confusion about the Right Color and Treatment Time
There are 8 different LED colors (wavelengths) included in the mask:
Red
Blue
Green
Yellow
Light orange
Purple
Turquoise-blue
Infrared (invisible)
👉 See the complete guide to chromotherapy lights (benefits and uses of each color)
But the question is:
Which color do you need? Should you combine multiple colors? And for how long?
Here's why you won't need to go researching for the answers:
The
Aduro LED mask is a

programmable LED mask
that includes
11 different pre-programmed treatments
you can choose from.
This is the most important feature in the Aduro LED mask.
Why?
Because it eliminates confusion about which colors to use and for how long.
Want to treat acne?
You just choose the "acne-buster' option on the controller, and the mask lights up with the blue color wavelength (proven to destroy acne-causing bacteria) and shuts off automatically after the required treatment time.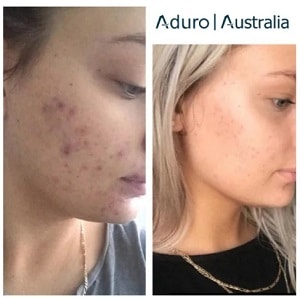 Want to reduce wrinkles?
Choose either "skin booster" (infrared + red) or "wrinkle reducer" (red) from the controller – and go do whatever you want until the mask shuts off automatically.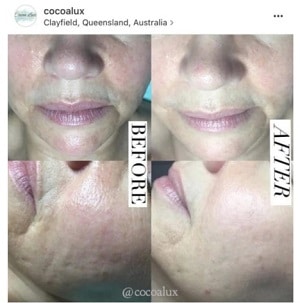 👉 Use our coupon code MEITAL20 to get our $20 discount on the official site!  
2. The 11 LED Skin Treatments in the Aduro Face Mask
Here's the complete list of skin treatments you can choose from, directly from the controller:
 Skin booster – combines both red light and infrared (invisible) wavelengths – proven to promote collagen production in your skin, improve skin tone, and radiance.
The infrared wavelength, which is felt as heat, penetrates deeper into the skin and promotes healing of the skin and pain relief.
👉 Want to know how? See all about infrared light therapy health benefits)
Acne Buster – blue light therapy was scientifically proven to kill acne-causing bacteria (up to 70%), which effectively treats blemishes and acne spots – in just a few days.
It's the best treatment to prevent acne breakouts.
Cell Rejuvenation – this treatment uses purple light (red with blue), which can increase cell regeneration, prolong cell life, and cleanse the skin.
This treatment is great for combination skin.
Skin Balancer – green light can even the skin complexion, treat hyperpigmentation, dark circles, and redness.
Red away – yellow light can reduce redness (red light is also proven to be effective for Rosacea) and treat sunburns, psoriasis, and eczema.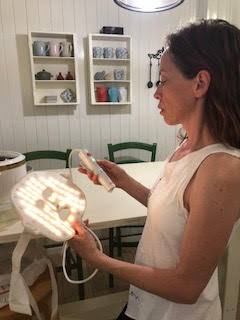 Pain Blocker – cyan light therapy can reduce inflammation, and has soothing and pain-relieving properties. It can also reduce swollen capillaries. Great for facial spider veins.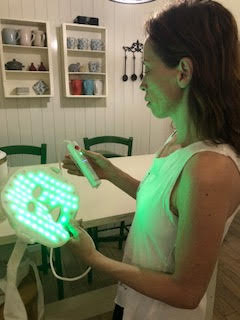 Radiant Skin – orange light is known to promote skin radiance and promote a brighter glow.
Wrinkle Reducer – Red light therapy promotes collagen, treats scars, reduces inflammation and redness, and promotes skin rejuvenation.
Skin Soother – resembles the skin balancer program
Daily Dose – for everyday maintenance. Cycles through each color wavelength for overall wellness and rejuvenation.
Quick Fix – which cycles through Primary and Secondary light wavelengths for Radiant skin that offers you a collagen boost, anti-redness, anti-inflammation, and wellness.
3. Perfect for Busy People – 100% Portable
The Aduro LED mask kit (one of our 10 most recommended LED light therapy devices) is 100% portable.
All the other masks we tried or researched were not rechargeable, which means you have to plug them into the wall and stay put while you use them.
The Aduro LED mask kit is a rechargeable mask and comes with a USB cable for charging.
You can sit back and relax, but I used it while washing the dishes, doing the laundry, playing with your kids (though they may get a little distracted…) and you can easily take it traveling with you.
Here's me doing the dishes with it: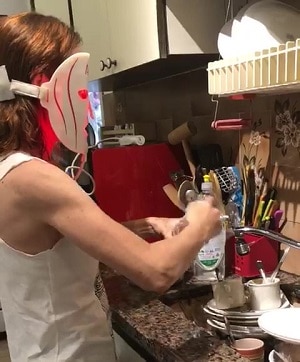 It has a Velcro strap which helps the mask stay put while you do anything you want (though I wouldn't recommend jogging with it…)
4. Can Be Used for Pain Relief
The Aduro LED light therapy mask is the only one that includes an invisible infrared wavelength, which is proven to naturally and effectively relieve pain.
If you suffer from painful acne, Rosacea pain, redness, or any other skin condition that causes pain – choose the "skin booster" treatment, which includes infrared.
5. Weighs Only 7 Ounces!
The Aduro is the most lightweight mask we've seen or heard of.
Most masks are made with plastic, which makes them feel heavy and awkward on your face (this was one of the downsides we found when we tried the Project E Beauty mask)
This one is made with medical silicone, which is flexible (it easily conforms to the shape of your face) and lightweight.
How to Use the Aduro LED Mask
Start on a clean face by removing any traces of makeup and dirt from your skin by using a makeup remover and your facial cleanser.
Choose your program, according to the skin condition which bothers you most.
Sit back and relax or go about your business as usual – it's up to you.
When the mask automatically shuts off, apply your preferred moisturizer.
The manufacturer recommends using 4 times a week, but we think that 5 times is even better.
Remember:
Seeing results will take time. We would expect visible results only after at least 2 weeks.
LED facials at Home: Any Downsides?
The main downside of this mask is probably the price.
It's over $300 (with free international shipping).
But:
If you set aside a budget for a beauty gadget, this one is a good investment.
Its portable design and ease of use will help you stick with the treatment – which is the most critical factor in LED treatment success rate.
Here's how I see it:
The Aduro LED mask price is about the same as 6 LED facials in a clinic (which will get you nowhere).
But when you have this mask at home, you can use it indefinitely and keep enjoying the results.
(And don't forget our coupon code – MEITAL10)
This makes this home LED mask a cost-effective investment.
Bottom Line
After using this mask 5 times a week for 4 weeks, I can definitely recommend (and I have – to my friends and family) the Aduro LED mask.
Where to Buy the Aduro LED Mask (& Coupon Code)
I recommend buying the Aduro Mask from the official site, where you can use my coupon code MEITAL20 to get $20 off, and free shipping within 2-5 days.
In conclusion, I would also add that to me it seems like the best LED face mask in 2023, and here's why:
The portability and ease of use increase the chance of sticking with the skincare treatment and seeing visible, satisfying results (I've been asked numerous times whether I've done Botox or a facelift).
It includes all colors and treatments for all skin conditions.
It fits all skin types
It includes infrared rays which can be used for pain relief
It's comfortable and lightweight
Aduro LED Mask vs. Project E Beauty 
Since we've also tried the Project E Beauty LED mask, many of our readers are asking me which LED mask I prefer.
My answer is always the same:
While the Project E Beauty LED mask costs much less than the Aduro, it is more rigid and less comfortable and you can't move around with it like you can with the Aduro. Plus, the Aduro has the convenient 11 programs to choose from, while the Project E mask only offers to switch between the lights yourself.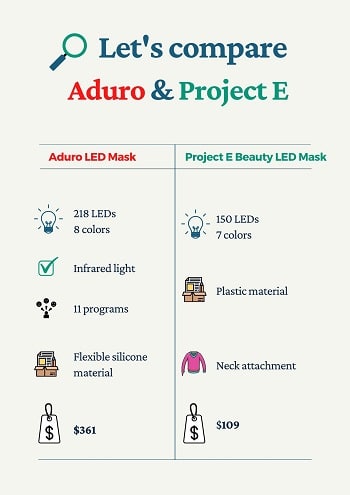 So, what's better for you?
Both LED masks have the same technology and can deliver the same results. The Aduro mask is more comfortable to use and more versatile, and that's why it costs much more. It's up to you to figure out whether budget or comfort is your top priority at this point.
👉 Get 5% off the Project E Beauty LED mask with our coupon code MEITAL05 on the official site.
👉 Get $20 off the Aduro LED Mask with coupon code MEITAL20 – on the official site.
Like I said in the beginning, I was not paid to review this mask, or given it for free. This is my honest opinion.
Aduro LED Mask FAQ
How Long Does a Treatment Last?
The manufacturer advises doing 1 treatment of 20 minutes every day, using the built-in timer or available programs.
However, we recommend not doing more than 5 treatments per week because the skin needs a few days to regenerate between sessions.
The most important aspect of treatments is consistency.
How do you clean the Aduro LED Mask?
To clean an LED mask, unplug and turn it off, then use a damp, soft cloth with a mild cleaning detergent (without alcohol) to clean it.
When you are done, dry it well with a clean dry cloth.
Can you use cosmetics with LED Masks?
It is important to use an LED mask on a dry and clean face to prevent heavy cosmetics from blocking the light.
However, you can use your cosmetics after treatments, preferably special serums for LED light therapy.
If you use cosmetics with retinol, do not apply them at least 8 hours before treatments because retinol causes skin sensitivity to light.
To your health and happiness,
Meital