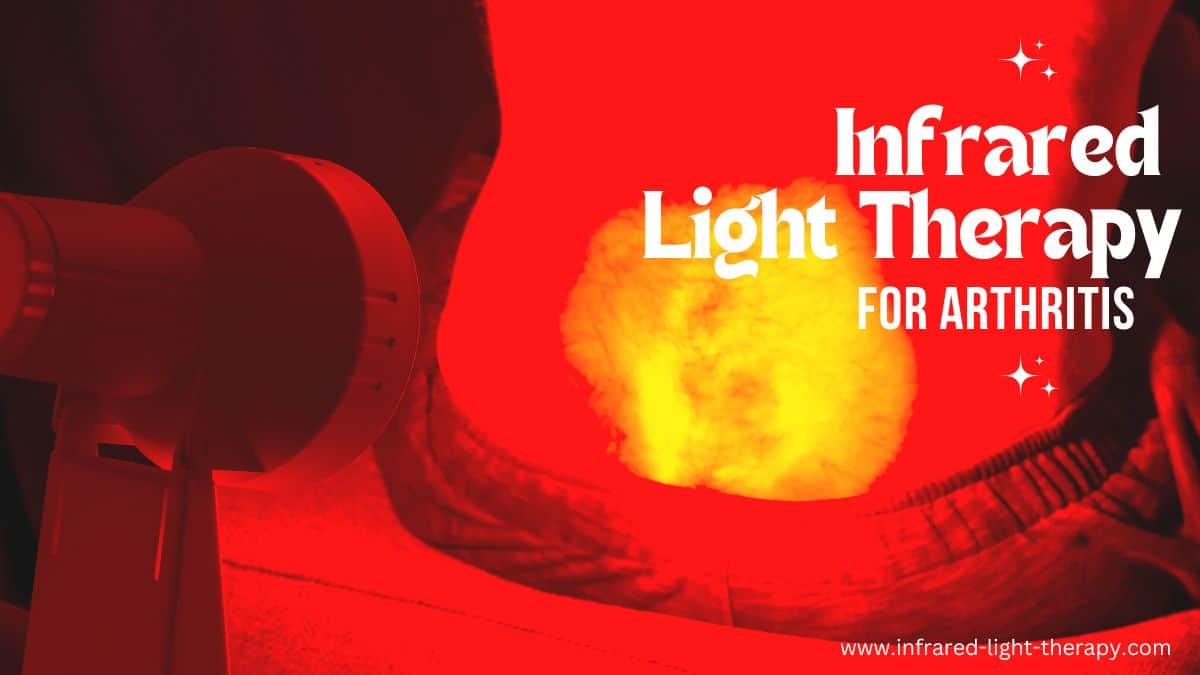 If you're looking for the wonders of Infrared Therapy and how it can help manage Arthritis pain, you've come to the right place.
Infrared light therapy is one of the best natural pain-relieving tools you can have at home – to use any time you need it.
In this post, you'll discover the best ways to use infrared therapy for arthritis, including the infrared lamp, heat therapy gloves, infrared foot therapy, infrared heating pads, and the infrared sauna.
👉 In a Hurry?
Jump to the 5 best infrared devices for arthritis, and how to use them at home for quick pain relief.
Is Infrared Heat Good for Arthritis?
Infrared light is the radiant heat you feel when you're out in the sun. These powerful rays penetrate deep into your tissues – all the way to your muscles, nerves, ligaments, and bones – and naturally raise your body's temperature and boost your blood circulation.
This results in fast pain relief through pain-reducing components in your blood, oxygen, and ATP production.
In technical terms, infrared therapy uses light between 600 – 1000nm in wavelength, which is invisible to the human eye.
Your body experiences infrared energy as a gentle radiant heat that can penetrate up to 1.5 inches (almost 4 cm) beneath your skin!
Infrared light therapy is a 40-year science-backed method to relieve pain and reduce inflammation throughout the body, frequently used by doctors (the good ones), physical therapists, and professional athletes.
The light is emitted either through LED bulbs (in infrared lamps/handheld devices/panels) or through natural jade/Amethyst stones (infrared heating pad).
Is It Scientifically Proven?
Many clinical human studies have proven that Infrared light therapy (also known as Low-Level Laser Therapy) is more effective than NSAIDs in relieving pain and healing inflammation.
Here are a few examples:
1. FIR therapy was proven to significantly reduce pain and inflammation of Osteoarthritis over a 24-hour period.
2. In patients with RA, relative to a separate control group, LLLT reduced pain by 70% relative to placebo and reduced morning stiffness by 27.5 min (95% CI -52.0 to -2.9), and increased tip-to-palm flexibility by 1.3 cm (95% CI -1.7 to -0.8).
3. FIR treatment was demonstrated to provide greater movement in the joints, increased connective tissue flexibility, and increased endorphin levels in the bloodstream, resulting in greater pain relief.
These are only some of the studies. There are many more (some are listed at the end of the post).
 The 5 Best Infrared Therapy Devices for Arthritis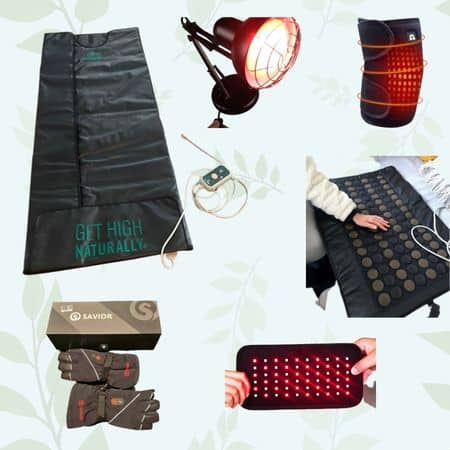 Luckily, these days you can own an infrared home device, and use it any time you need it, for as long as you need it.
All infrared devices for arthritis are easy to use. You just plug them in and relax for the next few minutes.
No traveling to a treatment center, no waiting until the morning or next week for a doctor's appointment.
How Long is Treatment Time for Arthritis?
Treatment time ranges between 5 to 30 minutes, depending on the severity of your pain. The treatment is painless, and you can enjoy the gentle heat while reading a book, watching TV, or better yet – just closing your eyes and resting.
Here are the best options:
No ads, reader-supported: This post may contain affiliate links, at no extra cost to you.
1. Infrared Lamp for Arthritis
An infrared lamp is recommended if your inflammation areas are few and small (Hand arthritis/knee/elbows, etc.).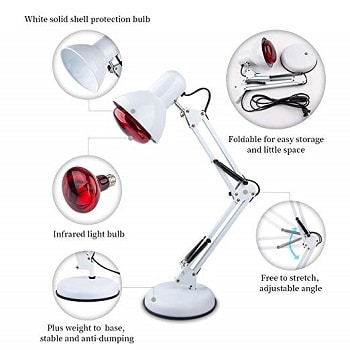 Infrared heat lamps transmit invisible infrared rays (light waves) deep into your body, all the way to your muscles, nerves, and bones.
The infrared wavelength is felt as gentle heat, yet proven to penetrate deep into your tissues and improve blood circulation by 400% within a few minutes.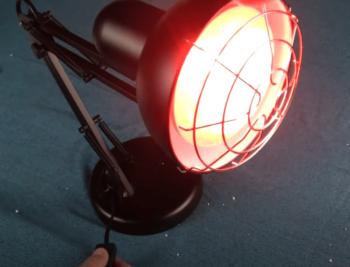 Most manufacturers recommend 10-15 minute sessions – a few times a day. There is no proven benefit to doing it longer than that.
How do you use an infrared lamp for arthritis?
Set your infrared heat lamp about 12-24 inches from the joint or area you are targeting.  Make sure to also pull your clothes away from the area, so the heat lamp can get to the skin easier.
👉 You can also make your own infrared lamp – click the link to see the instructions.
2. Infrared Heat Therapy Gloves 
More than a few studies have proven that thermal treatments are helpful for Osteoarthritis in the hands and feet, including reducing pain (by 1.10 points on a scale of 1-10) and morning stiffness duration (by 28 minutes!).
IR therapy is also proven to improve range of motion, function, swelling, and grip strength – in the long term.
The best treatment would be using simple FIR therapy gloves, with temperature control, for at least 30 minutes a day.
👉 Here's one of our top choices for 2023: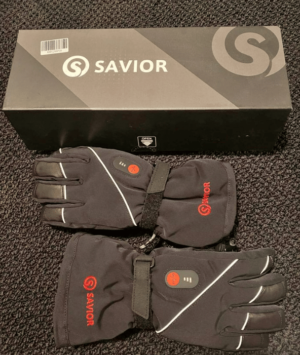 👉 See the 6 BEST Infrared Therapy Gloves of 2023!
The Savior heated gloves are made with soft and comfortable cotton material and have 3-level temperature control.
The fully charged batteries will stay hot for 3 hours and 45 minutes on the medium setting and about 30 minutes on the high setting. They are also waterproof and work even in sub-zero temperatures!
We also recommend heated socks for people suffering from arthritis foot pain.
3. Infrared Heating Pad 
You can use an infrared heating pad – for larger pain areas (spinal arthritis, etc.), or use knee heating pads (braces) for arthritis knee pain.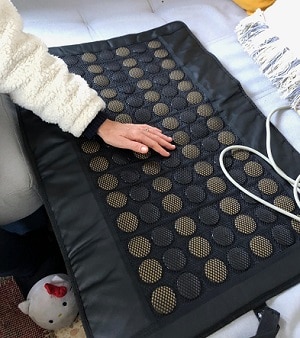 Jade/Tourmaline heating pads emit radiant heat through semi-precious Jem stones, which never get too hot to touch and thus reduce skin burns to a minimum.
The best ones are EMF-free and have many temperature settings to choose the most comfortable one for your needs.
Knee heating pads are also very helpful for knee arthritis, and an added benefit is that you can move around with them (at least with the battery-powered ones). Some of them have a vibration massage functionality, and some even include magnets to fight inflammation.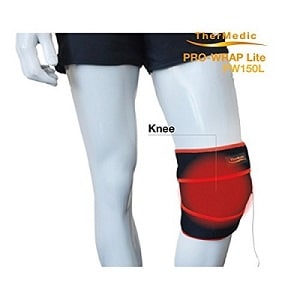 4. Red Light Therapy for Arthritis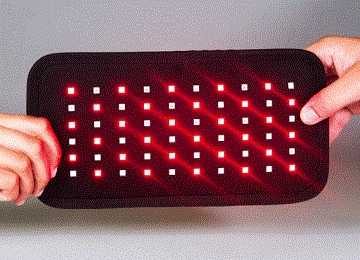 Red light therapy is a shorter wavelength (600-890 nm) and thus penetrates less deeply than the infrared wavelength.
However, it is not thermal therapy and does not heat up the tissues. It is usually applied through LED light therapy devices.
Red light at a lower power may be effective for arthritis of the hands and feet (smaller joints), but it may not be optimal for arthritis of the knees, shoulders, and bigger joints.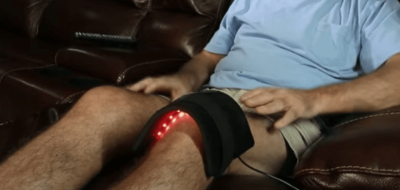 Studies usually utilize infrared wavelengths, but there are some studies that found that red light therapy at 810 nm (red/near-infrared) can reduce arthritis-related inflammation.
Most recommended LED light therapy devices combine both red light and near-infrared light to maximize the best wavelengths for arthritis treatment.
👉 We recommend red light therapy wraps, especially for joint pain relief, and they are especially suited for people with sensitivity to heat.
5. Infrared Sauna for Arthritis
An infrared sauna for arthritis is our #1 recommendation for Arthritis pain relief and healing – the natural way.
(This is backed by science)
You may be surprised to find that just one 40-minute session in a far infrared sauna can give significant muscle pain and stiffness relief – more than all the massages, acupuncture, physiotherapy, TENS, and ultrasound treatments together.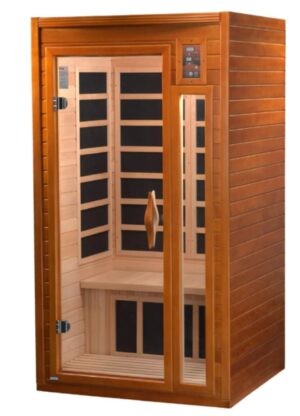 Sitting in a wooden box, or a personal portable infrared sauna, sweating as you have never sweated before, can detox your body and loosen all your muscles in a way that feels like being born again – when you come out.
The only side effects (if you hydrate properly) are clearer skin and better sleep.
👉 See the top 4 infrared saunas (made with non-toxic materials)
If your budget won't allow having your own FIR sauna, you can go for an infrared sauna blanket – for half the price (and lower) of an infrared sauna.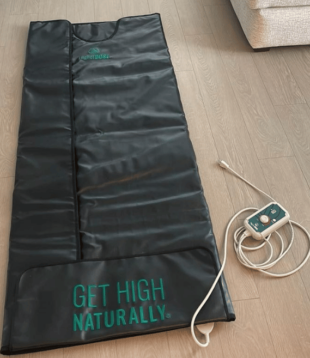 (👉 Save $105 with our coupon code MEITAL75)
6. Electric Heated Hand Massager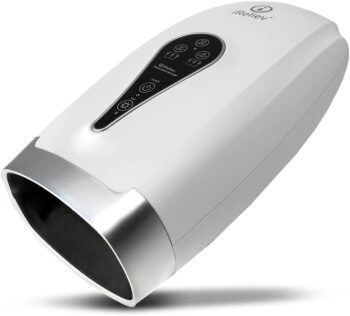 An electric heated hand massager may seem like just a gimmick, but surprisingly, it can be a game changer for people seeking relief from hand arthritis symptoms.
These massagers combine gentle heat therapy with compression (through airbags) and vibration (through tiny motors) to quickly boost blood circulation to the palm, fingers, and wrist.
A 15-minute relaxing treatment that feels almost human, can leave you pain-free for the rest of the day, and enable you to use your hands normally to work, type, or do anything else you need to do.
How to Choose the Best Infrared Device for Arthritis
Home devices are just as effective as medical devices/beds/saunas. The only difference is the treatment area size they can treat.
If you suffer from Arthritis in most or all your joints/spine, you'll need a full-body treatment via a

large infrared heating pad

or sauna.
If your pain is local (elbows, knees, hands, feet) – all you need is a high-quality infrared home device to save a ton of money on doctor appointments, physical therapy, and NSAIDs.
Over time, the investment in the device will pay for itself. Both in the short and long term it is a wise investment.
I've linked the best products in the above section, but here's how to choose the best IR home device for your needs:
1. Treatment area
2. FIR Heat Emitting System
Infrared heat is emitted either through LED bulbs or through jade/amethyst stones (which are heated electrically).
Infrared heating pads use natural stones to emit FIR rays, while hand-held/2-panel devices use LED bulbs.
Jade/amethyst stones are a great healing bonus since they alone are considered therapeutic.
The most famous (yet expensive) Amethyst infrared pad is the full-body Biomat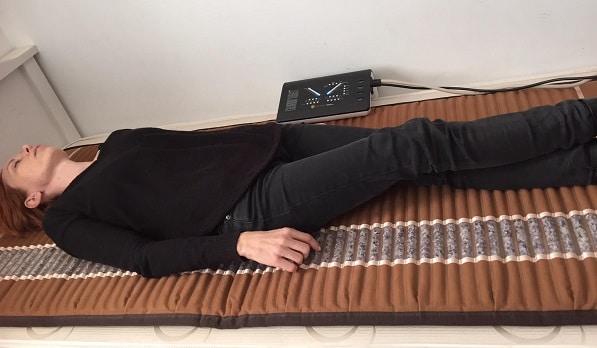 It's my #1 recommendation, but I wouldn't recommend starting out with it.
Try a relatively low-cost device first, to see how it works for you.
3. EMF radiation
Always look for devices with low/no EMF radiation. The best devices clearly state how much EMF (if at all) they radiate.
4. Timer
The high-quality devices have a built-in timer, so you won't have to continuously time your treatment sessions.
Conclusion
Infrared light therapy for Arthritis is one of the most powerful, proven, and drug-free ways to relieve arthritis pain and heal joint inflammation in the long term.
It can replace your pills, it can save you money, and it can work fast.
Having your own infrared home device makes this natural Arthritis treatment available to you 24/7 and can be used to treat many skin problems you may have as well.
It's non-invasive, safe, and easy to use.
What about you? Have you ever tried infrared therapy? What's your experience? Share it with me in the comments below.
To your health and happiness,
Meital
Studies
Oosterveld, F.G.J., Rasker, J.J., Floors, M. et al. Infrared sauna in patients with rheumatoid arthritis and ankylosing spondylitis. Clin Rheumatol 28, 29 (2009).
Jean Stelian, MD, et al. Improvement of Pain and Disability in Elderly Patients with Degenerative Osteoarthritis of the Knee Treated with Narrow‐Band Light Therapy
Hamblin, M.R. Can osteoarthritis be treated with light?. Arthritis Res Ther 15, 120 (2013).
Meital James
Founder and CEO of 4 healthy living blogs, has a background in Naturopathic medicine, research, journalism, and nutrition. Her blogs are the culmination of her thousands of hours of research and experience and all the posts are verified by scientific findings.