More and more people are regularly using deep penetrating Infrared Light Therapy devices to relieve pain naturally and fast – without any side effects.
Having your own infrared therapy machine is a cost-effective and quick way to relieve muscle pain, joint pain, Neuropathy pain, or any kind of pain, no matter the cause.
But:
So many infrared machines are out there: small ones, larger ones, hand-held ones, carbon fiber ones, and so on.
How do you choose the right one for you?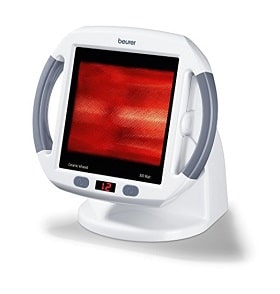 This post contains affiliate links. Click here to read my affiliate policy.
This infrared light therapy comparison will help you choose the best one for you, and save you hours of tedious research.
👉Note: if you are looking for the best infrared heating pads – here's my full comparison & reviews.
Under the comparison table below, you'll find my infrared light therapy reviews – what I like and don't like about each device.
👉See how to use an infrared heat lamp for pain relief and healing.
Ready?
Here we go.
Infrared Light Therapy Devices Comparison
Below you'll find a short comparison between our 2020 recommended infrared therapy machines for home use.  Click on the link below each one to jump to the full review.
Beurer IL50
Our Rating
🥇 4.6
Type
Ceramic infrared
plate
Treatment
Area
11.8" x 15.7"
Treatment
Time
10-15 min.
Wavelength
Infrared
500 – 2500 nm
Timer
Yes
Price
Check on Amazon
DPL Flex Pad
Our Rating
4.5
Type
LED belt
pad
Treatment
Area
8" x 5"
Treatment
Time
20 min.
per area
Wavelength
Infrared @ 880 nm
red @ 660 nm
60 LEDs
Timer
No
Price
Check on official site
Tendlite
Our Rating
4.4
Type
Handheld
Treatment
Area
1" radius at
1 inch
from optic
Treatment
Time
1 minute,
3 times a day
Wavelength
Red @ 660 nm
Timer
Yes
Price
Check on Amazon
And now, check out my reviews and pros & cons of each infrared home device:
The Top 6 Infrared Therapy Home Machines(2020)
1. 🥇Beurer IL50 Infrared Pain Relief Lamp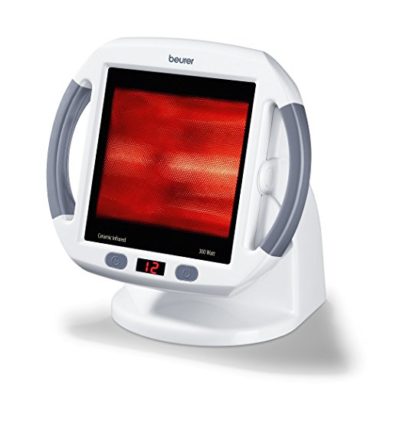 Beurer IL50 infrared heat lamp treatment covers an 11.8-inch x 15.7-inch area, making it ideal for use on larger parts of the body.
This is the only infrared (halogen) heat lamp in our list that uses carbon fiber to deliver heat. This is why you have to keep it at a minimum distance of 12 – 24 inches between the lamp and your body.
The complete wavelength range (spectral output) of the IL 50 infrared heat lamp is (in nanometers) from 500nm to a peak of 2500nm.
* Shortwave range = IRA 800 to 1400nm
* Middle wave range = IRB 1400nm to 3000nm
Beurer Infrared Heat Lamp pros
Sturdy, well-built
Inexpensive
High company reputation
Large treatment area
Auto shut-off timer
Easy to use control buttons
Adjustable tilt angle for 0 to 50 degrees
Cons
Can be hard to position towards certain areas
The screen gets hot
 ✅ Beurer Heat Lamp best price
The Beurer heat lamp has a fair price tag on it. When we check this page, we sometimes find a good sale price for it. If you find it for less than $60 – it's a great deal.
2. Deep Tissue Infrared Percussion Massager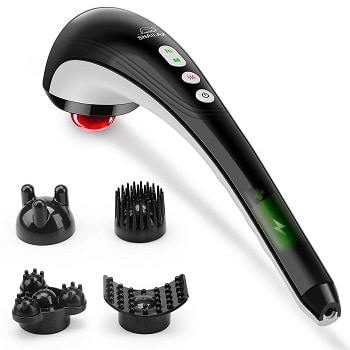 Can't find the IR massager in the picture on Amazon? see all other recommended infrared massagers!
An infrared massager is one of the most effective and quickest infrared pain relief devices (for muscle and nerve pain) – at home.
This one has everything you need to quickly relieve pain at home: it has variable massage settings (from low to deep tissue), infrared heat, acupressure massage attachment, and the design is comfortable and easy to use.
Infrared Massager Pros
Infrared heat – reaches deep into your tissues to boost the massage benefits
A detachable head that becomes a palm-held massager
Highly adjustable – speed control and attachments
Comes with a detachable velcro strap, if you want to use it without the handle
5-year warranty, good customer service
6.5 ft power cord
Fair price tag – check today's price (don't forget coupon code MEITAL35 for a 35% discount!)
Cons
Some users think it's a bit too heavy
Attention
We've just finished researching and finding the top 5
Shiatsu FOOT massagers
(with heat) – a lifesaver device for people with heel pain (Plantar Fasciitis), Neuropathy, arthritic feet, Diabetes, flat feet, stiff feet, and poor blood circulation!
3. TDP Far Infrared Mineral Heat Lamp by K.S Choi Corp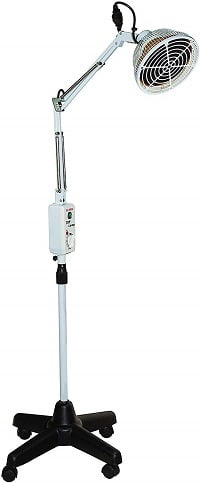 A far infrared TDP lamp emits the far-infrared wavelength through a mineral plate that is heated with coil heat, so no light bulb is needed.
The TDP lamp is very popular and many physical therapists and Chinese medicine practitioners use it at their clinic to enhance treatments.
The mineral plate lifetime is between 1000 to 1500 hours, and no replacement parts will be needed for the 5 years of daily use you can get out of it.
Treatment time can be up to 40 minutes daily. Do not use on bare skin and keep away from the heat source to a point you feel comfortable, and use safety goggles for your eyes.
Powerful far infrared lamp – covers a large treatment area (7.8 inches wide head)
360 degrees adjustable head and body & bendable neck
Comes with a stand, easy to use when lying down or sitting
Lasts for 5 years of daily use, no replacement parts necessary
Comes with a controller with a timer
Helpful customer service
Cons
Takes about 15 minutes to heat up fully
4. DPL Flex Pad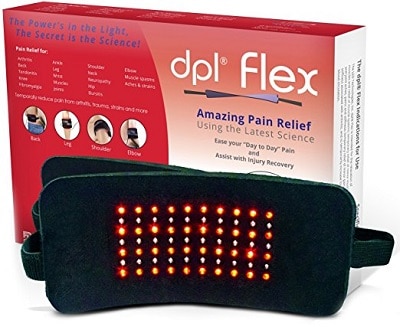 The DPL red & infrared LED therapy pad covers a relatively large treatment area (9.75″ x 5″) and contains 40 infrared (880 nm) and 20 red (660nm) LEDs. Treatment time is 14 minutes per area.
👉 If you want the best larger infrared heating pads, we highly recommend the UTK infrared heating pads.
DPL Flex Pad pros
Lightweight
Flexible – can be wrapped around different areas
Hands-free operation
2 Velcro straps, stays put
Perfect for knees and elbows
Automatic 40-minute shut-off
Cons
Attention
If you are looking for a larger infrared heating pad (for example, to treat back pain) – I have great news: For a limited time, you can use our coupon code to get a
20% discount
on UTK infrared heating pads.
Go HERE
to apply the coupon code straight to your Amazon account.
5. Tendlite Red Wand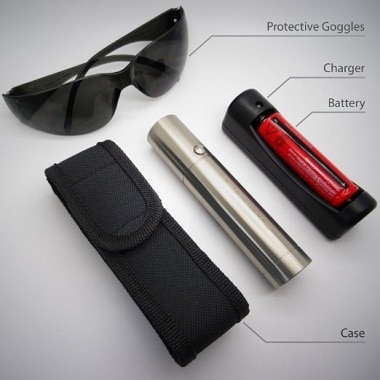 The Tendlite, specifically designed for your joints or spinal discs, contains 1 high-tech therapeutic medical-grade LED bulb, and only requires 1-minute treatments.
However, this device uses the red light wavelength and not the infrared one. I've included it here because it is designed for small area pain relief, and is very popular for this purpose.
This means that this wand doesn't get heated.
When you buy it here, you'll get a 60-day risk-free trial, 5-year warranty for the LED bulb and a 1-year warranty for the whole device.
Tendlite pros
Shortest treatment time in the market (1 minute)
Rechargeable
Compact design, lightweight, portable
Different intensity settings
Made with high-quality stainless steel
Cons
Relatively expensive
Doesn't work for everybody
Small treatment area
Requires recharging
✅ Tendlite Best Price
Though Tendlite doesn't exactly come cheap (list price is about $270) – you can find good sale prices HERE. If you find it for less than $180 – it's a great deal.
Attention - Best Alternative 😍
6. Revive DPL II Light Therapy Panel System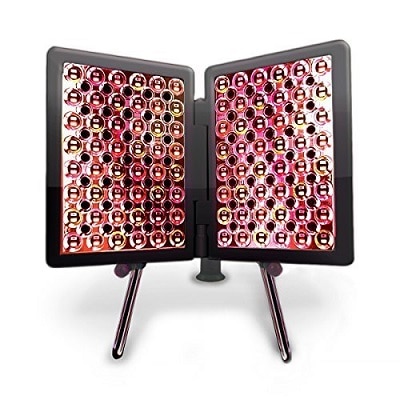 The DPL II red & infrared LED light therapy system covers the largest treatment area in this list and contains 96 infrared bulbs (880 nm), 32 dark red bulbs (660 nm), 32 red bulbs (630 nm), and 32 amber bulbs (530 nm).
DPL Panel System pros
Large treatment area
2-panels – can be attached to any area with the Velcro strap
Hands-free operation
Timer and auto shut-off
Easy to use
Cons
Not a great fit for travel due to size
May not feel comfortable directly on the skin
Conclusion
I hope you've found this infrared light therapy comparison and reviews helpful.
(You can learn more about infrared light therapy for pain and how it works!)
Make sure to choose the right infrared therapy home product for you – according to your needs.
Not sure which one is the best for you? message me right now on my Facebook page – and I'll get back to you ASAP🙋‍♀️
To your health and happiness,
Meital
P.S
Make sure to consider the full body infrared treatment – see the best infrared saunas in 2020 or the top portable infrared sauna on the market!