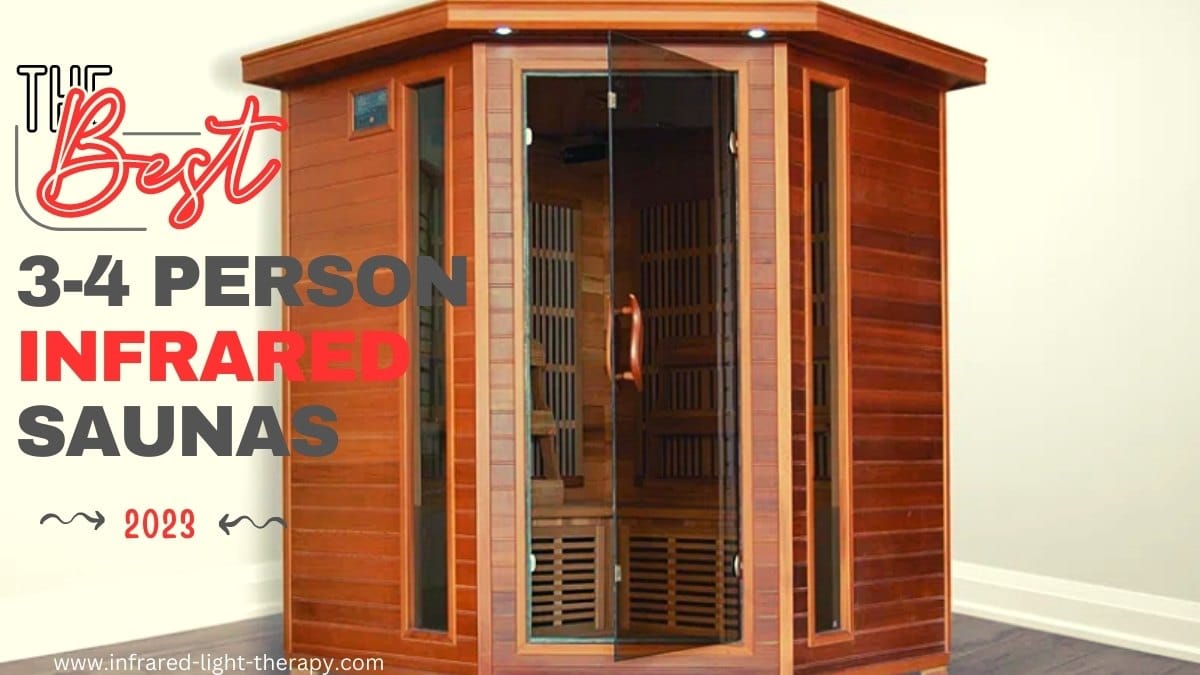 We've already shown the incredible benefits of far infrared saunas for weight loss, the immune system, and 12 other proven uses of infrared light therapy.
If you are looking for a spacious and luxurious infrared sauna, a 3 person/4 person infrared sauna is the best choice for your home, and can either accommodate more people or allow one person to do hot yoga, or just stretch out comfortably inside.
However:
Buying a 3-person or a 4-person infrared sauna is quite an investment, and should not be taken lightly.
That's why, after covering the best 2 person infrared saunas and the best portable infrared saunas, I decided to research and review the best infrared saunas for 3 or 4 people – in 2023.
No ads, reader-supported: This post may contain affiliate links, at no extra cost to you.
👉 See 9 incredible infrared sauna benefits & results, including long-lasting pain relief, toxin release (full body detox), weight loss, cellulite reduction, skin anti-aging, Fibromylagia, and chronic fatigue relief, Arthritis relief, bone injuries, and more!
How Much Space Do I Need for a 3-4 Person Infrared Sauna?
An approximate size guide for a spacious 4-person infrared sauna configuration is about 193cm wide, 149 cm deep, and 195cm high.
3-4 person infrared saunas require more space to accommodate more heating panels and a larger bench.
What Size is a 3-Person Infrared Sauna?
The average size of a 3-person infrared sauna is 59" L x 49" W x 75" H for standard models, and 59" L x 60" W x 75" H for corner sauna models.
That is approximately 5 ft by 5 ft. and over 6 ft tall.
They can accommodate up to 3 adults and allow all of them to get the maximum therapeutic benefits.
What Size is a 4-Person Infrared Sauna?
The average size of a 4-person infrared sauna is 69" L x 53" W x 75" H – approximately 5.75 ft. by 4.5 ft.
A corner 4-person sauna size is about 6′ 3" H x 4′ 11" W x 4′ 11" D.
Four-person saunas can be taller than average, with some models reaching a height of 85 inches.
The Best 3-4 Person Infrared Saunas 
We carefully chose the FIR saunas on this list, considering their durability, material, ease of assembly, EMF reading, buyer ratings, and accessories included in the price.
👉 Note: these are indoor infrared saunas. To use infrared saunas outside, see the 4 Best Outdoor Infrared Saunas!
1. Heatwave 4 Person Corner Infrared Sauna

Top Pick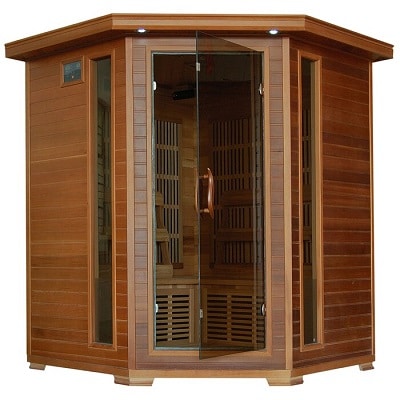 We highly recommend the Heatwave 4 person FIR sauna for its great build quality, low EMF radiation, a large number of heaters and accessories, ease of assembly and use, and amazing cedar wood qualities.
Dimensions – 6′ 3" H x 4′ 11" W x 4′ 11" D (overall)
Seating bench – 1′ 5" H x 4′ 7" W x 1′ 5 11/16" D
Weight – 397 pounds
Temperature – 90 F – 141 F
EMF – 0.3 mG
Designed to fit into a corner conveniently, the Heatwave 4-person corner FIR sauna is perfect for maximizing space in your home.
It can fit into a corner of a room, saving you valuable floor space.
It is made with the beautiful, solid, and heat-insulating Canadian Red Ceder.
The finish of the sauna is a natural cedar woodgrain, which not only adds an elegant and rustic touch to your home but also provides a pleasant and soothing aroma during your sauna sessions.
Cedar wood is known for its durability and resistance to moisture, mold, and mildew. This means your sauna will not only stand the test of time but will also remain fresh and clean.
Now let's talk about the heat source:
This sauna utilizes FAR infrared technology, through the 10 carbon heaters distributed throughout the sauna and ensure that the heat is evenly spread.
Controlling the sauna is easy, thanks to the included control panel.
You can adjust the temperature to your preference, and with a maximum temperature of 141°F, you'll have plenty of heat to enjoy a rejuvenating sauna session.
The sauna also features LED lighting, which adds a soothing ambiance and creates a calming environment for your relaxation. The included vent helps maintain good air circulation.
While this sauna does not have Bluetooth compatibility, it does offer audio input/output jacks. You can connect your own audio devices to enjoy your favorite music or podcasts while you unwind in the sauna.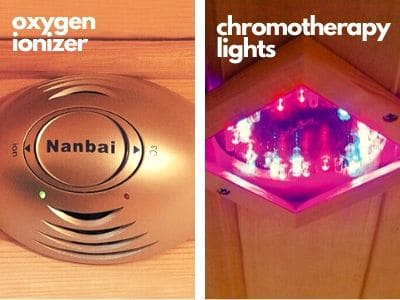 While not portable, this sauna is designed for indoor use, making it a permanent and reliable addition to your home. The floor is included, and it is water-resistant.
It requires assembly, but with the suggested three people and basic tools like a ladder and a Philips head screwdriver, you'll have it up and running in no time.
Now let's talk about warranties:
This sauna comes with a 5-year limited warranty that covers the wood, structure, heating elements, and electrical components. Additionally, there's a 1-year warranty specifically for the radio.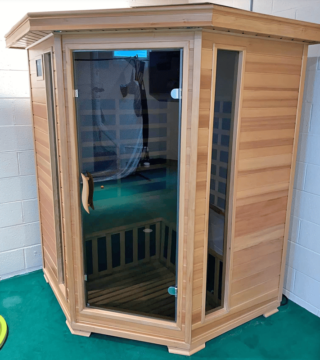 Heatwave 4-Person FIR Sauna Pros
Quality unit
CE, CETL, RoHS, and ISO 9001 certifications
Lowest EMF sauna – only 0.3 milligauss
Reaches max. temperature in 30 minutes
Beautiful wood construction – inside and out – great heat insulation
Comes with an oxygen ionizer and a generous amount of accessories
Easy assembly, everything fits perfectly in place
Interior & exterior LED control panels
Adjustable roof vents
Cons
Benches are not removable (for yoga)
It may require electrical modification
✅ Available at Wayfair ($4649) and on Amazon ($4639)
Accessories Included:
Two seating benches, allow you to relax comfortably.
Ergonomic backrests
Chromotherapy lighting
An advanced sound system
An oxygen ionizer
Towel hooks
A magazine rack.
2. Maxxus 3-Person Infrared Sauna

Best for the Money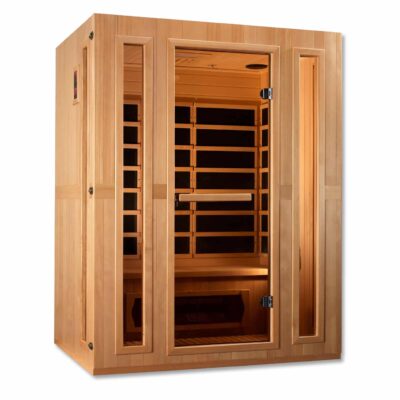 For less than $3000, the Maxxus Infrared Sauna accommodates 3 people comfortably, made with toxin-free Canadian Hemlock and efficient heating with low EMF panels, privacy features like tinted glass and interior/exterior lighting, along with easy assembly, and fast 15-minute heating time.
Dimensions – 42″ x 55″ x 75″
Weight – 390 pounds
Temperature – 90 F – 150 F
EMF – 2 mG
✅ Available at Walmart ($2899)
The highly-rated Maxxus 3 people infrared sauna is made with thick, naturally reforested Canadian Hemlock wood (toxin-free), which is energy efficient, and will look and smell awesome for years to come.
According to customers (who all mention the great customer service), the sauna is well constructed and fits together very well, and there are no warped or bowed parts.
The 7 carbon heaters heat up the inside in 10-15 minutes and maintain the temperature (that reaches up to 150 F). 
There are three panels on the rear wall, one on each side wall, and two under the bench.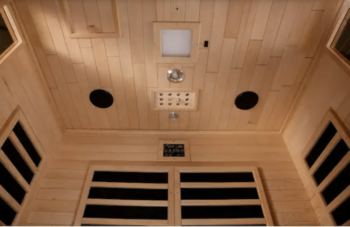 One of the standout features of this sauna is the Low EMF heating panels.
This sauna has near-zero EMF levels, which means you can relax and enjoy the sauna without worrying about exposure to high levels of electromagnetic radiation.
The sauna also offers a privacy glass, ensuring that you can enjoy your sauna session without feeling exposed. The bronze-tinted tempered glass door and side windows provide a sense of seclusion while still allowing light to filter through.
Not only does this sauna have interior Chromotherapy Color Lighting, but it also features exterior accent lighting.
This adds a touch of elegance and creates a warm and inviting ambiance in your sauna space. The LED control panels, both interior and exterior, allow you to easily adjust the settings and customize your sauna experience to your liking.
The rectangle shape allows installation on any indoor location, including a master bath, basement, garage, and carpet.
Maxxus 3-Person Infrared Sauna Pros
A reputable and reliable company
Easy to assemble (takes only an hour)
Big enough to stretch out inside
Heats up in less than 10 minutes
Durable and well-built
Stylish and looks great
Chromotherapy LED lights
30-day free returns
Cons
Requires a dedicated outlet
when 3 people are inside, they have to sit and it can get tight
✅ Available at Walmart ($2898)
Accessories Included:
FM radio with MP3 Aux and Bluetooth capability
Chromotherapy lighting (each color has its own therapeutic benefits)
Interior and exterior LED control panels
(Note: this sauna requires a dedicated 20 Amps breaker and a USA outlet.)
3. JNH Joyous 3 Person FAR Infrared Sauna

Best Budget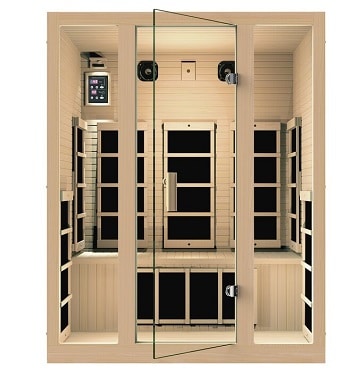 The JNH Joyous is the lowest-priced 3-person infrared sauna on this list and offers no-tool assembly, untreated Canadian Hemlock construction, LED lighting, and a premium sound system.
Dimensions: 6′ 3" H x 4′ 11 3/32" W x 3′ 3 13/32" D
Weight – 323 pounds
Temperature – heats up to 140 F in 30 minutes
EMF – 3 milligauss
✅ Available at Walmart ($1521)
JNH Lifestyles Joyous is made of double-layer Canadian Hemlock wood of the highest quality.
Plus, the Joyous sauna is heated with 8 carbon fiber far infrared heaters, which are perfectly spread out to give you optimal heat from each side.
The JNH Joyous 3-person infrared sauna is built with FSC-certified untreated Canadian Hemlock Wood and includes 8 carbon heaters (more than average) – which are perfectly spread out to give you optimal heat from each side.
You use the Tongue and Groove method to do the construction of this sauna, so no tools are necessary and assembly takes less than an hour.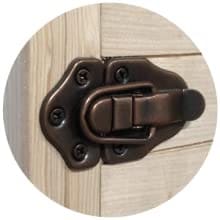 The sauna walls are built with Dual wall construction for better heat insulation.
If you want to listen to some music, inside you'll find 2 Bluetooth speakers along with an amplifier, interior LED light, and digital control for the temperature and time settings.
Note: this sauna also requires a dedicated 20 Amps breaker (NEMA 5-20P Socket Required)
JNH Pros
Low price
Built with untreated wood
Non-complicated assembly
Cons
Takes 30 minutes to fully heat up
Less accessories
✅ Available at Walmart ($1521)
Accessories Included:
Integrated speakers with a Bluetooth amplifier and remote control
Interior LED lights
Built-in digital control panel
How to Choose a 3-4 Person Infrared Sauna 
Infrared saunas come in a variety of sizes and shapes:
There are small (1-2 person) FIR saunas, large ones (3-6 person FIR saunas), portable saunas, corner infrared saunas, outdoor infrared saunas – anything you can think of.
3-4 person infrared saunas are larger, more stylish, and usually come with more carbon heaters and accessories (such as chromotherapy, an oxygen ionizer, an advanced sound system, etc.)
Here are the factors to check:
1. Material 
The 3-person infrared saunas you'll find here are made with either Canadian Cedarwood or Canadian Hemlock.
Canadian Red Cedar is renowned for its beautiful color variation, refreshing aroma, and its resistance to rot and mildew.
It is durable and an excellent heat insulator.
Cedar also has antimicrobial properties that are anti-fungal as well as oils that aid in detoxification and is more expensive than Hemlock.
Hemlock has a great strength-to-weight ratio and is scent-free and hypoallergenic – a popular choice for the more affordable saunas.
No plywood or chemically treated wood is used in the construction of all the saunas in this list, and all of them have certification for their wood material – that outlines these factors.
2. Far Infrared Heaters
The best 4 people FIR saunas are equipped with carbon heaters, which heat up 30% faster than ceramic heaters and are energy-efficient.
All the saunas on this list have 7-10 energy-efficient carbon heaters inside, built to last for years.
3. EMF Radiation
EMF radiation varies and we found the EMF rating for each one of the saunas below – all of them are low, which makes these saunas safe to use.
Some FIR saunas are ultra-low EMF and usually cost more.
4. Infrared spectrum
Look for a sauna that offers a full spectrum of infrared wavelengths, including near, mid, and far. Each wavelength takes care of different aspects of overall health.
5. Accessories
Some saunas may come with additional features such as built-in speakers, chromotherapy lighting, or oxygen ionizers.
Consider which features are important to you and choose a sauna that offers them.
How Do You Clean and Maintain an Infrared Sauna?
To clean and maintain a 3-4 person infrared sauna, it's important to wipe down the surfaces after each use (with a mix of white vinegar and water), vacuum the floor regularly to remove hair and dirt and dust the heaters every once in a while.
You can also use a towel to prevent sweat on the floor panel. It won't stop you from absorbing the radiant heat.
If you have an oxygen ionizer (which eliminates germs, bacteria mold, and fungus), close the sauna door (once the vinegar odor dissipates) and turn it on for 15-30 minutes, to keep your sauna sanitary and fresh.
Do not use chemicals to clean your infrared sauna, and never hose down the interior or exterior.
To your health and happiness,
Meital
Meital James
Founder and CEO of 4 healthy living blogs, has a background in Naturopathic medicine, research, journalism, and nutrition. Her blogs are the culmination of her thousands of hours of research and experience and all the posts are verified by scientific findings.