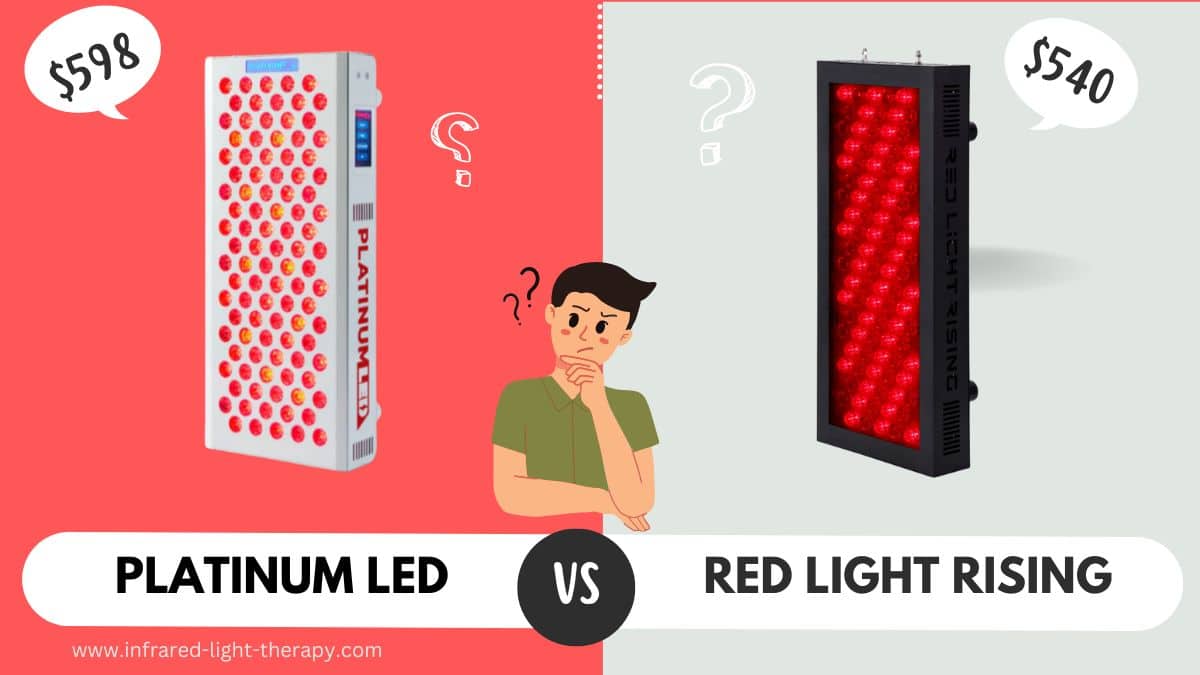 This post contains affiliate links, at no extra cost to you.
Platinum LED Therapy Lights and Red Light Rising are two of the leading red and near-infrared therapy brands in the market.
Health and wellness practitioners, athletes, dermatologists, and biohackers –  already have a LED light therapy panel at their disposal to use any time they want to, and it is definitely one of the best LED light therapy devices to have at home.
Now it's our turn 😉
So, how do you choose the best LED therapy panel for your needs?
Do the wavelengths matter? And what are output and irradiance? Which size is best?
In this post, I'll show you everything you need to know about Platinum LED Therapy Lights vs. Red Light Rising, and how to choose the best LED lights for pain relief, muscle performance, skin anti-aging and health, hair growth, blood circulation, cellulite reduction, and more.
How Did We Compare?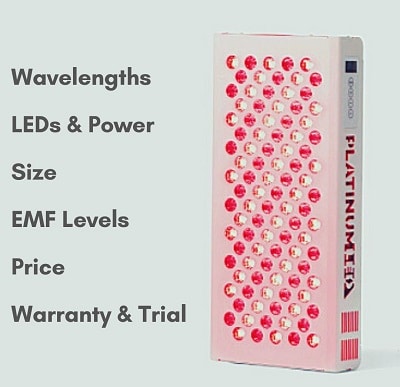 Now that you know how beneficial red light therapy is, and its many uses and applications, it's time to figure out how to choose the best professional LED therapy panel/device – for your home.
What should you look for?
1. The exact wavelengths offered by the device (each wavelength has its own benefits – more on that below)
2. Light energy output and irradiance – these influence the amount of light generated and absorbed into your body and the effectiveness of the light treatment.
3. Panel size – determined by the area size you want to treat and your goals
4. Value – the quality, experience of the company, customer service, money-back guarantee, and warranty
5. Price 
We've compared Platinum LED therapy light and Red Light Rising using these important criteria to help you make the most cost-effective possible.
Sounds good?
Find out our results below, beginning with a short comparison table:
Comparing the 2 leading LED Light Therapy Panels according to number of LEDs, Irradiance, wavelengths, EMF radiation, and price.
Platinum LED Review (vs. Red Light Rising)
Platinum is one of the leading global industry leaders in designing and manufacturing high-power LED panels – since 2010.
The company claims that its new design – BIOMAX – provides the highest amount of irradiance than any other LED therapy light on the market, and is being used by many athletes and medical professionals.
The new series( BIOMAX 600 and BIOMAX 900), has a patent-pending IR+ | NIR+ spectral output (which means they combine 5 different red & near-infrared wavelengths at the same time).

They design their (FDA-cleared) products to fit customers from all around the globe, with lights that auto-adapt to all 110 V and 220-240 V systems, global express shipping, and global warranty and trial support.
Red Light Rising was founded in 2017 by James Strong, a former professional Rugby player, and James Gohl, a biohacking and wellness enthusiast.
Their most popular LED panels are the Half Stack 2.0, and the Full Stack 2.0 of the Origin Series, featuring 2 wavelengths – 660nm (red) and 850nm (near-infrared) precise wavelengths.
They offer free shipping in Europe and charge a small fee for shipping outside Europe.
And now, let's get to the important differences between Platinum and Red Light Rising:
1. Wavelengths
Brand
Red Wavelengths
Near Infrared Wavelengths
🥇 Platinum Biomax
660 nm
630 nm
810 nm
830 nm
850 nm
Red Light Rising
660 nm
850 nm
Both Platinum LED lights and Red Light Rising feature red and near-infrared light wavelengths (measured in nanometers). Each wavelength has its own applications.
Red light therapy ranges from 630nm to 660nm, and NIR ranges from 810nm to 850nm.
The longer the wavelength, the deeper the light penetrates your body.
👉 Platinum LED has 5 wavelengths:
660 nm – reaches the entire range of skin tissue and targets inflammation, swelling, pain, relief, muscle fatigue
850 nm – amplifies the benefits provided by the 810nm and 830nm wavelengths (anti-inflammatory, muscle recovery, wounds, anti-aging, and more)
630 nm – targets all skin concerns including wrinkles, sagging, hair growth, psoriasis, etc.
810 nm – targets neurological issues (can penetrate through the skull and treat the brain)
830 nm – accelerates healing, recovery from injury and surgery, bone repair and growth
80% of the new BioMax spectral range is 850 nm near-infrared light.
What about Red Light Rising?
👉 Red Light Rising panels include 2 wavelengths – 660nm (red) and 850nm (near-infrared).
🥇 
Winner
–
Platinum LED Therapy
Panels have a broader range of red and near-infrared wavelengths, which creates a synergistic combination when all are used together.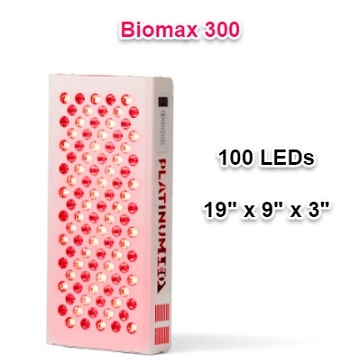 However, wavelengths are not the whole story. Next, we'll examine the "juice" – the power output:
2. LEDs and Power Output (Irradiance)
Brand
Number of LEDs
Power Output
🥇 Platinum Biomax 600
(36" x 9" x 3")
200 LEDs
129 mw/cm2
Red Light Rising
Full Stack
(48" x 7" x 2.5")
200 LEDs
110mW/cm2
For these light wavelengths to work their magic, the lights must be powerful.
With LED lights, the wavelength and the total energy ("irradiance") emitted are the most important determinants of efficacy. [Resource]
The power output of the LEDs and the total number of LEDs are most important when it comes to the efficiency of treatment.
Let's compare the 2 most popular models of Platinum and Red Light Rising – Platinum BioMax 600 and Red Light Rising Half Stack:
BioMax 600 (36″ x 9″ x 3″) has 200 LEDs and a total power output of 129 mw/cm2 – at 6 inches away.
Red Light Rising Full Stack (48″ x 7″ x 2.5″) has 200 LEDs and a total power output of 110mW/cm2 – at 6 inches away.
It seems that both these similar size panels (full body coverage) have about the same power output.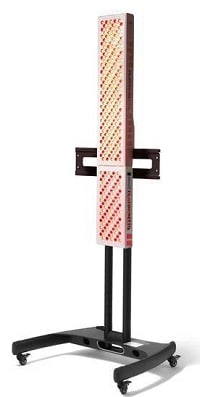 3. EMF Radiation
Brand
EMF Levels
🥇 Platinum Biomax 600

0v/m
Red Light Rising
Full Stack

12v/m
Red Light Therapy panels EMF radiation comparison
Obviously, the healthy and safe use of LED light therapy panels requires low EMF radiation.
With good engineering practices, EMF fields can be dramatically reduced and/or shielded.
Through our research, here's what we found:
BioMax 600 emits 0v/m at a 6-inch distance
Red Light Rising Full Stack 2.0 emits 12v/m at a 6-inch distance
All Platinum LED panels have shields to prevent the LED drivers, the LED board, and the power cables from emitting EMFs.
You can see a live EMF test below:
4. Price and Shipping
We'll compare the price of each company's two best-selling models:
Platinum LED Therapy Lights Price
BioMax 600 – $949 with coupon code MEITAL and free shipping – at Platinum LED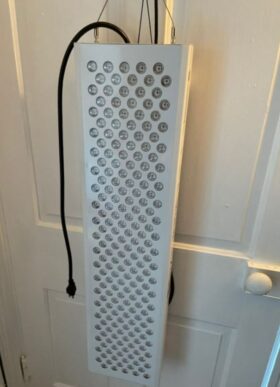 BioMax 900 – $1196 with coupon code MEITAL
Platinum LED Therapy Light Discount Code
I was able to get a 5% discount on all LED panels, stands, and accessories at Platinum LED Therapy – use coupon code MEITAL to get 5% off your entire order – at checkout. 
Red Light Rising Cost
Half Stack 2.0 – $568 with free shipping in Europe and a small shipping fee outside Europe
Full Stack 2.0 – $951 with free shipping in Europe and a small shipping fee outside Europe
Plus, when you purchase 2 panels – you get at least a $100 discount and a rack stand to set them up.
🥇 Winner of the half-body category (BioMax 600 vs. Half Stack) – Red Light Rising
Red Light Rising Light Discount Code
To get 5% off your order at Red Light Rising, use coupon code MEITAL – at checkout.
🥇 Winner of the full-body category (BioMax 900 vs. Full Stack) – Red Light Rising
Warranty & Money Back Guarantee
Platinum LEDs' BioMax came out number one with their 3-year warranty, and 60-day money-back guarantee. However, they will charge a 20% restocking fee if you decide to return it.
Red Light Rising also gives you a 3-year warranty and a 60-day trial period and charges a 15% restocking fee if you decide to return it.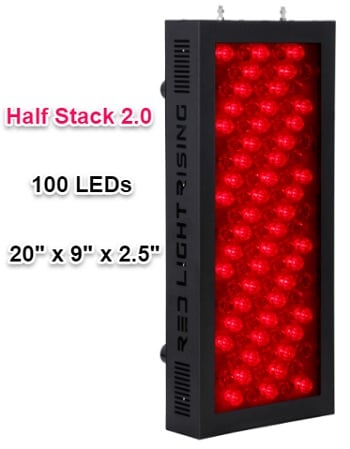 Platinum LED Therapy Pros and Cons
To conclude my research, here are the pros and cons of the new BIOMAX series from Platinum LED Therapy:
pros
Highest power output
Unique 5-wavelength technology
Modular design
Low sound and flicker
Zero EMF levels
Good customer support and more than 9 years of experience
3-year warranty and a 60-day money-back guarantee, financing options
Built-in timer
Safety goggles included
Country-specific plug
Cons
Red Light Rising Pros and Cons
Here are the pros and cons of Red Light Rising Origin Series:
Pros
Competitive price (use coupon code MEITAL to save 5% – at checkout!)
60-day money-back guarantee, 3-year warranty, a lower restocking fee
Country-specific plug
Good customer service
Cons
No modular capability
No financing options
Conclusion – The Winner
Though I do see a clear winner here, we all have different needs and budget limits. Here's a final comparison table with the winner in each category, so you can decide based on your preferences.
For example, if you mainly want to use red light therapy for skin issues and anti-aging, you don't need the largest panel and the highest power output. I've had great results with my low-power LED face mask – for more than a year now.
Category
🥇 Winner
Number of Wavelengths
Platinum LED Therapy
LEDs & Irradiance
Platinum LED Therapy
EMF Levels
Platinum LED Therapy
Price
Red Light Rising
Trial & Warranty
Tie
(Red Light Rising wins restocking fee)
Modular Design
Platinum LED Therapy
LED Therapy Lights Benefits and Uses 
The red and near-infrared wavelengths you'll find inside Platinum LED Therapy and Red Light Rising are proven (in over 3000 studies) to have major health and beauty benefits, including:
Increased muscle performance and reduced muscle fatigue
Faster recovery after injuries
Blood circulation improvement (and thus more oxygen and nutrients)
Inflammation reduction in muscles, joints, and bones
Faster healing from chronic skin conditions
Improved collagen production (which means fewer wrinkles and less skin sagging)
Stimulation of melatonin production (better sleep)
Weight loss and cellulite reduction
Nerve healing and regeneration
Stimulation of hair growth
Faster healing from traumatic brain injury, stroke, or neurodegenerative disorders.
Red Light Therapy Wavelengths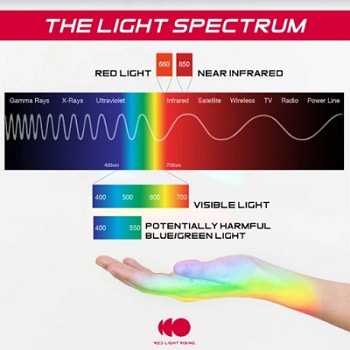 The red light spectrum ranges from approximately 620 nm to 750 nm. The red light wavelengths that have the most scientifically proven benefits are 630 nm and 660 nm.
630 nm wavelength – ideal for targeting skin concerns. 630 nm wavelength penetrates into the skin cells and was proven to promote collagen production and thus reduce wrinkles and fine lines. It was also proven to stimulate hair growth, reduce skin redness caused by Psoriasis, Eczema, and Rosacea, and heal acne scars.
You can find this wavelength inside most red LED light therapy home devices.
660 nm wavelength – penetrating just a little deeper than the 630 nm wavelength, the 660 nm reaches into the entire range of the skin tissue to promote healing and regeneration.
Proven benefits include anti-inflammatory effects, improved bone healing, relieving nerve pain, swelling after surgeries, wound healing, and more.
You'll find this wavelength in laser caps for hair growth, laser combs, LED Face masks, and more.
The Near-infrared wavelength starts at 750 nanometers and extends all the way to 1,200 nm.  The most researched wavelengths are the 810 nm, 830 nm, and 850 nm wavelengths, which are all experienced as heat.
You'll find the near infrared wavelength inside an infrared lamp, laser hair removal devices, and more.
810 nm wavelength – penetrates deeper, all the way through the skull and into the brain, and offers musculoskeletal and neurological benefits, including faster muscle recovery, enhanced muscle performance, faster recovery from a stroke and traumatic brain injuries, and hair growth.
830 nm wavelength – A greater quantity of photons are delivered into the tissue with the 830nm wavelength, and the proven benefits include infection prevention, wound healing, increased production of endorphins ("feel-good" hormones), Improved bone repair and growth, and faster recovery from injuries.
850 nm wavelength –  In many cases, the 850nm amplifies the benefits provided by the 810nm and 830nm wavelengths.
This wavelength has a range of therapeutic uses, including joint and muscle pain reduction, enhanced muscle recovery, reduction of fine lines, wrinkles and pigmentation, and gum health.
As always, you can always reach out and ask me anything on my Facebook page, in the comment section below, or on our contact page.
To your health and happiness,
Meital
Studies & Resources
Chung H, Dai T, Sharma SK, Huang YY, Carroll JD, Hamblin MR. The nuts and bolts of low-level laser (light) therapy. Ann Biomed Eng. 2012;40(2):516-533. doi:10.1007/s10439-011-0454-7
Avci P, Gupta GK, Clark J, Wikonkal N, Hamblin MR. Low-level laser (light) therapy (LLLT) for treatment of hair loss. Lasers Surg Med. 2014;46(2):144–151. doi:10.1002/lsm.22170
Prophylactic low‐level light therapy for the treatment of hypertrophic scars and keloids: A case series, https://doi.org/10.1002/lsm.20952
Avci, Pinar et al. "Low-level laser (light) therapy (LLLT) in skin: stimulating, healing, restoring." Seminars in cutaneous medicine and surgery vol. 32,1 (2013): 41-52.
de Almeida, P., Lopes-Martins, R.Á.B., De Marchi, T. et al. Red (660 nm) and infrared (830 nm) low-level laser therapy in skeletal muscle fatigue in humans: what is better?. Lasers Med Sci 27, 453–458 (2012). https://doi.org/10.1007/s10103-011-0957-3
DeLellis SL, Carnegie DH, Burke TJ. Improved sensitivity in patients with peripheral neuropathy: effects of monochromatic infrared photo energy. J Am Podiatr Med Assoc. 2005 Mar-Apr;95(2):143-7. doi: 10.7547/0950143. PMID: 15778471.
Chaves ME, Araújo AR, Piancastelli AC, Pinotti M. Effects of low-power light therapy on wound healing: LASER x LED. An Bras Dermatol. 2014;89(4):616-623. doi:10.1590/abd1806-4841.20142519
Meital James
Founder and CEO of 4 healthy living blogs, has a background in Naturopathic medicine, research, journalism, and nutrition. Her blogs are the culmination of her thousands of hours of research and experience and all the posts are verified by scientific findings.