Rosacea is a difficult condition to live with, but many people are already seeing the (red) light at the end of the tunnel:
Red LED light therapy for Rosacea.
In this post, you'll find whether red light therapy for rosacea works, and the best LED light devices for rosacea – for home treatments.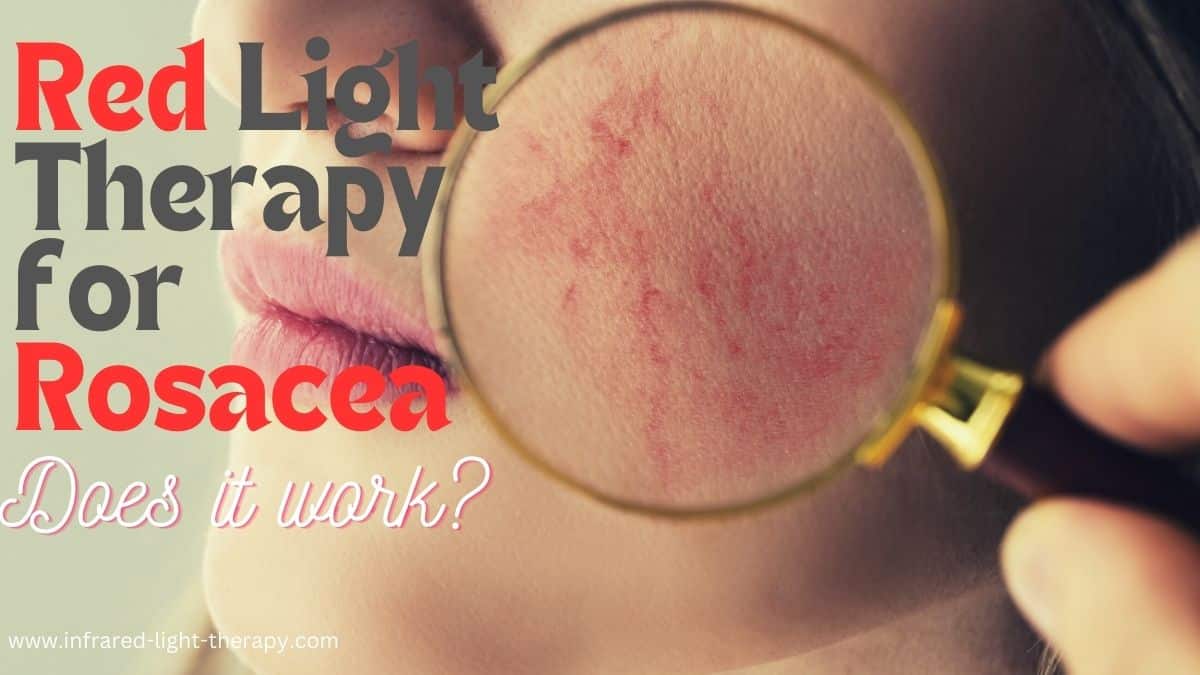 This post may contain affiliate links, at no extra cost to you.
Does Red Light Therapy Help Rosacea?
The book "Light Years Ahead" has collected many studies showing that visible red light (in the range of 630 nm to 700nm) can boost the skin's healing rate by 200 percent. Red light therapy involves exposing your skin to strong sources of visible red light (610-700 nanometer), usually through LED bulbs.
(The same light was also proven to accelerate diabetic wound healing by up to 170%!)
Here are the proven benefits of phototherapy for your skin:
1. LLLT was proven many times to naturally reduce inflammation and pain. When you control inflammation, it reduces swelling, redness, itching, and pain.
2. Proven to boost skin healing
3. Prevents worsening of existent Rosacea symptoms
4. Safe and side-effects-free (though you should consult your dermatologist if your symptoms are severe) for daily use for people of all ages
5. Easy for home use and simple to do, requires little time and effort
6. Painless and non-invasive
7. Does not lose effectiveness over time
8.  No downtime
How Does Red Light Therapy for Rosacea Work?
Visible red light from a high-quality LED light therapy device can penetrate your skin to a depth of about 8-10 mm. When the red light wavelength reaches your skin affected by Rosacea, the skin cells absorb it and it results in increased microcirculation, which accelerates the healing and rebuilding ability of the cells.
The result?
The flushing, swelling, bumps, pain, and sensitivity to triggers – are noticeably relieved – without medication and topical creams (which only trigger more flare-ups).
If you'd like a scientific explanation, here it is:
"The photons (light units) are absorbed by mitochondrial chromophores in skin cells, resulting in electron transport, ATP nitric oxide release, increased blood flow, increased oxygen and activation of diverse signaling pathways."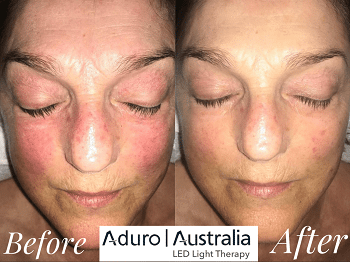 The Best Red Light Therapy Device for Rosacea
There are a few important questions to answer before you decide:
1. Do you need a handheld device or a large 2-panel device?
A large red light therapy system can cover your entire face in one treatment, but if your Rosacea is located only around your cheeks, you may not need it.
If you need to travel with your device, you'll need a handheld device.
2. How much will you be able to spend?
Red light home treatment for Rosacea depends a lot on your patience and consistency. You'll have to treat yourself every day for at least a few minutes to see results and keep them.
Related: Revive Light Therapy Reviews
Here are 2 more recommended home light therapy devices for Rosacea:
1. Lightstim for Rosacea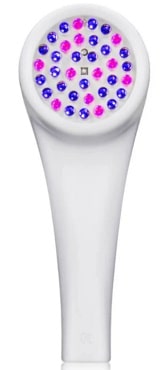 The Lightstim Acne device is a home LED light therapy device that combines red light therapy with blue light therapy – proven to kill acne-causing bacteria, which can be hiding deep underneath rosacea outbreaks.
Using Lightstim can make your skin more resilient to "bacteria attacks" and less sensitive.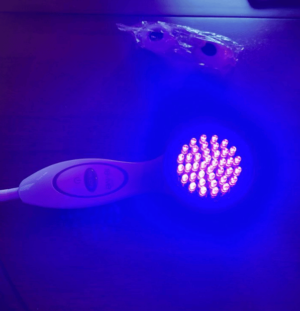 It's very easy to use – you just place it over the affected area and hold it there for 3 minutes – and move on to the next area. Do not overuse and go over the recommended treatment time.
2. ADURO 7+1 LED Face Mask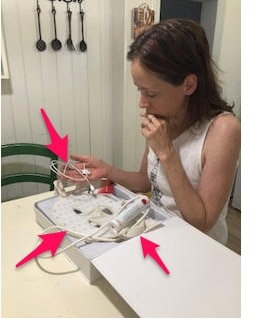 The Aduro LED mask is our #1 pick for 2021 and is a perfect fit for rosacea treatment at home.
It has 8 different colors, can be pre-programmed, and has an automatic shut-off when treatment is done.
It is powerful yet gentle enough for treating rosacea redness and pain – without causing irritation or swelling.
👉 See my full review for the Aduro LED mask.
3. Anti-Aging Red LED Light Therapy 38 LED Bulb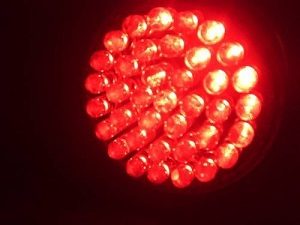 Remember:
One of the Rosacea triggers is too much heat, so I recommend a powerful yet not too powerful device, as this woman testifies in the Essential day spa forum:
"Heat was my biggest concern with the Quasar SP, it did make my rosacea flare up so I switched back to baby Q (Baby Quasar). It seems to make my Rosacea calm and more even toned."
What to avoid:
I recommend avoiding battery-operated products because the batteries cause power strength to decrease gradually, plus they are an unnecessary expense.
Can Red Light Therapy Help with Broken Capillaries?
Red light therapy is very effective for broken capillaries around the nose and on the cheeks as well.
Here's one woman's testimonial from the Essential Day Spa forum:
"Kandy, I had a fresh, single spider vein on my cheek, and it just dawned on me that it is now barely visible after three weeks of using the RLS (Rosacea LightStim)!"
Is Red Light Therapy Proven to Work for Rosacea?
The answer is an absolute YES.
NASA sent their LED red light therapy devices into space and studied their value for various forms of healing and treatment.
Since then, there have been a wide range of studies on red light therapy
Here's just one example proving LLLT (also referred to in studies as photobiostimulation, photonic stimulation, and photorejuvenation) works: 22% Improvement in Blood Flow and Redness
Note: there are only a few studies about the specific impact of red light therapy on Rosacea.
But:
Many studies are proving red light's ability to reduce skin inflammation and boost skin healing – both are relevant in managing Rosacea.
And from scientific theory to real life, here's one woman's testimonial after using her home red light therapy device:
"…I have been using the Rosacea LS for 3 months now and so far, I really like it. I am not sure if I have rosacea per say but I do have redness, little broken capillaries, occasional acne, and some hyperpigmentation…Anyhow, I really enjoy using it and has been using it on a regular basis. As I like the "warmth" that it generates, I think I leave it on for longer than the recommended time but I have never had issue from it. Result-wise, I do not have any more acne. YEAH!… The redness has reduced, the hyperpigmentation and acne marks are lighter, and my overall skin tone appears to have lighten. I like the result a lot"
Which Color Light Therapy is Best for Rosacea?
For treating Rosacea symptoms, the absolute optimal spectrum ranges are 610-625nm & 660-690nm. The absolute optimal single wavelengths are 660nm and 680nm.
According to Dr. David J. Goldberg interview on the Rosacea Support Group website:
Basic rule is yellow LED for mild redness, red LED for more inflamed rosacea, a combination of red and near-infrared for inflammation and swelling".
Most home red light therapy devices (advertised for acne) will have these exact light waves.
How Long is Treatment Time for Rosacea?
Red light therapy treatment time for rosacea is 3–5 minutes per area. Depending on the size of the treatment head in your home device, it can take about 20 minutes to cover the entire face.
If you use a tabletop red light therapy device, like this one, you can cover the entire face in 5 minutes. Note that it is not recommended to apply heat to the head area for more than 10 minutes.
How Long Until I See Results?
Results will be seen depending on your skin's reaction to red light therapy and the severity of your symptoms.
Some people feel an immediate relief in pain, itching, redness (erythema) and inflammation, and for others, it takes longer.
Two weeks seems to be the average, but only if the LED home treatment is consistent (once every day or every couple of days).
After 4 weeks, you can expect a noticeable improvement in Rosacea symptoms.
Here's another testimonial from the Essential day spa forum:
"I've been using my Rosacea LightStim for three weeks now. I do it every night for five minutes per area. Started using the Purple Emu Rosacea treatment shortly after I began with the LightStim. While I didn't have any significant breakouts, my skin was really red and reactive all of the time. I've seen a significant reduction in the redness… I've also had friends comment that my face is less red than usual. So far, I'm really pleased."
Is Red Light Therapy Safe for Rosacea?
Can it be used with Oral and Topical Medication?
Red LED light therapy is generally safe for Rosacea treatment and can be used along with the majority of medications.
However:
Since there's a wide range of medications for Rosacea, please consult your doctor to make sure the combination is safe.
Any time you use red light therapy, please wear protective eye goggles, like these.
Note: The heat from the LLLT device may cause some redness at first, which disappears later.
Here's a testimonial about that from someone who uses Lightstim Rosacea:
"…My skin did indeed adjust just fine to the warmth. In the first week, I could feel the heat radiating over my face, even making my ears warm! After about five days, though, my skin seemed to adjust, and it was no longer a problem."
As for topical treatments for Rosacea:
Some topical medications can cause light sensitivity (for example Metrocream/Metrogel). That's why you have to use light therapy on clean skin. Apply your topical treatment only after the red light treatment.
What's The Best Rosacea Cream to Use with Red Light Therapy?
After finishing your home red light rosacea treatment, we recommend using this cream to help speed up your results.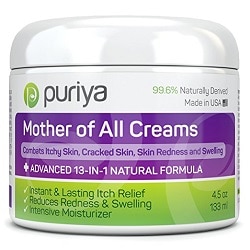 The Puriya all-natural cream for rosacea, psoriasis eczema, and rashes (with the powerful Amaranth oil) can provide instant relief from itching and pain and is perfect for post red light treatment.
Conclusion
Even though Rosacea is claimed to be an incurable disease, I certainly hope that you don't give up the battle.
Red light therapy home treatments are proven safe and effective, though the effect is different for each person.
The only way to know is to try.
I've shown you how exactly to use LLLT as a natural treatment for Rosacea, including the best home devices for it.
I sincerely hope that this information helps you and other people.
See more about the proven skin benefits of red light therapy.
If you have any questions or comments, please share them with us in the comments below.
To your health and happiness,
Meital
References
Bjordal, Jan et al. (2010). The anti-inflammatory mechanism of low level laser therapy and its relevance for clinical use in physiotherapy. Physical Therapy Reviews. 15. 286-293. 10.1179/1743288X10Y.0000000001.
Avci P, Gupta A, Sadasivam M, et al. Low-level laser (light) therapy (LLLT) in skin: stimulating, healing, restoring. Semin Cutan Med Surg. 2013;32(1):41–52.
Ablon G. Phototherapy with Light Emitting Diodes: Treating a Broad Range of Medical and Aesthetic Conditions in Dermatology. J Clin Aesthet Dermatol. 2018;11(2):21–27.
Meital James
Founder and CEO of 4 healthy living blogs, has a background in Naturopathic medicine, research, journalism, and nutrition. Her blogs are the culmination of her thousands of hours of research and experience and all the posts are verified by scientific findings.