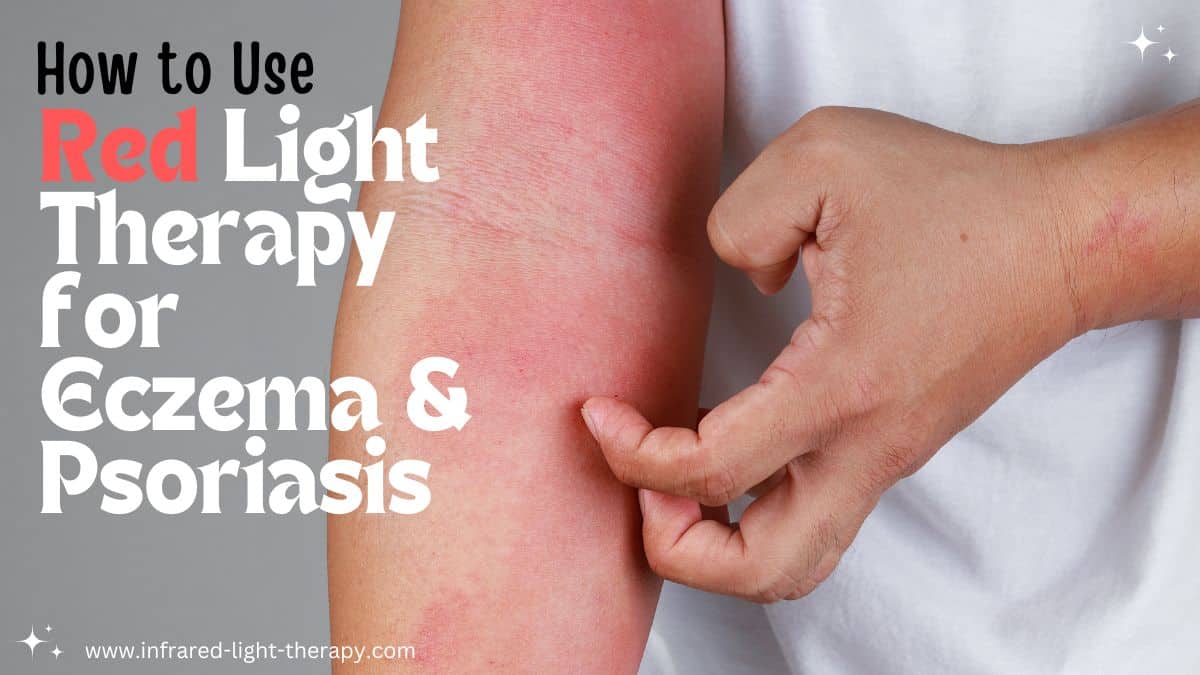 Out of all the current treatments for eczema and psoriasis, red light therapy appears to be the most promising one, especially if you want to treat these skin conditions naturally.
Red light therapy for Atopic Dermatitis is showing great promise as a scientifically-backed effective, and safe natural treatment that you can use at home anytime you need it, for as long as you need it.
In this post, you'll find why red light therapy is superior to the UV light therapy commonly used to treat eczema and psoriasis, and the best light therapy home devices you can use in 2023.
(This post may contain affiliate links, at no extra cost to you)
Is the Common UV Light Therapy Treatment Any Good?
UV light therapy (narrowband ultraviolet at 311 nm/313nm) is used to treat adults and older children who do not respond to conventional treatment (such as OTC products and prescription medication) and works by penetrating the outer layers of the skin to reduce inflammation and itching.
(UV light is the same wavelength that causes your skin to tan)
It works because it reduces the inflammation-causing white cells, but patients have to commit to a few intensive weeks of treatment – 2-3 times a week, and some people experience sunburn feeling.
Overusing this treatment may also lead to skin cell damage, skin aging, and skin cancer (study).
Also, UV light therapy requires the use of psoralen – a medication that absorbs UV light and improves the results. Some people feel nausea after taking this drug.
Now, red light therapy emerges as a better and safer phototherapy treatment for eczema and psoriasis.
RELATED: The Proven Red Light Therapy Skin Benefits
Next, it's time for the Proof.
Red Light Therapy for Eczema/Psoriasis – Does it Work?
When compared with UV light therapy, red light therapy (630nm – 700nm) penetrates deeper into the skin, promotes blood circulation, and promotes healing of the skin – without any pain, side effects, and risks. It is proven effective for eczema, psoriasis, acne scars, and rosacea and is very popular as a natural anti-aging tool due to its ability to boost collagen production and improve skin tone and texture.
For example,
this study
has found a
79% reduction of itchy sensation
and
71% improvement in skin eruption
for people with atopic dermatitis, following LLLT sessions.
How Does it Work?
Red light therapy increases the production of ATP from the cell mitochondria, which results in more "energetic" skin cells that can now function optimally, regenerate and heal. New capillaries can form and more oxygen and nutrients are delivered to the skin.
ATP also reduces inflammation that can lead to the main symptom of psoriasis: abnormally rapid replication of skin cells.
Also, low-level laser therapy activates the lymphatic system (that removes waste from the body) and stimulates DNA/RNA synthesis.
Since light therapy helps to restore normal cell function, this means that the rate of growth will normalize and you'll experience fewer and less intense flares, along with reduced redness, itching, flaking, and other symptoms.
UV light therapy, in comparison, does not penetrate the skin deep enough for increasing ATP production or "waking up" the lymphatic system.
How to Use Red Light Therapy for Eczema & Psoriasis – at Home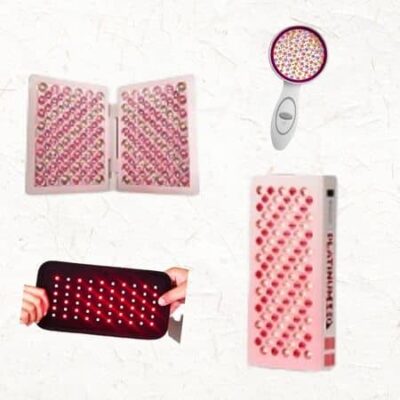 All types of Psoriasis and Eczema require 3-4 red light therapy treatments per week, but you can save a lot of money on clinic treatments by purchasing the right red light therapy home device to treat these skin conditions – for as long as you need it.
👉 According to studies, the best treatment protocol is at least two 20-minute sessions over 4-5 weeks, with 48 hours between sessions.
The treatment time for eczema or psoriasis depends on the strength of your home device, and we'll get to that right below.
And that's not all:
A red light therapy home device can also be used for wrinkles and fine lines reduction (I have a LED face mask that I use), acne treatment, improving skin tone, reducing age spots, improving skin firmness, cellulite, stretch marks, and even for muscle and joint pain relief.
Now it's time to show you the best options you have, and how to use them:
The Best Red Light Therapy Devices for Eczema/Psoriasis
Remember, a small LED flashlight will not get the desired results. Here are the best home devices, powerful enough to soothe, heal and prevent flare-ups:
1. Red Light Therapy Wrap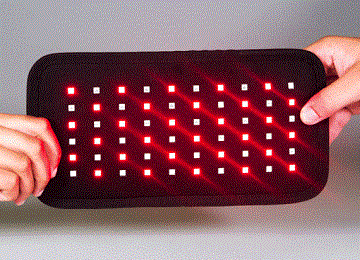 A red light therapy wrap is a convenient, comfortable, and easy way to deliver those healing red light rays – which allows direct contact with your skin.
This direct contact requires a less intense device and reduces the cost significantly.
Flexible red light therapy wraps/belts/pads can be used anywhere on your body, including curvy areas (such as the knees, elbows, hands, etc.
👉 We've reviewed the best red light therapy wraps of 2023, see all their benefits and uses inside!
2. Red LED Light Therapy Panel
The most effective red light therapy device for eczema or psoriasis would be a high-strength LED panel.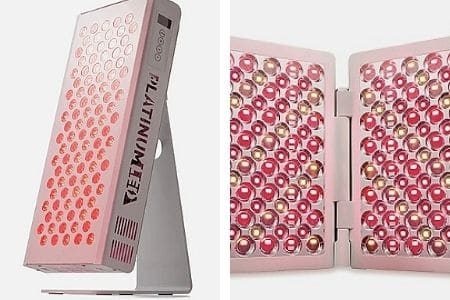 A red light therapy panel from a reputable company will be powerful enough to be effective, and can also be used for other skin conditions – such as wrinkles, fine lines, scars, and even pain relief.
You can find several trustworthy brands (we recommend Platinum LED Therapy Lights) that make LED panels for therapeutic uses.
Through our research, we recommend the ones below:
Revive Light Therapy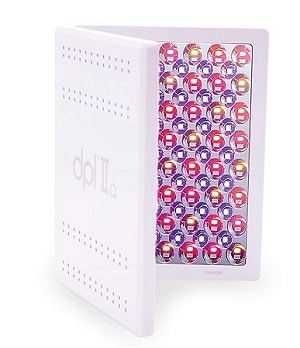 Revive light therapy offers a number of LED panels, differing in size, wavelengths, and purposes.
The most cost-effective device for chronic skin conditions is the Revive DPL IIa, which is a consumer version of the professional dpl panels. It is a bit smaller, slimmer, and has a built-in timer.
👉 The 192 LEDs include the red, infrared, and amber wavelengths – ideal for skin healing and soothing.
See our full Revive Light Therapy reviews and model comparison!
Platinum LED Light Therapy Biomax 300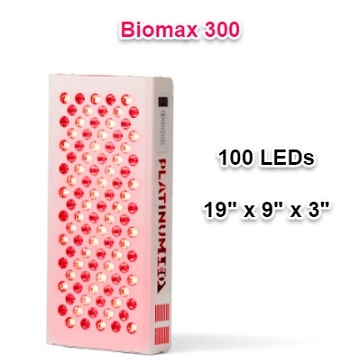 Platinum LED light therapy is also an established brand (since 2010), making several professional LED light therapy panels in various sizes.
The BioMax series provides the highest amount of irradiance of any other LED therapy lights on the market and is being used by many athletes and medical professionals.
The most cost-effective model would be the smallest panel, Biomax 300, with 100 LEDs outputting 5 different red & infrared wavelengths at the same time.
👉 The wavelengths are – red at 660nm & 630nm, near-infrared at 810nm, 830nm, and 850nm.
The combination of red at 630nm and near-infrared at 830 nm was proven highly effective for psoriasis
You can see our full review for Platinum LED light therapy to get more info.
3. Handheld LED Light Therapy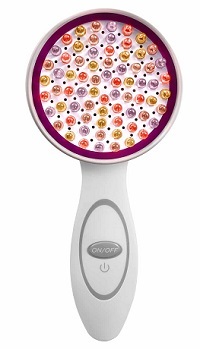 The second option, which is more suited for small areas, is a handheld red LED light therapy device.
While this option is cheaper, you'll have to hold the device for several minutes up to twice a day against the problem area to make it work.
Handheld devices contain fewer LEDs and are less powerful than LED panels.
Our best recommendation for 2023 is the Revive dpl Nuve, which has 72 LEDs that emit infrared wavelength (880nm), deep red (660nm), red (630nm), and Amber (530nm).
👉 See our full DPL Nuve review to get more info.
Red Light Therapy for Eczema Before and After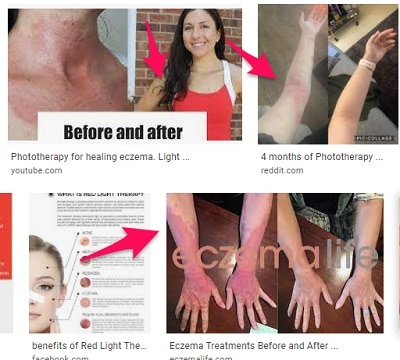 When you search in Google Images, you'll find many pictures of people showing their remarkable results with phototherapy for eczema – in all areas of their body. Take a look at them to help you decide whether this is a good choice for you.
Conclusion
Red light therapy (also known as low-level laser therapy) is a proven, pain-free, and safe phototherapy treatment for eczema and Psoriasis, and can be used at home whenever you need it for as long as you need it.
The key to success in reducing itching, redness, flaking, and pain is consistency and the quality of the device.
The best red light therapy home devices for these chronic skin conditions are LED panels and LED light therapy handheld devices.
To your health and happiness,
Meital
Studies
Hideki Morita, Junro Kohno, Sachiyo Tanaka, Yukio Kitano, Seichiro Sagami. CLINICAL APPLICATION OF GaAlAs 830 nm DIODE LASER FOR ATOPIC DERMATITIS. J-STAGE, Volume 5 (1993) Issue 2
InformedHealth.org [Internet]. Cologne, Germany: Institute for Quality and Efficiency in Health Care (IQWiG); 2006-. Does light therapy (phototherapy) help reduce psoriasis symptoms? 2017 May 18.
Avci P, Gupta A, Sadasivam M, et al. Low-level laser (light) therapy (LLLT) in skin: stimulating, healing, restoring. Semin Cutan Med Surg. 2013;32(1):41-52.
Zhang P, Wu MX. A clinical review of phototherapy for psoriasis. Lasers Med Sci. 2018;33(1):173-180. doi:10.1007/s10103-017-2360-1
Kleinpenning MM, Otero ME, van Erp PE, Gerritsen MJ, van de Kerkhof PC. Efficacy of blue light vs. red light in the treatment of psoriasis: a double-blind, randomized comparative study. J Eur Acad Dermatol Venereol. 2012 Feb;26(2):219-25. doi: 10.1111/j.1468-3083.2011.04039.x. Epub 2011 Mar 24. PMID: 21435024.
Meital James
Founder and CEO of 4 healthy living blogs, has a background in Naturopathic medicine, research, journalism, and nutrition. Her blogs are the culmination of her thousands of hours of research and experience and all the posts are verified by scientific findings.