Revive Light Therapy is a well-known brand that makes over 30 LED light therapy home devices for anti-aging, wrinkles, acne, and pain relief.
In these Revive Light Therapy reviews, we want to focus on their best selling anti-aging devices, that can be used not only for wrinkles and sagging skin, but for acne blemishes, acne scars, rosacea, and even pain relief.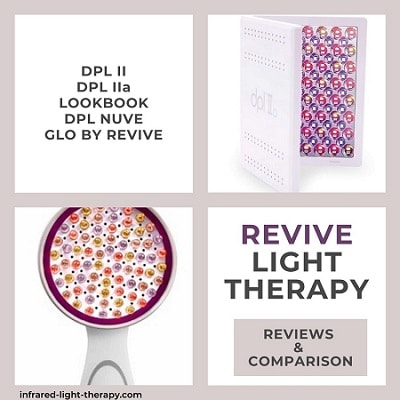 This post contains affiliate links, at no extra cost to you.
In this post, we'll review and compare the dpl II LED light therapy panels, the new Revive Light Therapy Glō, the LookBook LED panel, and the handheld dpl Nuve wand.
👉 In a Hurry? see our comparison table below, or jump to our Revive Light Therapy reviews!
dpl Device
Bottom Line
LEDs/Colors
Price
Revive Professional dpl IIa

🥇Top Pick

262 LEDs
Red/deep red/amber/infrared/blue
3 programs
✅ $399 at Revive
30% discount with code SAVE30
dpl Nuve

Handheld

72 LEDs
Red/infrared/amber
✅ $99 at Revive
30% discount with code SAVE30
Revive Glō

Best for On-The-Go

16 LEDs
Red/infrared
✅ $39 at Revive
30% discount with code SAVE30
Comparing Revive Light Therapy (dpl) devices according to type, LEDs, colors, and price.
Revive Light Therapy Review 
Revive Light Therapy uses LED light therapy in all its devices, from handheld red light therapy wands and large 2-panel systems to LED light therapy wraps, slippers, and gloves.
Most devices include a combination of only red and deep red light therapy (for skin rejuvenation), blue light therapy, and the invisible and pain-relieving infrared light therapy.
We like the fact they partner with several organizations that help stamp out worldwide poverty, and other philanthropic efforts (see more here), and that all devices are FDA cleared (OTC class II medical devices).
Revive Light Therapy Benefits & Uses
Revive light therapy devices fit all skin types and skin tones, and can be used anywhere on your body (for example, some people use them for Cellulite).
Here are the skin benefits:
Boosting collagen and elastin production (See how

red light therapy boosts collagen

)
Reducing the appearance of wrinkles, fine lines, crow's feet, brow lines, and more
Enhancing skin tone
Reducing age spots and treating sunburns (use the amber wavelength)
Preventing acne and reducing acne scars – Jump to the

best devices for acne

Treating Rosacea (calms redness and inflammation)
Treating Psoriasis, Eczema, and rashes
Wound healing, cuts, scrapes, bruising
Red and infrared light therapy is also proven to heal wounds, reduce stress, and relieve redness and pain caused by any health condition, including arthritis.
Which is the Best dpl Light Therapy System?
The most cost-effective and best dpl Light Therapy System is the dpl IIa upgraded model, with the highest strength output, and most LEDs, and includes the blue light wavelength for acne and scars treatment as well. It's the only model with 3 auto programs to choose from and minimizes confusion about the right wavelengths to choose and the duration of the treatment.
See our full comparison below:
dpl Light Therapy Reviews & Comparison (2022)
Below you'll find our detailed reviews for the 5 best-selling Revive Light Therapy home devices to help you decide if their products are right for you.
1. dpl II Light Therapy Review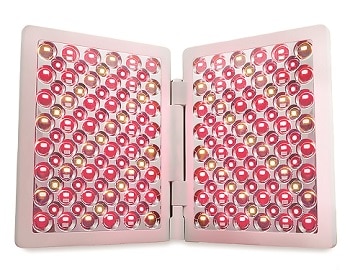 Strength – 0.39Mw
Size – 11 x 4.24 x 9.5 inches;
Weight – 1 lb.
The dpl II Professional LED light therapy 2-panel system (FDA cleared) includes 192 medical-grade LEDs that emit 4 different wavelengths:
Infrared (IR) – 96 lights, 880 nm – to boost blood circulation, pain relief
Dark Red – 32 lights, 660 nm –

proven

best for skin anti-aging and healing
Red – 32 Lights, 630 nm – for collagen and elastin production
Amber – 32 Lights, 530 nm – for skin soothing and reducing pigmentation
According to your goals, there's a single button you can use to switch between each light or apply all lights together.
The 2 panels (that open and fold shut) are large enough to cover your entire face (each panel is 5″ x 7″) in one treatment (only 3 minutes a day!), so it's a time-saving device.
(Compared with handheld devices that require "work" and more treatment time).
You can use it on your face, neck, décolletage, back, chest, hands, thighs, and anywhere you want, and the system should last at least 2-3 years of daily usage.
Cons
The only thing we don't like about it is the fact that the heat becomes unbearable after 15 minutes of using close to the skin (though treatment time should not exceed 3 minutes per area), and heat-sensitive people may feel uncomfortable during this treatment.
✅ Price – discontinued
2.🥇 dpl IIa Review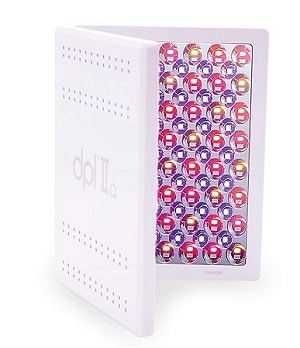 Strength – 0.4Mw
Size – 11 x 4.25 x 9.5 inches;
 Weight – 3.19 lbs.
The dpl IIa is an upgraded model that comes with 262 LEDs and includes the blue light therapy wavelength (415 nm) – for preventing and treating acne.
👉 The best feature about this model is the 3 treatment programs that help minimize confusion about the right wavelengths (colors) you need.
These are the 3 programs:
Anti-aging setting (infrared/red/amber)
Acne (blue light therapy alone)
Anti-aging & acne (infrared/red/amber/blue)
Cons
This is the best Revive model when it comes to versatility and strength. The only con is the price, which is higher, and the fact that it's heavier than the other models.
✅ Price – $399 at Revive. – 30% discount with coupon code SAVE30
 3. dpl II vs. dpl IIa vs. LookBook
Another similar LED panel by Revive Light Therapy is the LookBook Model.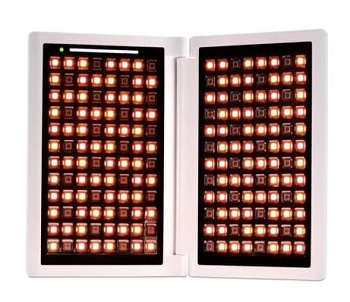 The LookBook is a consumer version of the professional dpl panels. It is a bit smaller, slimmer, and has a built-in timer.
It has 192 LEDs (no blue LEDs) and costs much less than the dpl II and IIa. Let's compare the 3 models:
4. Revive Light Therapy Glō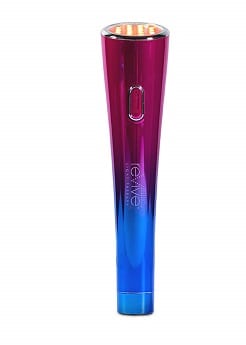 The Glō light therapy wand by Revive is a portable anti-aging device that looks like a stylish, small flashlight.
Powered by 3 AAA batteries, the Glo is designed to take with you and use on the go and is lightweight (4 ounces) and easy to carry around.
The "shut off" safety feature helps preserve battery life, so you don't have to worry about it turning on in your purse and draining the batteries.
The 16 LEDs include red and infrared wavelengths, and the treatment time is 3 minutes per area.
But:
Does it work for skin rejuvenation and anti-aging?
While the Glō is the lowest cost Revive device ($69 on the official site), some users stated that lights are "glitchy" and that it takes forever to treat the entire face with the small treatment head.
It comes with the same technology that's proven to work, but since it's small, it's less powerful and treatment time is tripled.
Overall, we think that the large panels, like our top pick –
the dpl IIa
, are more powerful, time-saving, and effective.
 5. Revive Glō vs. dpl Nuve
The Nuve is another handheld LED light therapy device by Revive, but it has more LEDs in it (72 LEDs), the treatment area is larger, and the device comes with a power supply that plugs into the wall outlet.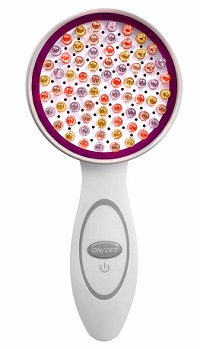 The LEDs include:
Infrared wavelength at 880nm
Deep red at 660nm
Red at 630nm
Amber at 530nm
It requires 3 minutes of treatment per area daily, so it will take about 12 minutes to cover the entire face, and about 6 minutes to cover the neck area.
This little device can also be used for small spider veins on the face, stretch marks, scar reduction, and even arthritis, migraines (used on the neck area).
Size: 9 x 6 x 3 inches
Weight – 10.56 ounces
👉 The bottom line is if you go for a handheld device – the Nuve appears to be better than the Glō.
Revive Light Therapy Before and After
As you'll see in the pictures below, these LED home devices can be helpful for treating wrinkles around the eyes, sagging skin, and acne:
Wrinkle Reduction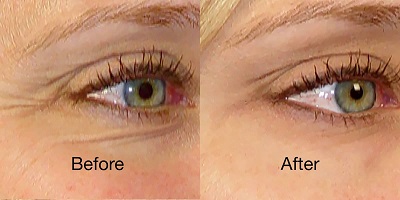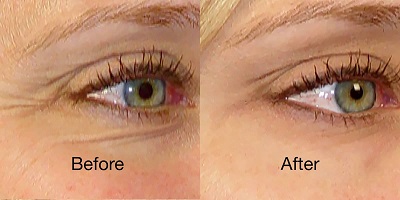 To treat eye wrinkles you'll need to use the devices without eye protection goggles, but keep your eyes closed during treatment as stay at a safe distance from the device – of at least 12 inches.
Skin Sagging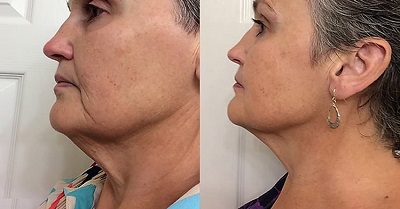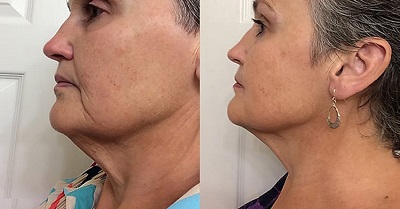 To treat skin sagging in your face and neck, use LED light therapy daily (up to 5 times a week), and make sure the light reaches your neck area.
Acne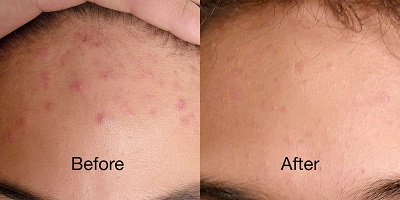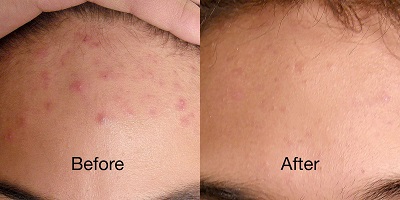 The best light combination for acne treatment is blue light therapy followed by red light therapy – or both wavelengths combined. The best Revive light therapy device for this purpose is the dpl IIa, which offers both these colors, and more.
Revive Light Therapy for Acne
Treating acne blemishes with light therapy is usually done with the blue light wavelength, which is scientifically proven to destroy acne-causing bacteria, especially for mild-moderate acne.
Revive Light Therapy offers several LED devices specifically designed for acne. All of them combine both blue light therapy and red light therapy – which boosts the treatment by promoting skin regeneration, healing, and preventing acne scars.
Results of acne light therapy are usually immediate, sometimes only after just one treatment. For severe acne breakouts, it will take longer, due to higher bacteria levels.
The best Revive Light Therapy Acne devices are the dpl Nuve handheld acne device (lower price, but requires some effort), and the dpl IIa – which is hands-free and covers the entire face in one treatment (but for a higher price).
You'll only need a 3-minute treatment daily to get results. Avoid pointing the light directly at your eyes, and use goggles for protection.
How to Use Revive (dpl) Light Therapy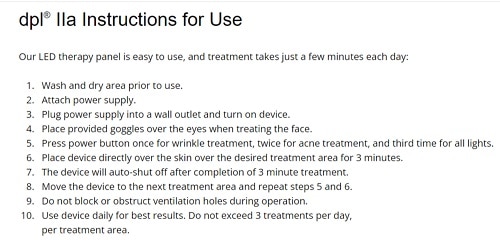 It's quite simple and easy to use all these LED home devices, and they all come with a clear instruction manual inside the box.
We recommend using them on clean skin, with no makeup or moisturizers, that may prevent efficient light penetration.
However:
We do recommend using the Best Serums for LED Light Therapy – after your LED facial – to maximize your results and prevent skin drying.
The Handheld devices (Nuve/Glō) can be used directly on the skin (no distance), and require 3 minutes of treatment per area. The smaller the device, the more treatment time you'll need.
The large panel systems (dpl II/dpl IIa/Look Book) should not be used directly on the skin because a large number of infrared LEDs get hot (this is the point of IR therapy).
You'll need to place the panels about 12 inches away from your face, and use the eye protection goggles you get inside the package.
Treatment time is 3 minutes (for the entire face/neck), but you can do more, up to 17 minutes, before the heat becomes unbearable.
The
dpl IIa
is the easiest device to use. All you have to do is choose one of the 3 programs, and you are good to go, without any confusion.
As for results, we are all different and react differently to LED light therapy, but you can expect results within 30-60 days.
How Many Times a Week Should I Use LED Light Therapy?
You can use all revive and dpl devices daily, and reduce to 2-3 times a week once you get visible results – to keep them and even boost them.
Revive Light Therapy Alternatives
In 2022, you can choose from a variety of LED light therapy products.
One of the most popular options is an LED face mask, which you can strap around your head and move around with. Other options are a handheld LED device with vibration massage, an LED light therapy dome, and large full-body LED panels.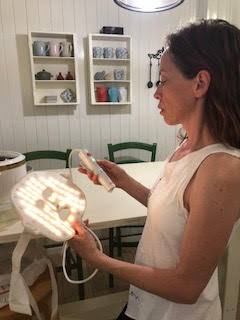 All devices have a different amount of LEDs, different strengths, and different wavelengths.
Another alternative is a red LED light therapy professional panel, such as Platinum LED Therapy Lights, which is a bit more expensive but with higher strength and size, that can cover more than your face during the treatment.

You can see the top 10 Red LED Light Therapy Devices to find the best choice for you, or message me directly with any question you may have – on my Facebook page.
To your health and happiness,
Meital
Studies
Wunsch A, Matuschka K. A controlled trial to determine the efficacy of red and near-infrared light treatment in patient satisfaction, reduction of fine lines, wrinkles, skin roughness, and intradermal collagen density increase. Photomed Laser Surg. 2014;32(2):93-100. doi:10.1089/pho.2013.3616
Ablon G. Phototherapy with Light Emitting Diodes: Treating a Broad Range of Medical and Aesthetic Conditions in Dermatology. J Clin Aesthet Dermatol. 2018;11(2):21-27.
Meital James
Founder and CEO of 4 healthy living blogs, has a background in Naturopathic medicine, research, journalism, and nutrition. Her blogs are the culmination of her thousands of hours of research and experience and all the posts are verified by scientific findings.