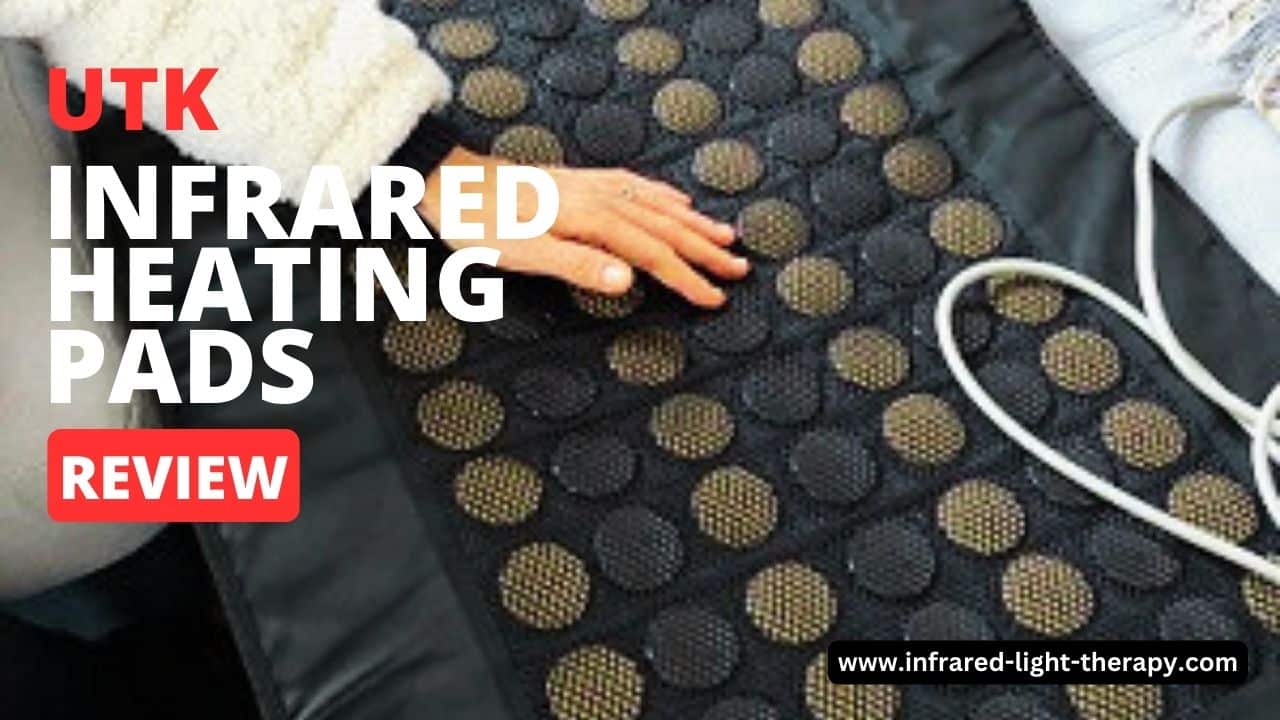 UTK infrared heating pads make a variety of jade, amethyst, and tourmaline heating pads that combine far infrared heat (FIR), and Negative Ions.
But, are the UTK heating pads worth the investment? do they deliver the claimed benefits? are they safe? what's the difference between all the models? 
I own a couple of UTK heating pads for years (and the UTK red light therapy device) so I can give you an unbiased review, pros and cons, and my model comparison research.
(For alternatives – see my top picks for infrared heating pads in 2023)
This post may contain affiliate links, at no extra cost to you.
UTK Infrared Heating Pads Pros & Cons
From my personal experience, the UTK infrared heating pad is a reliable, durable, and high-quality product.
I've been using it for 5 years with no malfunctions, even though it's been "abused" by my family members who love it and use it all the time.
The UTK heats up in less than a minute and the controller is easy and allows me to choose any treatment time and temperature, and it keeps the same temperature until changed by me.
The only con I've found is not being able to machine wash it (due to the gemstones inside).
Overall, a great, cost-effective investment for our health.
Do UTK Infrared Heating Pads Stop Working?
I have had a medium-sized UTK infrared heating pad for over 4 years, and my family uses it nonstop, especially during the winter.
Though we have quite abused it (eating on it, folding it, moving it around) – it is still working the same as it did when it was new.
We experienced no problems with it.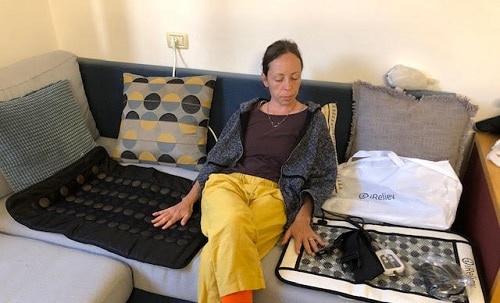 Also, UTK is a reputable brand and its customer service is excellent.
We've ordered more (small) UTK heating pads for my mother and my sister, and the shipping was fast, they offered a discount over email for the next purchases, and always responded to our emails.
UTK Infrared Heating Pads Review & Model Comparison
The UTK company manufactures many infrared heating pads, with different stones in them and many different sizes, including ones specifically designed for the neck area, the lower back area, and more.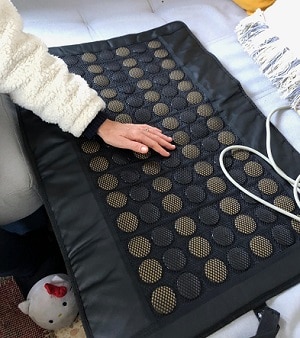 👉 All UTK heating pads are made with 11 layers:
Mesh to hold the stones in each box
Jade/Tourmaline stones which emit far-infrared rays
Non-toxic plush leather
Non-Ferrous metal reflector
Non-woven fabric layer
Woven carbon fiber heating element
Temperature sensor
Thermal protection switch
Non-woven fabric layer
Three layers of soft, non-toxic cotton
Non-toxic plush leather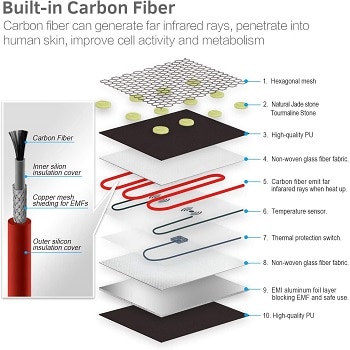 What are the Similarities?
1. Small Jade/Tourmaline (or both) stones – the number of stones varies depending on the size. (see an explanation about Tourmaline vs. Jade below).
For example, the small size (23.5" X16") contains 52 natural Jade stones and 20 Tourmaline Stones.
The Tourmaline Medium T-Pro (31″ X 21″) has 98 Tourmaline stones.
2. User-friendly digital LED controller – with time and temperature settings, auto shut off, and memory function (which "remembers" your favorite time and temperature)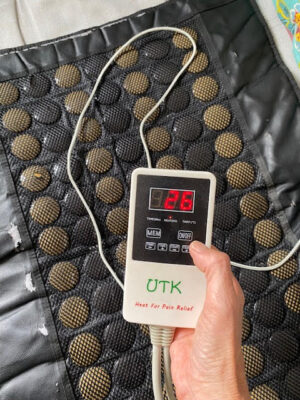 3. All models are flexible and can be wrapped around joints effectively.
They all have a Velcro strap that you can use to keep them strapped for longer periods of time or to allow you to move while using them.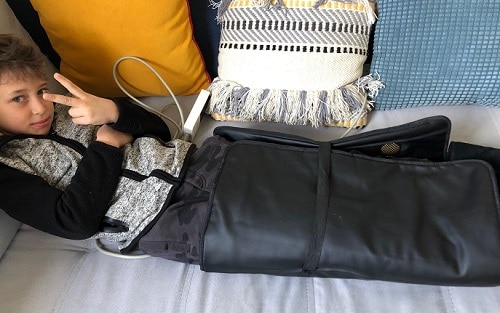 4. Long cord – 10-foot cord, making it easy to use anywhere.
5. Carrying case – makes them easy to travel with.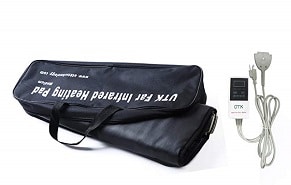 All models are FDA-registered as Medical Device Class II, and UTK TECHNOLOGY passed FDA Audit for the GMP quality system.
6. Temperature settings on all models: 103°F-159°F in increments of one.
Low – temperature range (~120°F)
Warm – temperature range (103°F~110°F)
Medium–temperature range (~130°F)
High–temperature range (140°F~159°F)
7. Warranty – 1 year for all UTK infrared products
What Are the Differences Between the UTK Models?
The differences between the UTK models are mainly the size, the stones inside (jade/tourmaline), and of course – the price.
For example, the Medium T-plus size (38″ X 21″) from the Tourmaline series can cover your entire back and has 126 Tourmaline stones.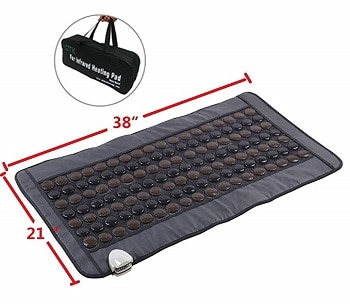 The Medium size (31″ X 21″) from the Tourmaline series is a little smaller and contains 98 Tourmaline stones.
Here's a short comparison between the best selling models on Amazon:
UTK Infrared Heating Pad
Sizes
Price
UTK Jade Series

Small (19"x15")
Medium (21"x31")
Large (24"x70")
$104-$599 on Amazon
UTK Tourmaline Series

Medium (31"x21")
Medium Plus (38"x21")
$169-$179 on Amazon
UTK Jade & Tourmaline Series

Small (23.5"x16")
Medium (21"x31")
Full Back (21"x38")
$139-$229 on Amazon
The UTK Infrared Belt Review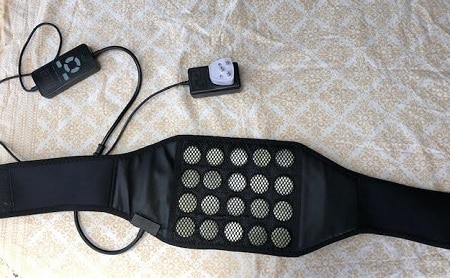 UTK makes one Infrared back BELT, which comes with straps and wraps around any part of your body – including legs, elbows, knees, arms, stomach, and the lower/upper back- for the lowest price.

The IR rays are delivered through natural Jade stones and carbon fiber, It is EMF-free, comes with a simple LED controller, and heats up to 150 F.
They are more targeted, easier to use in curvy areas, and somewhat portable, though not cordless.
Jade vs. Tourmaline Heating Pads
All UTK IR heat pads use Jade, Tourmaline, or both – to deliver deep penetrating infrared rays into your body.
Both the semi-precious Jade and Tourmaline stones have exceptional qualities in absorbing and delivering safe, effective, and deep heat therapy – for chronic pain and other conditions.
Jade heating pads focus more on FIR benefits and emit negative ions, while tourmaline pads can give you more negative ions therapy, because the negative output is higher than Jade.
RELATED: 14 proven infrared therapy benefits
When heated, green Jade stones and brown Tourmaline stones emit healing and pain-relieving infrared rays (plus negative ions) – deep into your muscles, joints, and nerves (up to 2.5 inches deep).
When it comes to infrared heating pads, both stones "get the job done" – effectively delivering therapeutic far infrared rays and negative ions.
👉 See the UTK Jade series here, the Tourmaline series here, and the combined Jade & Tourmaline series here
UTK Heating Pads EMF Radiation
To me, this is the most important question. Here's why:
EMF stands for Electromagnetic Field. This radiation is emitted from any wires that have a current running through them.
Some scientists claim that EMF can cause cancer.
That's why EMF shielding is very important to us when we purchase any electric health aid.
👉 UTK technology claims that its FIR heating pad emits little to no EMF. That seems a bit hard to believe since there are electrical components in the device.
However:
Jade/tourmaline infrared heating pads do not emit EMF, only the controller and the cord can.
When your body doesn't directly touch the cord or the controller – EMF radiation is extremely low, as you can see in the video below.
Plus, the UTK heating pads have an EMF shielding component inside.
In the short video below you can see a full EMF test for the UTK infrared pad.
You'll find that the only significant EMF radiation comes from the remote control, which can easily be placed far enough from your body.
Who Can Benefit from the UTK Infrared Heating Pad?
An infrared heating pad can help anyone suffering from acute or chronic pain, and any condition caused by poor blood circulation, including:
Muscle pain and stiffness, muscle spasms
Minor sprains and strains
Back pain – caused by Sciatica, bulging disc, pinched nerve, etc.
Neuropathy pain and numbness
And more.
Infrared therapy has been scientifically proven many times to naturally relieve pain – without any side effects.
Where are the UTK Infrared Heating Pads Made?
All UTK Technology heating pads are made in Shenzen, China, and go through several tests to ensure the highest quality and safety.
The heating pads are distributed from California and are all FDA-registered as Medical Device Class II and passed the US FDA's Audit for GMP quality system in 2016.
Can I Burn My Skin When Using an IR Heating Pad?
It is highly unlikely to burn your skin when you use an infrared heating pad.
Though everyone has a different sensitivity to heat – using just one layer of clothing can make sure that you won't feel overheated.
Infrared rays penetrate easily through natural fabrics and this won't interfere with your infrared therapy home treatment.
📢 See more about the undeniable reasons to use Infrared therapy for pain.
Who Should Not Use an Infrared Heating Pad?
Infrared therapy is one of the safest and most natural treatments available.
However, here are a few precautions and a few cases when you should not use it:
Do not use it directly over open wounds or acute injuries.
Do not use it on your face or in intimate areas.
Avoid if you are sensitive to heat or if you have a condition that reduces your ability to feel the heat.
Do not allow children under the age of 6 to use it. Children under 14 should be supervised.
Do not use it if you are immobile or incapacitated or not able to remove the heating pad from your body.
Do not use this product with infants or children under the age of 6. Children under the age of 14 should always use the pad under adult supervision.
Consult with your doctor first if you are pregnant, or suffer from Diabetes, Hemophilia, Malignancy or other series conditions.
How Long Can I Use an Infrared Heating Pad?
You can use the infrared mat as often and for as long as you like.
The more you use it, the more relaxed and revitalized you will feel.
However, for the first few weeks, we recommend starting gradually. Start with 1/3 of the heat range for 20 minutes. Listen to your body and adjust accordingly.
Drink a glass of water after each treatment.
The larger pads can cause a body detox, and as you know detox can come with its temporary side effects.
When Can I Expect Results?
Most people feel the amazing pain-relieving effect of infrared heat therapy – almost immediately, or in up to 30 minutes.
Others may need more time – a few more days – to feel the results.
This obviously depends on the severity of your condition and pain, plus how often you use it.
To your health and happiness,
Meital
Studies
Electromagnetic Fields and Cancer, NIH National Cancer Institute
Meital James
Meital James, Founder and CEO of 4 healthy living blogs, has a background in Naturopathic medicine, research, journalism, and nutrition. Her blogs are the culmination of her thousands of hours of research and experience and all the posts are verified by scientific findings.