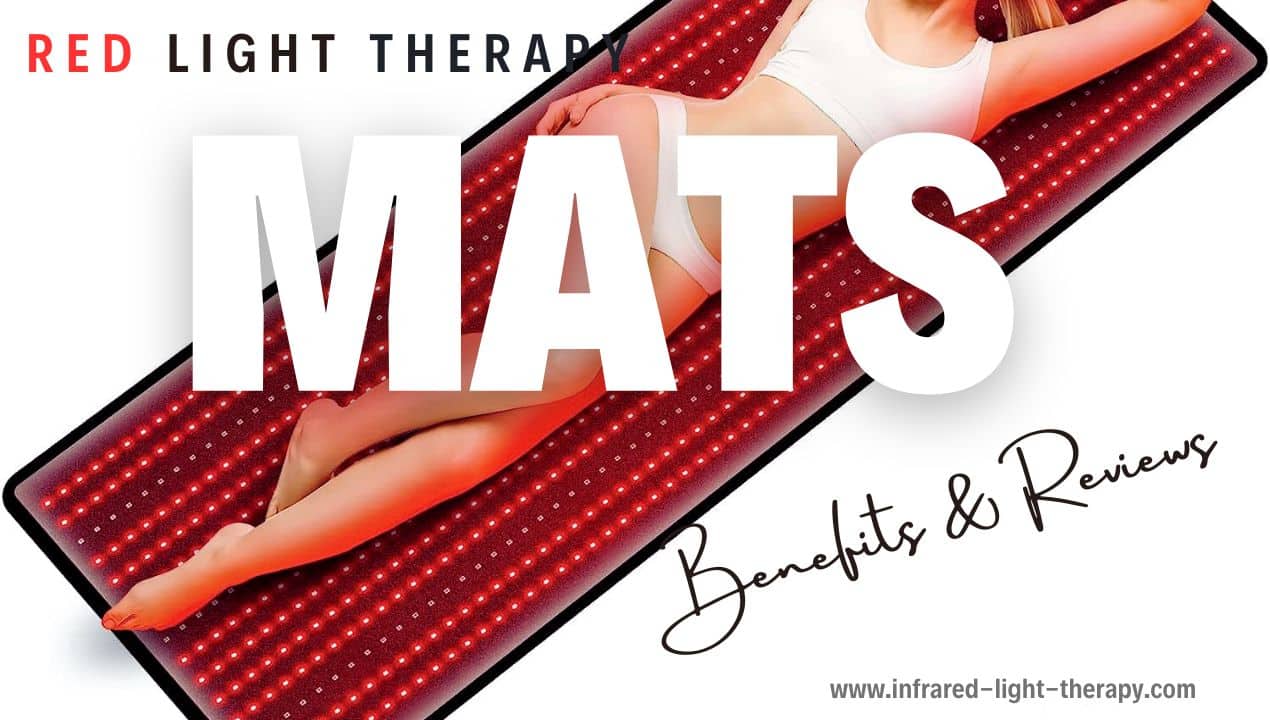 A Red light therapy mat is one of the most convenient (and portable) devices to reap the incredible and proven benefits of red LED light therapy.
All you have to do is lie down, turn it on, set the timer for 10-50 minutes, and absorb the healing red & near infrared rays into your body, resulting in pain relief, skin rejuvenation, wound healing, injury recovery, improved circulation, and even weight loss and hair loss.
While a red light therapy mat is not the only way to shine low-level light therapy on your entire body, it's certainly gaining popularity in recent years, competing with smaller LED wraps, or other home red light therapy devices.
I've researched and found the 4 best red light therapy full-body mats, but I'll also show you alternative devices for full body LED light therapy at home, and how they compare with the mats.
👉 In a Hurry?
See my top 3 picks compared below, followed by my red light therapy mats reviews:
No ads, reader-supported: This post may contain affiliate links, at no extra cost to you.
What Are the Benefits of Red Light Therapy Devices?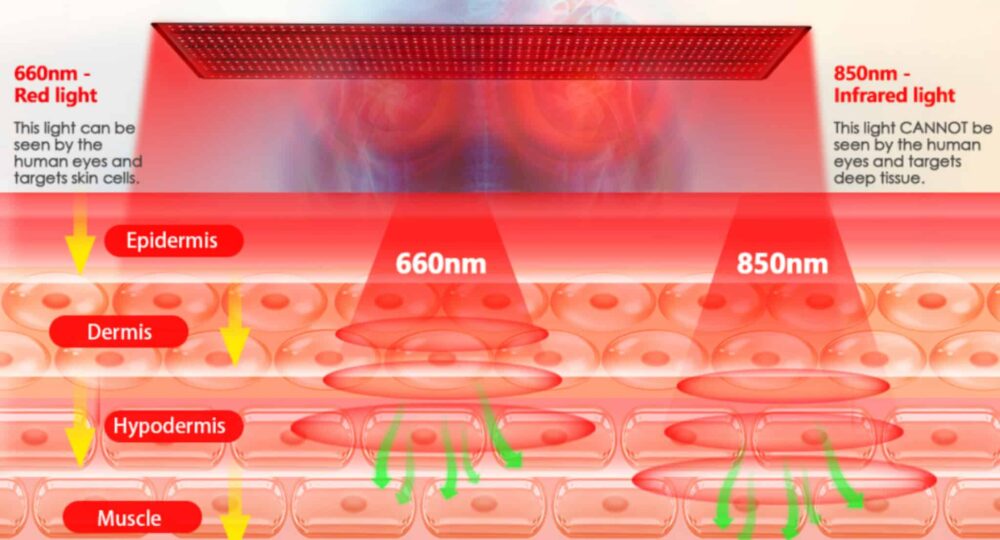 Red light therapy works by emitting red, low-light wavelengths through the skin, which helps the process of tissue recovery and rejuvenation. It is thought to work by acting on the "power plant" in your body's cells called mitochondria.
With more energy, other cells can do their work more efficiently, such as repairing skin, boosting new cell growth, and enhancing skin rejuvenation.
Here's the full list of science-backed benefits (list of studies at the bottom of the post):
Unconventional Uses for Red Light Therapy Mats
RLT mats can be used in some surprising ways beyond their usual benefits for humans.
For example, they can help with hair growth (when you expose your scalp to the light).
Pets can also benefit from red light therapy mats.
Imagine your pet has a wound that won't heal easily. By using the mat, the red light helps speed up the healing process.
People have also found that red light therapy can make their pets' joints feel better.
If you have acne, the red light can calm the redness and make your skin look clearer. It can even reduce scar appearance.
The possibilities are truly exciting.
How Do You Choose a Red Light Therapy Mat?
When choosing a red light therapy mat, first consider the irradiance (strength of therapy), number of LEDs and mat size (coverage), power levels (customization), and price (long-term investment).
Higher irradiance and more LEDs provide powerful treatment and greater coverage.
Adjustable power levels allow for experimenting and finding the exact treatment type that helps you most, while the price reflects the mat's long-term benefits compared to professional therapy centers.
Read on to make sure you know what you are doing:
1. Pulsing or Continuous Light – Red light therapy mats may offer pulsing or continuous light emission options.
Pulsing refers to the light turning on and off in specific patterns (10 Hz/40 Hz), while continuous light emits a steady stream of light.
Imagine the red light blinking like a heartbeat, sending energy to the tiny powerhouses inside our cells called mitochondria.
This energy boost helps the cells make more ATP, which is like fuel for their proper functioning.
When it comes to treating certain problems like long-lasting pain, pulsing red light therapy can be extra helpful.
It works by making our pain sensors less sensitive over time.
2. Mat Size and Coverage – photobiomodulation mats come in different sizes, ranging from small wraps that target specific body parts to larger mats that provide full-body coverage.
The size and coverage of the mat determine the area of the body that can benefit from the therapy.
Smaller mats, such as the Bestqool Red Light Therapy Yoga Mat, are more portable and convenient for moving around and for travel.  Larger mats offer more extensive coverage.
3. Intensity and Power Output – The intensity and power output of red light therapy mats refer to the strength of the light emitted by the device.
Higher intensity and power output generally mean deeper penetration and potentially more effective therapy.
The power density of the device is the main factor to consider when selecting a device for red light therapy at home.
Power density is measured in milliwatts per centimeter squared (mW/cm²) and is calculated by multiplying the power density by time.
The dose is measured in Joules per centimeter squared (J/cm²).
Does Wattage Matter for Red Light Therapy Mats?
The wattage of a red light therapy device doesn't determine how well it works.
Instead, what matters more is the power output measured in mW/cm².
Think of it like comparing two water sprayers. One sprayer has a higher wattage, but that doesn't mean it sprays water more effectively.
The important thing to check is how much water pressure (power density/irradiance) it has.
Similarly, a red light therapy device with more LED bulbs tends to be better because it can deliver more power.
Devices with higher power are more effective at energizing cells, so you can get the most benefits from a red light therapy session in less time.
Red Light Therapy Mat Wavelengths
Most red light therapy mats emit both red and near infrared light therapy combined, to give you a broader range of therapeutic benefits – for both superficial and deep tissue treatments simultaneously.
Red Light Therapy – low-level red light wavelengths (typically between 630 to 660 nanometers) that penetrate the skin and stimulate cellular function.
It can help with skin health, collagen production, wound healing, and reducing inflammation and pain.
I use red light therapy mainly for skin anti-aging – I have two LED Light Therapy Masks (click the link to see my results).
Near-Infrared Therapy – slightly longer wavelengths (typically between 800 to 850 nanometers) that penetrate deeper into the body tissues and are felt as warmth.
It offers similar benefits to red light therapy but has a greater ability to reach muscles, joints, and deeper layers of the skin.
Near-infrared therapy can help with muscle recovery, joint pain, and improving circulation.
👉 Far infrared rays are the deepest-reaching into your body tissues (up to 5 cm), are felt as heat, and are utilized in infrared heating pads and infrared saunas.
You won't get them from an RLT mat.
However, an infrared lamp emits a broader range of near-infrared – up to 3000 nm.
Jump here if you want to know the difference between red light therapy mats and infrared therapy mats.
How Much Does a Red Light Therapy Mat Cost?
Red light therapy full body mats cost between $330 to $1950 and more, depending on the size of the mat, number of LEDs, the variety of wavelengths it emits, and special features such as pulsing light, intensity levels, and timer options.
The lowest cost full body mat is the Bestqool, which is a 38"×24" therapy pad with 300 LEDs and costs $360.
The most expensive one is the Juvawave, an oversized XL total body red light therapy mat (67"x 37.5″) for pain relief and weight loss, which costs $1,950.
In any way, any of these options are more cost-effective (in the long run) than doing red light therapy bed treatments at a clinic or a spa, costing between $40 to $200 for a single treatment.
The 4 Best Red Light Therapy Mats (2023)
Considering our strict requirements listed above, here are the top 3 mats on the market right now, followed by my red light therapy mats reviews:
1. Bestqool Red Light Therapy Mat – Best for Yoga (Portable)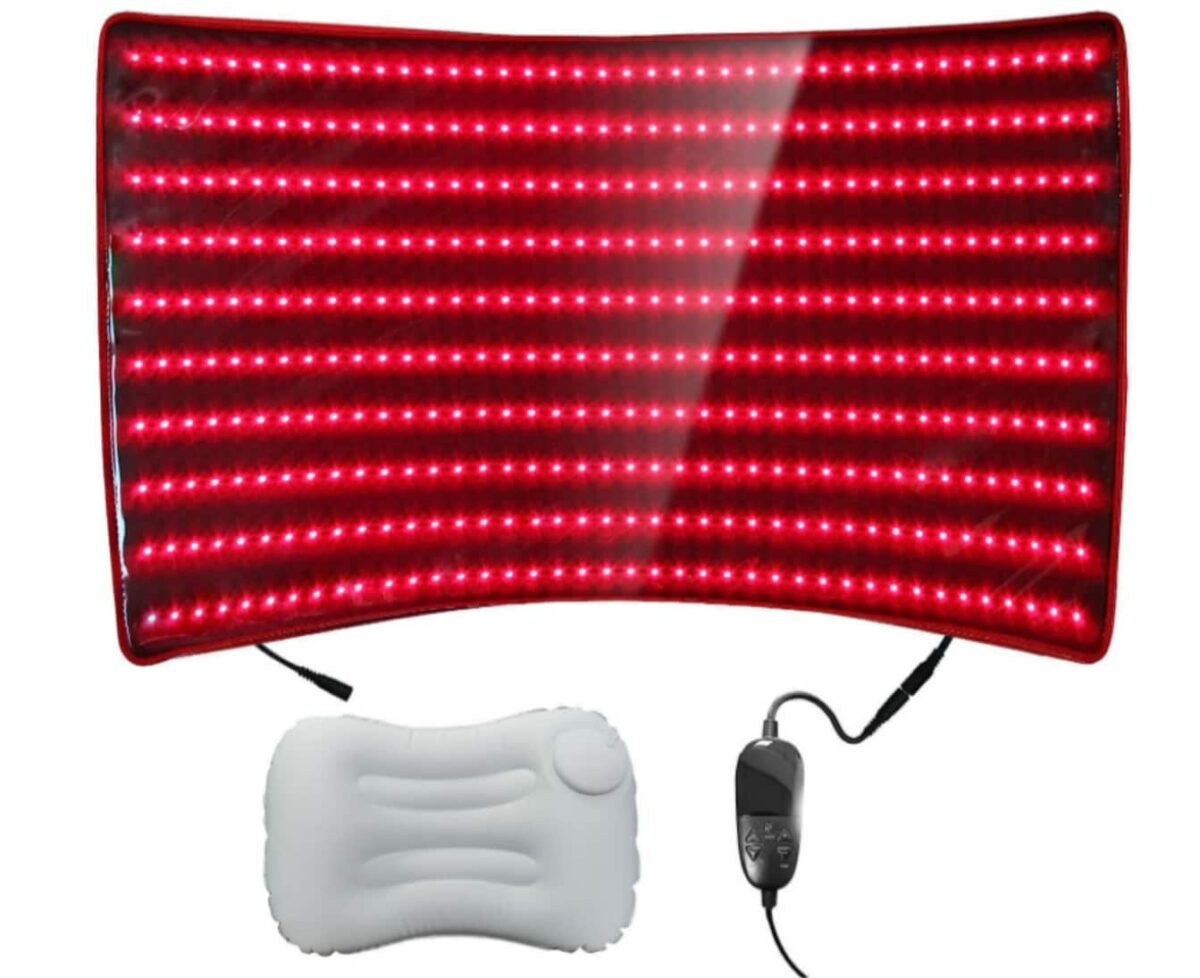 Size – 38″ x 24″
Weight – 5.5 pounds
LEDs – 300 (200 red/100 near-infrared)
Wavelengths – 660 nm / 850 nm
Power – 60 watts
Power levels – 5 (95°F to 113°F, including pulsing)
✅ $335 on Amazon (with coupon code under the price)
The Bestqool portable red light therapy mat has no less than 5 power intensities, including one pulsing mode, delivered through 300 LEDs, with 3 independent chips in each one – for precise delivery of the wavelengths (red & near infrared)
Compared with the two other mats on this list, this one has a medium-size coverage area of 38.2″ x 24″ and a medium-power irradiance (45mw/cm²), but on the other hand it is more lightweight, portable, and perfect for Yoga or stretching exercise.
Note that it is not large enough to cover your entire body all the way to your feet: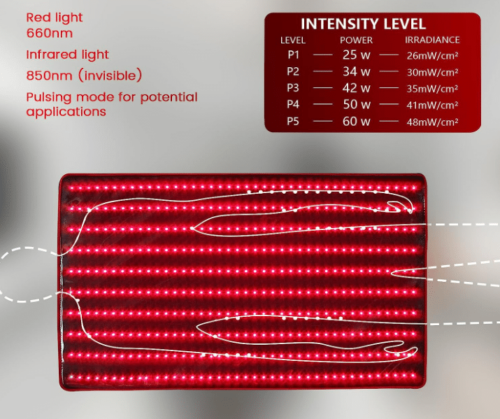 The controller has a convenient timer you can set to run from 15 to 90 minutes in 15-minute increments. This means that you can safely fall asleep on it, feeling cozy and warm, and the timer with automatically shut it off.
The 5 power levels range from 95°F to 113°F. It's not hot enough to burn your skin.
The recommended treatment time is 30-50 minutes per day for best results.
Besqool also sells high-quality red light therapy panels. For example, their full-body Pro200 panel can cover your entire body when you sit 6 inches away from it, has 200 LEDs emitting the same two wavelengths, and the irradiance is 94mw/cm² (350 W).
Bestqool Pros
No EMF at the surface, and no flicker
Has a pulsing mode
Lightweight and easy to move around, fold, and store
A Lifespan of more than 30,000 hours
Cons
Not long enough to cover calves and feet
Lower irradiance than the two other mats on this list
✅ Available at Bestqool ($360 with my coupon code MEITAL5) and on Amazon ($335 with coupon code under the price)
2. LOVTRAVEL Red Light Therapy Mat – Best Value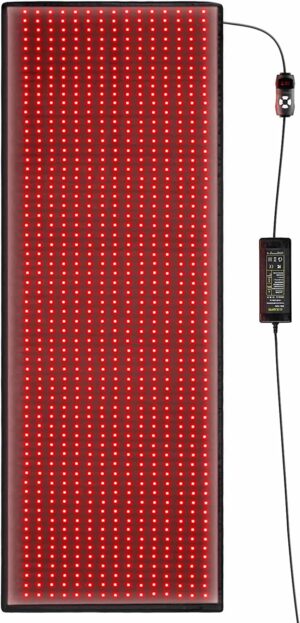 Size – 63″ x 22.5″
Weight – 7.5 pounds
Wavelengths – 660 nm / 850 nm
LEDs – 945 (1 red chip + 2 near-infrared chips in each one)
power levels – 5
✅ $500 on Amazon (with coupon code under the price)
The LOVTRAVEL Mat is a true full-body red light therapy that covers your entire body and has 945 LEDs at 660nm (red) and 850nm (near infrared) – each containing 3 chips.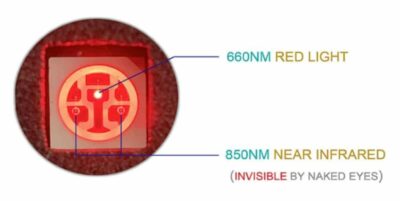 This means a total of 2835 LEDs embedded inside the giant 63″ x 22.5″ mat – which produce a 105mw/cm2 in the highest power level.
As with the Bestqool, the controller also has a timer ranging from 10-90 minutes, but this one goes up in 10-minute increments.
The transparent protective layer is waterproof and oil-proof, so it's easy to wipe clean.
Compared with the Bestqool, the LOVTRAVEL one also offers 5 power levels, but here you have 2 pulsing modes (10 Hz/40 Hz) that you can experiment with and find which one is better for your needs.
Why Do You Need Pulsing Light?
The pulsing action of the light is thought to stimulate the mitochondria in cells, which can lead to increased ATP production and improved cellular function.
Also, pulsing red light therapy may be more effective in treating certain conditions, such as chronic pain, because it can help to desensitize pain receptors.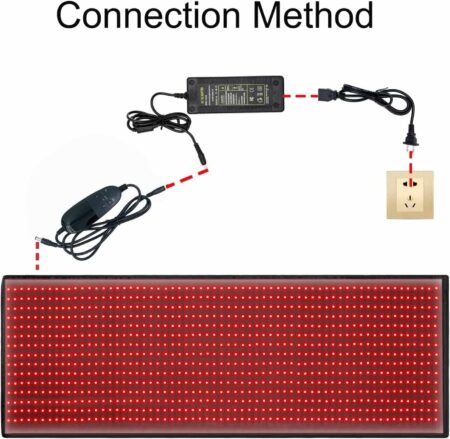 Users are very satisfied with the LOVTRAVEL, with all of them reporting amazing results, such as chronic low back pain reduced by 90%, improved skin complexion, reduced pigmentation, and pain relief all over the body.
LOVTRAVEL Pros
Covers the entire body
2 pulsing modes out of 5 power levels
High power (146mw/cm2 irradiance)
Easy-to-use controller with timer
Cons
Many different parts that you have to assemble and plug in, so it's somewhat difficult to use
The size and weight make it only partly portable, and not fit for travel.
✅ Available on Amazon ($500 with coupon code under the price), 1-year warranty.
3. RUISQM Red Light Therapy Mat – Best for Pain Relief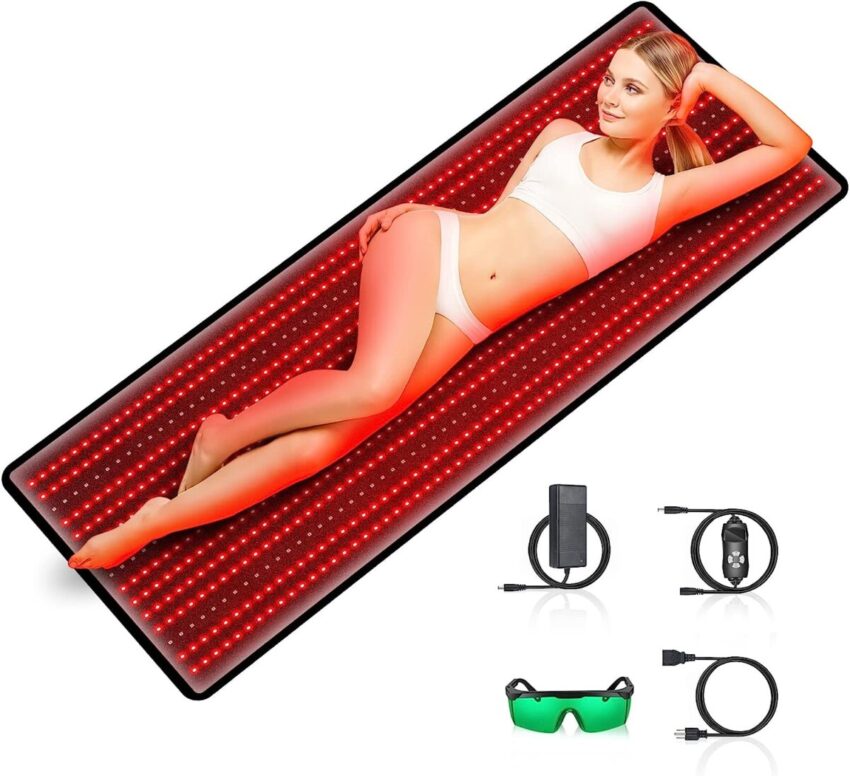 Size – 63″ x 22″
Weight – 9.6 pounds
Wavelengths – 660 nm & 850 nm
LEDs – 945 (1 red chip + 2 near-infrared chips in each one)
Power Levels – 5 (all with optional pulsing mode)
✅ $500 on Amazon (with coupon code under the price)
The Ruisqm Red Light Therapy Mat is almost exactly the same as the LOVETRAVEL reviewed above (same size, wavelengths, and LEDs) with only 3 differences in features:
👉 The running time is only up to 30 minutes, using the timer on the controller
👉 All 5 power levels can be used in a pulsing mode. To activate pulsing, you simply turn the mat on through the ON/OFF button and press it again to activate it. Then you can choose one out of 5 power levels.
👉 The weight is higher – 2 pounds more than the LOVTRAVEL.
The fact that you can use a pulsing mode in all power levels makes this mat the most versatile red light therapy mat on this list and especially customizable.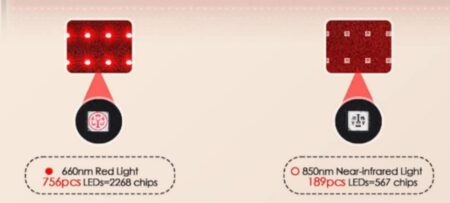 RUISQM Pros
5 power levels with a pulsing mode option in each one
Comes with free eye protection
Coves the entire body
high user ratings
Lower price than other extra large RLT mats
Cons
Heaviest mat on this list – not fit for travel
The timer only goes up to 30 minutes compared with other mats
✅ Available on Amazon ($500 with coupon code under the price). 1-year warranty.
4. CAMECO Near Infrared & Red Light Therapy Pad – Largest & Highest Strength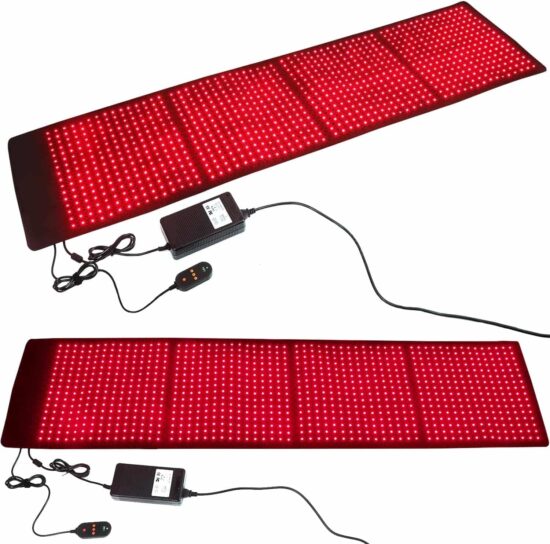 Size – 67″ x 16″
Weight – 7.78 Pounds
LEDs – 960 (660nm/850nm)
Irradiance – 150mw/cm2
Treatment modes – 6
✅ $498 on Amazon (with coupon code under the price)
The Cameco red light therapy mat is the longest RLT mat on this list, with a total length of 67 inches and no less than 960 red & infrared LEDs inside (1 red chip at 660 nm and 2 near-infrared (850 nm) chips in each one).
(However, it is quite narrow (16 inches) and some areas will be left out when you lie on it – such as the shoulders and arms)
It is also the highest-strength mat on this list, with a total irradiance of 150mw/cm2 (zero EMF radiation), with 6 treatment modes you can configure through the remote:
1. Mixed mode – 660nm + 850nm
2. Pulse mode – 660nm + 850nm
3. Near-infrared only – 850nm
4. Red only – 660 nm
5. Near-infrared with pulse
6. Red with pulse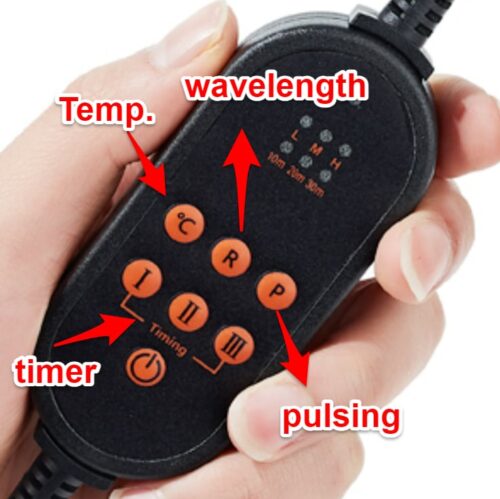 The timer (in 10-minute increments) shuts off the mat after only 30 minutes, but the Cameco Mat is powerful so you are cautioned to not use it for longer than that.
There is no plastic cover over the LEDs so there is nothing to interfere with the light being absorbed into your body.
On the other hand, it is trickier to clean in case you sweat on it – without wetting the LEDs.
Using a damp towel is the best way to go about it.
You can not fold it rigidly to prevent damage to the LEDs, you can roll it up loosely, and you need to use it on a flat surface (not a bed or a sofa) to prevent shortening the lifespan after long-term use.
Cameco Pros
No EMF radiation
Highly customizable treatments
Less treatment time is needed due to the high strength of the mat
3 heat settings you can choose separately
Comes with a storage bag and eye protection
1-year warranty, returns, and replacements if you are not satisfied with it
Cons
The storage bag takes up space
Can break down relatively fast if not used properly (but the company replaces the mat for 1 year)
No plastic cover for easy cleaning
✅ Available on Amazon ($498 with coupon code under the price)
How Long Does It Take to Feel the Results? 
The time it takes to see results from red light therapy mats can vary depending on the individual and the condition being treated.
A general recommendation is to try this relaxing therapy consistently for about seven to 12 weeks.
Most clinical studies are made using this specific time duration before they check for the results (compared with a placebo).
However, some people may need more or less depending on their individual response to the therapy.
Manage your expectations and understand that red light therapy is a process that takes patience and dedication.
While there might already be a lot of action happening behind the scenes at the cellular level, it can take a while to heal and regenerate damaged tissue.
For example, clinical studies of wound healing with red light therapy found the mean time of wound recovery for deep-thickness wounds was around 19.86 to 21.02 days.
Red Light Therapy Mats vs. Panels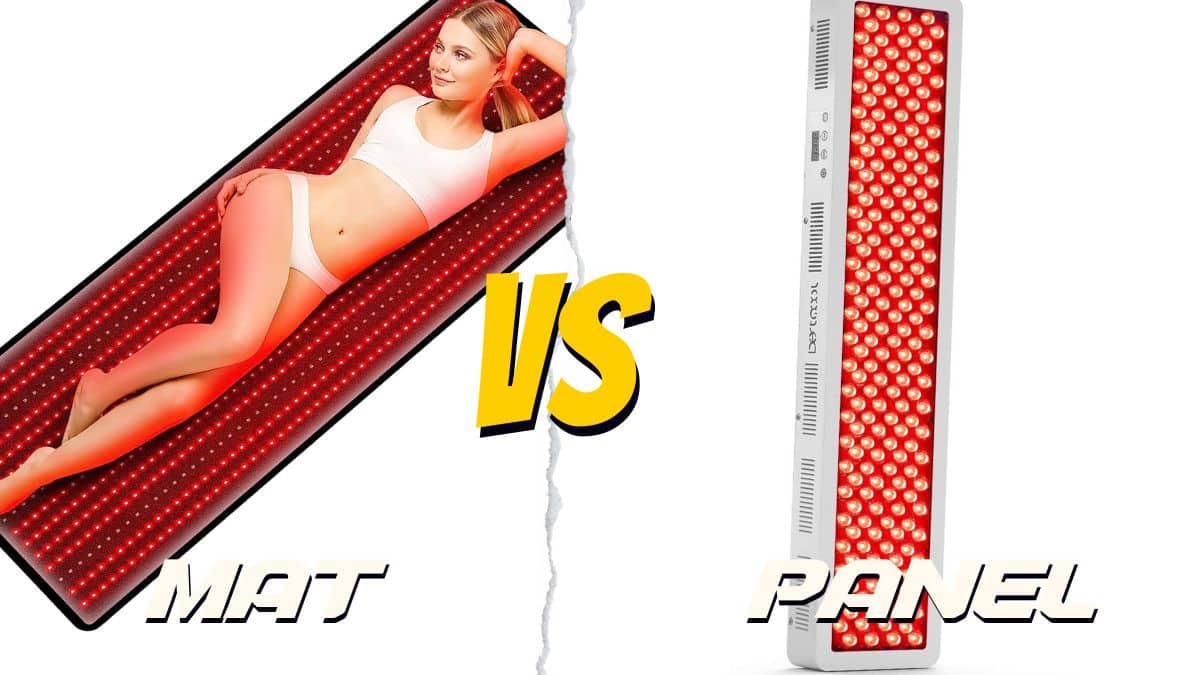 Red light therapy mats and red light therapy panels are both devices used for full-body red light therapy at home, and both cover and treat the entire body in one session.
However, full-body panels are usually more powerful, require shorter treatment time, and last longer than mats.
Red light therapy mats are better for people who rather lie down and have a relaxing spa experience.
They also allow for direct contact with the skin and emit no EMF, compared with panels.
Red light therapy mats have hundreds of LEDs embedded inside, much more than panels, but the strength and irradiance of each one are less than panels.
They are made for direct contact with the skin, while panels are too powerful and you use them at a safe distance of 24 inches, with eye protection.
Red vs. Infrared Light Therapy Mats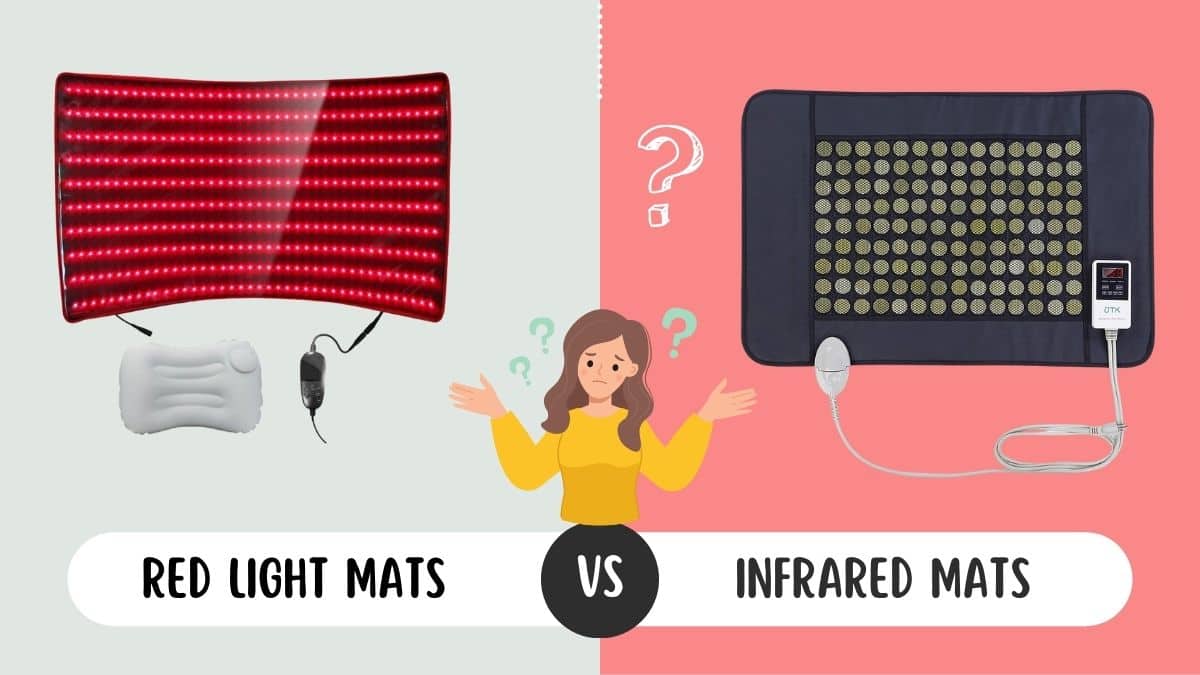 An infrared therapy mat emits invisible far-infrared light (ranging from 5 to 15 micrometers), which is felt as heat and has longer wavelengths.
It provides deep-penetrating heat to the body, similar to how sunlight warms you on a sunny day.
This heat relaxes muscles, improves blood circulation, reduces inflammation, relieves pain, and promotes relaxation.
The mat often contains gemstones like Jade, Tourmaline, and Amethyst – used to deliver FIR therapy.
They also emit healthy negative ions.
On the other hand, red light therapy mats emit visible red light and near-infrared light (630-850 nm).
The red light stimulates the mitochondria in our cells, acting like a power boost for our bodies.
It's like giving your cells a burst of energy, similar to recharging a low battery.
This enhanced cellular function results in increased collagen production, improved skin health, faster wound healing, reduced joint pain, and enhanced muscle recovery.
Full Body Red Light Therapy Side Effects
Red light therapy full body mats are noninvasive and painless, and considered safe for most people (excluding people with heart problems and pacemakers, and pregnant women).
Studies have found low-level photobiomodulation safe even for actinic keratosis, non-melanoma skin cancers, acne, and fatigue in cancer patients.
However, there are some possible side effects to be aware of. These are usually minor and do not last long.
Some of the possible short-term side effects of red light therapy include headaches, eyestrain, and irritability.
There have also been reports of burns and blistering from using RLT units, but these are rare.
People with heart disease or pacemakers cannot use this device. Expectant mothers, people with skin ulcers and allergies should not use it.
Using infrared light for red light therapy may be more likely to cause side effects because, unlike LED light, infrared is also thermal energy.
To make sure you stay safe and get the most benefit from red light therapy, it's really important to follow the instructions given by the manufacturer.
They will tell you how long you should use the therapy and how close you should be to the light.
Full Body Red Light Therapy Before and After
Full body red light therapy is proven to work both by scientific research and user experience.
For example, a controlled trial to determine the efficacy of red and near-infrared light in patient satisfaction, reduction of fine lines, wrinkles, skin roughness, and collagen Density included 2 groups of patients who received whole-body red light therapy and experienced significantly improved skin complexion and skin feeling, reduced skin roughness, and increased collagen density.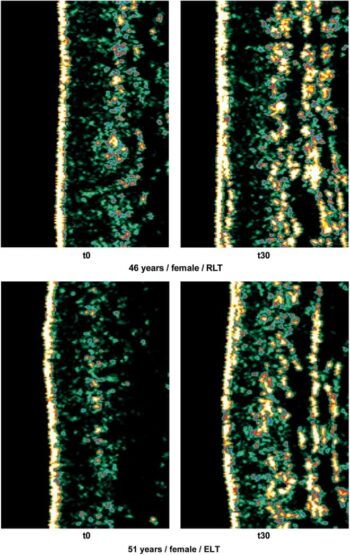 When it comes to fat loss, the Kryo Vitality clinic in Iowa, which treats patients by wrapping them in red light therapy pads, shows these amazing results: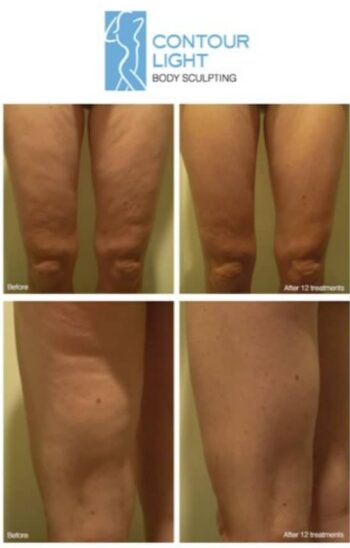 Conclusion
In recent years, the popularity of red light therapy for full-body treatments at home has skyrocketed.
People are looking for effective and noninvasive solutions to treat various health concerns and promote overall well-being.
Visiting spas or salons for professional treatments often comes with a hefty price tag and limited accessibility, and can quickly become a financial burden and prevent long-term commitment to the treatment.
Red light therapy mats offer several advantages that set them apart: they provide comprehensive coverage by allowing the entire body to be exposed to the therapeutic light (holistic approach to healing), they can be incorporated into your daily routine, and they save time and money in the long term.
In this post, you've found the best red light therapy mats for every need and goal.
The Bestqool mat is the lowest-cost one (yet smaller and less powerful than the alternatives), while the Cameco is the largest and most powerful one.
Some people may remain skeptical about the efficacy of red light therapy.
However, many scientific studies have demonstrated the positive effects of red light therapy on various health conditions.
Countless users have shared their success stories, reporting significant improvements in pain relief, skin rejuvenation, and overall well-being.
To your health and happiness,
Meital
Studies
Janis T. Eells, Margaret T.T. Wong-Riley, et al. Mitochondrial signal transduction in accelerated wound and retinal healing by near-infrared light therapy, Mitochondrion, Volume 4, Issues 5–6, 2004
Barolet D, Boucher A: Prophylactic low-level light therapy for the treatment of hypertrophic scars and keloids: a case series. Lasers Surg Med. 2010, 42:597-601.
Stelian J, Gil I, et al. Improvement of pain and disability in elderly patients with degenerative osteoarthritis of the knee treated with narrow-band light therapy. J Am Geriatr Soc. 1992; 40: 23-26
Avci P, Gupta A, Sadasivam M, Vecchio D, Pam Z, Pam N, Hamblin MR. Low-level laser (light) therapy (LLLT) in skin: stimulating, healing, restoring. Semin Cutan Med Surg. 2013 Mar;32(1):41-52.
Langella, L.G., Casalechi, H.L., Tomazoni, S.S. et al. Photobiomodulation therapy (PBMT) on acute pain and inflammation in patients who underwent total hip arthroplasty—a randomized, triple-blind, placebo-controlled clinical trial. Lasers Med Sci 33, 1933–1940
Wunsch A, Matuschka K. A controlled trial to determine the efficacy of red and near-infrared light treatment in patient satisfaction, reduction of fine lines, wrinkles, skin roughness, and intradermal collagen density increase. Photomed Laser Surg. 2014 Feb;32(2):93-100.