MediCrystal mats offer much more than just infrared light therapy, which is what has gotten our attention.
MediCrystal infrared & PEMF mats integrate far infrared rays, red light therapy (photon) rays, Crystal Therapy (Amethyst/Tourmaline/Jade and more), negative ions, and Pulsed Electromagnetic Fields (PEMF).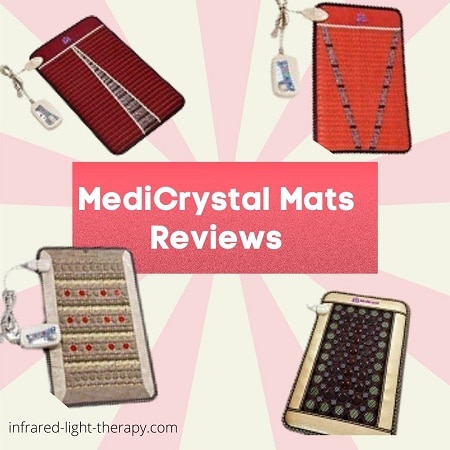 In this post, you'll find all about this family-run American company and their unique therapy mats, their benefits, and the exact materials they use – to help you determine whether they are worth their price.
MediCrystal Mats Review
Who is MediCrystal?
MediCrystal started out as an American family-run company in 2015 and is now incorporated and headquartered in Wyoming. It is passionate about integrating traditional Chinese and Eastern medicine with advanced modern science – to make the best heated stone therapy products.
The company is eco-conscious, with all their mats being animal-free (made with artificial leather and suede), vegan, cruelty-free, and all certified crystals being sourced from fair trade mines in South America.
Their collections include classic amethyst mats, classic amethyst & tourmaline mats, flexible heated stone mats, non-heating PEMF mats, far infrared PEMF heating pads, and much more.
We also appreciate them offering special discounts for veterans, military personnel, nurses, and doctors around the world.
Where is Medicrystal Made?
Medicrystal mats are made in China, in FDA-registered factories, that have TUV, and CE certifications. These factories have 10 years of experience in making hot stone mats.
Medicrystal Mats Pros and Cons
Medicrystal mats combine several proven healing therapies, more than most average infrared heating pads, and can be even more therapeutic than infrared saunas, thanks to PEMF therapy. In one short session (at a high temperature) you can enjoy the benefits of infrared rays, healing crystals energy, magnetism bio-stimulation, and negative ions.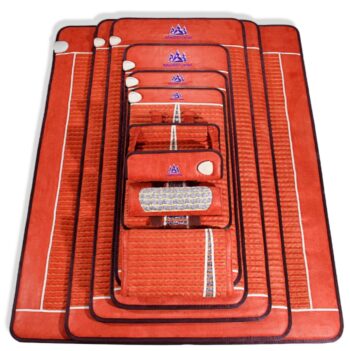 The Medicrystal mats are well designed and well built, contain no toxins and animal products, and customer service is good. The variety of functions, sizes, and options is huge, and anyone can find the right healing mat for their specific needs.
However, the more functions, the more chance of breakdowns, and the more bulky and heavy the mat will be.
The controller is easy to use, though there's no digital display to help you see whether you've reached the desired temperature.
What Do Medicrystal Mats Include?
Here's a short comparison table first:
MediCrystal Model
Therapies
Stones
Price
MediCrystal Far Infrared Heating Pads

Far infrared therapy
Negative Ions
Amethyst/Tourmaline
✅ $345-$1240 at MediCrystal
(According to size)
👉 5% discount with code MEITALJAMES
Medicrystal Infrared PEMF Mats
(4-Gems Mats)

Far Infrared Therapy
Negative Ions
4 PEMF settings
Amethyst, Jade, Agate, and Tourmaline
✅ $335-$890 at MediCrystal
(According to size)
👉 5% discount with code MEITALJAMES
MediCrystal Infrared PEMF
V-Mats

Far Infrared Therapy
Negative Ions
Adjustable PEMF between 1-30 Hz.
75% Amethyst, 25% Tourmaline
✅ $395-$945 at MediCrystal
👉 5% discount with code MEITALJAMES
MediCrystal Infrared PEMF & Photon
3-Gems Mats

Far Infrared Therapy
Negative Ions
Adjustable PEMF between 1-30 Hz
Red Light Therapy
Amethyst, Jade, Tourmaline
✅ $449-$1299 at MediCrystal
👉 5% discount with code MEITALJAMES
MediCrystal Infrared PEMF & Photon
(Purple Collection)

Far Infrared Therapy
Negative Ions
4 PEMF Settings
Red Light Therapy
Amethyst & Agate
✅ $395-$745 at MediCrystal
👉 5% discount with code MEITALJAMES
Comparing the best MediCrystal Mats according to gemstones, healing therapies (uses), and price.
Here's what you'll find in MediCrystal gemstone mats:
1. Infrared & Red Light Therapy
Most MediCrystal mats deliver natural infrared rays through EMF-free heating of semi-precious and certified stones that make the primary part of the 17-20-layer system of the crystals forming the surface of the mat. These natural gemstones are lined in eco-suede tubes or fixed with man-made mesh fabric by an artisan sewing process.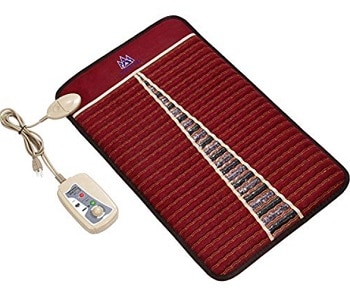 Infrared wavelength (780 nm to 1000 μm) is deep penetrating and promotes cell regeneration and healing all over your body – including the muscles, joints, ligaments, nerves, and bones.
Infrared light therapy is a proven (and highly researched) natural treatment for many health conditions, including pain relief, injury healing, blood circulation boosting, body temperature raising, detoxing through sweating, and much more.
All hot stones emit full-spectrum infrared rays starting from NIR and they transfer most part of the energy in the form of FIR.
👉 See the full list of proven benefits of infrared therapy to learn more.
Red light therapy (650 nm – 850 nm) is mostly useful for skin problems (such as cellulite, eczema, scars) and anti-aging (wrinkle reduction, skin toning, etc.). It penetrates only up to 2 mm into the skin.
Only the PEMF collection (infrared & PEMF mats) include red light therapy biostimulation.
👉 Compare MediCrystal with other popular infrared heating pads!
2. Healing Crystals
All MediCrystal mats are built with 100% natural Grade A+, untreated, non-painted, non-irradiated purple amethyst from South America.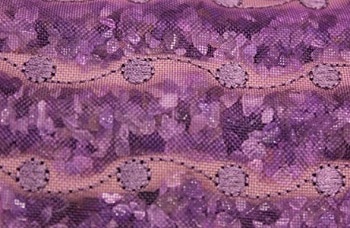 The mats include other stones, such as Tourmaline, Jade, and Agate. They are quite similar in their function and benefits, but there are a few differences:
Amethyst is considered the main healing stone because when it is heated, it emits natural rays in a bio-compatible and bio-resonant range to the human body.
That's why Amethyst is the main gemstone used inside the mats (at least 50%).
Black Tourmaline stones are mainly used for negative ion generation because they are "baked" with volcanic rocks, yellow clay, and other minerals to make them emit the healthiest level of 700-1500 ions.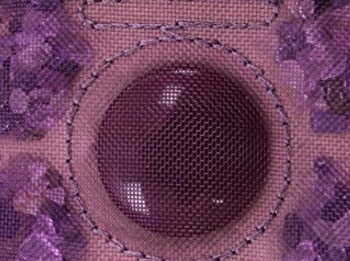 Negative ions are proven to relieve stress and improve overall wellbeing. You can feel them most near waterfalls, and big rivers.
Red agates have been used as healing stones since ancient times. They were well known for their many different healing properties.
3. EMF-Free Heating Systems
All MediCrystal mats come with EMF-free (less than 2 mG by the specification and less than 0.2 mG by measurements), advanced heating systems. Full protection from harmful EMFs is provided by EMI (Electro-Magnetic Interception) technologies integrated into the mats.
Here's recent testing posted on Youtube:
4. PEMF Therapy – Pulsed Electromagnetic Fields
What is PEMF Therapy?
PEMF (pulsed electromagnetic field) function generates low-frequency magnetic pulsations researched and used for nerves, bones, and joints comfort – for 50 years.
We think of it as a battery charger for our energy.
PEMF mats emit magnetic fields that are almost identical to frequencies created by cells, organs, bones and tissues, alternating at 1-30 Hz rates.
This pulsation brings more energy and has more powerful effects with the same or even lower-intensity magnetic fields.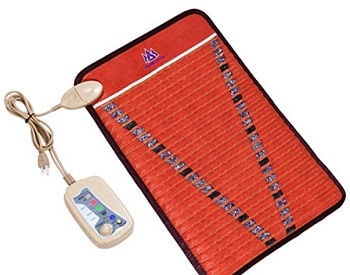 Some of the proven benefits include migraine and headaches relief, sciatic nerve regeneration, back and neck pain relief, osteoarthritis, fibromyalgia, fractures, edema, chronic wounds, and more.
See the full list of studies here.
Several models of MediCrystal mats, pads, and belts come with pulsed magnetism copper loops inside. The smaller devices (belts/vests) have 1-3 coils, while the larger mats have up to 11 coils throughout the heating area.
PEMF reaches a maximum level of 50-100 Gauss on the surface of the mattress and goes down to 50-150 mG several inches above.
5. Low Flexibility
Most MediCrystal mats are not flexible and are not meant for folding around different areas in your body.
For localized treatments, such as knee arthritis, we recommend an infrared knee heating pad.
The low flexibility is caused by the high-density compressed cotton layer in the bottom of the mat, which insulates it and directs the heat up towards your body.
PEMF mats would be even stiffer.
All mats are recommended to use on a flat surface, however, the classic FIR collection can be folded for placing on a chair: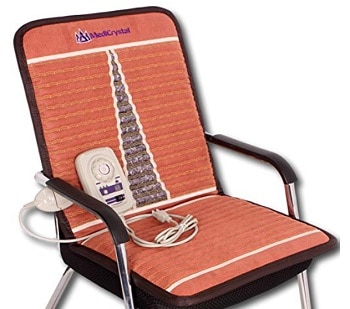 We do have a good alternative for people looking for flexible infrared heating pads – check out our UTK infrared heating pads reviews.
6. Warranty and Trial
All MediCrystald products come with a 1-2-year warranty and a 45-day free trial. Shipping and return are free for warranty issues.
The classic amethyst mats and tourmaline mats come with a 2-year warranty – which is more than the average 1-year warranty common on this market.
How Do You Choose a Medicrystal Mat?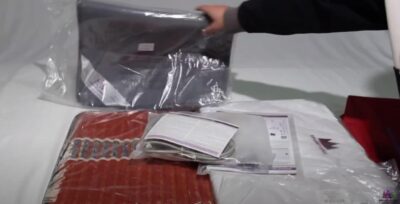 Since there are many mats, with different functions and of different sizes, it can be confusing to choose the best model for your needs,
A general rule is that the more functions the mat includes, the higher chance of shorter product life. So, it would be wise to focus on your specific needs and choose a mat that is right for you.
1. Do you really need a photon red light? or PEMF therapy?
If not, you can choose one of their professional gemstone infrared heating pads, according to the size you need (full body/back treatment, etc.). These mats also come with a longer warranty.
2. Do you want to sleep on the mat?
If you want to replenish your energy and treat chronic pain by sleeping (on low heat) for several hours on a mat, the classic mats without the extra functions are the best choice.
The mats with PEMF therapy are bulkier and not comfortable to sleep on, and are more effective for short (yet highly effective) treatments. It's not recommended to move around on them.
Also, the mats with the triangle design, V-mats, and those covered with suede are softer than the mats with mesh fabric covering the crystals.
However, if you want to enjoy the benefits of acupressure, the harder mats would work better.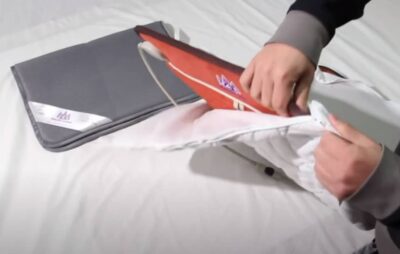 3. What size do you need?
The mini mats are better for localized use, such as the back and legs, when you don't want the whole body to receive thermal treatment.
The mini mats (32″ x 20″) are still big enough (and hot enough) to produce a lot of sweat and get the benefits of detox. It will just take a bit more time.
(for detox and full body treatments we recommend a portable far infrared sauna).
The midsize and compact pro models are somewhere in the middle and a good choice for regular size people.
The pro sizes are better for full-body hyperthermia treatments, and the effect is similar to infrared sauna treatments.
Make sure to consult with a professional before you do high-heat detox sessions, and hydrating is critical.
Here's how to choose according to your height:
5'5″ and under – 59″x24″ midsize mat
6'0″ and under – 72″x24″ full-body mat
6'1″ and over – 71″x32″ professional or 75″x39″ single size mat
MediCrystal vs. Biomat
I also own a Richway Biomat for a few years now, and I and my family love it. It is highly durable (never had a problem with it for over 5 years), works great, and I often sleep on it all night (in the winter). However, it is much more expensive than the MediCrystal largest mats.
You can see a full comparison between Biomat and MediCrystal Right Here.
Conclusion
We are highly impressed by the unique features of Medi mats.
MediCrystal mats include all the benefits of the major natural elements of the earth and sun, magnetism and light, mountains and crystals, air and water.
All six principal components of these natural powers synergize in one application for the overall healing and restoration of your body.
The mats are well built, last long, and are effective, which makes them a good and cost-effective purchase.
To your health and happiness,
Meital
Studies
Tsai SR, Hamblin MR. Biological effects and medical applications of infrared radiation. J Photochem Photobiol B. 2017;170:197-207. doi:10.1016/j.jphotobiol.2017.04.014
Thomas AW, Graham K, Prato FS, et al. A randomized, double-blind, placebo-controlled clinical trial using a low-frequency magnetic field in the treatment of musculoskeletal chronic pain. Pain Res Manag. 2007;12(4):249-258. doi:10.1155/2007/626072
Jiang SY, Ma A, Ramachandran S. Negative Air Ions and Their Effects on Human Health and Air Quality Improvement. Int J Mol Sci. 2018;19(10):2966. Published 2018 Sep 28. doi:10.3390/ijms19102966