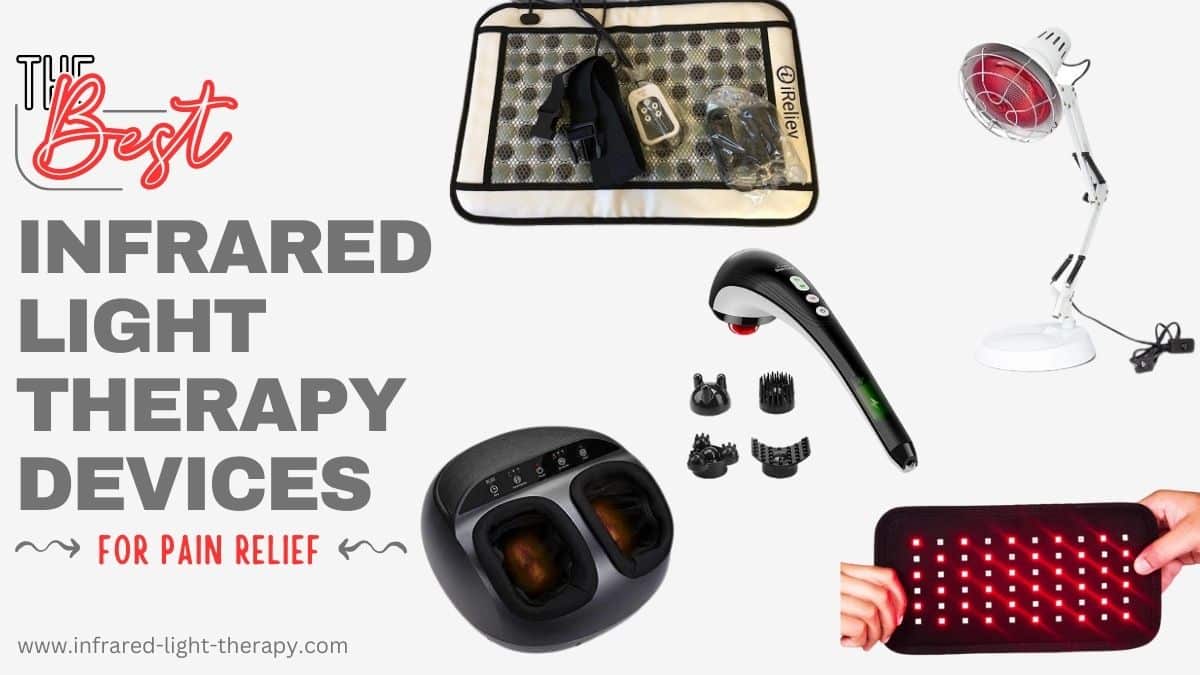 More and more people are regularly using deep-penetrating infrared light therapy devices to relieve pain naturally and fast – without any side effects.
Having your own infrared therapy device is a cost-effective and quick way to relieve muscle pain, joint pain, Neuropathy pain, or any kind of pain, no matter the cause.
But:
There are so many infrared machines out there: small ones, larger ones, hand-held ones, carbon fiber ones, and so on.
How do you choose the right one for you?
This infrared light therapy comparison will help you choose the best one for you, and save you hours of tedious research.
👉 See how to use an infrared heat lamp for pain relief and healing.
In a Hurry? see our short comparison table. Below it, you'll find my full infrared devices reviews.
Comparing the best infrared therapy devices according to type, best uses, wavelength, and price.
This post may contain affiliate links, at no extra cost to you.
How Does Infrared Light Therapy Work for Pain Relief?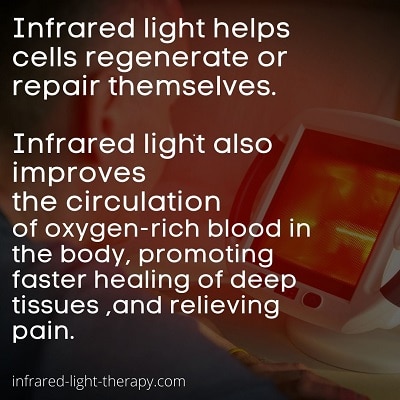 Infrared therapy is scientifically proven to be a safe and effective way to reduce pain and treat a wide range of conditions, including injuries. The deep penetrating infrared rays are experienced as heat, which increases heart rate and boosts blood circulation. This results in faster pain relief, regeneration, and healing.
The 7 Best Infrared Light Therapy Devices 
Through our extensive research, these are the highest quality infrared light therapy devices (and lamps) for natural and quick pain relief at home:
1. Serfory Infrared Lamp

Best Infrared Lamp for Muscle Pain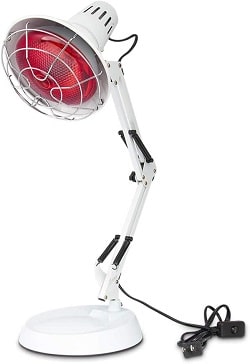 Size – 12.91″ x 9.33″ x 7.36″
Weight – 5.4 Pounds
Technology – near-infrared bulb
The Serfory near-infrared heat lamp has a powerful 150W near-infrared bulb, covered with an improved wire net to protect the bulb and you – from touching this hot lamp.
It is the best infrared lamp for targeted muscle pain relief, and all you have to do is point it to the aching area and enjoy the soothing infrared rays for 5-18 minutes a day (but do not overuse them). Pre-heating for 5 minutes is necessary.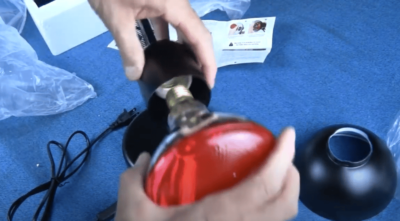 The base of the Serfory lamp is sturdy and prevents it from tipping over.
However, please be careful! keep a safe distance from this lamp while using it – at least 24 inches and go even further if you feel it is too hot. It should feel nice and warm, not burning hot.
Serfory Infrared Lamp pros
Sturdy, well-built
Powerful and gets very hot
Adjustable tilt
Not expensive
Easy installation
Cons
Danger of skin burning if you don't keep a safe distance
 ✅ Available on Amazon ($70)
2. iReliev Infrared Heating Pad –

Best for Back Pain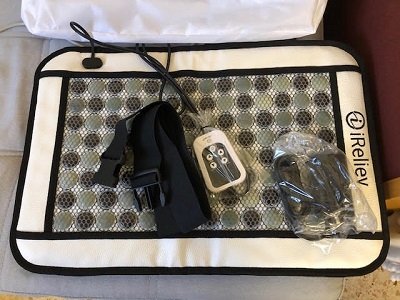 Size – 24″ x 16″
Technology – gemstone mat
The iReliev infrared heating pad emits healing infrared radiation via semi-precious natural Jade and Tourmaline stones that also release negative ions when heated.
The infrared rays are naturally emitted from the stones when they are electrically heated.
(Negative ions promote endorphin release and pain-relieving blood components in your body)
The iReliev FIR pad is big enough to cover most of your back or any other part of your body (it is flexible) and can be placed on a bed, sofa, recliner, or chair.
The reflective cover maximizes treatment effectiveness, and there is a 55-160 F temperature setting you can choose from.
Also, it has Velcro stitching and a strap – which allows you to also use it while sitting on a chair.
I absolutely love infrared heating pads and use them for years – for any pain or discomfort, and even when I have a cold. It is basically our family doctor except it is always available. 😉
iReliev Pros
EMF Free (like most jade heating pads)
A long power cord helps place it where ever you want
Comes with a travel bag
Cons
Can not be used directly on the skin at a high temperature
✅ Available at iReliev ($112 with my coupon code meital20)
👉 If you have elbow pain – see the best

elbow heating wraps

!
3. Snailax Infrared Massager –

Best Handheld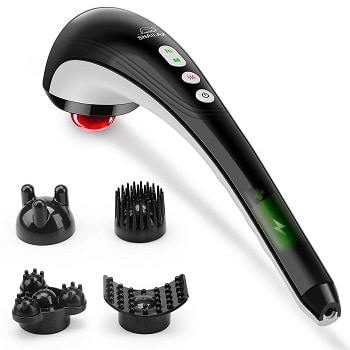 An infrared massager is one of the most effective and quickest infrared pain relief devices (for muscle and nerve pain) – at home.
The Snailax infrared massager has everything you need to quickly relieve pain at home: it has variable massage settings (from low to deep tissue), infrared heat, and acupressure massage attachment, and the design is comfortable and easy to use.
We've compared the Snaialx with more infrared massagers, including a heated massage gun – take a look!
Snailax Infrared Massager Pros
Infrared heat – reaches deep into your tissues to boost the massage benefits
A detachable head that becomes a palm-held massager
Highly adjustable – speed control and attachments
Comes with a detachable velcro strap, if you want to use it without the handle
5-year warranty, good customer service
6.5 ft power cord
Reasonable price
Cons
Some users think it's a bit too heavy
✅ Available at Snailax ($51 with free shipping)
4. TDP Infrared Mineral Heat Lamp

Best for Physiotherapy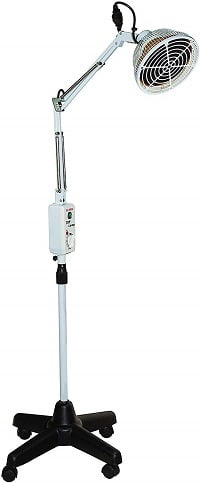 Size – Adjustable
Technology – near infrared bulbs + mineral plate
A far-infrared TDP lamp emits the far-infrared wavelength through a mineral plate that is heated with coil heat, so no light bulb is needed.
The TDP lamp is very popular, and many physical therapists and Chinese medicine practitioners use it at their clinics to enhance treatments.
The mineral plate's lifetime is between 1000 to 1500 hours, and no replacement parts will be needed for the 5 years of daily use you can get out of it.
Treatment time can be up to 40 minutes daily. Do not use it on bare skin, keep away from the heat source to a point you feel comfortable, and use safety goggles for your eyes.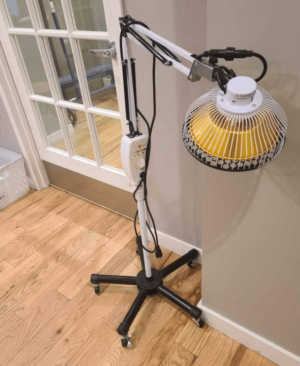 Powerful far infrared lamp – covers a large treatment area (7.8 inches wide head)
360 degrees adjustable head and body & bendable neck
Comes with a stand, easy to use when lying down or sitting
Lasts for 5 years of daily use, no replacement parts are necessary
Comes with a controller with a timer
Helpful customer service
Cons
Takes about 15 minutes to heat up fully
✅ Available on Amazon ($170)
5. dpl Flex Pad

Best LED Wrap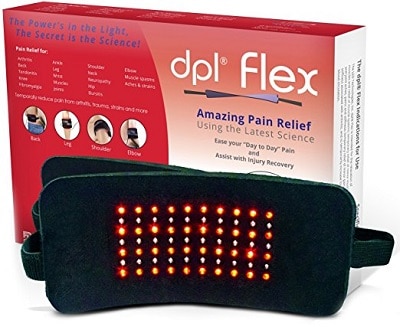 👉 See the Top 5 LED Light Therapy Wraps of 2023!
Treatment area – 10″ x 5″
Technology – near-infrared LEDs
The dpl red & infrared LED therapy pad (FDA-cleared) covers a relatively large treatment area (9.75″ x 5″) and contains 40 infrared (880 nm) and 20 red (660nm) LEDs.
LED light therapy is a painless and non-invasive light therapy treatment. This near-infrared wrap will not get hot, so there is no danger of skin burning, and it is flexible and can be used anywhere on your body.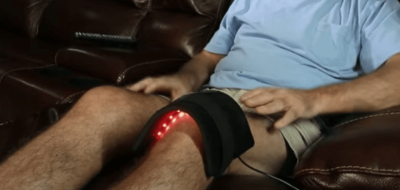 Treatment time is 14 minutes per area. Note that the infrared bulbs will not light up when you use the pad, since infrared rays are invisible.
dpl Flex Pad pros
Lightweight
Flexible – can be wrapped around different areas
Hands-free operation
2 Velcro straps, stays put
Perfect for knees and elbows
Automatic 40-minute shut-off
Cons
✅ Available at Revive Light Therapy ($159 with free shipping)
6. Revive dpl IIa

Best Infrared LED Panels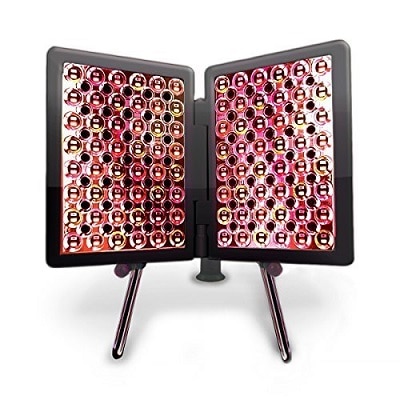 Treatment area – 10″ x 15″
Technology – red & infrared bulbs
The dpl IIa red & infrared LED light therapy system covers a large treatment area and contains 292 infrared bulbs, dark red bulbs, red bulbs (630 nm), and amber bulbs (best for hyperpigmentation!).
It is advertised for skin anti-aging, but it can also be used for pain relief!
It is a great pain relief tool for arthritis because it is large enough to cover the painful joints along with the surrounding muscles.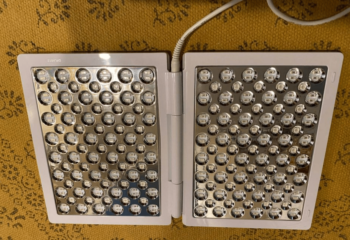 dpl Panel System pros
Large treatment area
2-panels – can be attached to any area with the Velcro strap
Hands-free operation – comes with a stand
Timer and auto shut-off
Easy to use
Cons
Not a great fit for travel due to size
May not feel comfortable directly on the skin
✅ Available at Revive Light Therapy ($399 with free shipping)
👉 See our Revive Light Therapy Reviews to help you choose the best one for your needs!
7. Infrared Foot Massager

Best for Foot Pain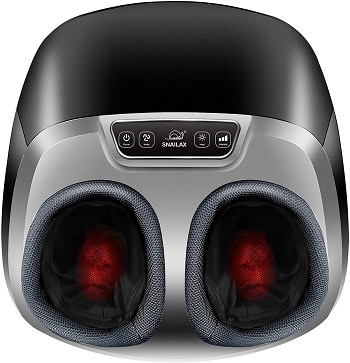 An infrared foot massager combines massage therapy (Shiatsu/Air Compression/Vibration) with infrared therapy to loosen your achy feet and relieve them from pain caused by working on your feet, Neuropathy, Plantar Fasciitis, and more.
The Snailax infrared foot massager has 3 programs to choose from – Shiatsu, rolling, and airbags massage – and 3 intensities, that fit even the most sensitive feet.
It's quiet and durable, and the customer service is excellent.
Snailax Foot Massager Pros
Combined massage and infrared heat
Relaxing and stress relieving
Cons
Doesn't fit large feet, mostly benefits average to small feet
✅ Available at Snailax ($74 with coupon code HMD30)
Can Infrared Light Help with Nerve Pain?
Studies have confirmed that infrared light therapy is effective in helping to regenerate or restore a normal sensory threshold back to the feet of neuropathy patients within 30 days to 60 days or more, depending upon the severity.
Infrared rays penetrate deep to reach muscles and nerves. The nerve cells absorb energy from the light, which supports cellular regrowth and regeneration, reduces inflammation, and repairs wounds or injuries.
👉 See exactly how to use Red/Infrared Light for Neuropathy at Home!
Infrared Therapy Devices Side Effects
Infrared therapy devices are generally considered safe and have minimal side effects. However, some people may experience mild adverse effects in the short term, such as skin irritation (from overuse), and dehydration (from sweating too much without drinking water).
If you are using a combined red & infrared light device, it's important to use safety goggles or at least to not look directly at the light – to prevent possible eye damage.
Pregnant women are advised to check with a physician before using infrared light therapy.
To your health and happiness,
Meital
P.S
Make sure to consider the full-body infrared treatment – see the best infrared saunas of 2023, or the top portable infrared sauna.
Studies
Jean Stelian MD, Israel Gil MD, et al. Improvement of Pain and Disability in Elderly Patients with Degenerative Osteoarthritis of the Knee Treated with Narrow‐Band Light Therapy, https://doi.org/10.1111/j.1532-5415.1992.tb01824.x
Dong Huang, Yong-Hong Gu, Qin Liao, Xue-Bin Yan, Shai-Hong Zhu, Chang-Qing Gao, "Effects of Linear-Polarized Near-Infrared Light Irradiation on Chronic Pain", The Scientific World Journal, vol. 2012, Article ID 567496, 4 pages, 2012. https://doi.org/10.1100/2012/567496
Vinck, E., Cagnie, B., Coorevits, P. et al. Pain reduction by infrared light-emitting diode irradiation: a pilot study on experimentally induced delayed-onset muscle soreness in humans. Lasers Med Sci 21, 11 (2006). https://doi.org/10.1007/s10103-005-0366-6
Ishiguro M, Ikeda K, Tomita K. Effect of near-infrared light-emitting diodes on nerve regeneration. J Orthop Sci. 2010 Mar;15(2):233-9. doi: 10.1007/s00776-009-1438-4. Epub 2010 Apr 1. PMID: 20358337.
Meital James
Founder and CEO of 4 healthy living blogs, has a background in Naturopathic medicine, research, journalism, and nutrition. Her blogs are the culmination of her thousands of hours of research and experience and all the posts are verified by scientific findings.