More and more people are regularly using deep penetrating Infrared Light Therapy products to relieve pain naturally and fast – without any side effects.
Having your own infrared heat therapy home device is a cost-effective and quick way to relieve muscle pain, joint pain, Neuropathy pain, or any kind of pain, no matter the cause.
But:
There are so many models: small ones, larger ones, hand-held ones, carbon fiber ones and LED ones. How do you choose the right one for you?
This infrared light therapy comparison will help you choose the best one for you, and save you hours of tedious research.
(Note: if you are looking for the best infrared heating pads – here's my full comparison and reviews for 2017).
Under the comparison table below, you'll find what my infrared light therapy reviews – what I like and don't like about each device.
Ready?
Here we go.
Infrared Light Therapy Comparison
Beurer Heat Lamp

Light Relief
Tendlite

DPL Flex Pad

DPL II Light
Therapy System

Our Rating

4.3
4
4.5
4.5
4.6
Price

$
$
$$
$$
$$$
Type
Ceramic infrared plate
Handheld Panel

Handheld

LED belt pad

LED Panels,
removable

Treatment Area

11.8 x 15.7 inches
9 x 3 inches
1" radius at 1 inch from optic
40 sq. inches

Each panel is
70 sq. inches

Treatment time
10-15 minutes
15 minutes

1 minute,
2-3 times a day

20 minutes
per area

17 minutes
per area
Dimensions
7.7 x 10.6 x 11.2 inches
10.4 x 4.4 x 10.1 inches

4.8 x 1 x 1 inches

11.2 x 8 x 2 inches

12 x 6 x 12 inches
Wavelength

Infrared 500 – 2500 nm

31 Red LEDs
4 Blue LEDs
24 Infrared LEDs

Red @ 660 nm

40 infrared @ 880 nm
20 red @ 660 nm
60 LEDs total
Red@660 nm
Infrared@880 nm
174 LEDs total

Timer
Yes, with auto shut-off

Yes, 15 minute
auto shut-off

Yes, with auto
shut-off

no
no
Digital Controller

no
no
no
no
no
Battery/Corded

Corded

Corded/
battery

1 rechargeable battery

Corded

Corded

Warranty

Not specified

Not specified

1 year,
Lifetime on LED bulb

1 year

Not specified

FDA Cleared

Not specified

no
yes
yes
Not specified

Reviews

Check out real reviews

Check out
real reviews
Check out
real reviews
Check out
real reviews
Check out
real reviews
And now, check out my reviews and pros & cons of each infrared product:
1. Beurer Infrared Heat Lamp
 Beurer Infrared Heat Lamp pros
Sturdy, well-built
Inexpensive
High company reputation
Large treatment area
Auto shut-off timer
Easy to use control buttons
Adjustable tilt angle for 0 to 50 degrees
Cons
Can be hard to position towards certain areas
The screen gets hot
2. Light Relief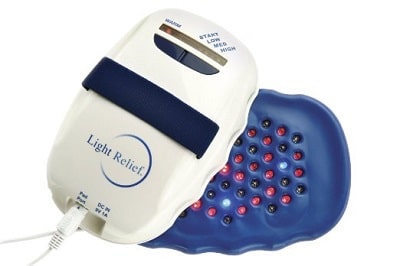 Light Relief pros
Inexpensive
Lightweight, durable
Portable (cordless)
Has a belt to secure to any part of your body
4 different frequency settings
Hands free operation
Cons
Can be uncomfortable to treat certain areas, due to size and inflexibility
3. Tendlite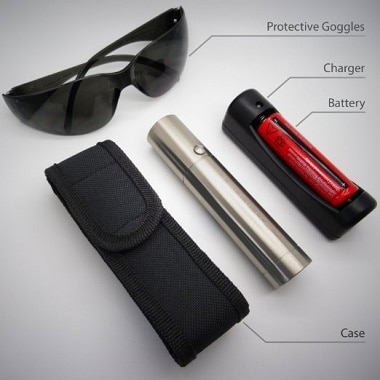 Tendlite pros
Shortest treatment time in the market (1 minute)
Rechargeable
Compact design, lightweight, portable
Different intensity settings
Made with high quality stainless steel
Cons
Relatively expensive
Small treatment area
Requires recharging
Hand-held device
4. DPL Flex Pad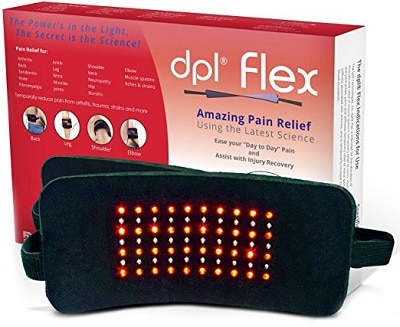 DPL Flex Pad pros
Lightweight
Flexible, can be wrapped around different areas
Hands-free operation
2 Velcro straps, stays put
Perfect for knees and elbows
Automatic 40 minute shut-off
Cons
5. DPL Light Therapy Panel System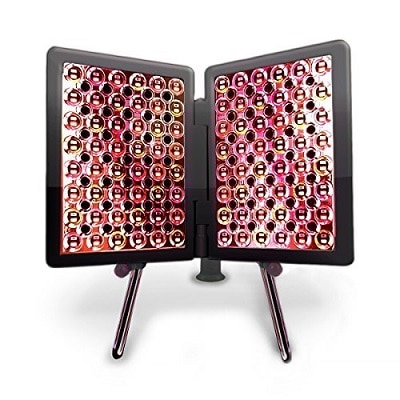 DPL Panel System pros
Large treatment area
2-panels – can be attached to any area with the Velcro strap
Hands-free operation
Timer and auto shut-off
Easy to use
Cons
Not a great fit for travel due to size
May not feel comfortable directly on skin
Conclusion
I hope you've found this infrared light therapy comparison and reviews helpful.
As you can see, out highest rating goes to the DPL Light Therapy Panel System. It covers large areas, you can use it on 2 areas simultaneously, it is powerful and includes many LEDs, and it's been around for years with thousands of pleased users.
To your health and happiness,
Meital